The TOP cricket bookies available online in the UK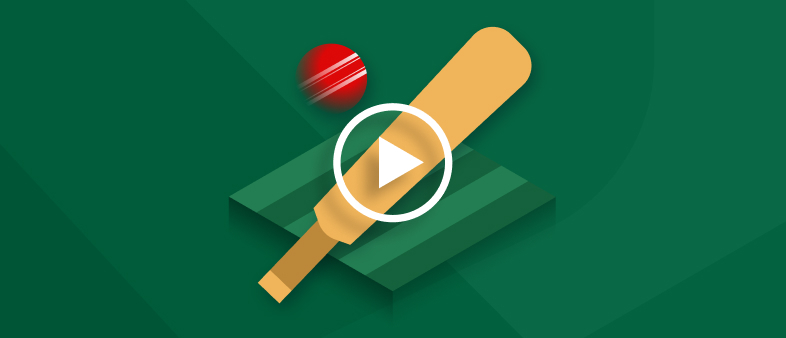 Cricket is arguably one of the oldest sports still played internationally today. There are references to the game as early as the 16th Century. It began in the UK and it is mentioned in the 1664 Gambling Act which limited bet stakes to £100 (A huge amount back then) with Boxing and Horse Racing being the only other two sports mentioned. Today's game has changed very little in many ways, although there are now several cricketing variations depending on the length of time allowed for a game. Betting on cricket though, now that has changed immeasurably, and we will look at some of the options available to a punter now. So without further ado who are the best bookmakers to use for bets on cricket.
On this page we have compiled a list of the best cricket bookmakers available to UK bettors. We have researched them all thoroughly and looked at several different criteria when making our choices. You should read the reviews carefully and consider the factors which are most important to you when deciding which bookmaker, or bookmakers, you are going to bet at. At the end of the day our results are based on our opinions and our experiences, but only you know which of those are going to be the ones important enough to make you choose one bookmaker over and above another.
The best cricket sites
Bookmaker
Cricket Odds Margin
Cricket Markets
Welcome Bonus

Betfair

98.8%
(assuming 2% commission)

31 Cricket Markets

Unibet

96.5%

10 Cricket Markets

Bet365

96.1%

8 Cricket Markets

£100

Betfred

95.9%

19 Cricket Markets

BetVictor

94.5%

22 Cricket Markets

Parimatch

94.5%

22 Cricket Markets

Paddy Power

93.8%

9 Cricket Markets

William Hill

93.1%

13 Cricket Markets

Boylesports

89.4%

24 Cricket Markets
(The above table is based on data from international cricket matches played in March and April 2021)
How did we chose the bookmakers?
Our list of the best cricket betting sites has been evaluated using a number of different criteria in the search to find the best cricket betting sites. It is unlikely, and some might say impossible, for just one site to be the very best at ALL criteria. What one customer is looking for will differ from the next, so read on to find the best bookmaker for you.
Who has the best odds
To bet profitably in the long run, or even just to lose more slowly, you will need the best cricket betting odds possible. Having a winning bet is of course half the battle but you need to maximise your returns, and the following cricket bookies consistently give you the best returns on your cricket bets:
Betfair Exchange cricket betting odds:
With most markets priced up at under 101% over round and the ability to choose a 2% commission plan better odds are very rare indeed. They don't call BetFair "The machine" for nothing and if it is literally just a numbers game for you, Betfair odds are very hard to beat.
Unibet cricket betting odds:
For cricket betting sites the best of the rest is Unibet, who price up cricket markets to a very low margin, making them best priced regularly.
Bet365 cricket betting odds:
Finally coming in with a commendable effort Bet365 occasionally find themselves best priced or at least joint best.
Who has the most markets?
 A cricket betting connoisseur in the UK is likely to not be satisfied with betting on just who will win the next Test match between England and Australia, as important as that is. They will want to bet on who will be the top batsman, what will the total runs scored be, maybe even who will win the toss. Similarly it is all well and good being able to bet on the big International games but you want a bookie who has more than just that, you want coverage of the Indian Premier League (IPL) as well as the UK County Championships, you will want all the formats too, from The Ashes Series of Five Day Tests through to a one evening 20/20 knock! You may even want the up and coming women's cricket leagues, and this is only covered by the very best cricket betting sites.
Betfair cricket markets
Betfair cover all major matches from Internationals, through to the Australian and Indian domestic leagues. Each match has a vast range of betting options, the usual match odds, top run scorer, highest partnership and then also more specific who will win the toss and what will the result of the first ball bowled be. The list goes on and on but what really sets them apart is their Sportsbook offering #oddsonthat. Not only does it cover almost every combination you can think of, IF one is missing, you can tweet them with a request for odds and they will price it up and add it for you.
Boylesports cricket markets
BoyleSports are consistently amongst the best cricket bookies when it comes to the range of cricket leagues, tournaments and competitions covered. If there is a game of competitive cricket being played somewhere there is a good change that you can bet on it here. They cover all domestic and international games as well as having strong coverage of Women's cricket.
Where you can be sure to get your bets on?
Being able to bet to the stake levels YOU are happy with is important, this encompasses both the amounts you can deposit and withdraw as well as the amounts you can win and lose. Here we list the ones who give you the most flexibility and offer the best limits.
Bookmaker

Min Deposit

Min Cricket Bet Size

Max Win

(Cricket Bet)

Can set "Loss Limits"

BetFred

£5

£0.50

£100,000

YES

BetFair Exchange

£5

£2

Unlimited

NO

BetFair Sportsbook

£5

£0.10

£15,000 - £100,000

YES

WilliamHill

£5

£0.03

£50,000 - £250,000

YES

Unibet

£5

£0.10

£100,000

YES

Boyles

£5

£0.05

£100,000

YES

BetVictor

£5

£0.05

£100,000

YES
Live betting
An essential tool of any modern day gambler is the ability to bet on matches as they are taking place live, this is sometimes referred to as betting "in play". Test match cricket offers the most scope for betting in play as a single match can span up to five days! Obviously a lot will happen in that time, there will be a lot of twists and turns and odds will fluctuate and there is plenty of time to place the bets that you want.
For some people live betting is all about the excitement, the juice, or the "buzz" as it can be known. Watching the game one moment, having an epiphany moment and deciding to bet big on what you think will happen the next. It is fast paced, edge of your seat, stuff. For others, possibly slightly older more experienced gamblers, live betting can be too hot to handle in fast paced games, which is what lends cricket in play betting to everyone's tastes, since a Test match can take around a week to finish.
Just some of the possible "In Play" bets are listed below, these we think are the "must haves" that any decent cricket bookmaker must offer:
Popular "In Play" Cricket Bets are:
Match Odds

Total runs next over

Wicket taken next over - Yes/No

Method of next dismissal

Team Top Batsman

Next Man Out

Runs at Fall of next Wicket - (Total spread)

To Score Most Runs - Player

To Score Most Runs - Team

Wickets Lost for 50 Runs
Obviously there can be more than just those, but that should give some flavour of what options you should be looking for.
If you intend to be betting "In Play" on Cricket then the Betfair exchange is by far your best bet. The fact that they have live streaming of the majority of the games is just the icing on the cake. The ability to use the exchange to combine liabilities from your bets, and to hedge and manage your position as the days go in, is something that other bookmakers just can not compete with.
New User Bonuses
If you are looking for a NEW cricketing bookmaker then the current offer available as a sign up bonus is a factor to be considered. These tend to alter frequently with both the amounts and the attached T&C's subject to change. At time of writing some of the best New User Bonuses which are eligible to be used in conjunction with cricket bets are from:
The Bet365 offer requires a medium sized bankroll to be taken advantage of but we like the way it is staggered, giving more than one bite of the cherry. No matter how it comes, £100 in Freebets is to be welcomed.
BetFred: Bet £10, get £30 in Freebets
The BetFred offer is a fantastic % boost for those on a lower budget, perhaps gambling recreationally and wanting their money to go a bit further. With just a £10 deposit £30 of Freebets means you have a 300% leverage to your chosen bets.
Join Betfred for £30 in Freebets
Unibet: £40 refunded 1st bet
Worth mentioning is the Unibet offer, with a £40 deposit you can have a good bet on a solid choice perhaps, but safe in the knowledge that if that bet looses, as it is your first bet, the deposit will be returned (as bonus funds) and you get a second roll of the dice.
Join Unibet for a £40 refunded 1st bet
Special Cricket Offers 
A big part of betting online is finding an edge, the thing that can make a break even bet profitable, and special offers known as "concessions" from the bookmakers can do just this. You want to make sure that whenever you bet you are getting the most "bang for your buck". Some offers may be cricket specific, others apply to the specific type of bet you are placing. For example PaddyPower and BetFred are two bookmakers who often offer to refund losing top batsmen bets as long as they score 50 runs. These concessions come and go and we will endeavour to keep this page up to date with offers as they come about, for example at time of writing (March 2021) BetFred are refunding bets as cash if your losing top batsman bet scores 50 runs. This is why BetFred and PaddyPower are our recommended bookies for special cricketing offers.

User Experience
 It is important to feel comfortable when you are gambling, a clean interface with an intuitive design can help a lot with that. Some people like having jazzy images of the big stars appearing on the screen, some people just like being able to get to their desired bet with as few clicks as possible. In our opinion some of the best designed betting websites for the UK market are:
BetFred or Parimatch.
Both sites combine an informative, easy to read layout with just enough graphics to appear interesting but without so much that it compromises the amount of space given to information you actually need. Both have obviously spent a lot of time on their navigation systems making maneuvering around their sites seamless and easy to do. 
Mobile Apps
In 2021 the days of sitting at a PC to "surf the web" are long gone. People access the internet, and bet, from their Smart phones. They do it whenever and wherever they want to and a dedicated mobile app makes the process so much easier than attempting to use a web browser to do the same thing. The majority of bookmakers provide mobile apps to their customers these days, some of the best we have found for cricket bets are Bet365, 888Sport, and BetFair.
The Bet365 betting App is displays a wealth of statistics to help you with your research, you can view details of any betting offers that may be applicable and for some cricket events (although not all) you can watch the games on a live stream which helps with any "In Play" bets you may be considering. The Bet365 App also allows you to "cash out" a bet at the click of a button, to take away those last minute nerves as a bet comes in (or not!).
The 888Sport betting App is available for both Android and iOS phones. It has incredibly intuitive navigation to find the bets you want to place and it supports the option of live betting on a huge number of events. Early Cash Out is an option for those who want to lock in their winnings or cut their losses. Any Bonuses available to website customers also apply to those who register or use the 888Sport App. 
The BetFair betting App is as you would expect a first class product, with ALL the betting markets available via the website also available via the App. After just one click you can jump to all events either "In Play" now, starting today, starting tomorrow, or starting in the next 7 days. You can also browse via the different cricketing competitions. There is the ability to cash out automatically or you can partially cash out as you wish by manually hedging your bets, a level of customisation which is unique to the Betfair App.
Customer support
When looking for a cricket bookmaker to bet with, customer service is an area which shouldn't be overlooked. Having questions dealt with quickly and efficiently helps build trust between you and your bookie and provides reassurance that you are in safe hands. Some bookmakers focus on live chat services, while others may concentrate on Email or Phone. The rise of social media has also seen the reach of customer service spread to Facebook and Twitter. For all round great customer service, defined by being able to provide an accurate answer in a timely fashion, BetFred, Ladbrokes, and BetFair are amongst the best you get.
The Most Popular Cricket Betting Markets
Cricket is unique in offering (at least) three distinct types of match, simply by varying the length of the game in question. This leads to an enormous amount of possible bet markets, each with different significance and popularity depending on what format you are looking at.
Test Cricket is the form of cricket with the longest match duration, and is widely considered to be the game's highest standard. Test matches are played between national teams that have been granted Test status, as determined by the International Cricket Council (ICC). 
Current Test Cricket Nations are: India, New Zealand, Australia, England, Pakistan, South Africa, Sri Lanka, West Indies, and Bangladesh.
The term "Test" stems from the fact that the matches are long and gruelling, both mentally and physically. The two teams of 11 players each play two innings each, which can take up to five days to complete. Each day has three, two hour sessions.
When betting on Test Match Cricket the most popular betting markets tend to be focused on the longer term. Examples of common and popular Test match Cricket bets available from UK online bookmakers are:
Match Betting - Will the game be a win, a draw, or a tie! (Note a draw is when not all innings are completed, usually due to rain. A tie is when both teams have exactly the same runs scored at the end of play)

Top Batsman (most runs scored) in the match.

Top Bowler (most wickets taken) in the match.

A Hundred to Be Scored in the match by any batsman

Who or which team will score the most Match Sixes – The whole match counts.

Who will lead after the first Innings Lead – Both teams must compete for bets to be honored.

There are of course other bets available but those are generally the main ones
One Day Cricket is a quicker form of the game played both Internationally and in Domestic Leagues and as the name suggests is designed to last just one day! Each team bowls 50 overs (or until the opposing team is all out) and there is only one innings each. It has a more "fun" element compared to the formality of Test cricket, with coloured uniforms and more action in a smaller time frame.
When betting on One Day Cricket online the most popular betting markets tend to be similar to Test Cricket but with some more emphasis on shorter term markets as well. For example there will be all of the popular Test match bets but also:
Runs at fall of next Wicket

Which over will the next Wicket fall

Runs from the next over

Will a wicket be lost in the next over

Will a Fifty to Be scored in the Match
So as you can see the bets which have a shorter time frame begin to become more commonplace. This trend continues when we come to the most recent, and arguably the most exciting cricket incarnation which is T20 or 20/20 Cricket! As the name suggests this time each team has a grand total of just 20 overs to score as many as they possibly can. Due to this fast natured high scoring format popular bets for this type of cricket are:
What will happen next ball 

How many runs will be scored the next over

Will a 6 be scored next over

Will a wicket be taken next over

These are just some of the most popular bets which apply to each of the different forms of cricket. These days if there is a bet you want to place, certainly pre match, you can request odds for it using Betfairs #Oddsonthat feature.
Cricket Betting Tips
As you can see from the different types of popular bets, the three formats are suited to different betting strategies.
For Test Cricket the overall team form is usually fairly stable which is helpful when betting on longer term bets such as series outcomes or overall top batsmen markets. The changing weather over the course of the match and the possibility of a draw mean that often it's a good strategy to lay the underdog on an exchange or back them with a handicap, rather than attempting to back a low priced favourite.
For one day cricket you will find a huge amount of statistical information available at your fingertips. You can use this information to identify trends between teams, and perhaps see if where the game is played has an influence on how the teams perform.
Of all the formats T20 cricket is the most unpredictable and likely to throw up surprise results. The momentum in a match can shift from one over to the next. This leads to very volatile live betting markets. Many "Pros" use these to hedge and trade positions against pre game match winner bets.
So overall, whichever format of cricket your looking to bet on, what can be done to increase your chance of winning?
Do your homework!

The internet provides a wealth of detailed statistics for all cricket teams and also data on the top cricket players. You can use this information to give you insights into team form, find weaknesses, and see the historical trends of how the two teams perform head to head and which players thrive on these games. You can use all this data to find value match winner bets, and use the individual players statistics to find players offering a chance to land top run scorer bets.

Location, Location, Location

The cricket ground where the match will take place will have a significant effect on the results of many cricket betting markets. Simple things like the speed of the outfield and length of the boundaries from the wickets can affect how many runs are likely to be scored, particularly how many boundaries are likely to be scored. Linked to this is pay attention to the current condition of the pitch and the likely weather conditions at a ground. This can affect the speed with which the ball travels over the grass and again affect the chances of runs and boundaries.

Concentrate

The range of cricket types, and bet types on offer can be distracting and you can have your head turned by things which look interesting, and may appear to be predictable, but in fact are much more luck than judgement. Many bets, such as who will be the next batsman out or even the method of next dismissal are really little more than a coin toss due to the unpredictable nature of the sport. It's going to be better in the long run to use the statistical information that's available to place well researched, longer time frame bets instead of being enticed into the excitement of ball-by-ball betting.