The best Counter-Strike: Global Offensive (CS:GO) betting sites for the UK in 2022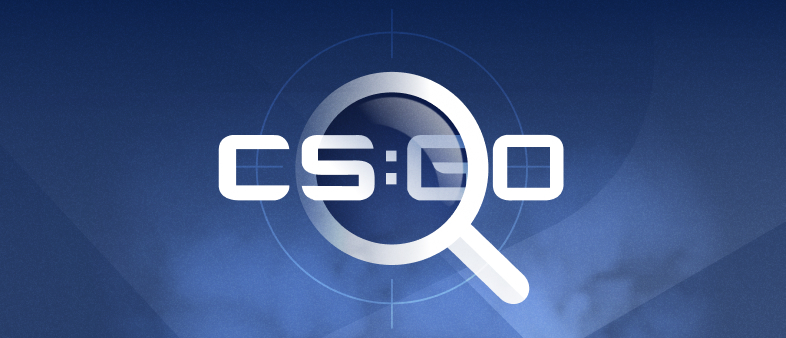 On this page we have put together a list of the best bookmakers for betting on Counter Strike:Global Offensive (CS:GO) which are available to a UK audience. We have researched them all thoroughly and looked at several different criteria when making our choices. You should read the reviews thoroughly and think about what is most important to you when deciding which bookmaker, or bookmakers, you are going to bet at. Remember that our results are based on our opinions and our experiences, but only you know which of those are going to be the ones important enough to make one bookie the correct choice for you.
The best CS:GO betting sites are:
888Sport: Huge range of matches covered
Bet-At-Home: Dedicated Mini Site, the best ESports bookmaker for the UK
BetFair: Great odds
BetVictor: Very large range of matches covered with good in play features.    
Marathon: Great odds and a large number of markets to bet on each game.
PaddyPower: Special ESports promotions
TonyBet: Huge range of markets to bet on, and great in play options.
Unibet: In Play Live Streaming of games!
Our list of the best csgo betting sites has been evaluated using a number of different criteria in the search to find the best places for UK customers to bet on Counter-Strike: Global Offensive. It is unlikely, to the point of being impossible, for just one site to be the very best at ALL criteria. What one customer is looking for will differ from the next, so read on below to find the best bookmaker for you.
Odds:
Betfair exchange regularly has the best odds on all the top Counter-Strike: Global Offensive matches. There are very few frills and whistles attached, but if you are a numbers guy (or gal) and that is all that matters to you, Betfair is the place to be.
Range of Markets:
When betting on Counter-Strike: Global Offensive most bookmakers cover it to some degree, but few have much depth of betting markets beyond who will win the match. Only a few have gone the extra mile to provide a full range of betting options for the ESports they cover.

TonyBet is one of the best we have seen, having a huge range of betting markets available for all matches, even ones not part of major tournaments.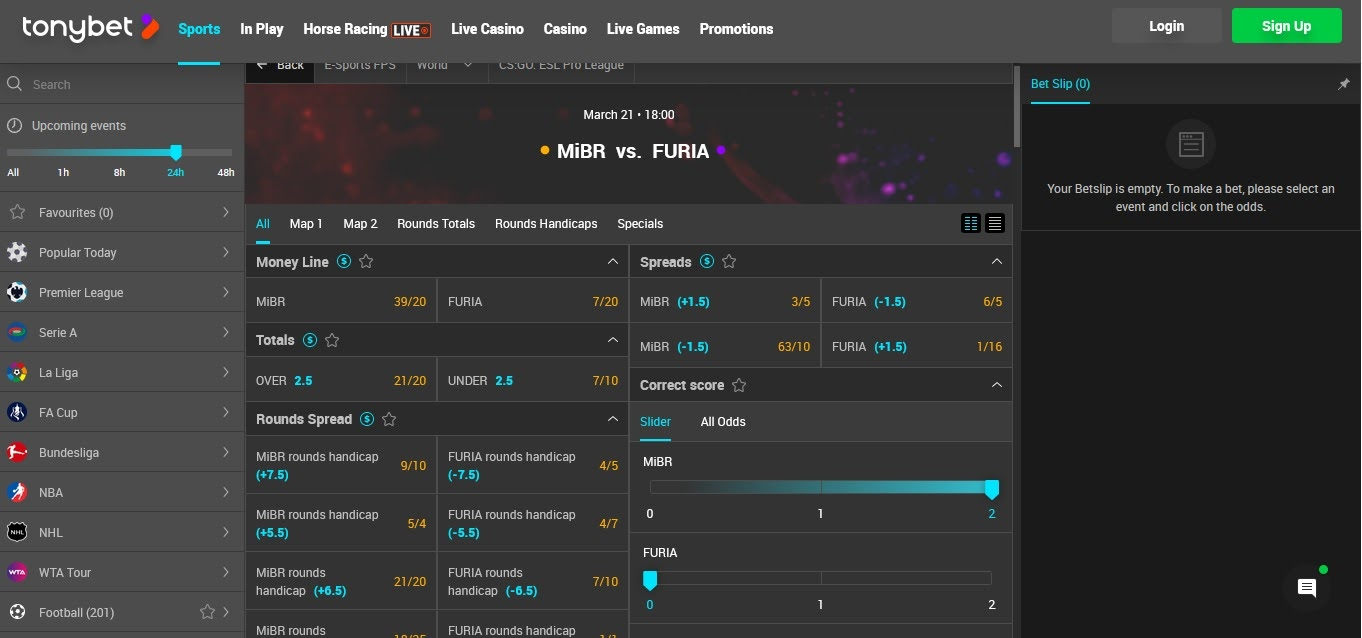 Bet Limits:
Due to the specialised nature of ESports betting all bookmakers have relatively low bet stake limits compared to more established sports such as football or horse racing. Win limits are also capped but it varies from game to game with almost all bookmakers. Use an exchange such as Smarkets or Betfair if you do want a BIG bet (£10,000 or more) but for the majority of normal sized bets every bookmaker can accommodate you.
Live Betting:
Bet-At-Home are one of the very best sites we have found for betting on all ESports and they are certainly one of the best cs:go match betting sites either in play or before the match starts. Once a game goes in play it is possible to watch most games live through a stream with commentary keeping you informed and there is a large range of markets to bet on as you would



Unibet: They are one of the few other bookmakers to not only offer a large range of matches "In Play" but also live streaming of the games allowing you to follow along the progress at home is Unibet.

New User Bonuses: If you are looking for a NEW Counter-Strike: Global Offensive bookmaker then the current offer available as a sign up bonus is a factor to be considered. These tend to alter frequently with both the amounts and the attached T&C's subject to change. At time of writing some of the best New User Bonuses which are eligible to be used in conjunction with cricket bets are from:

Bet365: £100 in Free Bets
The Bet365 offer requires a medium sized bankroll to be taken advantage of but we like the way it is split into 4 stages, giving multiple chances for you bets to win. The low minimum odds requirement to qualify is also a bonus.

BetFred: Bet £10, get £30 in Free Bets
The BetFred offer is a great starter bonus to boost your bankroll if you are just starting gambling with a smaller budget or perhaps you are just gambling recreationally and want your money to go a bit further. With just a £10 deposit £30 of Free Bets means you have a 300% leverage to your chosen bets.

Unibet: £40 refunded 1st bet 
A final favourite of ours is the Unibet offer, with a £40 deposit you can have a good bet on something you really fancy, only without the stress involved because you are safe in the knowledge that if that bet loses, as it is your first bet, the deposit will be returned (as bonus funds) and you get a second roll of the dice

CS:GO (ESports) bonuses

There are not many (any) specific CS:GO bonuses! However PaddyPower are one of the most generous bookmakers for throwing out bonuses to existing users and one of the most likely to have something in the future. They do currently have to following ESports offer, for which Counter-Strike: Global Offensive bets would apply.

CS:GO Tournament Types

Counter-Strike: Global Offensive events can be categorised into different tiers, with importance, ranking points, qualification criteria and available prize money varying through the tiers. The top tournaments are "S-Tier" tournaments (Formerly Premier Tournaments). The most important of these are the tournaments sponsored by "Valve" the games designer and maker. The "PGL Major Stokholm" scheduled for 23rd October through to 7th November is going to be the biggest tournament of the year, with a prize pool of $2,000,000! This is an annual event and there are of course also monthly and even weekly tournaments taking place in various leagues around the world. There is yet to be a Major CS:GO tournament hosted in the UK.

Regular Leagues:
In football, there is the Premier League, in Cricket you have the IPL, for the vast majority of professional sports there is a league which all players aspire to play in. In Counter-Strike, there also are leagues for teams of different levels. The most famous among them are FPL, ECS, ESEA, and ESL. In these leagues teams play online over a period of weeks or months and their results are recorded. At the end of the year the top teams come together sometimes online but often in land based venues and they battle for the title and also the prize money. They also pick up ranking points which can help gain them access to Minor and even Major tournaments.

Minor CS GO Tournaments:
These tournaments take place online with teams coming from all over the world and are very often entries are limited to different regions or nationalities. Minor tournaments do not have big prize pools but they allow teams to get noticed, winning ranking points and the opportunity to move up to Major tournaments.

Major Tournaments:
These are the equivalent of the FIFA World Cup, the SuperBowl or the Grand National. The dates are in the diaries of all CS:GO players and enthusiasts, their prize money can run to millions of $s. The top Teams can qualify for a Major by direct invitation or through winning or placing highly in minor tournaments previously. The ESL ONE RIO Major tournament was cancelled in 2020 due to the Covid19 Pandemic but this year there is the PGL Major in Stockholm set to take place.

Most popular CS:GO bets are:

Match Odds: Most Common CSGO Bets are on simply who will win. Sometimes this can be called the "MoneyLine" by some bookies. CS:GO tournaments in general do not have the possibility to draw, for example it is the same as a tennis match. 

Handicap Betting: Since most CS:GO tournaments are split into best of 3 games, with each set on a different map. It is therefore possible to bet on teams to win but with a spread of +1.5, this can make games with a heavy favourite have more competitive odds and is a popular market to bet on.

Total Betting: This is another bet format you may be familiar with from elsewhere. It is basically what will the final score points total be, and you can bet will it be over or under the bookmakers spread. Since most Counter-Strike: Global Offensive tournaments are the best of three format, you would be betting over or under 2.5 games in total the majority of the time.

There is also a number of unique bets that apply just to CS:GO, since it is a unique game with its own nuances. These include

Winner of a Map: Games such as Counter-Strike: Global Offensive (As well as Call of Duty) are played on layouts, known as maps, specifically developed for certain competitions, or sometimes on standard maps all players are familiar with. For this bet you can bet on which team will win each particular map.

Knife Round: Counter-Strike: Global Offensive has a unique feature in that sometimes there can be knife rounds where the only weapon that players are only allowed to use is knives. You simply bet on which team will make the first kill in this round.

First Detonation: In Counter-Strike: Global Offensive it is sometimes possible at the best csgo betting sites to wager on which of the teams will be first to detonate a bomb in the game.