The UK's best bookies for football in 2022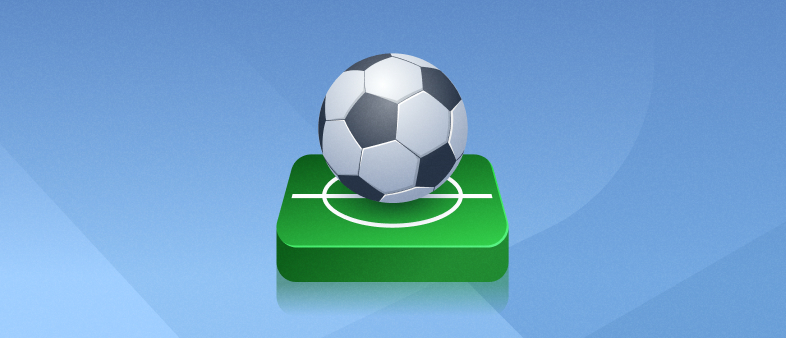 Football as it should be called, or "Soccer" as it is sometimes also known, is the most popular sport in the World, and the one truely Global game. The gambling industry associated with it recorded betting turnover in UK bookmakers of over £1.2Bn in 2019 - 2020.
On this page we have compiled a list of the best football betting sites available to UK bettors, and we analyse the betting markets they offer. We have researched them all thoroughly and looked at several different criteria when making our choices. You should read the reviews carefully and consider the factors which are most important to you when deciding which bookmaker, or bookmakers, you are going to bet at. At the end of the day our results are based on our opinions and our experiences. Who the best bookies for football are will vary from person to person and only you know which factors are important enough to make you choose one bookmaker over and above another.
What to look for when choosing a bookmaker for your football betting
Our recommended UK football betting sites have been selected from different criteria to identify who are the very best football betting sites. It is improbable, you could say impossible, for one betting site to be the very best online bookie for football bets using ALL criteria. Everyone is an individual, and everyone has different priorities and preferences and what is great for someone will not appeal to someone else. So lets see who does what and attempt to find the best football bookmaker for you.
1) Odds
It may be obvious to say but in order to make money from betting, you need to take the best odds available. It is not simply a matter of choosing bets which win you have to chose bets which win more often than the odds you have taken suggests. The following football bookies consistently give you the best returns on your football bets:
With our random assessment of football odds MarathonBet came up trumps with a margin of just 2.24%. Not only this but they regularly have 0% margin games every weekend covering random games from most major leagues
 For great football betting odds Parimatch comes in with a respectable average margin of under 5%. They have great odds mainly on major leagues and the kicker is the massive range of price "boosts" which apply to all the headline games which are always worth looking at.
The other football odds bookie is Novibet who also have a 0% margin on one game a week. On average their match odds come in with under 5% margin which is amongst the Premier League of football bookmakers. 
2) Range of Markets
A great football betting will have all the bets you want to make in great detail and covering all the leagues. The best ones do, it is possible to have hundreds of different betting options, all the Asian Handicaps, all the goal scorer options, proposition bets and even the ability to request your own bets via Social Media. Every country you can think of will have their games listed for betting and in the major football countries the number of leagues can go to 6 or 7 divisions deep.
Betfair cover all major football leagues as well as all the minor ones and has the most depth of UK football league betting that we have seen. Obviously they have the Premier League but they also have the "Premier League 2" which is for the Under 23s of those clubs, and it has Divisions 1 and 2 of that! They cover Womens games, Non League Games, and FA Cup matches from virtually the entry stage. If you want to bet on a UK football game, Betfair will have it.
Remarkably Swishbet are amongst the top football bookmakers due to not just the strong depth of leagues covered but also the sheer number of countries they list. They look at countries as diverse as Rwanda and Bangladesh as well as having coverage of women's games, Under 23 matches, and the like.
3) Bet Limits
Being able to get your desired bet stake placed is important. Some bookies are quick to limit winning players and some just don't take large bets from the start. Small bets are also important if you are betting just for fun or are in the "testing" phase of a system.
4) Live betting 
In 2022 it is taken for granted that your football bookmaker will facilitate betting on matches as they are taking place live, this is known as betting "in play". Some people wait until the game has been going for 5 minutes to get a feel for how the teams are playing, betting "in play" allows them to do this. Other people who have been watching a game and have a feel for how it will finish like to wait for half time to bet so that the odds are more static and it is not possible for a goal to cause a wild swing. Whatever you want to do, a good range of "in play" betting options with competitive odds can make the difference between a monthly profit and loss.
For some people live betting is all about the fast paced thrill of it all, the "buzz" and the quick turnaround between placing a bet and getting the results. It is fast paced, edge of your seat, stuff. Some of the possible "In Play" bets are listed below, these we think are the "must have" betting markets that any decent football bookmaker must offer:
"In Play" Football Bets:
Match Odds

Total Goals (Over / Under)

Correct Score

Next Team to Score

GoalScorer "To Score"
There can be many more, but those are the essentials. 
5) New User Bonuses
If you are looking for a NEW football bookmaker then the sign up bonus they offer is a factor to consider. These tend to alter frequently with both the amounts and the attached T&C's subject to change. All offers have minimum odds for qualifying bets so take that into account.
Some of our favourite New User Bonuses which are eligible to be used in conjunction with football bets are:
Bet365: £100 in Free Bets
The Bet365 offer requires a medium sized bankroll to be taken advantage of but we like the way it is staggered, giving more than one bite of the cherry. No matter how it comes, £100 in Free Bets is to be welcomed.
BetFred: Bet £10, get £30 in Free Bets
The BetFred offer is a fantastic % boost for those on a lower budget, perhaps gambling recreationally and wanting their money to go a bit further. With just a £10 deposit £30 of Free Bets means you have a 300% leverage to your chosen bets.
Unibet: £40 refunded 1st bet 
Worth mentioning is the Unibet offer, with a £40 deposit you can have a good bet on a solid choice perhaps, but safe in the knowledge that if that bet loses, as it is your first bet, the deposit will be returned (as bonus funds) and you get a second roll of the dice.
6) Special Football Offers: 
A big part of betting online is finding an edge, the thing that can make a break even bet profitable, and special offers known as "concessions" from the bookmakers can do just this. You want to make sure that whenever you bet you are getting the most "bang for your buck", but remember a lot of these offers will have minimum odds to qualify so check those T&Cs carefully. Offers usually come and go but some of the most prolific are:
10bet: 10bet's free bets fiesta goes like this: Pick your scenario, bet £25 on any sport and get the £5 free bet if it happens. The setups are somewhere between nice and hilarious, each adds a pinch of excitement and a unique edge for the bettor.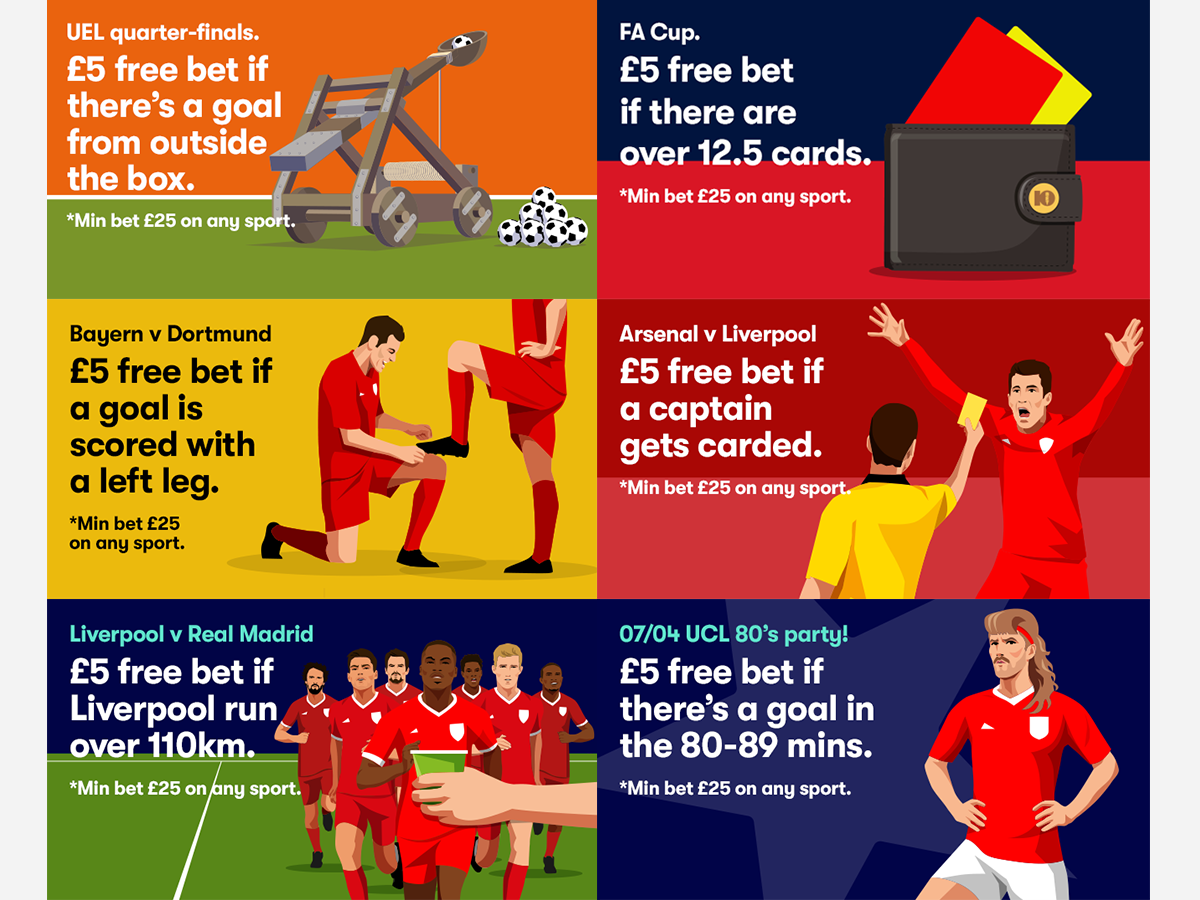 Parimatch: Every weekend of the football Season Parimatch have had a "double up" freebet offer. Placing two £5 or more "doubles" bets will result in a free £5 freebet to also place on another doubles bet. You MUST opt into this (and all Parimatch promotions) via the offers page before placing your bets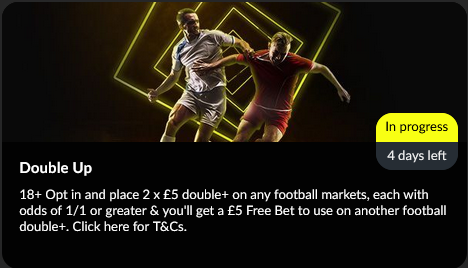 BetFred: Regularly Betfred have all sorts of football betting promotions, being best priced on the major game of the day being just one, another is regularly offering a £5 free bet credit to anyone who bets £10 "in play". There is no need to opt in but be sure to check the promotions page to see what is currently available.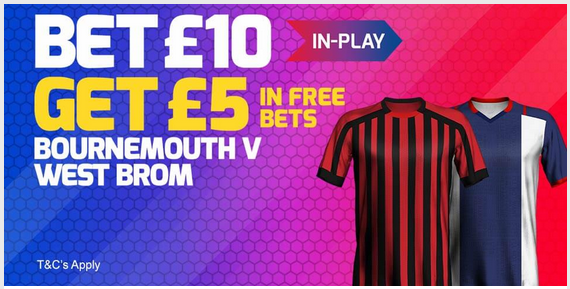 7) User Experience: 
It is important that you feel relaxed and comfortable when your dealing with bookmakers. It can be stressful enough as it is at times, without the frustration of struggling to find the game you want and having difficulty filling in the bet slip as you wish. In our opinion some of the best designed betting websites for the UK market are:
BetFred or Parimatch
Like all the best betting sites for football both sites have an easy to read layout with just enough graphics to appear interesting but without so much that it dominates the page at the expense of useful information. Both have obviously spent a lot of time thinking about how to navigate their websites and it shows by the intuitive nature and small number of clicks required to get to where you want to go.
8) Mobile Apps: 
In 2022 the days of sitting at a PC to "surf the web" are long gone. The vast majority of people these days access the internet, and bet, from their Smart phones. It is possible to do it whenever and wherever you want to and a dedicated mobile app makes the process so much easier than attempting to use a web browser to do the same thing. The best bookies for football provide mobile apps for their customers to use, the best we have found for football bets are Bet365, 888Sport, and BetFair.
The Bet365 betting App provides you with a remarkable amount of statistics to help you with your research. It is also quick and easy to view the details of any betting offers that apply, including football betting offers. You can watch some games on a live stream which helps with any "In Play" bets you may be considering but unfortunately not many games from UK leagues. The Bet365 App also allows you to "cash out" a bet at the click of a button, which can take away those last minute nerves as a bet nears its conclusion.
The 888Sport betting App is available for both Android and iOS phones. It has incredibly intuitive navigation to find the bets you want to place and it supports the option of live betting on a huge number of events. Early Cash Out is an option for those who want to lock in their winnings or cut their losses. Any Bonuses available to website customers also apply to those who register or use the 888Sport App. 
The BetFair betting App is as you would expect a first class product, with ALL the betting markets available via the website also available via the App. After just one click you can jump to all events either "In Play" now, starting today, starting tomorrow, or starting in the next 7 days. You can also browse via the different cricketing competitions. There is the ability to cash out automatically or you can partially cash out as you wish by manually hedging your bets, a level of customisation which is unique to the Betfair App. 
9) Customer support
When you are football betting, customer service is an area which hopefully you wont need, but you want it to be good when you do need it. Having questions dealt with quickly and efficiently helps build trust between you and your bookie and provides reassurance that you are in safe hands. Some bookmakers focus on live chat services, while others may concentrate on Email or Phone. Social media such as Facebook and Twitter is frequently used these days as well, so even if you personally dont like all that, having an account just to contact bookies is not a terrible idea. For all round great customer service, defined by being able to provide an accurate answer in a timely fashion, BetFred, Ladbrokes, and BetFair are amongst the best you get.
TOP10 bookies reviews  
BetFred
Fred Done is known as the bonus king and his bookmaker does not disappoint, with a huge range on promotions and daily price boosts on the days big games. They have a website but also shops on the High street which gives a layer of security lacking in some other operators.
Marathon Bet
With a remarkable number of football leagues to bet on Marathon Bet are one of the best football betting sites around. Coupled with this their 0% commission on selected matches offer is also tremendous value.
Parimatch
A new kid on the block for UK football bookmakers Parimatch has quickly made a name for itself, offering a slick website, exciting bonus offers for new AND existing customers, great odds and a range of price boosts each and every day.
10bet
Recently relaunched 10bet have excelled themselves with their football bets, becoming one of the must have football betting accounts. The thing that sets them apart is the number of promotions they run, the generosity of them as well as their uniqueness. They add an element of fun often overlooked elsewhere.
Betfair Exchange
They will have the best football betting odds on the underdogs the vast majority of the time, and that is including the commission you will pay on winnings. It is not uncommon in the correct score markets to see 3-3 results at 33/1 (Decimal 34) at bookmakers and 70 or more at Betfair.
Unibet
Football at Unibet is a passion, which you can tell from the attention to detail they have in their betting markets, with some of the most in depth coverage around if you are looking for a bet chances are Unibet will have it. They also run regular promotions and free bet offers for existing customers so once you have an account remember to log in regularly to check your in box!
Smarkets
They began life as a rival exchange to Betfair, and over the years they have not taken Betfair's crown but they have given them a bloody nose. They were the first to pioneer the 2% commission model and this combined with their cutting edge mobile app make them a real contender in the UK gambing market.
Novibet
To many a surprise inclusion but Novibet is a dark horse when it comes to UK football betting. They have a 0% commission game on each week, and that in itself is enough to get them noticed, but not only that the range of existing customer offers and promotions is large enough to keep anybody interested in coming back for more. If you are looking for a good all rounder, who gives you more "bang for your buck" then Novibet is it.
Bet365
Bet365 is not on the highstreet but it is still one of the most recognised UK bookmakers out there, and betting on football is what they do best. The ever present sponsors of Stoke FC frequently have some of the best odds available and they have higher bet limits than most. 
StarSports
A smaller bookmaker but one who is growing quickly, and expanding their shop presence as they do it, StarSports have many football promotions running and cover almost every game in the UK regardless of the level. On top of that they also have a dedicated news site with blogs and opinion pieces, using these insights along with your own thoughts can really help pay dividends. 
Football Betting Tips & Strategy
There are many, and we do mean MANY, different football betting strategies and people who are keen to offer you tips and advice. Firstly you should be wary of anybody selling you "tips" with no explanation of how and why they have made that choice. Secondly bets will lose, it is unrealistic to think that they wont, and there is nothing wrong with bets losing, as long as your bets that do win, win more than the odds suggest they would! 
Just as important as the bets you place is the amount you place on the bet, this is known as "staking". Using a sensible staking strategy can have a dramatic effect on your long run returns. It has been proved by mathematicians that the optimum staking strategy and we have a full in depth review of it below:
This is not the only strategy though, for further reading about how to improve and educate yourself and your bets, see the articles below:
Most Popular Football Betting Markets
Match Odds
The most popular football betting markets tend to follow this rule: A good bet is a simple bet! Well there is nothing as simple as simply saying who is going to win. It follows that one of the most common betting markets is betting on the outright result of the match is known as the "Match odds" or "win draw win" market.  The teams are listed with the Home team first (1) and the Away team as (2), the draw is sometimes represented with an (x). EVERY bookmaker, for every match in every league, will have this bet.
Double Chance
A spin off to the final result is the "Double chance" market, this is betting on your team and also the draw, so as the name suggests you have two chances to win. This is normally used when one team is a heavy outsider and you think the favourite will slip up, you just arn't confident how badly they will slip up, so you cover the underdog and the draw.
HT/FT
Another match odds derivative is the "Half time / Full time" market, which is as the name suggests betting on who will be winning at the Half time stage AND then who will be winning at Full time. There are a number of reasons you may look at this market but the main one is when a team is such heavy favourites the match odds are so low you can get more value betting they will score in the first half to take the lead before winning at Full time too.
Correct Score
The "Correct score" market does as the name suggests, you bet on what the score will be at the final whistle. Note this market is 99.99% of the time for the final score after 90 minutes (+ injury time) have been played. It does not include extra time should there be any.
Goal Scorer Bets
Who do you think will get on the scoresheet? Betting on the "To score" market will allow you to bet on just that but be aware if you are choosing defenders own goals do not count! The odds will range massively from the teams on form number 9 scoring to one of the defenders or even the goalkeeper, but if you study the form of each player and the defensive set up of the opposition, then value can be found. A spin off of this is who will be the "First goalscorer" and now the odds are noticeably higher, but it does add an element of randomness to things that make it not a favourite bet of ours. A tip though is with any goalscorer market, be aware of which player in each team is assigned to take penalties, it can make all the difference.
Over/Under goals
Some might say surprisingly the "Over or Under Goals" markets are the second most popular in terms of volume of money placed on them at the bookmakers. The traditional and most common one you will see is the 2.5 goals market as the majority of football games have either 2 or 3 goals in them so that is the pivot point. You can actually bet on the under 0.5 goals market which is essentially betting on it being 0-0 and a tip is IF you want to bet on 0-0 check the odds here as they may be higher than the correct score 0-0 even though it is the same thing. The odds for the 2.5 goals market will usually hover around evens and you make your choice but for some of the higher numbers, over 4.5 for example, you start to see double digits appear for overs!
Specials
Football also has its share of "Specials" markets, which can be literally anything but are often meant to be a bit of fun. Not all bookies will have these but the best football betting sites will. You can bet on who will be the next manager at "XXXXX FC" or who will be the next manager in the Premier League to be sacked, but beware these markets are frequently open to manipulation. Specials bets on events in a match are more common, for example will a player score with his head, who will be man of the match, what colour boots will the first goal scorer be wearing, and other things of that nature. We would advise these bets are treated in the manner that they are meant, fun, and they are not to be bet on for more than pocket money.
Our Conclusion
Football is a great sport to bet on and we hope that we helped show you insights into a few of the best betting sites for football. Betting on a match you are watching can make even the most boring of 0-0s exciting (If you have backed the draw, or unders in total goals), and also it can temper the pain of watching your favourite team lose, if you have secretly bet a little on the opposition. You can pace yourself when betting and have the whole spectrum of betting on the outright league winner that year, through to in a match taking place now who will score next. The mainstream nature of the sport means large bets can be placed without much notice being paid to it, but regardless NEVER bet more than you can afford to lose, and more than that, we suggest you do not ever even bet more than you care about! 
Gamble responsibly, stay safe, and good luck!