The best UK bookies for horse racing in 2022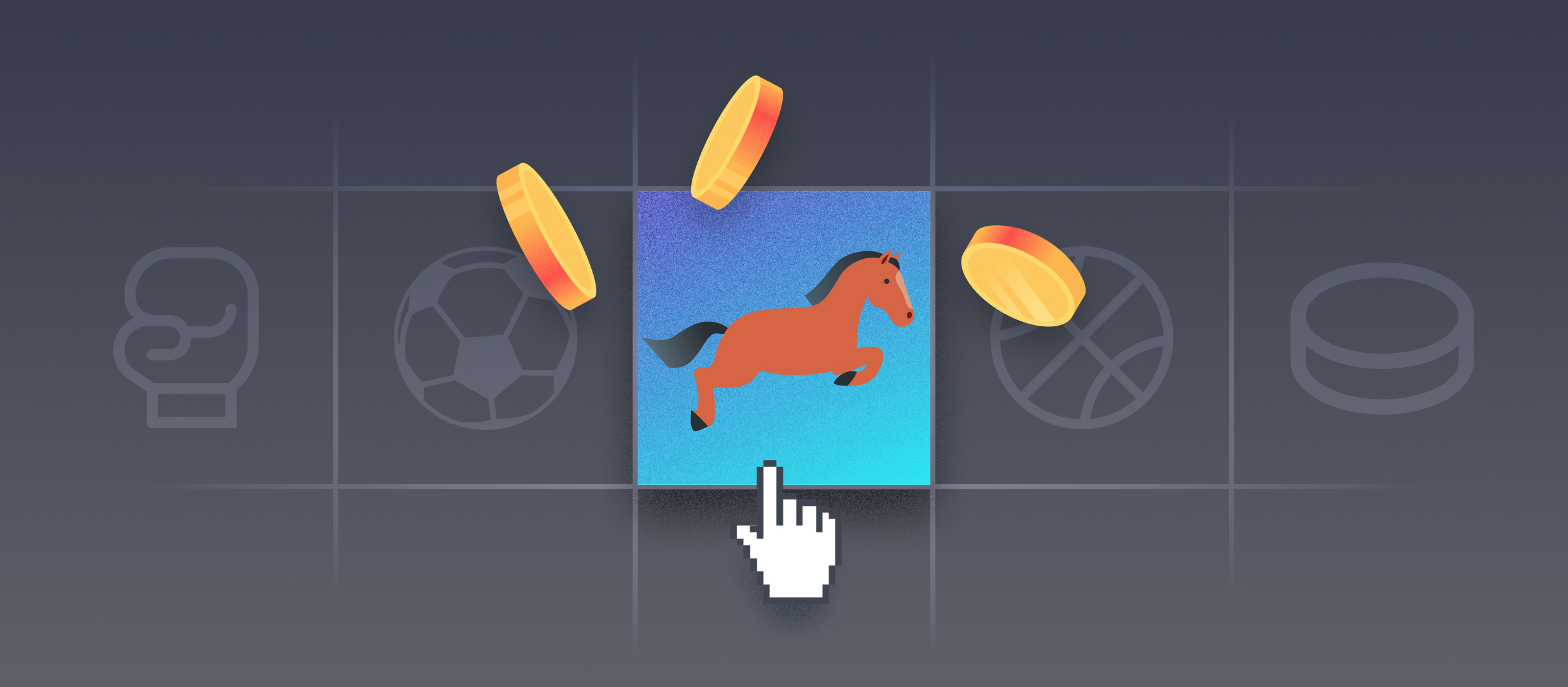 Horse racing is known as "The Sport of Kings" and for good reason. It is the oldest and most prestigious gambling sport in the UK. Horse race betting in the UK began in the early 1600s during the reign of King James I and has grown into today's mammoth industry spanning the globe.
What to look for when choosing a bookmaker for your Horse Racing bets
Everybody is different so what is best for one person is not necessarily the best for another. We trust people to look at our objective ratings through their own eyes and use that information to help decide what is best for themselves.
1) Odds quality
The overall quality of the odds which they offer, for many people this is all they care about. 
2) Number of Markets
It is important to take into account the betting opportunities which they offer for each race they take bets on. As well as who will win the race can bet on how much by? Can you bet on the forcast? Can you bet on the performance of certain trainers at the meeting? Etc, etc.
3) Live Betting
There is the "In Play" aspect and we look at can you bet on the race as it unfolds as well as is the race streamed so you can watch it or not. 
4) Promotions and Bonuses
A factor many fun bettors like to look at is the promotions and bonuses which a bookmaker can offer, these little kick backs can all add up and help to give you more "bang for your buck" so need to be considered. For horse racing bets whether or not a bookmaker has "Best Odds Guaranteed" is especially important.
5) Mobile betting
Finally we consider what is the mobile betting like, since these days that is the method most people use when they are gambling online. We review the apps if they have them, check out if it is android or iOS, preferably both, and if they have a mobile site how does that compare. All these things together define what is a good and a not so good bookmaker, and these are the criteria we judge them all on.
TOP 10 bookmakers reviewed
The top 10 horse racing bookmakers in the UK are a mixed bunch and some might just surprise you. To separate them individually is too hard as there is so many variables which are important to some people but inconsequential to others. It becomes personal preference depending on the tastes and needs of the gambler in question. But our top ten in alphabetical order are:
Bet365
Undoubtedly one of the heavy weight UK gambling websites Bet365 are one of the best horse racing betting sites. They have competitive odds and are regularly best priced on the favourites. More than this what sets Bet365 apart is the large limits allowing decent sized bets to be put down with a minimum of fuss. Alongside this they have a host of concessions across the board on bonus offers on specific races too.
Betfair Exchange
This is where you will find the best horse racing odds on the outsiders without a doubt, and that is even after including the commission you will pay on winnings. It is not uncommon to see horses listed with an SP (Starting Price) of 33/1 being available at 100/1 or more at Betfair.
BetFred
They are one of the best bookies for horse racing which have a presence online and also on the High street. What sets BetFred apart from the rest is the number of races they have promotions running coupled with the number of unique bet types they allow.
BetVictor 
Horse racing betting is taken very seriously at BetVictor, known as "The Gentleman" bookmaker and it is no secret that Horse racing is their priority. They have Best Odds Guaranteed on all UK racing and uniquely also a "Run for your money" offer where your stake is returned if your Horse loses all chance at the start of the race. 
Geoff Banks
Not as high profile as some others in our top 10 Geoff Banks are horse racing aficionados and one of the best online bookies for horse racing making. They have a few features which set them apart, one being the ability to watch all UK and Irish races once you have simply logged in, there is no need to have bet onthe race, which can be very useful if you are studying the ground or a certain horses form.
PaddyPower
They have grown to be a major UK highstreet presence but it is known online for its horse racing betting. Every day there are Paddy's "Power Prices" along side special cashback as a free bet offers on selected races.
Parimatch
Relatively new to the World of horse racing betting Parimatch are making a name for themselves with some excellent odds, one of the best user interfaces of all UK horse racing bet websites, and ongoing free bet offers and promotions designed specifically for horse racing bets.
Smarkets
Founded as a rival exchange to Betfair, they are not new anymore and they have certainly shaken things up. Now not only do they offer the best horse racing odds they do so with 2% commission for all users, on all races!
StarSports
Based in the South of England around the Brighton area this has not stopped StarSports becoming a National brand name as one of the best horse racing betting sites around. Early Prices are available on all UK races, and they cover a large number of International races as well.
William Hill
Will Hill as they are affectionately known are one of the leading Horse racing bookies in the UK with some of the best Horse racing odds. All the concessions you would expect as well as large limits and Best Odds Guaranteed make them one of the best online bookies for horse racing.
Horse Racing Bets Available Online
There are a number of Horse Racing bet types available online and we will take a look at your options here.
To Win
The most common type of betting is on simply who will win the race but even this has multiple options which you should be aware of. The main variable with this will depend on WHEN you place your bets, and you can find yourself betting either "Ante Post" or "No Runner No Bet" and there is a big difference between the two. 
Ante Post
These are bets placed far in advance of the race, a minimum of a day away but anything up to a year or more. It is done before Horses are certain to even be running in the race, and if they do not run that is tough, your bet has lost.
No Runner No Bet (NRNB)
These are bets placed after the horse racing course's betting market has opened, and odds are being offered on Horses who are now confirmed to be runners.
There are considerably better odds available if you bet "Ante Post" and this is because there is one big negative for you as the punter. If the horse you have bet on does not run the race, you do not get your money back! With most bets placed either at the course or online on the day of the race (These are NRNB bets) unless your Horse is "under starters orders", if it does not run, you get your stake back.
Once you have decided which of those you want to bet on, and NRNB is generally the most common bet type, you then need to decide what type of odds to take. There are two or even three different types of odds you can accept with Horse racing bets:
The first one which we will look at is the most traditional which is where you take the Starting Price (SP) odds. This is set by bookmakers at the course and you  will only know what odds you will actually get for sure as the race begins, prior to that the SP odds can go up and down and it doesn't matter what they were when your bet was struck, you will get the SP (that is the odds at the start of the race). The only real advantage to this type of bet is that you can bet a very very large amount of money should you wish and it will be accepted no questions asked.

Early Price odds began to be offered by some major firms to punters not at the course and as time has gone on, certainly with the advent of the internet age, it is now the most popular type of Horse racing bet online. An Early Price is odds fixed at the time you place your bet, much like the majority of other Sports bets, if the Horse is advertised as 3/1 when you bet on him, and that is accepted, then 3/1 is what you will get no matter what.

More recently still, fierce competition between the UK's online bookmakers led to the creation of the Best Odds Guaranteed (BOG) concession. When you take these odds they are initially the same as taking an early price, you will get as a minimum these odds. However IF the Starting Price drifts out before the race starts, and in the end the SP is considerably higher than the EP which you took, then having BOG will pay you out at the larger SP. It goes without saying that any bookmaker offering BOG is one of the better UK Horse racing bookies.
Each Way betting 
Another thing to consider with Horse racing bets is that you do not have to bet on who will win, a large number of other variables can be available. The most common of these is the betting "Each Way" option. This is where your bet stake is split in two and half is placed on will the Horse win and the other half placed on will they finish in the top 2,3, or 4 depending on how many horses are in the race. The place half is usually paid at ⅕ of the odds. This type of bet is most commonly used where a horse is a large outsider, maybe 66/1, and so even though a punter may see that as value as they rate the horse highly they still don't think the horse is good enough to win, so an each way bet would be in order..
Best horse racing odds
The best horse racing odds overall can almost certainly be found at the exchanges. This is especially true of the outsiders but overall the vast majority of races are priced up at around a 100% perfect market. There is of course varying commission to factor in but still, for pure good odds, the exchanges are likely to be your first port of call if that is what you are mainly looking for. Betfair are proud to claim that for 96% of runners (Horses) so far this year (2021) they have had the best available odds.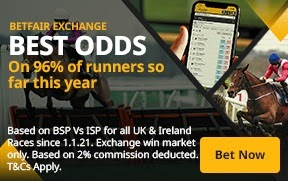 This may be true BUT there are other factors which could come into play with your bet, and these mean that some bookmakers despite having lower headline odds actually represent better value. The most striking example of this is the "Best Odds Guaranteed" offer which means if you take an early price of 4/1 and the horse drifts in the market to 5/1 at the off you would get paid 5/1 should the bet go on to win. An exchange however would only pay you 4/1, so straight away you can see Betfair's headline claim is not quite all it seems. Further concessions include paying "First Past the Post" as well as official result, meaning should your Horse win but go on to be disqualified in a Stewards enquiry, you still get paid as either a win, or some bookmakers return your stake. At an exchange you get paid on official results only. Some bookmakers pay "Faller Insurance" so if your Horse falls at a fence and does not finish the race you get your stake back, or offers where if you finish 2nd to the SP (Starting Price) favourite you get a free bet.
If you were betting at "Glorious Goodwood" for example. We have taken data from the showpiece event of the day, "The Sussex Stakes".
| | | | | | |
| --- | --- | --- | --- | --- | --- |
| Bookmaker | Margin | Odds of Favourite | FPTP | Daily Racing offers | BOG |
| Betfair Exchange | *1.00% | 2.66 | No | No | No |
| Geoff Banks | 6.34% | 2.50 | Yes | No | Yes |
| PaddyPower | 11.46 | 2.38 | Yes | Yes | Yes |
| Betfred | 16.16% | 2.38 | Yes | Yes | Yes |
| Parimatch | 16.99% | 2.375 | Yes | Yes | Yes |
*Betfair will also charge you 2%, 5%, or 8% depending on which commission plan you are on.
You can see there is a trade off between the best raw odds, and the odds combined with the promotions and bonuses giving extra value. It is up to each individual to assess what is the best combination for them, but it wrong for anyone to look ONLY at the odds, or ONLY at the bonuses.
What Horse Racing Betting Promotions are There?
There are many Horse Racing promotions available, some are offered on all races, others may be available on just one particular race. General concessions the best horse racing bookmakers offer on all races and you should look out for are:
Best Odds Guaranteed
 This is probably the best Horse racing promotion which there is online. You will be paid at either the EP you took or the SP, whichever is greater.
First Past the Post (Double payout)
You will be paid as a winner if your Horse crosses the line first OR if there is a Stewards enquiry you are also paid on the official result.
1st Faller insurance
If your Horse falls at the first fence, you get your money back.
Run For your money
If your Horse does not start the race, or an incident in the stalls prevents any chance of winning, you get your money back.
General promotions
There are also promotions which are general but must be used with Horse racing, for example Parimatch have an offer where after 3x £5 Horse racing bets you qualify for a £2 free bet. Several bookmakers run Horse racing offers with a 3/1 or above winner resulting in a free bet to the same stake on the next race, Bet365 are one of these. 
You will finally have very specific Horse Racing Betting Promotions which are not known about until the day of the race. These can vary from extra places in the Each Way market, through to finishing 2nd, 3rd, or 4th in that race meaning a free bet credit which PaddyPower do most Saturdays.
Horse Racing Betting Strategy
For Horse Racing Betting Strategy there are a few things people like to look for in the hope of giving themselves an edge. A few of these things are:
The Form
The current form of the horse, how did it run the last time out?
The Going
Ground conditions, now this is a big one, some horses love soft ground, mainly those with Stamina who may not be the quickest but they will keep on going! Others may like it firm and really give it some, but they have a short fuse and soon blow up. So… make sure your horse is racing in the preferred type of ground, which will be dictated by the weather.
Track Knowledge
The Horse and Trainers previous record at the track is also something to look out for, some prefer one course to another, a bit like a football team can have a home advantage, and they perform as such.
The Opposition
This may seem obvious but it is worth mentioning, do not only look at your horse but look at everyone in the field. It does not matter how hot your horse is, if there is another horse hotter, you wont win. Similarly there may be a few negatives in this race for your horse, but if every other horse also has negatives, you can still be the favorite.
The Draw
At certain tracks, especially over shorter distances, the Draw (what lane your horse starts in) can have an effect, with more winners being drawn from either high or low numbers at certain tracks.
Value Betting
The biggest thing though, for any strategy, not just Horse racing but any gambling whatsoever is look at the odds offered. This is the only way you can make money from gamling in the long run. Bet when there is value, that is the odds offered are greater than the probability of something happening. If there is no value in the race, then just don't bet on it, you do not HAVE to bet. If you can do that, then in the long run you are certain to have a winning strategy.
Popular Horse Racing Betting Markets
The most popular Horse racing betting market is quite simply to win the race. This is closely followed by Each Way bets when there is no clear favourite, sometimes this can be useful and a popular bet for some. In more recent times mainly with the advent of online betting on bookies websites there are now forecast bets becoming popular, alongside head to head bets. A forecast bet is where you predict not only who will win the race but also who will come second (sometimes even 1st, 2nd AND 3rd) and the odds available here can be mouth watering. On the other hand you can bet Head to Head which is when two horses are chosen on the betslip and the bet is which of just these two, will finish ahead of the other. The odds on Head to Head bets are not always much above evens but it is a much simpler form of bet. It is popular because it takes out a lot of the unknown factors and having to research too heavily every horse in the race, instead you can just research two.