2022's best betting sites for tennis in the UK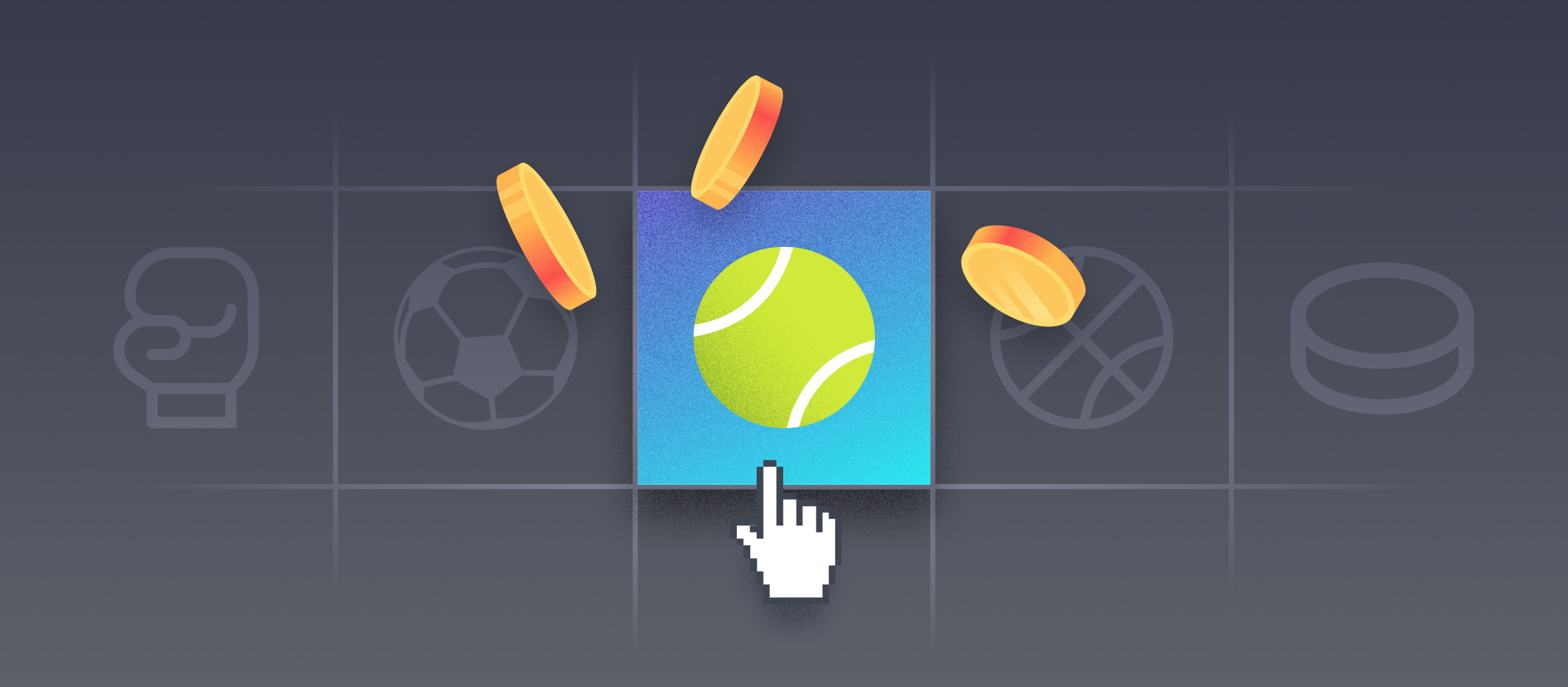 The game of tennis originated in France in the 12th Century, but was first known as 'jeu de paume' or 'game of the palm as it was originally played with the palm of the hand; rackets weren't introduced until around four hundred years later, when King Henry VIII became a big fan.
On this page we have put together a list of the best bookies for tennis, available to UK bettors. We have researched the UK online betting markets thoroughly and applied a range of different criteria, before carefully selecting our choices. You should read all of the reviews carefully and consider which bookmaker (or bookmakers) is the best one for you, personally, to place your bet. Ultimately whilst we consider the below to be the best bookmakers for tennis, our results are based on our own opinions and experiences; only you will know which of the criteria we've mentioned will be important enough for you to choose one bookmaker over another.
What criteria are important when choosing a tennis bookmaker?
Whenever we are looking at UK bookmakers in an attempt to determine who is the best, we judge them on different criteria. Because no two people are exactly the same it is not possible to claim that there is a universal "best" bookmaker. Because everybody is different we all have different preferences and place different priorities on different things. We hope that people will look at our ratings from their own shoes and simply use our information as guidelines for helping to decide what is best for themselves. 
The criteria that we use are obviously how good the odds are, and for some people this is the be all and the end all. Other things which in our view matter are checking how many sports can you bet on, how many countries and leagues can you bet on for each sport, and finally how many betting markets are available for each match. There is also the quality of their in play betting betting to consider and how often are the events available to watch on a live stream. Another big thing for many is the bonuses on offer and for some people the quality of the loyalty or VIP scheme. We also look at the mobile betting side of things. If they have apps then we download them be it android or iOS and check them out, also if there is a mobile site we take that into account. All these things together combine to make a great bookmaker, and no one bookmaker is the best at all things, so you have to make that ultimate judgement yourself which are the best bookmakers for tennis for you.
The TOP 10 bookmakers reviewed
1) Ladbrokes
Ladbrokes has it all when it comes to tennis betting - obviously they cover all four of the Grand Slam tournaments (Australian Open, French Open, Wimbledon and the US Open), but they also cover many, many smaller tournaments, year-round, so you'll always find somewhere to put your money down if tennis is your thing. Ladbrokes offer competitive odds on  pre-tournament and in play betting markets, as well as outright odds and specials which makes them one of the best betting sites for tennis.
2) Coral
Coral's main tennis offering is based around the four major tournaments of the Grand Slam, but they do offer more, including the World Cup of Tennis, the Davis cup and plenty of ATP and WTA events throughout the year too. As well as their outright betting markets, you can choose pre match and also in-play odds, to keep each match exciting as it unfolds.
3) Betfair
On the Betfair Tennis Exchange you can request the odds you want for over 1316 betting markets across more than 136 tennis events. You can choose from over 9 tennis events including ATP and WTA events and their use of decimal odds make it exceptionally easy to see what you'll win, whether you choose to back or lay an outcome. It is the incredible odds you are likely to get though that make them one of the best tennis betting sites.
4) Parimatch
Parimatch tennis betting markets cover both outright bets on major tournament results, as well as individual matches, but there is much more on top - you can choose to bet on the total score, the winning margin, the number of aces, plus many more options. You can opt to bet in-play too. Markets cover all of the Grand Slams but also Olympic Tennis and the ATP and WTA tournaments as well. This is what makes them a contender to be the best betting site for tennis.
5) BetFred
BetFred offer a range of both in-play and ante-post betting options across all of the major tennis tournaments, including the four main Grand Slams and ATP and WTA tournaments. 
6) BetVictor
BetVictor offers a huge range of tennis betting markets to choose from; whether you fancy selecting an outright winner or care to spice things up with in-play betting, they've got you covered. All major tournaments are covered, as well as the Olympics, and you can even bet on the outcome of a tiebreaker mid-rally. Tons of fun to be had! BetVictor even provide a live scoreboard service to help you keep track of the action, a bet calculator helps you work out your returns, and cash out options even allow you to cash out early if the tension gets too much! 
7) Smarkets
Smarkets offer all of the markets you'd expect to find, including in-play options. They also have a handy guide to tennis trading, to help you make the best of your betting strategies.. 
8) Bwin
At Bwin you can find a tennis event to put your money on almost every day of the year. And it's not just the standard outright wins or in-play markets you'd expect to wager on, either. If you fancy a punt on the winner of the first set or who will win the most games, Bwin is the bookie for you. 
9) StarSports
StarSports' tennis markets interface is a little clunky to use, but they do offer outright and in-play markets on all of the major tournaments and often have some fun special offers. For example, at time of writing they offered a 50% refund on your win stake up to £50, if your player is beaten in a third set tiebreak at the Olympics. 
10) Fitzdares
Fitzdares are pretty no frills in their offering when it comes to tennis betting markets, but you can bet ahead of the action and in-play on outright winners of matches in all of the major tournaments. When looking at the best bookies for tennis it is their ongoing free bet promotions which put them ahead of the rest.
Tennis Betting Tips & Strategies
1. Do your homework
In tennis, you really need to know who you're backing. Not just their name and their current ranking, but also their recent form, whether they're nursing an injury, which court service they favour and even how important you think the match is to them (complacency can lead to surprise losses!). Researching online is the best way to stay ahead, make good use of news sites but also remember social media, you can follow the players personal profiles which can give away little hints as to their attitude going into a game, and therefore how they will play.
2. Don't bet on a winner
This might sound odd. Why wouldn't you back your favourite to win? Well, because you're very unlikely to make any money that way. In a match with only two participants and a certainty of a win from one of them, it's highly likely that there will be a clear favourite. You'll know it, the bookies will know it, and for that reason, even the best tennis odds will be rubbish. 
3. Use the handicap system
In order to get better odds out of a bookie, you can use the handicap system to bet on the player to win the highest number of games, with a handicap. Say for example, you bet on Djokovic to beat Berrettini in this years' Wimbledon final, with an handicap of -5. At end of play, Djokovic was crowned the winner. Throughout the whole match, he had won a total of 24 sets to Berrettini's 18. So even subtracting five from Djokovic's total (his handicap), he would have still won more games than Berrettini. Betting on Djokovic to win with a handicap of -5 would have been more likely to offer better odds at most bookies than an outright win.
4. Bet in-play
This is probably the most exciting way to bet, as it's more risky (and therefore has better odds), but it gives you the opportunity to see how a player is faring in that particular match. It's also often a good idea to bet on a top seed in a decisive set if they're on dodgy ground - the odds will be good and they'll be unlikely to go down without a hard fight. Just think of all those times Andy Murray's turned things around in the past…
5. Bet on a tournament winner
If you bet on Djokovic to win his first match of a tournament, the odds are likely to be pants and you'll walk away with pennies. If you instead bet on him to win the whole tournament, then the odds are likely to be much better. Of course, it's far less uncertain, as there are likely to be three or four key contenders to win overall, but the risk is what improves the odds, and with great risk, comes great rewards...good luck! 
The best tennis tournaments for betting
Australian Open
The Australian Open takes place in Melbourne, Australia, every January. The tournament is played on a hard outdoor surface, although the three main courts have retractable roofs, allowing play to continue in both torrential rain and heatwave conditions. 
(Fun Fact: Ken Rosewall is both the youngest and the oldest player ever to win the Australian Open. He was 18 when he won it for the first time in 1953, and 37 when he won for the last time in 1972.)
French Open (Roland-Garros)
Played on clay, the French Open takes place at the Stade Roland-Garros in Paris, beginning in late May each year. The French Open is widely regarded to be the most physically demanding tennis tournament in the world, due to the clay surface causing a slower pace and higher bounce of the ball. 
(Fun Fact: Despite the stadium being named after Roland Garros, he wasn't a tennis player (although he was a fan!), but actually a French World War I pilot, who became the first man to fly over the Mediterranean Sea.)
Wimbledon
Wimbledon starts at the end of June and has kept the tradition of playing on grass. A retractable roof on the two main courts allows play to continue regardless of the British weather, as Wimbledon takes place in London, England.
(Fun Fact:  54,250 tennis balls are used during the Championships and the grass on court is cut to a height of exactly 8mm.)
US Open
The US Open starts on the last Monday of August and continues to two weeks, spanning the Labor Day weekend. It is played on a hard court, at the USTA Billie Jean King National Tennis Center in New York.
(Fun Fact: The US Open is the only major tournament to have been played across three different surfaces in its history (grass, clay and hard) and Jimmy Connoers is the only player to have won US Open singles titles on all three surfaces.)
Top-Ranked Tennis Players (At the Time of Writing)
Men
| | | | | |
| --- | --- | --- | --- | --- |
| Name | Rank | Nationality | Age | Odds to win Wimbledon 2022 |
| Novak Djokovic | 1 | Serbian | 34 | 2.1 |
| Daniil Medvedev | 2 | Russian | 25 | 12 |
| Raphael Nadal | 3 | Spanish | 35 | 12 |
| Stefanos Tsitsipas | 4 | Greek | 22 | 11 |
| Alexander Zverev | 5 | German | 24 | 19 |
| Dominic Theim | 6 | Austrian | 27 | 26 |
| Andrey Rublev | 7 | Russian | 23 | 41 |
| Matteo Berrettini | 8 | Italian | 25 | 9 |
| Roger Federer | 9 | Swiss | 39 | 19 |
| Denis Shapovalov | 10 | Canadian | 22 | 15 |
Women
| | | | | |
| --- | --- | --- | --- | --- |
| Name | Rank | Nationality | Age | Odds to win Wimbledon 2022 |
| Ashleigh Barty | 1 | Australian | 25 | 6 |
| Naomi Osaka | 2 | Japanese  | 23 | 9 |
| Aryna Sabalenka | 3 | Belarusian | 23 | 9 |
| Sofia Kenin | 4 | American | 22 | 34 |
| Bianca Vanessa Andreescu | 5 | Canadian | 21 | 11 |
| Elina Svitolina | 6 | Ukranian | 26 | 34 |
| Karolina Pliskova | 7 | Czech | 29 | 13 |
| Iga Swiatek | 8 | Polish | 20 | 11 |
| Garbine Muguruza | 9 | Spanish | 27 | 15 |
| Simona Halep | 10 | Romanian | 29 | 12 |
As far as UK talent goes we may be waiting a while for someone to replace Andy Murray as a genuine contender for the Worlds number one spot. The current British best of the crop are:
Top UK Men
| | | | | |
| --- | --- | --- | --- | --- |
| Name | UK Rank | World Rank | Age | Odds to win Wimbledon 2022 |
| Daniel Evans | 1 | 27 | 31 | N/A |
| Cameron Norrie | 2 | 29 | 25 | N/A |
| Kyle Edmund | 3 | 94 | 29 | N/A |
Top UK Women
| | | | | |
| --- | --- | --- | --- | --- |
| Name | UK Rank | World Rank | Age | Odds to win Wimbledon 2022 |
| Johannah Konta | 1 | 41 | 31 | N/A |
| Heather Watson | 2 | 64 | 29 | N/A |
| Harriet Dart | 3 | 148 | 25 | N/A |
However a quick mention for the young Emma Radukanu aged just 18 made waves at this years Wimbledon and hopes are high that she will be ranking amongst the best in the World soon enough.