The next US Open Golf Championship takes place at Pinehurst Resort, North Carolina, between 13th and 16th June 2024. In this article, we share our top three US Open golf betting offers, explain how to bet on US Open golf and claim US Open Free bets, as well as sharing information all about different bet types and the favourite golfers to win the competition in 2024. Finally, we answer your Frequently Asked Questions.
Our Top US Open Golf Betting Offers
The majority of the UK open Free bets and other general betting offers will become available in the weeks or days before the event starts. In the meantime some of the best general golf offers which would also apply to this event are:
Fitzdares - Place 5 bets pre tournament & get an in-play FREE BET


Pre-tournament win singles and win part of each-way only; multiples, in-play, or cashed-out bets do not count towards this offer.

Voided, cashed out, and free bets do not qualify as one of the five bets required to qualify for this offer.

Maximum matched free bet is £10. Selected accounts will receive greater sums and will be notified via email or when logged into a Fitzdares platform.

Bonus Paid As: Free bet
UK players only - 18+ - BeGambleAware
How to Claim US Open Golf Free Bets
The first most important thing to do when taking advantage of Free bet promotions is to read the Terms and Conditions of the offer very carefully. Different US Open betting sites will have different minimum odds requirements, different minimum stakes for your qualifying bet, and different bet types in order to qualify for the promotion.
Having said that, most golf Free bets follow the same general pattern in order for customers to claim their US Open golf Free bets:
Log into your account at your chosen golf betting site.

Opt in to the promotion or enter the promo code if there is one (often promotions for new customers require users to enter a promo code at the point of account registration, in order for them to become eligible for the promotion).

Place a qualifying bet or bets, ensuring that you are following the minimum odds and stake and bet type requirements of the Free bet promotion.

Wait for your qualifying bet(s) to settle.

Upon qualifying bet settlement, you should find your Free bets available to use. If not, then pop a message to Customer Support.

Create a bet using your Free bet stakes, ensuring that it follows all Terms and Conditions listed in the small print of the promotion.

Sit back and wait for your Free bet to be settled, hopefully with a win!
How to Bet on US Open Golf?
If you are looking to bet on US Open golf for the first time and you are feeling unsure, then worry not! Our step-by-step guide is here to support you through the process, from start to finish. In this example, we are going to place an outright winner bet on the US Open golf, at 888Sport.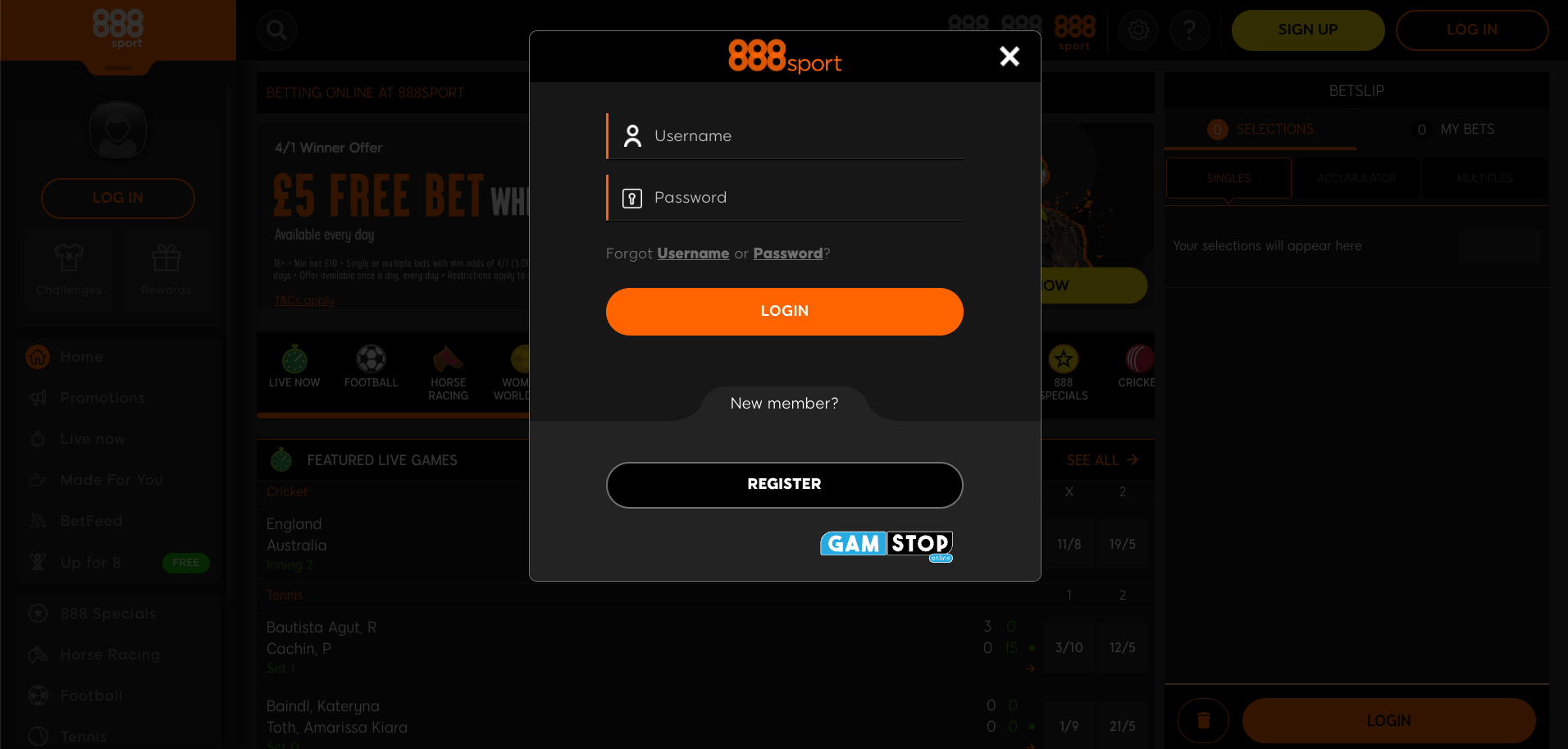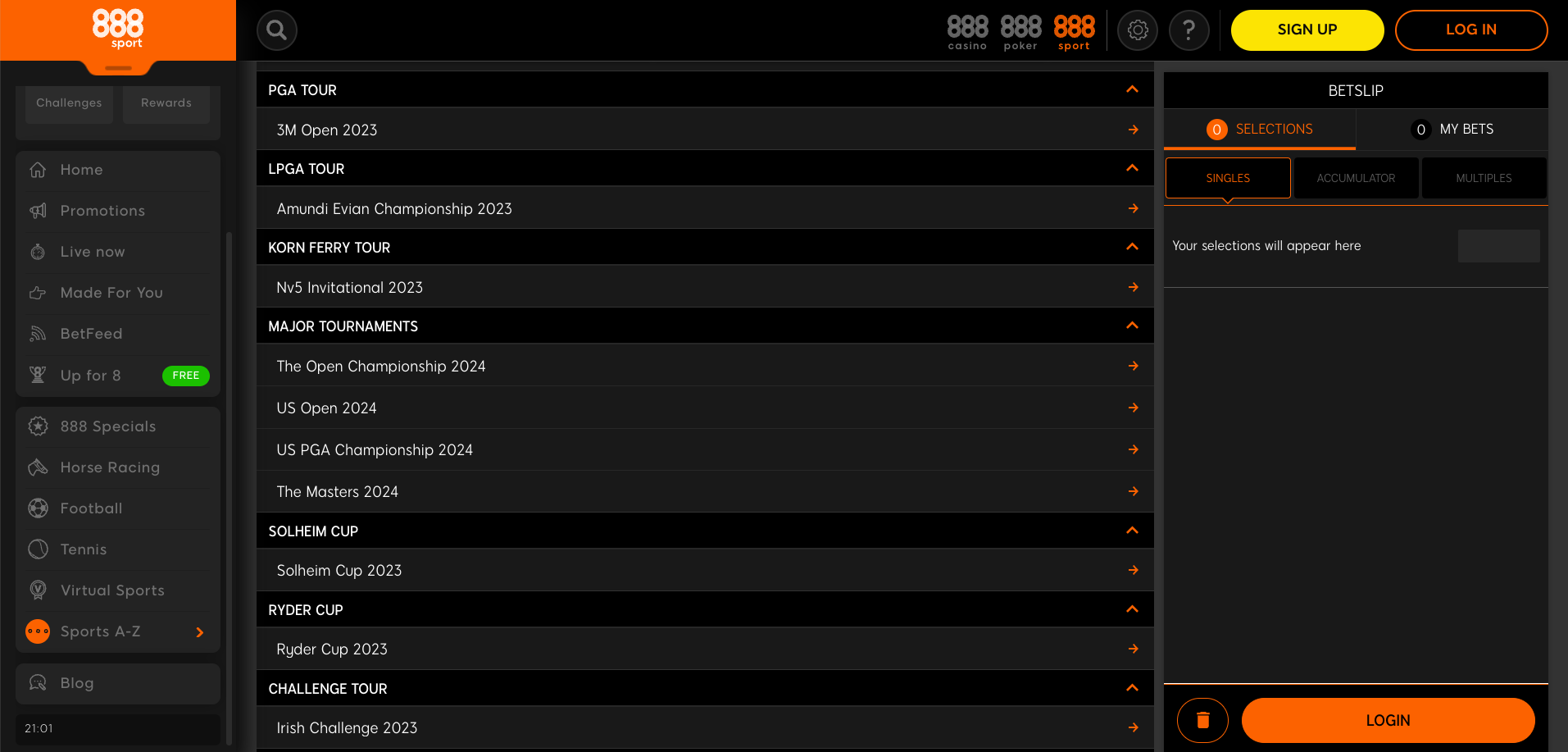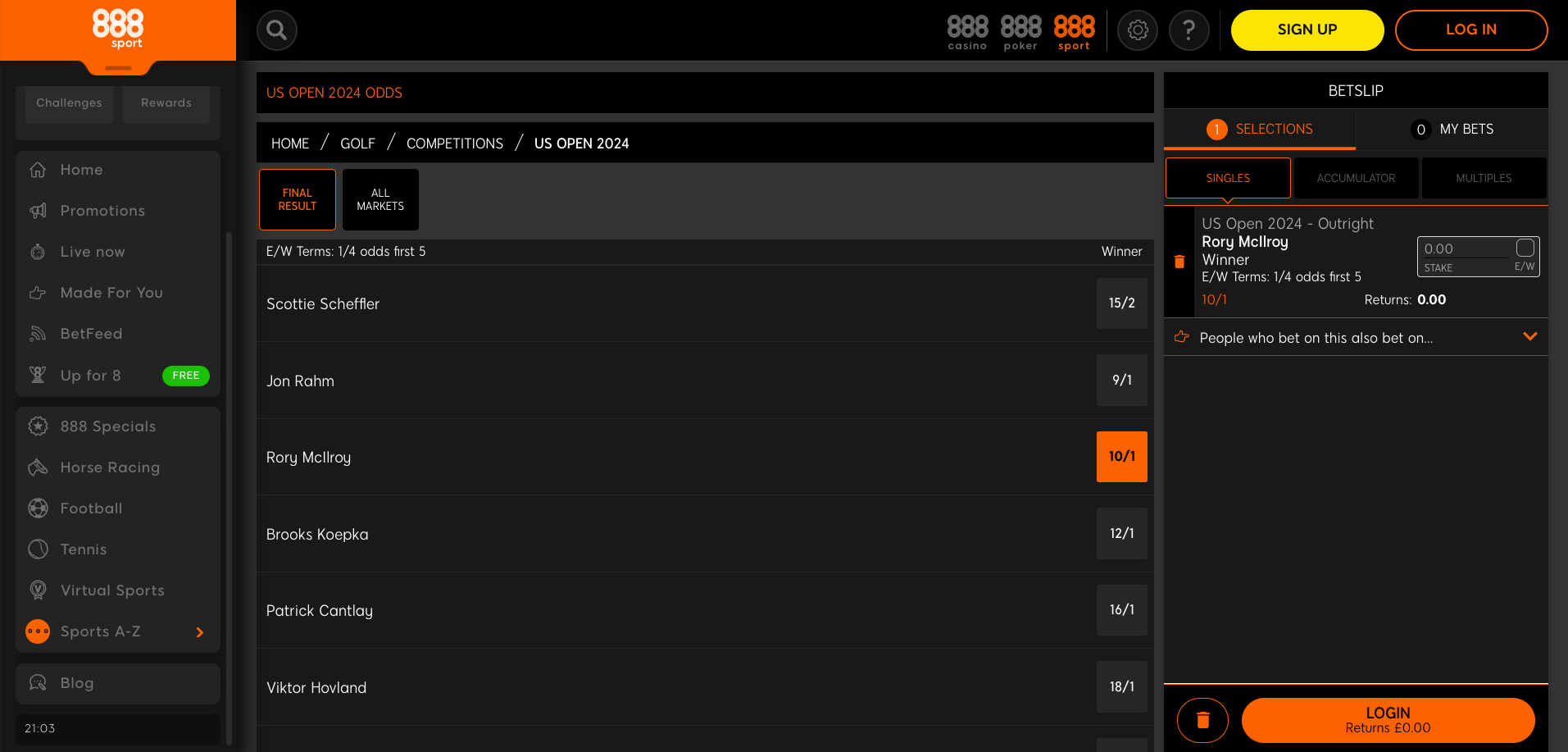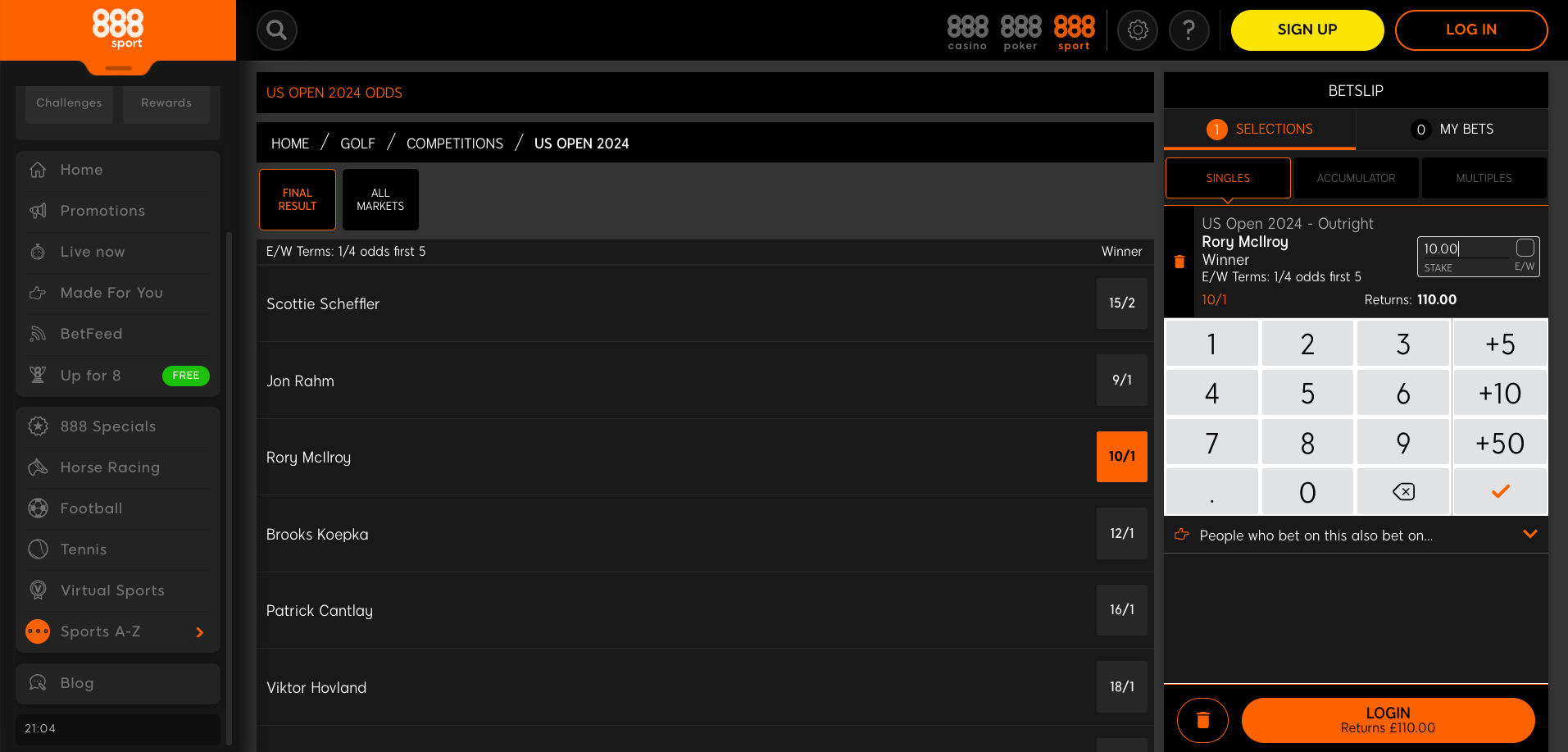 Log in to your bookmaker account.
Navigate to the Golf betting markets.
Click on the odds of your chosen bet. In this example, we are betting on Rory McIlroy to win. You should see your chosen bet pop up in a bet slip on screen.
Enter your stake and click to confirm your bet.
Outright winner markets are not the only US Open golf bets available to punters. In this section, we explain some of the most popular ways to bet on the US Open. For example:
Outright Winners
With outright winner markets, you are betting on the player that you believe is going to win the whole competition. The most popular golf market out there when it comes to US Open golf, you will find outright odds at all golf betting sites.
Top 5/10/20 Finish
With a top 5/10/20 finish bet, you are betting on a particular player to finish within the top five, ten or twenty places on the leaderboard. This type of bet is good if you want to back a player that you think is likely to do well, but might not quite hit the major success of finishing first.
To Make the Cut
The US Open Championship means business. Only the top 60 ranking golfers at the end of the first and second rounds, will be allowed to continue on to compete in the third and fourth rounds. If you think your favourite is likely to make the cut, then this is the bet type for you.
First Round Leader
The first round leader market is exactly as it sounds - you are betting on the player to finish top of the leaderboard at the conclusion of the first round.
Three Ball/Two Ball Winner
When working their way through the four rounds of the US Open Championship, players usually set off in groups of two or three. So the three ball bet is a bet on the player who will perform the best out of that particular threesome, for that specific round.
Top Great Britain/American/Euro/Rest Of World Player
If you are a big fan of Rory McIlroy but think Jon Rahm or Scottie Sheffler might beat him to the Championship title, then you might want to consider betting on Rory to bet the top Brit at the conclusion of the competition. With any of these top geographical location markets, you are betting on the player that you think is going to finish in the highest position out of all of the players from the same region.
US Open Golf Betting Offers
While Free bets are often the headline promotions available at golf betting sites, there are also other golf promotions available at the best betting sites. Here, we describe some of the various golf betting offers currently available.
Extra Each-Way Places
Usually, with an each way bet, you are betting on a player to finish in first, second or third place. With extra each way places offers, you are provided with additional places on your each way bet.
Enhanced Odds
Enhanced odds, otherwise known as price boosts or power prices, are when betting sites offer punters better odds on specific betting markets, than their competitors.
Acca Insurance
With acca insurance, the golf betting site will effectively insure your accumulator bet so that it will still pay out, should one of your selections fail. Take care to read the Terms and Conditions of the acca insurance promotion, as different bookmakers will have different minimum odds, stake and selections requirements for their acca insurance offers.
US Open Golf Betting Odds
When you are looking to bet on the US Open, it is important to shop around to find the best value odds for your chosen wager, as some bookmakers offer more generous odds than others. In this section, we compare US Open golf betting odds for the outright winner 2024 market.
| Player (Country) | 888Sport | 10Bet | Betway |
| --- | --- | --- | --- |
| Jon Rahm (Spain) | 9/1 | 8/1 | 17/2 |
| Scottie Sheffler (USA) | 15/2 | 8/1 | 8/1 |
| Rory McIlroy (GB) | 10/1 | 10/1 | 10/1 |
| Brooks Koepka (USA) | 12/1 | 14/1 | 12/1 |
| Patrick Cantlay (USA) | 16/1 | 18/1 | 18/1 |
Recent US Open Golf Winners
The last time the event was held in June 2023 at the Los Angeles Country Club where players competed for a $20,000,000 purse. That event was a close run affair with W. Clark coming in at 10- just one shot ahead of R. Mcllroy.
| Year | Winner | Nationality |
| --- | --- | --- |
| 2023 | W. Clark | USA |
| 2022 | M. Fitzpatrick | UK |
| 2021 | J. Rahm | Spain |
| 2020 | B. DeChambeau | USA |
| 2019 | G Woodland | USA |
US Open Golf 2024 Top Favorites
Here, we look at the bookies' current top favourites to win the US Open Golf 2024.
Scottie Sheffler
American Scottie Sheffler plays on the PGA Tour. He is currently the World number one and has held the number one ranking position since March 2022.
Although no stranger to winning a major championship, his success hasn't been steady for Sheffler. He missed the cut at the 2022 PGA Championship, and lost the Charles Schwab Challenge play off later in 2022.
At 2023's US Open, he finished third, so it is no surprise that he is in the running to win in 2024.
Jon Rahm
Spaniard John Rahm held the number one spot in the World Amateur Golf Ranking for a (then) record 60 weeks, before becoming world number one in the Official World Golf Ranking in 2020. In 2021, Rahm won the US Open, becoming the first Spanish golfer to do so. In 2023, he won his second major championship, the Masters Tournament.
Despite currently ranking third in the Official World Golf Ranking, Rahm is no doubt keen to win a second US Open in 2024.
Rory McIlroy
Northern Irishman Rory McIlroy is also familiar with the number one spot in the Official World Golf Ranking, a position he has held for over 100 weeks across his career. Currently in the second spot, McIlroy is a four time major champion, having won the 2011 US Open, 2012 PGA Championship, 2014 Open Championship and 2014 PGA Championship. He is one of just three players to have won four majors by the age of 25.
McIlroy has had mixed success this year; he won the Hero Dubai Desert Classic in January, missed the cut at the Masters Tournament in April, finished seventh at the PGA Championship in May, then came second and just one shot behind Wyndham Clark at the US Open in June 2023. No doubt McIlroy is keen to improve on second place at the US Open in 2024.
US Open Golf Predictions
While no one can be certain as to who will win the US Open, we can make some predictions as to who might be successful. So, here are our 2024 US Open tips and predictions:
The bookies' are currently favouring Scottie Scheffler to win.

Rory McIlroy has been on good form in 2023 and is currently third favourite with the bookies, so could be worth a top 5 punt.

As World number one, Scottie Sheffler should not be counted out and will likely be the highest-finishing American player.

John Rahm or Brooks Koepka could make a good each way bet.
US Open Golf 2023 Betting Tips
We know that you want to have the best possible golf betting experience. That is why we share our top US Open golf betting tips, just for you. Read on to find out!
Find the Best US Open Golf Odds
Once you have decided on your bet, search amongst your favourite bookmakers to find the best value odds. While most bookies will likely have the same player as the favourite, the exact outright odds will most likely differ slightly, so look around for best odds. Likewise, with each way, top 5/10/20 finish and various other markets, odds will vary between bookmakers, so shop around before you confirm your bet.
Research Injuries
Doing your homework is essential when placing any bet. When it comes to golf betting, it is important to research the individual players to determine who may be carrying an injury, which might affect their game. At this level, even the slightest niggle could cost a player the title.
Look at Form and Competition
More homework! Look at the current form of your favourite golfer, but also that of their competition. It's no good voting for your favourite player if they are on rocky form at the moment, no matter how much success they have had previously in their career. If you are determined to vote for your favourite player despite some questionable recent form, then perhaps consider an each way bet or top five/top ten market to give them (and your bet) a little leeway if all does not quite go to plan.
Set Yourself a Budget
The cardinal rule in gambling is to set yourself a budget - and stick to it. You might want to split your budget among a few smaller bets, or perhaps put a larger portion of your betting pot on a safer bet and a smaller amount on a riskier one. Whatever you do, please remember to never bet more than you can afford to lose and gamble responsibly, to keep the fun going.
About the US Open Golf
US Open Golf 2024 Course Information
The 124th US Open will take place at Pinehurst Resort, the first US Open anchor site, on 13th - 16th June 2024. The Pinehurst No.2 course has hosted the US open four times, and has been voted number one of the top 100 best golf course in the state of North Carolina in 2023.
The schedule of the 2024 US Open is expected to be as follows:
Monday 10th June - Practice Day 1
Tuesday 11th June - Practice Day 2
Wednesday 12th June - Practice Day 3
Thursday 13th June - Round 1
Friday 14th June - Round 2
Saturday 15th June - Round 3
Sunday 16th June - Round 4
US Open Golf Format
The US Open consists of four rounds on an 18-hole course, forming 72 holes in total. The four rounds are played across four consecutive days. The winner is the player who completes all four courses with the lowest total number of strokes.
US Open Golf – Interesting Facts
Write some interesting facts about US Open Golf event. 
The First US Open - The first US Open took place at Newport (R.I.) Golf Club in 1895.

Most Wins - four golfers have won the US Open four times: Willie Andersen, Bobby Jones, Ben Hogan and Jack Nicklaus.

Largest Margin Win - in 2000, Tiger Woods won the US Open by 15 strokes; the largest ever margin.

Most Strokes on a Single Hole - Ray Ainsley took 19 strokes to complete a par 4 hols at the 1938 US Open.

Lowest Aggregate Score -Rory McIlroy holds the title for the lowest aggregate score at the US Open, with 268 strokes, which he achieved in 2011.

Most US Opens Hosted - While only 14 golf courses can claim to be US Open venues, the Oakmont Country Club has hosted it the most times, having played venue to nine US Open Championships.
Conclusion
In conclusion, the US Open provides golf betting fans with plenty to get excited about, with many bookmakers offering competitive odds and some great US Open golf betting offers.
Frequently Asked Questions
What is the Golf US Open?
The Golf US Open is the annual national championship for golf in the US.
Who is Favorite to Win the 2024 Golf US Open?
World number one Scottie Scheffler is the current favourite to win the 2024 Golf US Open.
What are the Odds on Rory McIlroy Winning the US Open?
The current odds on Rory McIlroy winning the US Open are 10/1 at William Hill.
How Can I Bet on US Open Golf Online?
See our step by step guide in this article to find out how to bet on US Open golf online.
When and Where is the 2024 US Open Golf?
The 2024 US Open Golf Championship will be held at Pinehurst Resort, North Carolina, between 13th and 16th June 2024.
Where Can I Get the Best US Open Golf Betting Odds?
Check out our recommended bookmakers for the best US Open golf betting odds.