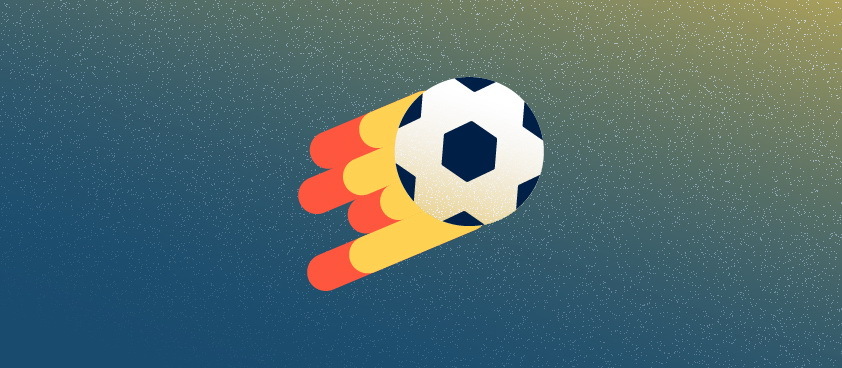 Best 5 Football Betting Sites
Bet365

Bet365 is one of the largest online bookmakers and provides excellent services and markets for a great range of sports. Bet365 provides its customers with some excellent football bonuses as well as a wide range of worldwide football leagues even offering some of the most obscure matches available to bet on. Bet365 also provides detailed match statistics allowing punters to make the most informed bets possible and potentially allowing for even more wins if you play your cards right!
Great range of football betting markets

Excellent Welcome bonus - Up to £100 in Free bets

Enhanced odds for feature football markets
Boylesports

Boylesports has been in the business for years upon years and with this kind of experience it knows what its customers want. With excellent customer service provided 24/7 alongside some great promotions for new AND existing customers they really show that they know what things matter. As well as being Ireland's largest independent retailer, Boylesports has over 250 stores across the UK for punters to bet at as well as get information about the online betting site.
Mobile app for IOS and Android.

The largest independent retailer in Ireland.

24/7 customer service.
William Hill
William Hill is one of the oldest UK football betting sites having begun offline almost 100 years ago. They provide their UK customers with a near flawless mobile app to bet whilst on the go, you could even be at one of the football games which you are betting on. They offer almost every football betting market you could imagine with some of the best odds on Premier League games. They have an excellent new customer bonus giving away Free bets and every day existing users can enter Free to play games to win more Free bets, Free Spins, and other promotional bonuses. William Hill lives up to its reputation and definitely performs when it comes to being one of the best football betting sites.
Great range of betting markets for virtually every football match

Fantastic mobile app

Listed on the stock exchange and licensed by the UK gambling commission
888Sport

888Sports is an industry giant when it comes to sports betting in general and they are also specifically one of the best football betting sites as well. They offer an excellent mobile app, a well thought out and well constructed football betting site they provide football punters with a great overall user experience. They have a bunch of promotions for new and existing users to choose from giving generous Free bets.
24/7 customer support

In Play betting with competitive odds

Great football betting odds on leagues from all around the world
How We Rank Football Betting Sites
Payment Methods
The amount of Payment Methods offered by football betting sites is very important, it is after all the first thing you will have to do before you can place any bets! If you normally enjoy betting with Skrill as your favourite method and find that somebody doesn't offer that it is likely you will be heavily discouraged from betting with them. When ranking our bookmakers we took into account both the number of Payment Methods and check whether they include not just the mainstream debit cards but also the most important E-Wallets, as well as some of the more niche ones too.
Customer Support
Excellent customer support is something every betting site aims to achieve however they don't all master it. When bookmakers do hit the mark with customer service it is usually because of 24/7 service alongside a great FAQ section. As well being available have a helpful and polite customer service team is what football betting customers are looking for.
If you have a problem and the betting site doesn't provide you with the help you need it can be enough to make you close your betting account for good. This is why betting sites put so much effort into good customer support and why we rate it so highly.
Live Streaming
Live streaming is a key feature of most large bookmakers and is vital for anybody In Play betting. Unfortunately due to licencing issues we do not know of any Premier League games that can be viewed live but there are many other football leagues that you can watch. Betting sites that don't offer it at least some of the time will not be giving customers the best experience for their In play bets and so will not be classed as one of the top football betting sites.
Cash Out
The Cash out feature is one which goes hand in hand with In play betting and allows customers to cash out an In play bet halfway through the match essentially allowing you to finish a bet early! Cash out is a major feature used by lots of people and therefore having it available for punters is important. Although having the cash out feature isn't a make or break it's certainly an important thing for a football betting site to have and something we think about when reviewing bookmakers.
Bet Builder
The bet builder feature varies from bookmaker to bookmaker however in its essence it allows customers to put different bets together to build one big bet on the same football match. Although it isn't essential for a football betting site to have it can be a useful feature for some UK customers and is something that could attract people who enjoy betting on football.
New Football Betting Sites
Luckster
Luckster is a new football betting site who have been formed under "Aspire global international LTD". They provide customers with the full range of a Casino, Live casino and a Sports betting site all in one. Although Luckster doesn't place a huge focus on football they do offer some football markets and have decent coverage of the Premier League games.
Betiton
Betiton is another new bookmaker whose sportsbook heavily focuses on and promotes football betting. With a variety of international tournaments on the main page of the Betiton sportsbook and over 1500 different betting markets to choose from it is clear Betiton places a massive focus on online football betting.
This offer is for new customers only and is available once per household. Max. Free Bet amount £10. Minimum wagering on sport to activate the Free Bet is £15. Void/cancelled or cashed out bets do not count towards wagering to activate the free bet. A further list of the types of play which are prohibited in this promotion is included in our Bonus Policy.
Best Football Betting Apps 
#1 Bet365
The Bet365 mobile app provides an incredible, user-friendly, experience with a well-created and perfectly laid out app. It delivers users all of the functionality of the full website in the compactness of an app giving punters an "on the go" option. You can to still bet on all the football leagues whenever and wherever you are. With In-play betting and football streaming available on the app, betting on football is a dream with the Bet365 mobile app.
#2 William Hill
Despite being one of the oldest UK betting sites there is they are still at the forefront of modern technology and have brought customers an excellent free-to-download app for mobile sports betting. It offers Live streaming on a variety of football leagues (Unfortunately not the Premier League) and the In play betting section brings you all the betting markets right onto the same screen.
#3 Betfred
Betfred is a football betting giant in the UK betting industry and they offer customers an unbelievably great mobile app. There is an extra option to use a light app that doesn't offer full functionality in comparison to the website but this still provides customers with almost everything. You have sports betting on the go and qualifying bets can still be made in order to be credited with Free bets upon bet settlement. Football betting on the Betfred app brings one of the best football betting sites onto your mobile, with you anywhere and everywhere you go.
Football Promotions & Bonuses
Free bets
Free bets are the real bread and butter of bookmaker bonuses. Free bets allow customers to place bets without needing to risk their own money, they can be valid for a specific sport or market but nearly always football betting is possible with Free bets. Typically Free bets are worth £5 to £10 however we have seen as large as £200 before and it really does depend on how aggressively the betting site is advertising.
Acca Insurance
Acca insurance works as a form of cashback and allows customers to potentially have part of or all of their bet returned to them either in the form of a Free bet or as real money. Should you place an Acca and the conditions of the Acca insurance is that one leg of the 5+ leg Acca lose then if one of those legs loses you are eligible for a refund up to the value stated on the bonus. Although the exact conditions vary game to game, but the overall idea of Acca insurance stays the same.
Deposit Bonus
A deposit bonus provides you with a percentage or set amount of bonus cash on top of your normal deposit amount! Should you decide to deposit a larger sum of around £100 and there is a 5% deposit bonus when depositing with a certain payment (such as Skrill) you will receive £105 in your betting account! You will not be able to withdraw it though until you have wagered a certain amount of times at above the min odds.
How to Sign Up to Football Betting Sites
Signing up for a football betting site is a simple process and can be done very quickly with some basic info.
The first step is to decide what football betting site you are going to join, we have a good list to choose from on our bookmaker reviews page here, which will take you to their homepage.
From there locate the "Sign up" button which is typically in the top right corner of the page. After clicking the signup button there will be a variety of questions to answer and information that needs filling in.
After entering all of the info that's being asked for by the bookmaker you can finalise your account creation and finish the process. Some bookmakers may ask for verification or ask if you'd like to opt in to certain bonuses.
Looking at these is definitely worthwhile as some of the new customer bonuses provide you with an excellent start to your betting.
Popular Football Betting Markets
What are the most popular football betting markets and what do each of them mean? We list all of the most popular online football betting options below from betting sites (UK).
Match Odds
Final Result betting is the most simple way of betting really, it is just deciding what the result will be. You can bet on either team to win the game (in the regulated 90 minutes) or if it will be a draw. No more and no less. 
Correct score
As the name suggests this is where punters aim to correctly predict the exact correct score. Because there are so many potential outcomes the odds of getting it right are higher and correct score markets are where you can find the highest odds when placing football bets.
Double chance
Double chance is similar to a match odds bet because it is decided on the overall outcome of the match but the difference is that it allows you to choose TWO out of the three possible outcomes. Although the odds will obviously be less the chance of winning is significantly greater and double chance is popular amongst bettors who are sure one team is not going to win but can't rule out the fact they may get a draw.
Half Time / Full Time
This is where the match is split into two, and you are betting on firstly the result at Half time, whether will it be Team A winning, Team B winning or a Draw, and then you are also betting on what the result will be a Full time, the options also are Team A, Team B, or a Draw. It is in effect a HT and FT accumulator bet and is mainly used when there is a heavy favourite to win in 90 minutes and someone is looking to increase the odds, so they bet that they will have the lead in the first half as well.
Over / Under
This is a bet on how many goals will be scored in normal time and the most common variation of this is whether there will be under or over 2.5 goals because around this level the odds are usually not too far apart. An "Under" bet will win when football matches end in a 0-0 or 1-1 draw and if either team wins 1-0 or 2-0. Any other final score will be won by an "Over" bet.
BTTS
This is an acronym for "Both Teams to Score" and as the name suggests is a bet where you can wager on if a game will, or will not, have both teams score at some point in the game. It is almost always that this must happen in regulation time which will include injury time but will not include extra time (should that apply). You have to simply open the market and then bet on "yes" or "no".
To win to nil
When football betting sites list this it is a bet where you are predicting that a team (you can bet on either team but not on both) will win the game without conceding a goal. You will lose the bet if a goal is conceded even if it is an own goal.
(Please note there is also a market "To keep a clean sheet" and these are NOT the same, because in this bet you will win even if it is 0-0. Top football betting sites will list both)
Asian Handicap
This type of betting is where teams can be set different levels of head start effectively and the odds will vary from match odds because this is a bet not just on who will win but on how each team will perform, win or lose. These bets can vary from the simplest handicap of -0.5, which is just exactly the same as match odds will the team win, through to quite complex bets of (for example) -1/-1.5 which is where your bet is split into two and includes the possibility of half your bet "pushing" where your stake is returned if the team wins by exactly one goal.
First Goalscorer
This is a bet on who will score the very first goal of the game. Note that it usually does not include own goals being scored, it is the first person to score a goal for their own team. The best football betting sites run promotional offers where should your winning FGS
To Score
If you think there is a striker on a hot run of form and bound to get a goal, but you are a little worried it won't necessarily be the first goal then simply betting on them scoring at any time during the game is the bet for you.
To score a Hat trick
If you think that a player is going to run riot and score three (or more) goals then you can bet on a Hat trick being scored by your player. It does not need to involve the first goal, and it can be more than three to still qualify as a winning bet.
Number of Corners
You can bet on how many corners will be scored in a game, most often it will be grouped into three options along the lines of "under 7", "7 to 11", "12 or more" and odds will be set for each option.
Number of Cards
Similar to the number of corners you can bet on the "number" of cards but it is more common for this to be broken down into points. A yellow card is counted as 2 points, and a red card is 5 points. You then bet on whether there will be more or less points than a set mark, OR it is like with corners where points are grouped and you pick one option of three.
Football Betting Tips & Strategies
Don't bet on the Correct Score if you are going to watch the game! 
This is much more of a tip than a strategy and it is to do with how much you will enjoy the game if you have placed this bet. It is almost impossible to enjoy the end of the game if you have bet on a correct score of 2-1, and it is 2-1, and there is ten minutes to play. No matter what it is impossible to relax, when one team has the ball and is attacking you are nervous they will score which means your bet loses. BUT, if the other team tackle and go on a fast break, you are nervous again now in case THEY score. It is basically a very stressful situation for all concerned and we do not recommend it. Betting on a correct score is in principle fine, just do not watch the game.
If betting 0-0 bet No goalscorer instead
It is quite common for a football betting site to list 0-0 and the price of there being no goalscorer in the game as the same odds. For example on Friday 5th August Crystal Palace will play Arsenal in the opening football match of the Premier League Season. The odds on the end score line being 0-0 is 10/1, written in Decimals as 11.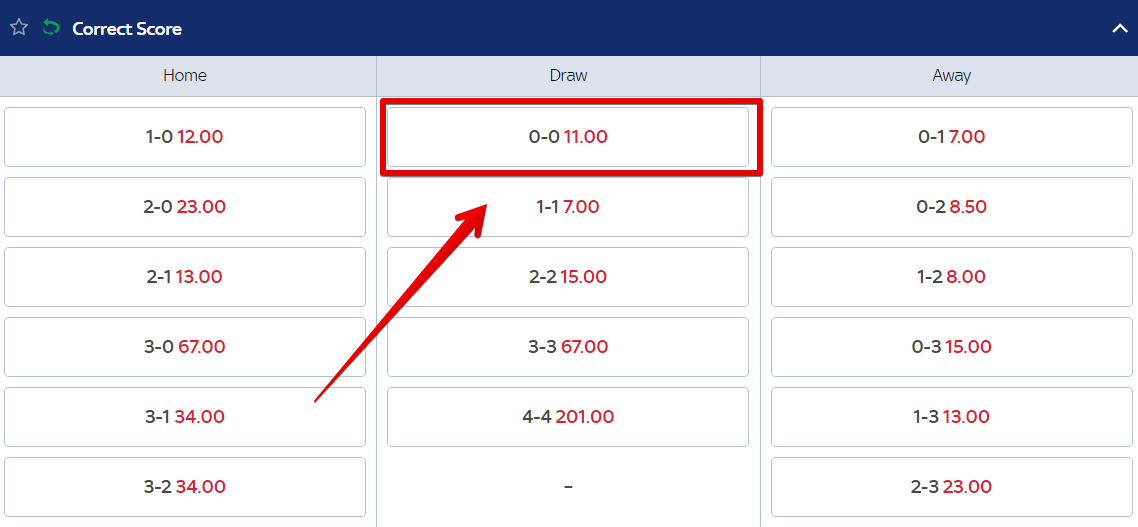 At the same time you can bet on who the First Goalscorer will be and amongst all the players in both squads you also have the option to bet on "No Goalscorer", where the odds are also exactly the same, 10/1, or Decimal 11.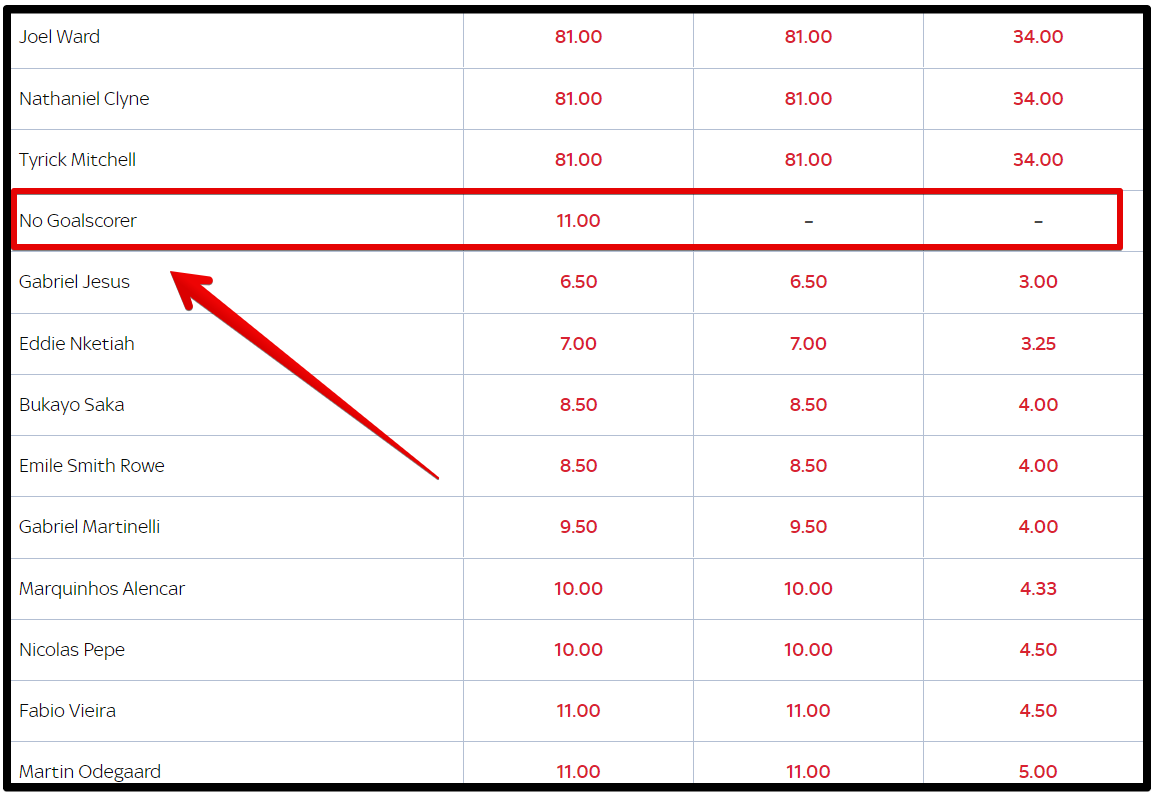 So what is the difference you may ask, why is No Goalscorer better? Well, it is because there is always the possibility of someone scoring an own goal. If an own goal is scored then your 0-0 bet loses because the game is now 1-0. HOWEVER, the No Goalscorer bet is still live, because in the First Goalscorer market own goals do not count. If it ends 1-0 via an own goal your No goalscorer bet will be a winner.


When you are looking at football betting odds, do not just look at the odds but also what the exact details of the market are, to help get yourself an edge.
Check -0.5 Asian Handicap odds as well as Match odds
This is because they are both exactly the same thing, there is no difference between a team winning using match odds and a team winning by one goal or more in the Asian Handicap market. Before you place a bet on a team to win at any sports betting site check both those markets to see which is higher.
Chose your bet size carefully
When you are football betting you have two variables left to consider once you have decided upon your bet, they are the odds and the amount of money you want to risk, known as your wager or stake amount. It has been mathematically proven that you should bet more when you have greater value in your bet, and less when you do not. Unfortunately, it is also true that you will experience the greatest value on long shots. This is because usually it is very hard to accurately know the difference between something being true odds of 80/1 or 110/1, it could be either as far as the betting site is concerned so they just price based on how people are betting. This means that more often than not you are placing huge bets on long shot odds which although, in the long run, is proven to be the best strategy, your account balance is a roller coaster and very few people can handle it in practice. This system is known as the Kelly Criterion and we cover it in more detail here.
Gamble responsibly
This is probably the most important tip on our list. If you are going to be playing at online football betting sites we strongly recommend that you have a dedicated betting bankroll set aside so that you will not mind losing. Only bet with this, never redeposit if you lose it because that would be risking funds that you do care about. Try very very hard not to go on tilt, but if you do, and you blow your bankroll, make sure you keep it to just that.
Popular Football Tournaments to Bet On
The World Cup
Founded in 1930 and held every four years the FIFA World Cup is the biggest prize in football. As we approach the 2022 World Cup in Qatar, to date there have been twenty one World Cups in which a total of 79 national teams have competed in the finals stage. The trophy has remarkably only been won by eight national teams. The country that can reasonably lay claim to being the best football nation in the World is Brazil who have won it five times AND they are the only team to have played in every tournament.
The European Championship (The Euros)
Probably just as big a tournament as far as betting on football goes if you in the UK is the European Championship, affectionately known as "The Euros". Founded in 1958 it has never been won by England, Scotland, Northern Ireland, or Wales, (but England came incredibly close in 2021 losing to Italy in the final). A massive £563m was estimated to have been wagered on that one game!
The Premier League
The most prestigious league in all the World and by quite some way is The Premier League and it is heavily linked to sports betting all around the World. Of the 20 teams competing in it this year eight will be sponsored by a betting company, and the majority of hoardings around the ground will also be sports betting sites. You will find football betting odds are more competitive on Premier League games than any other league.
The FA Cup
The FA Cup, whose official name is the "Football Association Challenge Cup is a knockout football competition played every year and is open to every UK football team no matter what league they are in. First played during the 1871–72 season, it is the oldest national football competition in the world. In recent years it has lost some of the prestige it once had but football betting sites still cover even the early round football matches.
Champions League
The UEFA Champions League (abbreviated as UCL) took on its current name in 1992. It is an annual club competition organised by UEFA and contested by the top teams in the leagues of Europe. It is decided by a round robin group stage which leads to a double-legged knockout tournament before a single leg final. It is one of the most prestigious football tournaments in the world and the most prestigious club competition in European football. Football betting sites all provide a lot of betting markets (with competitive odds) and Free bet offers in an attempt to attract your business.
Europa League
The UEFA Europa League, (formerly the UEFA Cup) is the poor mans Champions League. First organised in 1971 by the Union of European Football Associations it is entered by teams from across Europe who finish well in their domestic leagues but are not good enough to make it into the Champions League. The reward for winning the Europa league is that the following year you are guaranteed entry into the Champions League!
Rest of the World
There are also other tournaments all around the World which do not have any UK interest but are still priced up by sites in the UK so that you can place football bets on them. Tournaments such as the Africa Cup of Nations, Copa America, AFC Asian Cup and more provide global interest and plenty of options for football bettors.
Summary
In summary the best football betting sites will excel in more than one area, but at a minimum will cover a large range of betting markets and all will have competitive odds. When you find yourself betting on football you will also expect there to be a range of promotions to reward your loyalty including, but not limited to, Free bet stakes, Free spins, Enhanced odds, and refund offers "IF" key events occur.
The top betting sites are…
Here at Legalbet we have also categorised the top betting sites and their features to make them easier for you to find. They are:
By Sport: Football | Tennis | Boxing | Cricket | Snooker | Golf | UFC | Darts | Greyhound | Rugby | Horse Racing | Basketball | Baseball | Formula 1 | Ice Hockey (NHL) | Volleyball | Cycling
By Payment Systems: PayPal | Skrill | Klarna | Boku | Debit Cards | Apple Pay | Paysafecard | Neteller | Google Pay | Prepaid Cards
By Features: Cash Out | £5 Minimum Deposit | Minimum Bet Sizing | Live Streaming | Betting Exchanges | Safest | Fast Withdrawal | Daily Free Games
By Events: Politics | Superbowl | WWE
By Esports: CS:GO | Dota 2 | League of Legends | PUBG | Valorant | FIFA
Frequently Asked Questions
What Site Is The Best for Football Betting?
Well, this is a good question and no one site is the very best at absolutely everything, absolutely all of the time. For a good selection of sites in the UK that are amongst the best football betting sites look at the top of this guide.
Football betting is exactly the same as any other type of betting, you just need an account at an online betting site, deposit funds into it, select the bet you want to place, enter your bet stake and submit it. For more details on the finer nuances read our guide above.
Are Football Betting Sites Legal in the UK?
Every football betting site in the UK must be regulated by the UK Gambling Commission in order to accept football bets (or any bets) from UK residents. If they have a licence then everything is perfectly legal.
Free Bet Can Be Used on an Accumulator?
Every Free bet offer will different T&Cs apply but as a rule, for the majority of Free bets that we have come across they can be used on Accumulator bets.
Should you use cash-out on football betting?
Well, there are lots of reasons that you could use it which all revolve around it makes you happier to do so. However, if the question could be re-phrased "Should you use cash-out on football betting to win more money" then the answer is simply no. You will make more money in the long run by letting the bets ride.
What is Over/Under in Football Betting?
When you are football betting Over/Under will usually refer to how many goals will be scored. There are many variations ranging from 0.5 and we have seen up to 7.5, but it is most commonly 2.5 goals that people bet on. It is around this mark that the odds will be close to evens on either side.
Should I Bet In-Play and/or Use Cash-Out?
It really depends on what you are trying to achieve, but there is no obvious reason not to do either of those things if it makes you happier, perhaps making a game more exciting or by removing the risk towards the end of a game so you can relax. In all probability they are unlikely to offer value odds, so you won't make a profit doing it, but doesn't mean you should not if it makes you happier.