Betway 4 to Win: How to Play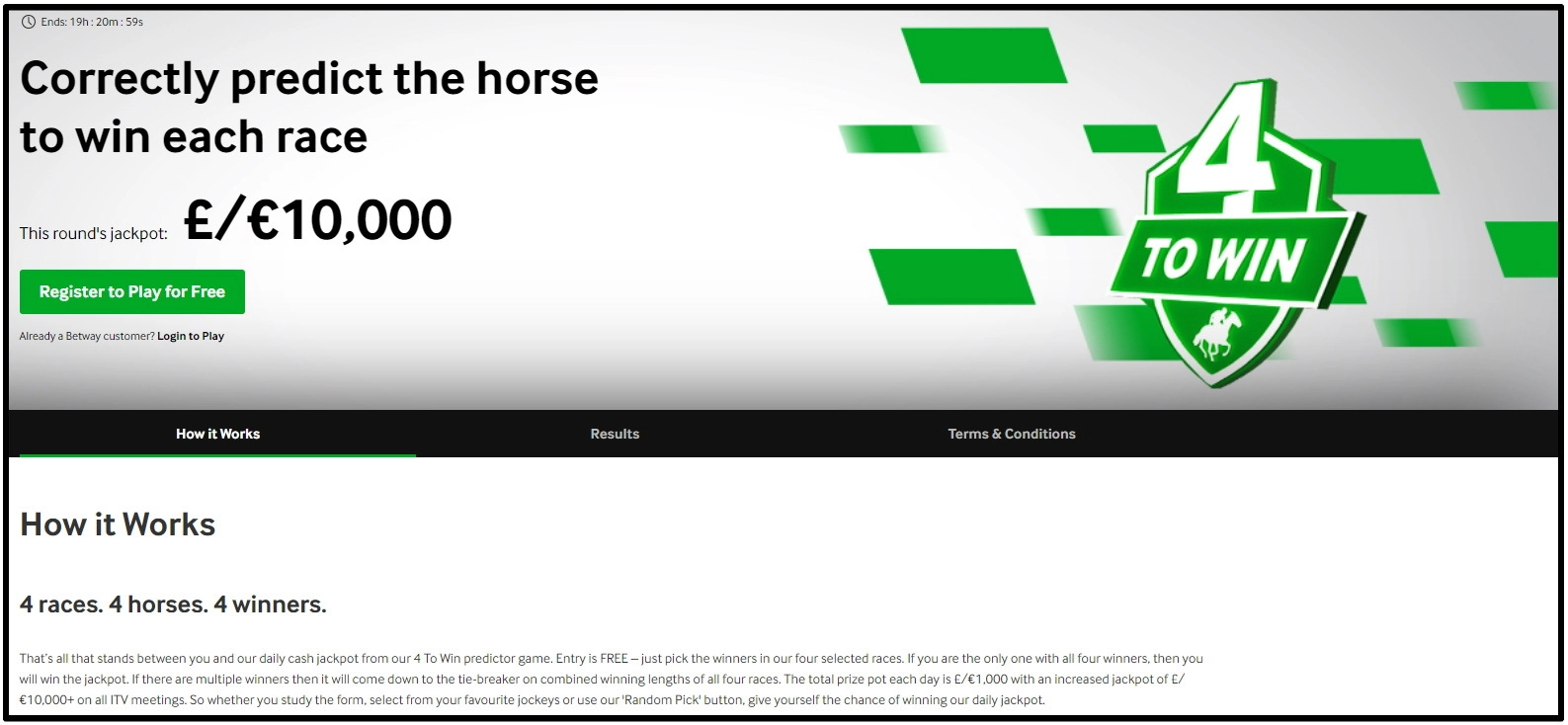 During this article we will discuss what the Betway 4 to Win is, the necessary steps to enter and win the Betway 4 to Win, the potential rewards and other similar offers provided by Betway. In brief it is a free entry "predictor game" where you must correctly choose the four winning horses across a series of four races. 
What is Betway 4 to Win?
The Betway 4 to Win is a daily free offer provided by Betway to new and existing customers. The offer allows you to place four predictions for four different races. Should your predictions be correct across all of the races, and you are the only person to accurately predict the results, then you are the winner and can claim the jackpot! Should other people also accurately predict the winning 4 horses then the jackpot winner comes down to a tiebreaker question on the combined winning lengths of all four races (Winning length is the distance between the first and second place horse).
Betway 4 to Win: How It Works
The Betway 4 to Win offer works by having the customer place 4 predictions on 4 races to guess which horse will win. Should you correctly guess all 4 winning horses then you are eligible to take the jackpot, however, should other customers also correctly predict the 4 winning horses as well then the jackpot will go down to a tiebreaker question. The tiebreaker will be to predict the combined winning distance of each race. If more than one person accurately predicts the winning distance then the jackpot will be split evenly between each successful customer. 
To enter this offer no deposit is required, all that is necessary is a Betway account that has been ID verified to prove that you are 18 or over and no payment is necessary as this is free to enter.
How To Get The Betway 4 To Win Offer
Step 1)
Open up the Betway mobile app and sign in. Then select the promotions section along the bottom bar.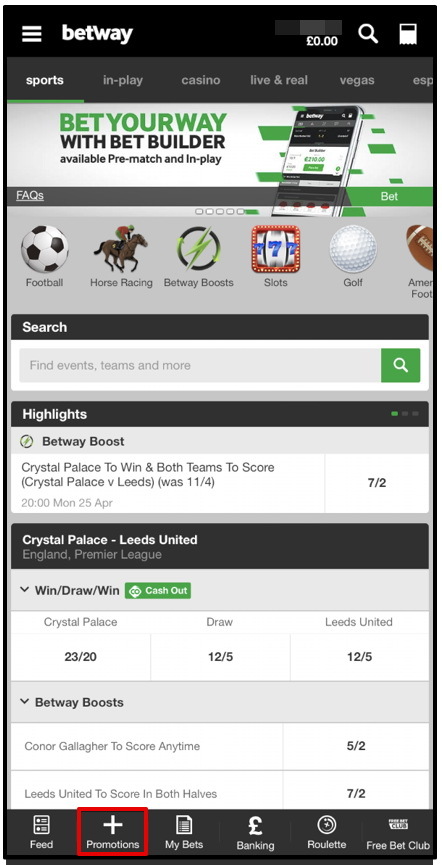 Step 2)
In the promotions section find the "4 to Win" promotion and press the big green Play button.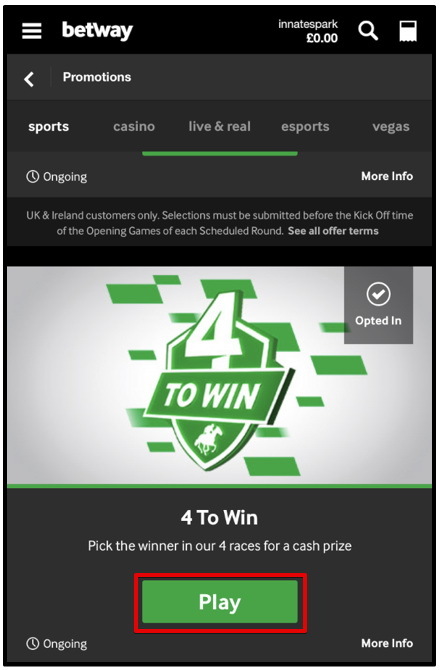 Step 3)
Place your 4 race winning predictions and your total winning lengths prediction (in case of a tie breaker) and press submit.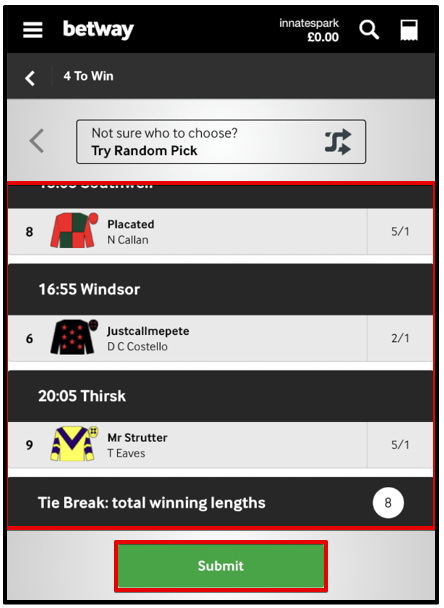 Step 4)
Watch the races which you placed your predictions on to see if you won!
Betway New Customer Offer: Terms And Conditions
New customers at Betway can receive up to a £30 matched Free bet if their first real bet loses. If your first bet on Betway is a Football or Horse Racing multi bet with 3+ selections and overall odds of 2/1 and you lose, you can receive 100% back (up to £30) as a matched Free bet in order to try again!
Betway 4 To Score
If you are more interested in Football than Horse racing, Betway also offers a "4 to score" offer focused on Football. This offer operates similarly to the 4 to Win offer however you must choose the first goalscorer in the four selected matches for a chance to win up to £50,000.
What Can I Win in Betway 4 To Win
Using the Betway 4 to Win offer you can win up to £10,000 but for standard races up to £1,000 is at stake. The amount you win depends on the amount of correct predictions you make and the number of winners there are as if more than 1 person correctly predicts both the winning horses and the correct winning distance, any prize money will be split evenly between each person. If a race is an "ITV meeting" The potential prize money goes up to £10,000+ however the same rules about splitting the prize money apply if multiple customers guess the exact correct winners and winning distance.
More Betway Offers
The "4 to win" and "4 to score" offers are not the only ones that exist on Betway. As well as those and the Welcome bonus, Betway offers a £5 Free bet on Premier League multi bets as well as a "Free bet club" allowing you to earn £10 in Free bets every week. Betway also has a Sports reward club offer which allows you to earn a £5 Free bet, regular Enhanced odds, and Best Odds Guaranteed on all UK and Irish Horse Racing bets placed after 9:00 am.
Frequently Asked Questions
How do you win the Jackpot at Betway?
Winning the "Betway 4 to Win" Jackpot requires you to accurately predict 4 winning horses across 4 different Horse Races. As well as this if other players also predict the winning horses you will enter a tie breaker situation where your guess for "Winning distance" (which is also predicted at the same time as your 4 horses) comes into play. Should your winning distance guess be the closest then you win the jackpot! In the rare situation that multiple people also guessed the correct winning distance the jackpot is split evenly between each party.
What's the biggest win at Betway?
The maximum payout at Betway per day is £500,000 as stated in the "Maximum payout" section of the betting rules. The maximum payout stands for an entire day across all sports.
Is Betway 4 to Win Free to Play?
Betway 4 to Win is totally Free to Play and simply requires a verified account before you can place your first prediction.
Do I need to Sign Up to Play Betway 4 to Win?
Signing up to Betway is a necessity in order to play 4 to Win however the Sign up process is very similar to most other bookmakers and takes less than a few minutes to complete and is totally Free.
How Much Can I Win on Betway 4 to Win?
The biggest potential win on the Betway 4 to Win is the £1000 as standard. However on an "ITV meeting" (which means one shown on the TV) then the potential jackpot goes from £1000 up to a huge £10,000.