Netbet Mobile App – review of betting app for iOS & Android (2023)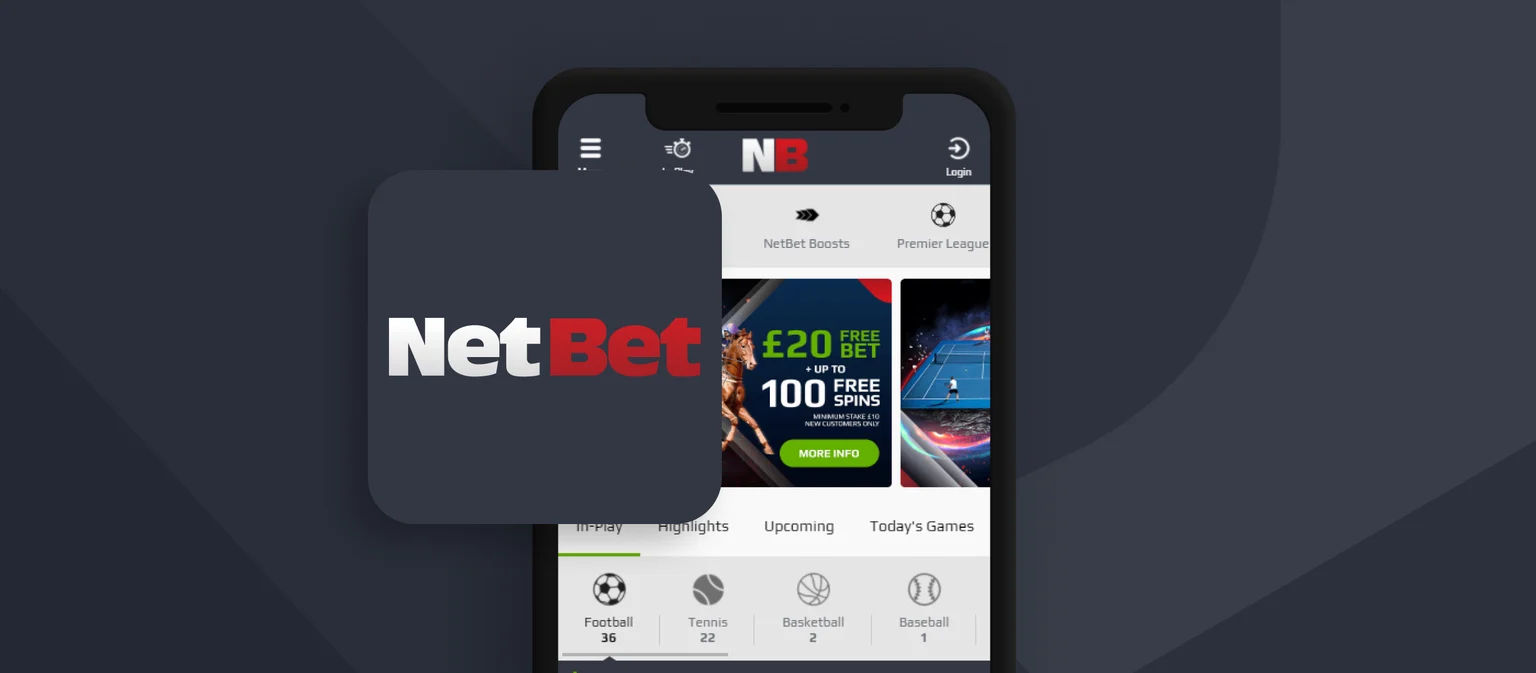 NetBet is another giant of the betting industry and their aim is to offer customers high-quality products across all the betting services, Sportsbook, Casino, and Poker. Their mobile betting platform is also impeccable, as you can find loads of betting markets and sports via the mobile website and also by using the NetBet mobile app for both Android and iOS devices.
We will be looking to provide you with as many details as we can about the  mobile app, from how you can download and install the app, to the application's features and extras. NetBet also have a mobile site which is identical to the app.
How to download the NetBet app
NetBet is aware that betting on mobile is the way going forward because it's more convenient and much faster to use your phone then turning on your computer or laptop. Because of that, NetBet has three different mobile apps at the moment: sportsbook, casino, and poker. Furthermore, all these applications can be used by both Android and iOS users.
How to download and install the NetBet mobile app for Android
The NetBet mobile app for android can be downloaded from both the NetBet website and Google Play Store. The application operates very smoothly and we couldn't find any bugs while using it. Furthermore, NetBet allows its customers to watch live streams via the Android mobile app, which is a great thing when you want to check out your team's performance in live time.
If you want to search for the app directly into the Google Play Store, then you need to:
Open Google Play.

Type netbet into the search bar.

Click on Install (the app will be automatically downloaded and installed into your device).

Please note that some older Android versions require special permission to the app. You can do that by going into your phone's settings (Settings - Security - Select Unknown Source - Tick on).
How to download and install the NetBet mobile app for iOS
The NetBet mobile app for iOS devices is no different from the Android one, as it also has three variants: sportsbook, casino, and poker. The app has been optimized to allow users to place bets efficiently, without any lag or delay. The designated app offers the same functionality as the full desktop website does. Apple users can download and install the NetBet mobile app straight from the App Store by following the next steps:
Open App Store.
Search for "netbet"

Click 'Get' and the app will be automatically downloaded and installed.

NetBet login
The NetBet mobile app runs smoothly on both Android and iOS platforms, so there shouldn't be any problems while trying to login in or join NetBet. If you don't possess a NetBet account yet, the registration process only takes a couple of minutes to be completed. We're going to guide you through the most important steps of the NetBet signing up procedure:
Click on the Join now button.
Input your personal details such as name, full address, date of birth, etc.
Choose a username and a password.
Insert a NetBet promo code if you have one.
Click on the Finish button and your account is now created.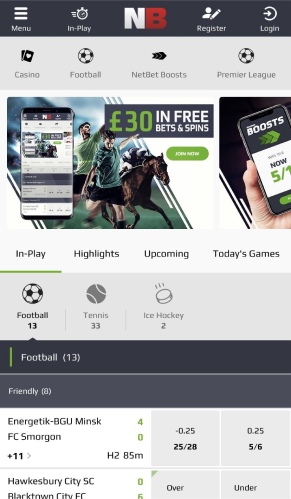 NetBet sports
Whichever sport you love betting on, you will find a plethora of betting markets and odds available on both the NetBet app and mobile site. The NetBet sports application has a modern design and every important section of the main website is clearly displayed on the betting app.
The A-Z sports menu can be accessed via the "Sports" button at the bottom of the screen which will unlock a dropdown menu on the left-hand side of the page. The Betslip button is also located at the bottom of the screen, which is near to the Live Betting section.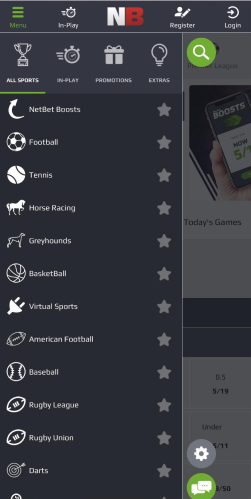 Once you have found the sport you're looking for, you can click on it and see the available fixtures and you can go ahead and select the game you want to bet on.
NetBet Mobile Bonuses
Welcome bonus:
NetBet offers a £20 free bet as well as up to 100 free spins on any new account after depositing and placing a £10 bet. To meet the requirements for this you must have placed a deposit and made a bet within 30 days of creating your account. If all terms and conditions (which are accessible from the promotions page of the NetBet app)  have been met then the funds will be automatically deposited into your account and the free spins credited to you.
Existing User promotions:
NetBet have a huge variety of promotions and offers from free bets to acca refunds and boosted odds matches all available for you to access and play with! Although each promo has a different variety of terms and conditions they are all accessible from the NetBet Sports promotions page and once terms and conditions are met will all be applied to your account automatically.
Free bets:
There are many free bets available on NetBet but no specific mobile bonus. There is the Welcome bonus as well as free bets for existing users! These are all available on the promotions section of the NetBet website and will be applied automatically to your account once all terms and conditions are met. Terms and conditions are available to view on the individual parts of the promos page.
App Key features
Cash-Out
Cash out betting is where you can end a bet partially or fully before the event has actually finished. This allows you to pull out some or all of your winnings early and gives you access to those funds in your account to reuse. The downside of this however is that you only receive some of your predicted winnings. Due to the lower risk associated with cash out you are in turn only given a smaller reward. Cash out betting can also be used to reduce potential losses by withdrawing your winnings if any chance of you winning has since passed.
Live streaming
Although live feeds of events aren't available themselves on NetBet there are animations for every event depicting all the actions taking place in the game. For events like football or rugby, players scoring, large offensive pushes and shots on target are all shown in the animation. As well as this game events such as corners, free kicks and drop goals. Although this animation is not as good as a live feed of an event is is still very helpful and useful in aiding you when discovering a new sport or even viewing an event you wish to bet on.
Live betting
Live betting or "in play betting" is a widely adopted feature used by almost every bookmaker. Live betting allows you to bet on events that have already started and gives you the opportunity to place bets throughout the event. Due to the unpredictable and constantly changing nature of most live events the odds available for you to bet on also constantly change making live betting one of the most exciting ways to play! 
Virtual sport
Virtual sports are a type of betting where simulated sporting events are broadcast and made available for you to bet on. These events supply you with even more events to bet on and can cut down on the amount of unnecessary waiting especially for eager players who want to bet now! Virtual sports come along with a live viewable feed almost identical to what you would have if it were a real live event. Virtual sport is also fair and independently audited and is made for players to enjoy alongside normal sporting events.
Customer service
The NetBet support team can be contacted at any point if you have issues while using the NetBet mobile app. There are several ways to get in touch with a NetBet operator (contact form, live chat, WhatsApp).
Frequently Asked Questions:
What are the System Requirements and Compatibility?
To use NetBet sports app on iOS devices iOS 11 or later is required to be installed on your iPhone, iPod or Mac. This is a fairly easy requirement meaning even older iPhones will be more than capable of running the NetBet app without difficulty. Although the google play store doesn't provide specific requirements the incredibly low system requirements offered by apple should more than represent the ease to use on android devices. Almost any android device made past 2018 will almost certainly run this app with ease and even devices older than that will really have little to no problem!
To place a bet you need to login and locate the bet you wish to place and click on the current odds to transfer the bet to the Betslip. The Betslip is located on the right and when opened you can place the bet as a single, or as an accumulator if you decide to add more selections to your bet slip. Once you're done with the selections, you just need to insert the stake you want and confirm the bet placement. Now that your bet has been placed, you should be able to see a Cash Out feature available, or in some cases a Partial Cash Out.
What are the available Payment methods?
NetBet offers a variety of payment methods from the standard Mastercard and Visa debit to popular E-wallets such as Trustly, PayPal and Paysafecard as well as other E-wallets such as EcoPayz, and Entropay. All payment methods are free and are available to all users.
NetBet allows its customers to make a deposit via several payment methods. You can pay via popular methods such as MasterCard, VISA, Paysafecard, Skrill. If you plan to make your first NetBet deposit, then you just need to click on the 'Deposit' button, select the payment method, add the amount you wish and click once again on the deposit button to confirm your transaction.
To withdraw funds from NetBet simply enter the account section of the NetBet page and select withdraw. From here enter any required account info for your desired withdrawal method as well as the amount you would like to withdraw before finalising it.