How to Make Withdrawal From ThePools & How Long It Takes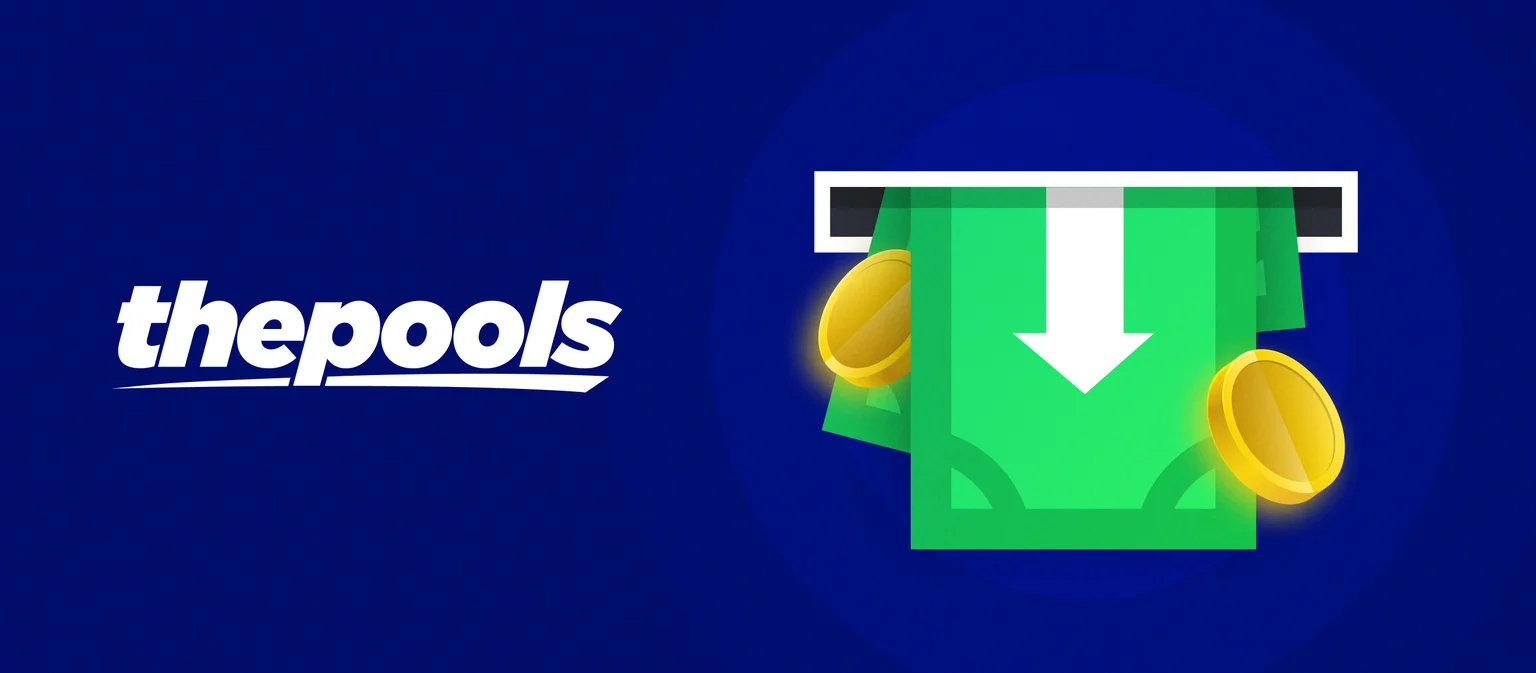 ThePools Withdrawal methods
ThePools is a newer bookmaker who have recently expanded into offering odds and accepting bets on the results of football matches rather than just their traditional betting on the Draws. They in fact now offer the complete package of bookmaking on all sports as well as Casino, Virtuals, Live Casino and MatchScratch. Unfortunately they do not yet have an extensive range of payment methods, only accepting Debit cards to deposit or withdraw. They do not accept any E-Wallets or Credit card deposits.
ThePools Withdrawal Options and limits
Withdrawal Method




Fee

Processing time

Min limit

Max limit

Debit Card

(Visa) 

Free

2-5 working days

£10

N/A

Debit Card

(Mastercard)

Free

2-5 working days

£10

N/A
ThePools Withdrawal Methods – Debit Card
ThePools only allow deposits and withdrawals to be made via the Debit card. There is no difference between using a Visa card or a Mastercard. They both have the same low £5 minimum deposit limit, and a slightly higher £10 minimum withdrawal limit. There is not a maximum withdrawal limit as such but any "large" withdrawals will be handled by the finance department and may be split into several smaller transactions.
How Long Does A ThePools Withdrawal Take?
How long a withdrawal takes at any bookmaker is subject to many different factors. The exact payout time will depend on what specific method you use, the size of the withdrawal, and whether it is your first withdrawal or not to name but a few. As a rule though since ThePools has such a limited range of ways that you can transfer money it is safe to say withdrawals will usually take two days andin extreme scenarios could take up to five.
Step by Step Guide
How to make a ThePools Deposit
Make sure that you are logged into your account and then click on the green "Deposit" button in the top right hand corner.

On the next screen you will have the choice of either using an existing card where the main 16 digit number is saved, or entering a brand new card.
Once you have decided what card you want to use you need to enter the amount you want to deposit, the card cvc number, and finally confirm exactly what card you want to use.
Finally press the blue "Submit" button for your issuing bank to transfer money instantly into your ThePools account. 
How to make a ThePools Withdrawal
How to withdraw from ThePools is simple, firstly make sure you are logged in, and then once you are click on your name which will be displayed towards the top right of the screen.

A large range of account options will appear on the screen, you should pick the one which says "Withdrawal" over on the left

Clicking on the word "Withdraw" will bring up a final withdrawal screen where you can confirm all the relevant details.
The display helpfully shows all the previous deposit methods you have used, and on the right lists how much you are able to withdraw to each, before profit can be withdrawn somewhere. Once you have entered the amounts you are happy with click on the blue "Withdrawal" button and your money should be with you shortly. The withdrawal time will depend on a few factors but should not take longer than a few days at the most. It is possible that if there is a fundamental problem with using the debit card you originally deposited with that a bank transfer can be arranged but you must discuss this with the customer services team. There is no fee to withdraw.
Frequently Asked Questions
How do I view my withdrawal history?
To view your withdrawal history you have to be logged in and click on your name displayed in the top right of the screen. From the next set of options you are able to click on a link under Account Details which says "Account History"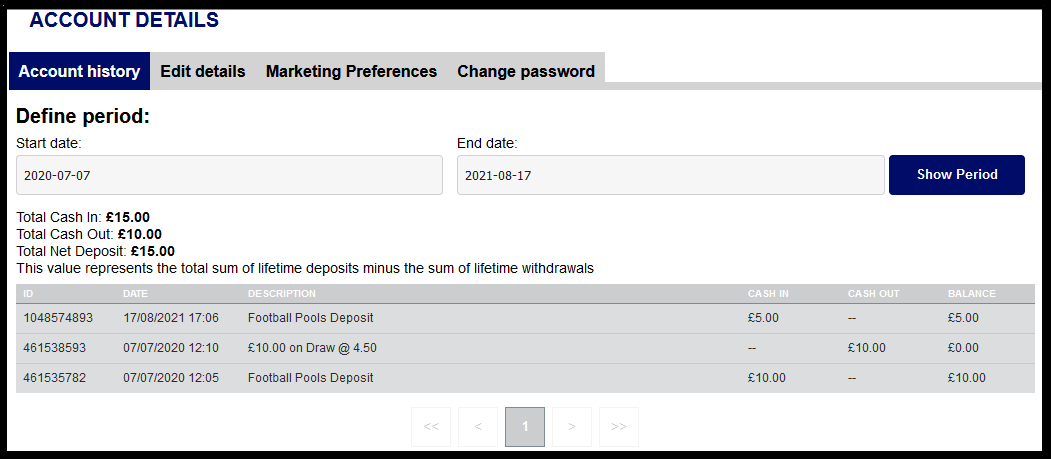 A screen will appear showing everything that has happened on your account for a given time period. You can adjust this in the settings. It will not only show all your withdrawals but also deposits and bets which you have placed.
What is the Minimum deposit and withdrawal amounts?
The minimum deposit amount is set at just £5 which is a low level amount. To withdraw the limit is slightly higher, the minimum level being set to £10.
How can I cancel a withdrawal?
It is not possible to cancel a withdrawal once it has been submitted and is pending waiting to be processed and paid. This is a UK regulatory issue rather than the choice of ThePools.
I am having problems with my withdrawal, what can I do?
Should you be having any problems with your withdrawal, for example the payout time is taking longer than expected, it is possible that you have not met all of the payout rules. In order to check this, and get some advice about what to do next, you can contact the customer support via live chat and immediately get help and support in identifying the issue and getting instructions on what you have to do in order to fix whatever the problem is.
Unfortunately not, no. PayPal is not accepted as a payment method. In fact there are no E-Wallets accepted, Skrill and Neteller are also absent. It is only Visa and Mastercard Debit cards which are accepted to deposit and withdraw funds.