How to Withdraw from 10bet: How Long Does It Take in 2023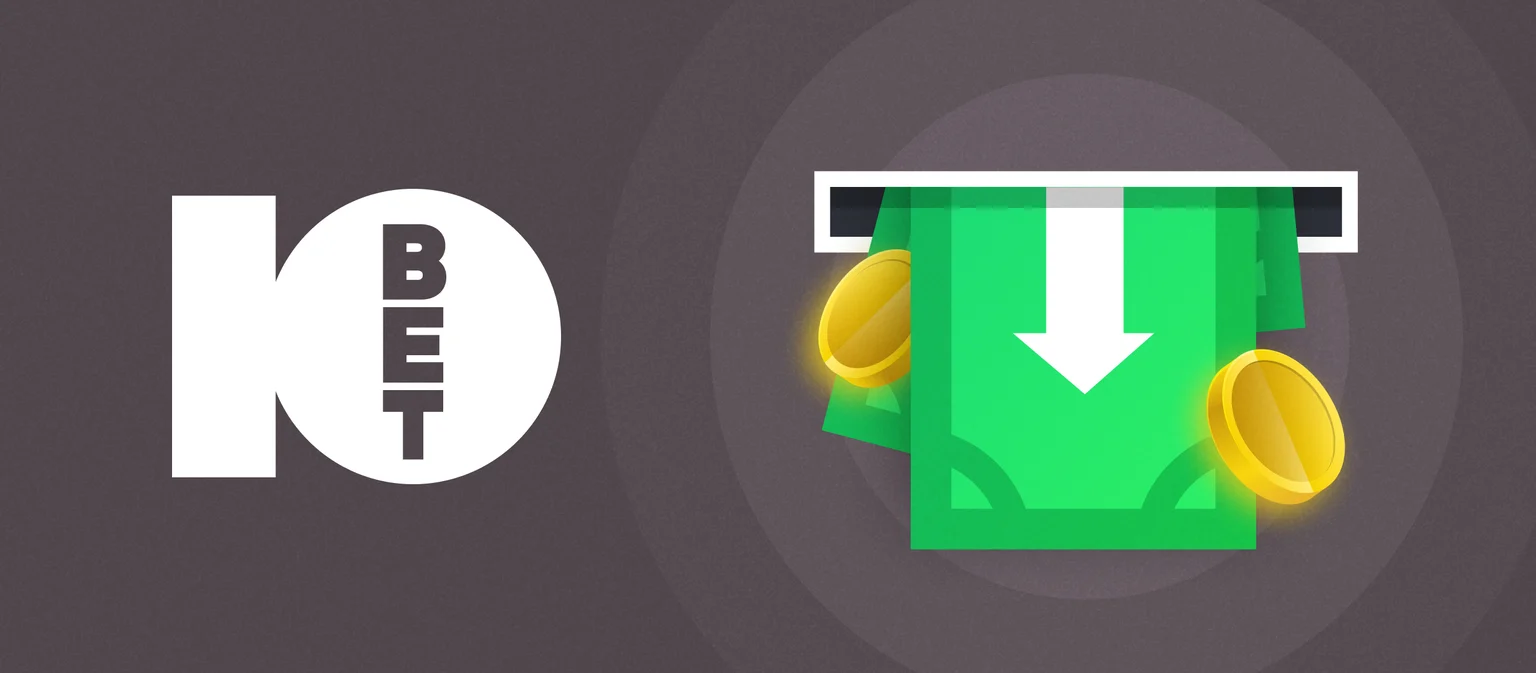 New bettors; Code PLAY10; Wager deposit & bonus 8x; Max qualifying bet stake=initial bonus; Valid 60 days; Min odds, bet and payment method exclusions apply;

T&C apply

; 18+

10Bet Withdrawal methods
10bet claim that everything they do is designed with the bettor in mind. From every edge-of-the-seat event to every action-packed game they have over 16 years' experience. Their main purpose is to create one of the most exciting, forward-thinking, bettor-focused sports and casino betting sites in the world. They have a large range of payment methods with something for everyone, both traditional debit card payments through to the major E-Wallets. 
10Bet Withdrawal Options and limits
Withdrawal Method




Fee

Processing time

Min limit

Max limit

Debit Card

(Visa or Mastercard)

Free

1-2 business days

£1

£35,000

Skrill

Free

1-2 days

£1

£50,000

Neteller

Free

1-2 days

£1

£50,000

PayPal

Free

1-2 days

£1

£50,000

Trustly

Free

1-2 days

£1

£50,000

Fast Bank Transfer
Free

1-2 business days

£1

£50,000
10Bet Withdrawal Method – Debit Card
Debit cards are one of the ways to deposit and withdraw at 10Bet which anybody can use. They accept Mastercard and Visa Debit, for which they never charge for transactions. They will always process your withdrawal back to the debit card originally used when you deposited but due to Visa and Mastercard scheme rules there are certain foreign card types which they can not withdraw to. Credit cards can not be used at all due to recent UK Government legislation.
10Bet Withdrawal Method – Skrill
Skrill is an E-wallet solution that provides a fast, simple and secure way of transferring your money to your 10Bet account. It is simple to Deposit and Withdraw using Skrill and is free of charge, with an incredibly low withdrawal minimum of just £1 coupled by a massive £50,000 maximum limit.
10Bet Withdrawal Method – Neteller
Neteller is the Sister site of Skrill and provides a fast and secure way to transfer funds online. They have an equally quick payout time and virtually instant cash transfers. There is no fee imposed by 10Bet, making it fast, easy and FREE. Much like Skrill there is just a £1 minimum withdrawal amount and a huge £50,000 maximum.
10Bet Withdrawal Method – PayPal
PayPal is the UK's most prominent E-Wallet, and it is becoming more and more popular worldwide. PayPal is viewed as the faster, easier way to pay online. Depositing and withdrawing at 10Bet with Paypal is one of the quicker ways to get your money back, and has a high £50,000 limit per transaction.
10Bet Withdrawal Method - Trustly
Trustly is a digital payment system that claims to offer "bank-independent" payment services. What this means is that it is possible to transfer money directly from your bank account in a fast, simple and secure way. You don't have to register to use Trustly and no third party can store any personal information that may be used to access your bank account. Trustly much like the E-Wallets is free to use, has low £1 to high £50,000 limits, and a withdrawal time of between 1-2 days.
10Bet Withdrawal Method - Fast Bank Transfer
Fast Bank transfer is a direct bank transfer made into your bank account. You will be able to use this method if there is a problem with withdrawing to one of the other methods. Despite its name, it is the slowest of all the payment methods but 1-3 days is still not too long a withdrawal time there is no fee to use it.
How Long Does 10Bet Withdrawal Take?
How long a 10Bet withdrawal will take shall depend on a number of factors and there is not one clear answer. The main variable will be the method by which you are withdrawing, as each will have a different length of time to transfer money from 10Bet to your banking account. Another key factor is whether this is your first withdrawal or not, and also the size of the withdrawal, and what day and time of day are you making it.
Step by Step Guide
How to make a 10Bet Deposit 
Firstly make sure that you are logged into your 10Bet account, and once you are click on the light green "Deposit" button at the top of the screen.

Once you have opened the deposit screen you will see all the different deposit methods by which you can transfer money into 10Bet.
This screen also lists:
A) The amount you wish to deposit
B) Any deposit bonus code you wish to apply
C) Tick a confirmation box that you agree to the "Customer Funds Protection" statement

Finally click the green "Deposit" button at the bottom of the screen.

If this is the first deposit you will have to enter the specific details of the method you wish to use. In this example we are depositing by debit card and so the screen will look like this.
You will have to confirm some details such as:
A) Your name will be filled in for you
B) The long 16 Digit card number from the front of your card
C) The expiry date of your card
D) The three digit CVC number on the back of your card
E) The deposit amount will be filled in for you 

Finally once you are sure everything is correct you can click "Deposit" again.

The money will be instantly credited to your account and you will get a nice pop up message confirming this.

How to make a 10Bet Withdrawal
In order to withdraw from 10Bet you must ensure that you are logged into your account. Providing that you are click on your account username and a drop down box of options will appear.

From this drop down box you simply select that you want to withdraw.

On the final screen you will have several options and boxes to fill in. Firstly the left hand column will display the payment methods available for you to withdraw to.
Once you have selected a withdrawal option you need to enter:
A) How much you wish to withdraw
B) You will be warned that if you have any pending bonuses that these will be forfeited. This is a very good feature more bookmakers should adopt. You will not always see this option, only if you have a bonus active and it effects you.
C) Confirm the details of the method you want the money to go back to.

Finally to withdraw funds click the green "Withdraw" button at the bottom and wait for your money. How long it takes will largey depend on what method you have used.
New bettors; Code PLAY10; Wager deposit & bonus 8x; Max qualifying bet stake=initial bonus; Valid 60 days; Min odds, bet and payment method exclusions apply;
T&C apply
; 18+
Frequently Asked Questions
How can I view my withdrawal history?
To view your withdrawal history at 10Bet you need to be logged into your account and then click on your account username. From the drop down box that appears you should click on the "Account details" option. This will bring up a new page and from a new list of options to the left will be one which says "Transaction History". Click on this and set the time frame that you wish to view, all deposits and withdrawals that have been made to your account in this time will be displayed.
What are the minimum deposit and withdrawal amounts?
The minimum amount which can be deposited is £10 which is probably the industry standard amount. The minimum amount that can be withdrawn however is just £1 which is remarkably low.
How can I cancel a withdrawal?
It is not possible to cancel a withdrawal at 10Bet once it has been submitted and is pending in the system. This is true of all UK licenced bookmakers.
I am having problems with my withdrawal, what can I do?
Should you have been waiting for a long time and appear to be having a problem with your withdrawal it is possible that you have not met all the payout rules so you need to check that. If you think you have, or you are unsure exactly what they are then by contacting the 10Bet customer service team they will help you to identify and ultimately resolve the issue.
Yes PayPal is accepted as a deposit method and a withdrawal method at 10Bet. All transactions are free and will be processed quickly.