How to use PayPal at UK bookmakers
There are many ways you can fund your sports betting and increasingly people are turning to E-wallets to do so. Of all the possible choices the most common are by far the market leader is PayPal. Here we will discuss all there is to know.
About PayPal
Many people have a PayPal account due to their association with eBay but this is not how they began life. They were founded in 1998 as "Confinity" and were later acquired by eBay in 2002, where they changed their name, only to later be spun off as a stand alone entity again in 2015. In 2009 they were ranked just outside the top 200 largest US companies by revenue. Figures for 2018 show they employed 21,800 people and made over $2Bn in annual profit. As of 2020, PayPal operates in 202 markets and has 305 million active, registered accounts. PayPal allows customers to send, receive, and hold funds in 25 currencies worldwide
PayPal is remarkably quick and simple to set up. All it takes is a few minutes until you are ready to send and receive money from around the World instantly.
In 2003, PayPal voluntarily ceased serving as a payment intermediary between gambling websites and their online customers. At the time of this cessation, it was the largest payment processor for online gambling transactions. In 2010, PayPal resumed accepting transactions to bookmakers and casinos, but only in those countries where online gambling is legal, and only for sites which are properly licensed to operate in said jurisdictions. At the time of writing (Feb 2021) PayPal is available for betting sites in Austria, Australia, Belgium, Denmark, Finland, France, Germany, Greece, Ireland, Italy, Portugal, Spain, Sweden, and the UK. In the US it is allowed only in Nevada and New Jersey.
How to Use PayPal to Withdraw/Deposit Money
Registering: If you don't have a PayPal account signing up is quick and simple BUT it does take a few days for PayPal to verify that your address and bank account belong to you. They will do this by sending you a code in the post and also by transferring a nominal amount into your account with a specific reference code to be entered once you are logged in. As soon as your account is verified you can upload funds and then deposit into your betting account and use as you wish. Even though the initial set up may take a little time it is time well spent. Once your bank account is linked to your PayPal digital eWallet you will be able to control all your online betting from one location.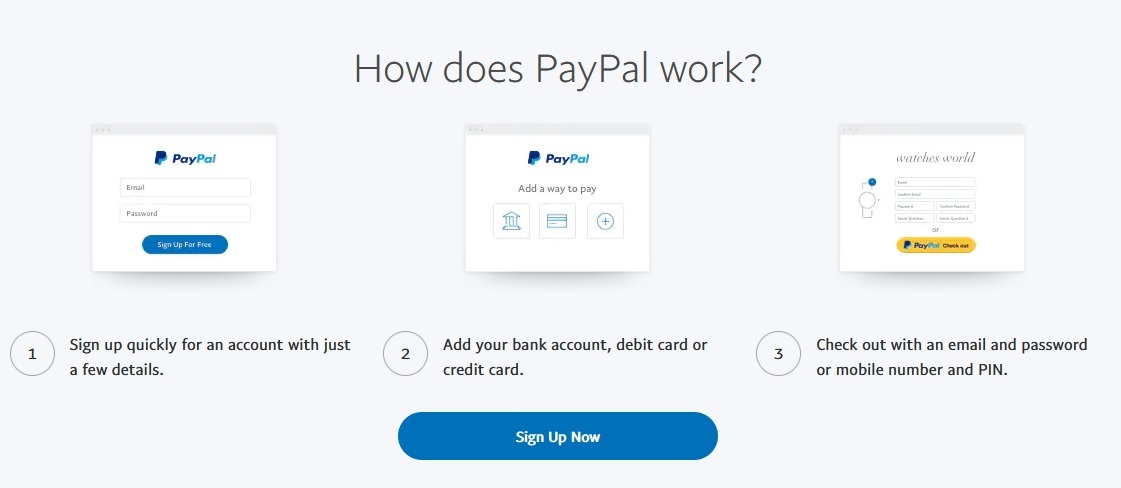 Depositing: Depositing into PayPal could not be easier. There are several different ways to do this and you can choose the one most convenient to yourself.
To add money to your PayPal account from your bank account, you first need to have a PayPal Cash or PayPal Cash Plus account.
 To add money from your computer:
Click Wallet
Click Transfer Money
Click Add money to your balance.
Select your bank and enter the amount you want to transfer and click Add.
To add money from your PayPal app, tap PayPal Balance and then Add Money.
(It usually takes 3-4 business days for the transfer to go through. You can do it at any time and at no cost. We'll email you each time a transfer is complete.)
Withdrawing: When you withdraw from the bookies to PayPal it is nearly always free of charge, and paid within hours. Once you've linked your bank account, you can withdraw money to that bank account. To withdraw money to your bank account:
Go to Wallet.
Click Transfer money. 
Click Withdraw from PayPal to your bank account.
Select where you're transferring the money from, then select the bank account.
Choose an amount you want to transfer and click Next.
Review your request and confirm the transfer.
To withdraw money to your bank account using your PayPal app it is even simpler:
Tap your PayPal balance.
Tap Withdraw Money.
Security and Fees
A common concern when using PayPal betting sites is security. How secure is it? Well, the short answer is... "very". A longer answer is given by PayPal themselves who state that: 
We monitor every transaction 24/7 to help prevent against fraud, email phishing and identity theft. Every transaction is heavily guarded behind our next-level encryption. If something seems suspicious, our dedicated team of security specialists is immediately on it to help protect you from fraudulent transactions
Here is a run down of a few of the ways PayPal keep you safe and secure:
Protecting card information: By using PayPal as a third party payment processor it saves you from having to share your credit card or bank account details with anyone except them. It means that your sensitive information is seen by one one party. Only PayPal see your details regardless of how many deposits you make and regardless how many betting sites.

SSL: The SSL/TLS protocols are the basis for secure communications on the web. PayPal keep your data locked up securely (behind their Secure Sockets Layer), and they insist that any integrations follow best practice including upgrading to SHA-256 SSL Certificates and allowing the internet protocol of the day to negotiate the highest version automatically.

Transaction monitoring: PayPal actively monitors transactions on its network and follow a "Better safe than sorry" attitude when dealing with suspicious activity. If money gets withdrawn abroad or if you make a series of international transactions, you might be see your account locked until you can confirm you were the one to authorise the payments. This is usually resolved by calling customer services, but can still be a pain sometimes.

Staying under the radar: There is a mixed consensus as to whether this matters or not, but there is a train of thought which believes having gambling transactions appear on your bank statements can negatively effect your credit rating and even make it harder to apply for a mortgage. This is even if the gambling transactions show that you make a profit. However if you deposit with Paypal then your bank statement only shows money in and out of Paypal, and if you use that as your bank roll it could be just the one deposit. At no point does your bank statement show any payments to any bookmakers or casinos. 

Phishing emails: Paypal will never, we repeat NEVER, ask for account information or passwords via email and if you receive an Email requesting this we suggest you delete it immediately without a second thought. If you want to go a step further then you can report it by forwarding the Email to [email protected] They'll confirm to you that it's fraudulent (or not) and if possible investigate further their end. Do not be surprised if you receive emails such as this as for scammers pretending to be PayPal to access accounts is one of their main modus operandi!
There can be fees for using PayPal but these are rarely implemented by the bookies. Check the LegalBet review and also look at the T&Cs on the payments page of each bookmaker to be 100% sure.
PayPal for Sports Betting: Advantages and Disadvantages
Advantages:
One of the main reasons is that you probably have an account already. PayPal is so widely used by the UK public, young and old alike, that the chances are you will not need to open a new account to take advantage of it, as you may have to with some other E-Wallets. So your Saturday bet on the Football, or the Horses for that matter, can be put on quickly and easily. Even if you do not have an account it is easy to open an account in just minutes, and you can do so reassured by the fact that PayPal is the most widely accepted E-Wallet service in the World.
Another big positive is the security that using PayPal provides. The system follows some of the strictest compliance codes in the world. They hold European banking licenses which place a high threshold on companies operating with financial data and transactional information. Even if some of the bookies have a security breach, if you have used PayPal to deposit this wont effect you.
The speed of payments is a big PayPal positive. Unlike using bank cards with PayPal there is no waiting around for days for your payment to be processed. Payments are either instant or made within hours, and you can withdraw that money straight to your bank account from there.
It is easier to make payments anytime, and anywhere, using PayPal even if you have forgotten your wallet. When making payments you don't need to type in your card number, just so long as you remember your email address and your password, you can send payments.
Finally it is possible to protect your financial details somewhat from the betting sites that accept PayPal . All bookmakers that accept PayPal will see is your email address. That is it. So it is good for anyone who is reluctant to freely share bank details online. PayPal are the only ones to ever have your details, after that nobody else can see a thing.
Disadvantages
The main disadvantage is that not all promotional bonuses are awarded when you use PayPal to deposit and you should check the T&Cs carefully to make sure that you would qualify.
PayPal used to have a reputation for freezing accounts which they suspected of being used for illegitimate purposes. They could be quite "trigger happy" about this and lead to customers having no access to their funds for weeks or months at a time. They had an incredibly poor customer services team in relation to this and accounts locked unfairly still found they could not access their money and if you NEED that money, this can have devastating consequences. They could possibly be better than before, but it is true that it did used to happen an alarming amount.
Conclusion
PayPal is probably the most popular online payment E-Wallet in the UK when it comes to depositing at the bookies. You do need to be careful about which promotional offers and bonuses can be claimed in conjunction with a PayPal deposit however. When all is said and done though for UK sports betting, once PayPal is set up correctly, online betting with PayPal is the way forwards in 2021.
The top betting sites are…
Here at Legalbet we have also categorised the top betting sites and their features to make them easier for you to find. They are...
By Sport: Football | Tennis | Boxing | Cricket | F1 | Snooker | Golf | UFC | Darts | Greyhounds
By Payment Systems: PayPal | Skrill | Klarna | Boku | Debit Cards
By Features: Cash Out | £5 Minimum Deposit | Minimum Bet Sizing | Live Streaming
By Events: Politics
By Esports: CS:GO | Dota 2 | League of Legends | PUBG
Frequently Asked Questions