Why Is Betfair Down - Explained
Betfairs apps and sites (like almost every website, service, or app around the world) can occasionally be closed for maintenance or due to a potential issue affecting it. Here we will talk you through some potential issues, explain why they happen, and what you can do to fix them.
Why Is Betfair Down?
Betfairs app or site could be experiencing issues for a variety of reasons. Below, we will explain the most common potential reasons for the Betfair website and services to be down and how you can fix them!
Check your Device and its Internet connection
Many issues relating to the Betfair app and website could be due to a slow or complete lack of internet connection. One of the first steps you should go through if your App or website is not connecting is to check your personal wifi connection or if your data (mobile network) is working. Another potential issue relating to your personal systems is your device. There is a chance that the Betfair app requires an update, your mobile device requires an update, the site needs a refresh or you need to clear your cache if you are using your personal computer.
If none of the issues mentioned above are present, then it's likely that your issue is being caused by something at Betfairs end.
If Only Parts of Betfair are Down
If only a specific part of the Betfair app or site is down, it could be due to an update or a feature no longer being available. Issues like this can happen often on limited-time markets or on certain events as they come to a close as well as some promotional material that is only available at certain hours, on certain days, or as the promotion comes to an end. If an issue such as this happens however you are still able to access other areas of the website, refreshing your browser tab, restarting your app or device, and going back to the page to see if it updates is the best course of action.
Other Reasons Why Betfair Could Be Down
Server issues - a commonplace problem that is caused by something on Betfairs internal systems and is often solved very quickly.

Bugs or glitches - another common issue that can be caused by mistakes in coding or unusual inputs that the system fails to recognize, can often be fixed by simply refreshing the page or if the issue persists, contacting the Betfair support team.

Planned maintenance - planned maintenance is typically between certain hours on certain days and is often declared somewhere for you to see so that you are aware of this maintenance. Planned maintenance typically happens during off-peak hours on the site and will resolve itself after a brief period.

Excessive server traffic - excessive server traffic occurs when a large influx of users are all logged on at the same time such as when multiple major events are occuring at the same time or a major promotion is running bringing in new players to the site. This issue will simply die down over time as the server becomes less crowded and does not have to process so many requests simultaneously.
How Can I Сontact Betfair When the Site Is Down?
Contacting Betfair when there is a technical issue causing systems to be down can be done in a couple of different ways. The Primary method of contacting Betfair should be through their customer support chat which can be accessed from the "help" page at the bottom of every browser page. Here you can speak to a member of Betfair staff in order to place a report and retrieve additional information on any questions or issues you have. If a large portion of the site is down, it may take a while for customer support to respond as they are likely being bombarded with questions from other users having similar issues to you. This is a normal issue across almost all bookmakers and patience is the key to receiving a successful response.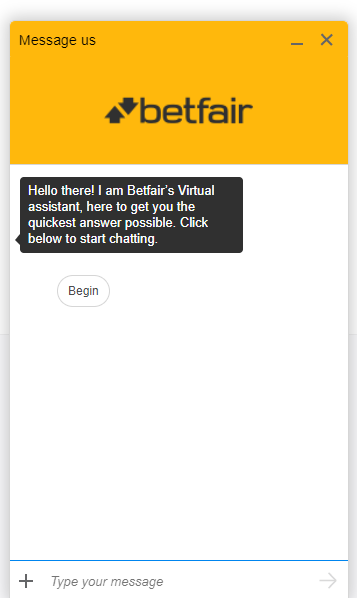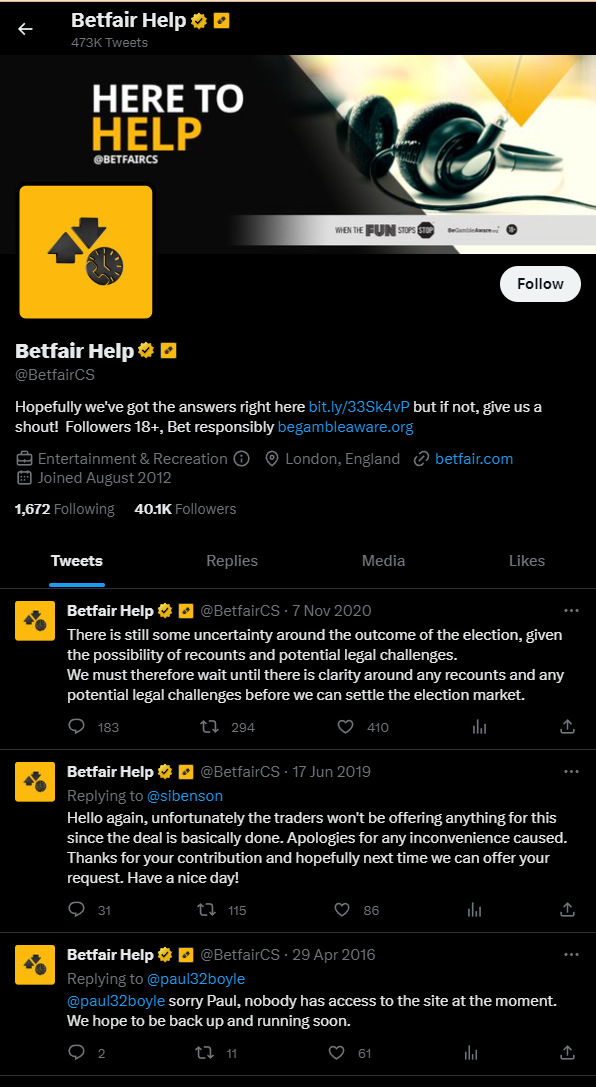 If all of Betfair is down and you are unable to access these support features, Social media is one of the best ways to gain information from Betfair through their dedicated @BetfairCS (Customer support) account on X (originally Twitter).
If scheduled website maintenance is occurring, Betfair will often contact you via your selected contact method decided when signing up however this info may also be displayed on their X account or even on the website itself before the maintenance occurs.
What Happens To Bets When Betfair Is Down?
The main issue of a site going down or a system crashing is that it could happen while you are in the middle of placing your bet! 

In the aforementioned circumstance, a few factors are at play. If you managed to press the "place bet" button and have had confirmation of your bet being placed then your bet will still be valid should the site or app return to function after the fact. If you were in the process of placing your bet however the server didn't get a chance to register your bet being placed (even if you pressed the button in the last second) then there is a high likelihood that your bet will not have been placed and you will not be liable for a payout as your wager was never officially confirmed.
If you are certain that you reached the button in time and your bet was placed however you received no payout, then you should get in contact with customer support immediately to attempt to resolve your issue or to at least get back the stake you placed if it had left your account.
Advantages of Having Multiple Betting Accounts

If you end up in the unfortunate situation that Betfair is down then odds are you may be in luck if you own multiple accounts with a variety of different bookmakers.
Getting the most out of offers and promotions. Since Betfair may be down for a longer period of time, you may be able to take advantage of more of the offers offered by other bookmakers. In Betfairs down time, it may be opportune for you to browse other bookmakers' welcome offers and other promotions to see if they may be advantageous for you to put time and money into.

Getting the best value and best odds. With multiple accounts and the ability to browse bets from a variety of other bookmakers, there's a chance that another bookmaker may be offering the exact bet that you were eyeing on Betfair at better odds. This means a better payout for you with the same risk involved. There are a variety of odds comparison sites available or, just scour the site the good old-fashioned way and try your luck to see if you can find a winner!

A wider range of markets. All bookmakers provide their own unique markets and twists on the betting scene whether you are betting on horse racing or the champions league. Shopping around between many different bookmakers may allow you to discover and bet on a market you weren't even aware previously existed. A huge variety of sites such as Paddy Power and bet365 offer the "bet builder" function which allows you to construct your own bet from a single game with a variety of markets with considerably increased odds.

Never miss a bet. The prime advantage of having multiple available accounts is that you will never miss a bet! If Betfair is down you can simply transition onto another well-known site that you have a pre-made account with and place the exact same bet you were already going for and at potentially higher odds.
Alternative Popular Bookmakers to Betfair In The UK
Although Betfair is an excellent choice, there are plenty of other popular bookmakers in the UK for you to opt to use in the event that Betfair is down or going through maintenance.
Bookmaker

Pros

Welcome Bonus

Betfred

High quality promotions

Wide range of markets

Good betting odds across the board

William Hill

Excellent range of markets

Good promotions for new and existing customers

Reliable customer support

Unibet

Improved bet builder

Good live streaming

Good in-play betting
Conclusion
Although there are a variety of reasons Betfair could be down like loss of data or wifi, most of them can be resolved with relative ease by reading our guide above or even getting in contact with customer service. Alternatively, go to one of our recommended alternative bookmakers' websites if Betfair isn't working for you.
Frequently Asked Questions
Betfair could be down for a huge variety of reasons from server maintenance to wifi. A large list of reasons why Betfair could be down is listed above in significantly more detail.
What Does the "Betfair Down" Mean?
The term "Betfair down" refers to access to Betfair servers being temporarily broken or nonfunctioning meaning that it cannot be accessed by you specifically or all users for a period.
Can I find Betfair Down on Only Desktop or Mobile?
Betfair can be down on desktop and mobile however not always on both platforms are at the same time.
How Can I contact Customer Service if I Find Betfair Down?
If Betfair is down you can try and access the customer support chat line via their site or alternatively via their X (Twitter) account @BetfairCS