How to Withdraw from Betfair: How Long Does It Take in 2023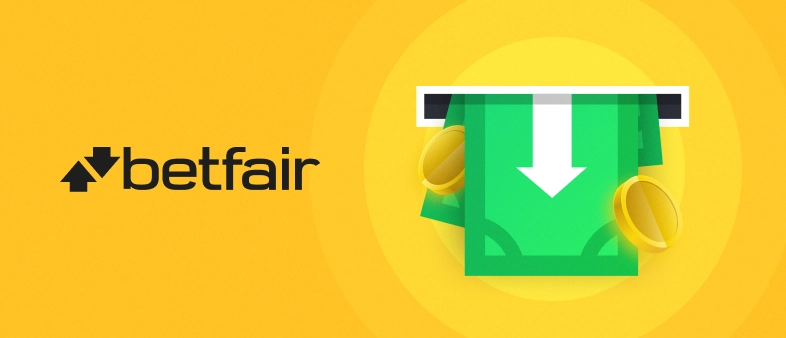 Betfair Withdrawal methods
Betfair began life as a revolutionary concept and they would go on to transform the gambling market. Since their launch at the turn of the Millennium they have gone from strength to strength and today boast a whole suite of services, including a Sportsbook, Casino, Games Room, Bingo Hall, and Poker Site as well. As you would expect from such a market leading player they have a whole suite of ways for you to transfer money, including PaddyPower highstreet shops after the two companies merger a few years ago. There are also some  niche alternative ways to withdraw funds, which we shall explain in detail below.
Betfair Withdrawal Options and limits
Withdrawal Method




Fee

Processing time

Min limit

Max limit

Debit Card

(Visa or Mastercard)

Free

2 - 5 working days

£1

£20,000

Skrill

Free

4 - 24 hours

£1

£25,000

Neteller

Free

4 - 24 hours

£2

£37,500

PayPal

Free

4 - 24 hours

£1

£5,500

MuchBetter

Free

Next working day

N/A

N/A

ApplePay*

Free

3-5 working days

£0.01

£35,000

Prize Out
Free
10 minutes
£5
£500
Bank Transfer
Free

2-3 Working days



£10
£100,000
"Express" Bank Transfer
£6

1 Working day



£10
£100,000
PaddyPower Shops
Free

Instant

£0.01

N/A
*Available on iOS mobile apps only
Betfair Withdrawal Methods – Debit Card
Betfair accept all four types of debit card, namely Visa Delta, Solo, Visa Electron, and MasterCard. The deposit limit with these methods is just £5 and it is credited to your balance instantly. Withdrawals can take a little longer than other available methods but they are free and can be processed for as little as £1.
(Note that as is standard at UK bookmakers you can not use credit cards to deposit with)
Betfair Withdrawal Method – Skrill
Skrill is an E-Wallet popular with UK sports bettors, allowing a degree of privacy and more often than not swifter withdrawal times than other methods. The minimum deposit limit here is a low £5 and the withdrawal limit an even lower £1, so you have a great amount of flexibility. Skrill is one of the quicker ways to withdraw, potentially taking as little as 4 hours.
Betfair Withdrawal Method – Neteller
Neteller is a Sister company of Skrill, both coming under the PaySafe Group umbrella company. They share a large number of features but interestingly Neteller has a slightly higher deposit limit of £2, which is still lower than the industry average but higher than Skrill. To compensate for this there is also a higher maximum limit, with Neteller allowing a massive £37,500 per withdrawal.
Betfair Withdrawal Method – PayPal
PayPal is probably the most well known E-Wallet in the UK due to its previous association with Ebay. It has branched out from the online auction site in recent years and now it is used for a broad range of online transactions, gambling transactions being one of them. The withdrawal time is very good, being as little as 4 hours to receive your money, but bear in mind that the £1 minimum withdrawal limit is good but there is also a relatively low maximum of £5,500 which could be restrictive for some people.
Betfair Withdrawal Method – MuchBetter
MuchBetter is the dark horse of the online E-Wallets used by gambling companies, they are new to the game but making a name for themselves in a good way. It prides itself on its ease of use and is one of the most convenient methods to use, although payouts potentially can take longer than other methods such as PayPal, Neteller, and Skrill, but this will vary from case to case. Betfair do not impose any limits on MuchBetter transactions so any limits set will be by MuchBetter on your individual account.
Betfair Withdrawal Method – Apple Pay
Apple Pay is available to users of Apple products using a mobile device to access Betfair. It is said to provide a safe and easy way to make payments through Apple iOS apps, Apple watchOS apps, and websites in Safari. By using Face ID, Touch ID, or double-clicking on the Apple Watch, users can quickly and securely transfer funds. Payments are authorized by using credentials that are stored on the Apple device in question.
Betfair Withdrawal Method - Prizeout
Prizeout is a withdrawal method available for Betfair customers in the UK and Ireland where winnings are paid via a Gift Card (instead of withdrawing to your bank or to another payment method). Prizeout are an independent company separate from Betfair who offer exclusive deals and offers to users in the form of digital Gift Cards and will often have attractive offers with great brands such as Amazon, UBER Eats, Dominoes Pizza, and more.
BetFair - Bank Transfer
Bank Transfer is always an option to withdraw from a UK online bookmaker and can sometimes be seen as the method of last resort. For example if you are having problems with another method for example your debit card has expired, or been lost or stolen, then a bank transfer can be used to return your funds to you. There is a fairly high minimum limit for a bank transfer of £10 but similarly the maximum amount that can be transferred in one go is £100,000, which is a lot more than most other methods.
BetFair - Fast Funds withdrawals
Fast Funds is the quickest withdrawal time when getting your funds from your Betfair wallet back into your bank account. Fast Funds is currently available to customers in the UK who deposited with a Visa Debit or Prepaid card. The withdrawal must be made back to this Visa card you deposited with. Fast Funds is not a withdrawal "method" in itself, but it is a system an increasing number of banks are using to speed up money transfers for their customers.
BetFair - High Street Cash withdrawals
In 2016 PaddyPower merged with Betfair and as they are the same company now PaddyPower shops on the UK highstreet can be used to withdraw cash from your Betfair balance. The money is paid to you straight away but you must remember to take official Government issued ID with you to confirm your identity. The withdrawal limit is advertised as being a minimum of just 1p and in practice the maximum limit will be decided by how much cash is held in the shop at the time of your visit.
How Long Does A Betfair Withdrawal Take?
How long a Betfair withdrawal takes will depend on a number of different things and there is not one fixed answer. Variables will include what method you use, when you submitted the request, how much the amount was for and was this your first withdrawal are but a few of the things which may make a difference. The quickest method is likely to be via debit card if your bank has "Fast funds" enabled as these are nearly instant. You could also say the payout time from going into a PaddyPower shop is quickest as they hand over cash there and then BUT… you do have to travel to the shop first!
Step by Step Guide
How to make a Betfair Deposit
To deposit into Betfair firstly make sure that you are logged in, then you will see in the top right of the screen a large grey "Deposit" button, click on this.

On the following screen you will be able to select you deposit method, the default being "Debit Card". On this screen you can input

A) The amount you want to deposit.
B) Select either a previous card which you have used before or enter the details of a new card if it is your first deposit.
C) Enter your card security number.


Finally click the large yellow "Deposit" button at the bottom and your funds should be credited instantly.

If you wish to deposit with an "Alternative Method" then you need to select this box at the top of your screen, and you will be shown a different set of deposit options.
A) Check which alternative method you wish to use
B) Enter your account details for this method
C) Enter the amount you wish to deposit
D) You are also given other helpful information such as deposit limits, time frames, and fees.

When you are done click the large yellow "Deposit" button at the bottom of your screen and money will be transferred. (Depending on the method chosen there may be one more screen to fill for that method, but at Betfair, you are finished).
How to make a Betfair Withdrawal
To withdraw from Betfair you should make sure that you are logged into your account and then open the "My Betfair Account" tab.

Once you have opened this the following screen will show a large amount of account details, you simply want to choose from the three transaction options, "Withdraw Funds"

You will notice on the next page that you can again select to either use Debit Cards or "Alternative methods" depending on how yo initially deposited. The alternative methods will only be available to you if you have deposited with them before.


You will similarly only be able to withdraw to a card which has had more withdrawals than deposits, once ALL cards have also got a positive balance. In the example below you can see that.
A) This Visa card has a negative balance of £530.46
B) This Mastercard has deposited £854 MORE than has been withdrawn.
C) Until £854 has been withdrawn back onto card B, no money can be withdrawn onto card A

It is however always possible to withdraw money using the "Prizeout" scheme, just check the Email address which you have registered is correct, enter the amount you wish to claim, and click "Withdraw"

Frequently Asked Questions

How can I view my withdrawal history?

To view your Betfair withdrawal history you must be logged into your Betfair account and then select "Account Statement" from the drop down menu of the "My Account" section.

Once you have opened the Account Statement then you will have the option to view all of your account movements, which can be refined furthermore to show just financial transactions.

What are the minimum deposit and withdrawal amounts?

The minimum deposit limit to add funds into Betfair is just £5, and this is the limit for most methods. The maximum deposit limit from the E-Wallets is £99,999. Debit cards may have a higher limit but this is likely to be set by yout own bank, not Betfair.

How can I cancel a withdrawal?

It is not possible to cancel a withdrawal at Betfair once it has been submitted into the system. This is a standard policy across all UK regulated bookmakers and is part of their licence conditions.

I am having problems with my withdrawal, what can I do?

If you are having problems with your withdrawal then there are a number of possible reasons why and the best way to figure out what the reason is would be to contact the Betfair customer service. They will be able to help identify if you have met all the payout rules, and if there is a problem with the withdrawal meaning there is something for you to do, or perhaps the withdrawal is just pending and you need to keep waiting a bit longer.

Yes PayPal is an accepted deposit method at Betfair, funds are credited instantly and there is no fee to use it for both deposits and withdrawals.