Betfair Acca Edge – What It Is & How Does It Work?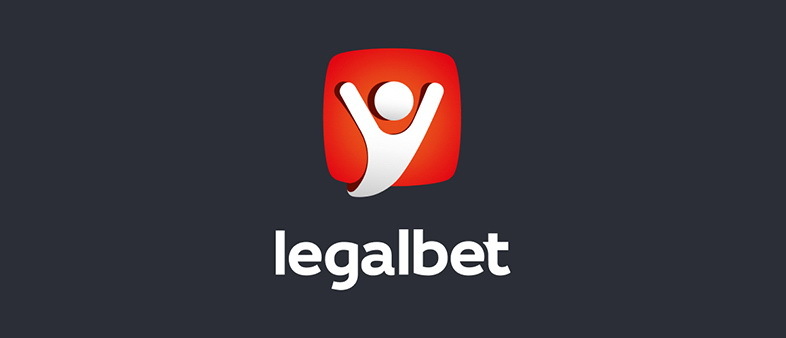 Acca Edge is the new Acca insurance, and it has a bunch of extra benefits that the previous Betfair Acca Edge insurance didn't contain. If you bet on a treble or higher, and just one selection lets you down, you can have your bet stake back.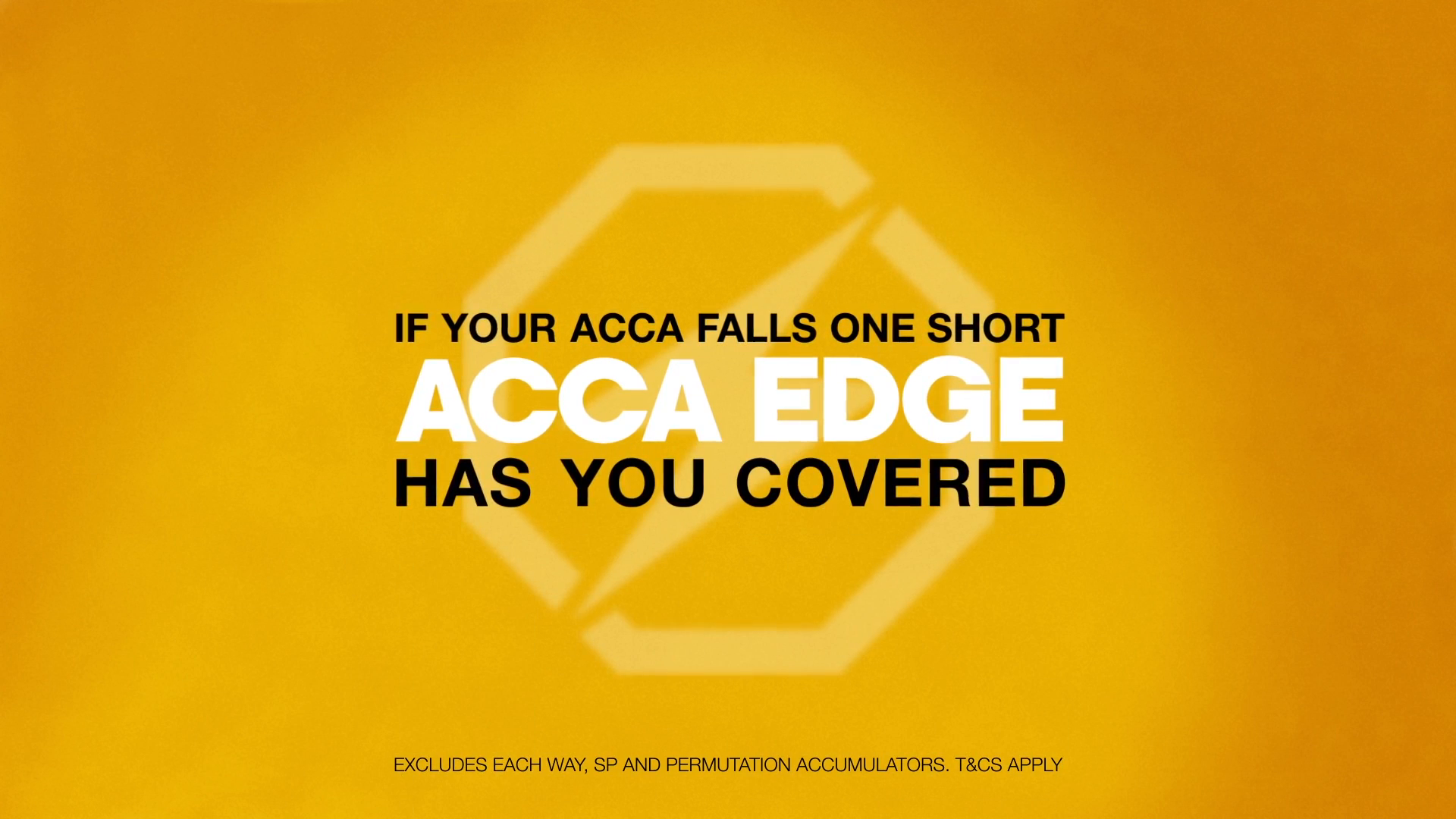 What is Acca Edge? This article explains what Acca Edge is and how to apply Acca edge. It also dives deep into some of the most common Betfair Acca insurance questions.
What is Betfair Acca Edge?
Betfair has had Acca insurance for a long time, and like other gambling platforms, it allowed users to mitigate the disappointment of a close call gamble by receiving their stake back. Acca is short for "Accumulator," and the general idea is that if you have an accumulator bet, and it almost wins, but one of your selections lets you down, then you get your stake back (as CASH not as a Free bet) to try again.
Let's say you place a fivefold bet, and four of your selections win, but one loses. In that case, your Acca Edge Betfair insurance kicks in and gives you your stake money back.
Acca Edge is an updated version of Acca insurance. It has several other perks, such as being applicable over a wide number of gambling markets, not having an upper stake limit, and paying you right after your bets settle rather than the day after. This is a newer and more flexible way to make your accumulator bets a little safer.
The problem is, and it is a big problem, the odds which you are offered are less than before you apply Acca Edge.
How Betfair Acca Edge Works?
Place a treble, fourfold, fivefold, etc., and you may be eligible for Acca Edge. Click the Acca icon on your bet slip to apply the promotion, and place your bet.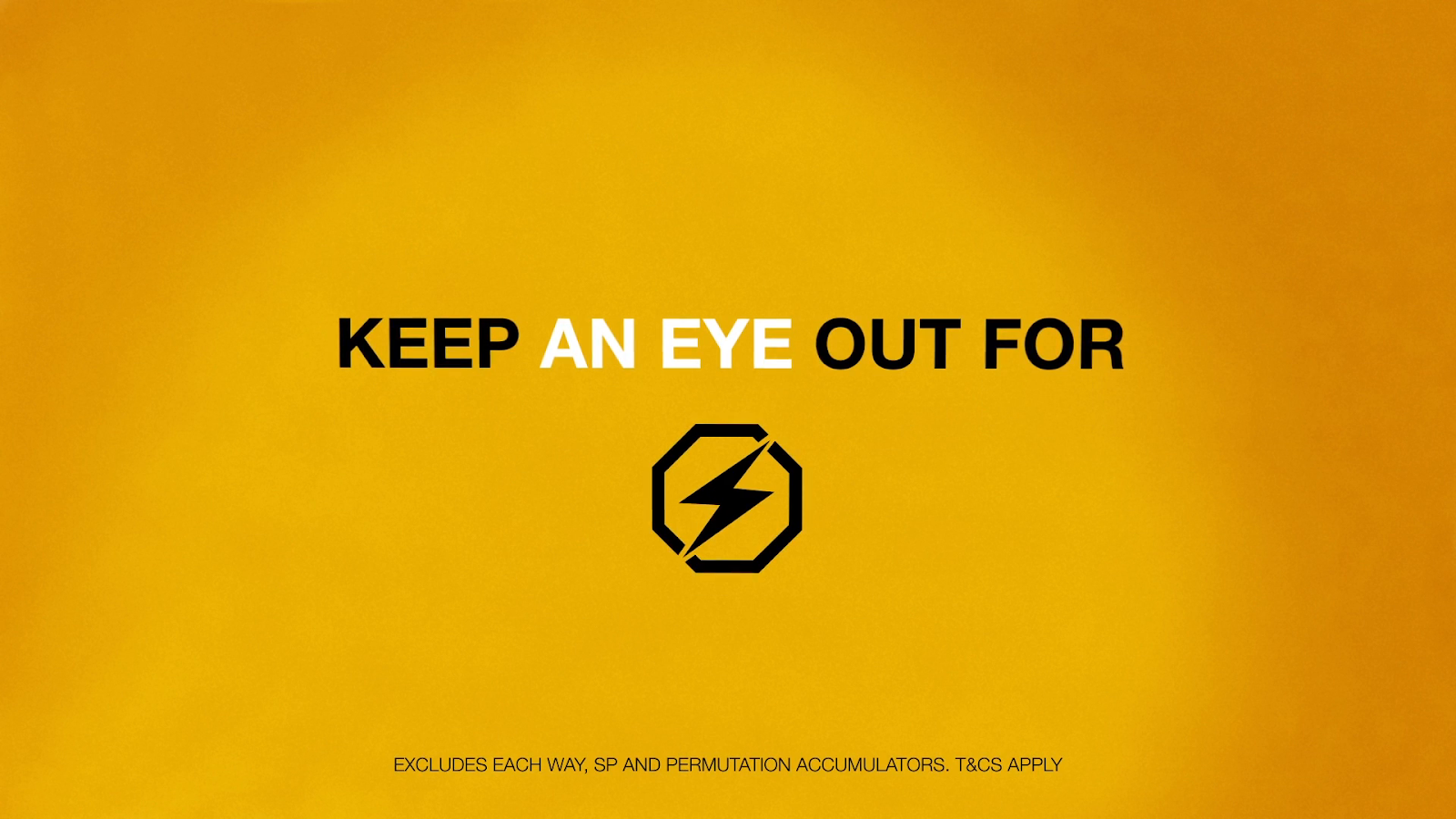 If all your selections win except for just one of them that doesn't, then instead of losing everything, you get your stake back. Betfair doesn't return your stake as Free bets, it returns your stake as cash on your balance. Most major events from all sports and leagues are eligible for the Acca Edge promotion. However, remember that it doesn't work on each way accumulator bets, nor does it work if you are using Free bets or any other form of bet credit to fund your stake.
Example Of Betfair Acca Edge
Jump onto the Betfair system via their desktop website or through their app. Find yourself something to gamble on that you think is value, and place a bet that is a treble (or higher) accumulator (there are no min odds).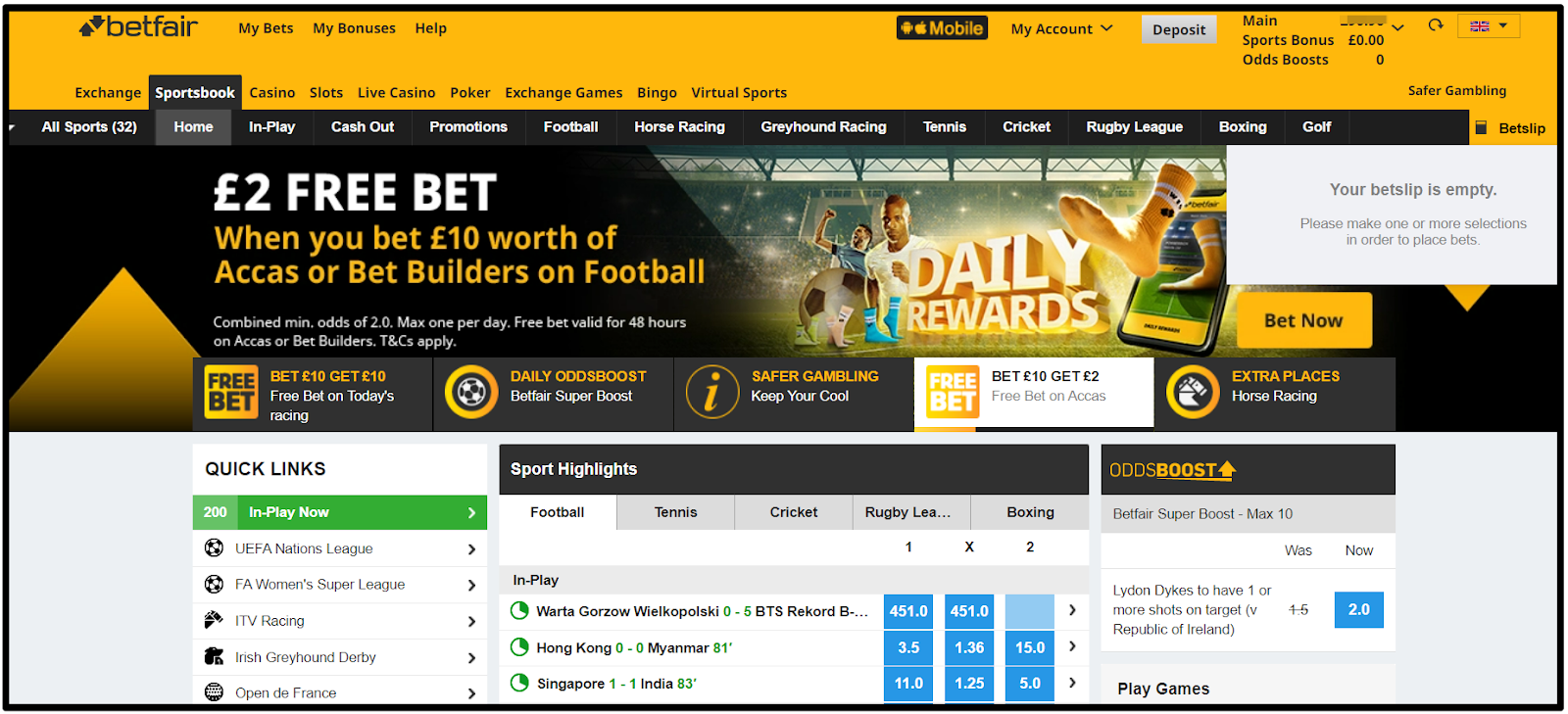 Make your selections. The Acca Edge rules are pretty loose as we alluded to above. You can bet on leagues, tournaments and most sports. Just make sure that your accumulator is set to win each bet outright and not each way, which only really applies if you bet on horse racing anyway. In our example we will be using football bets.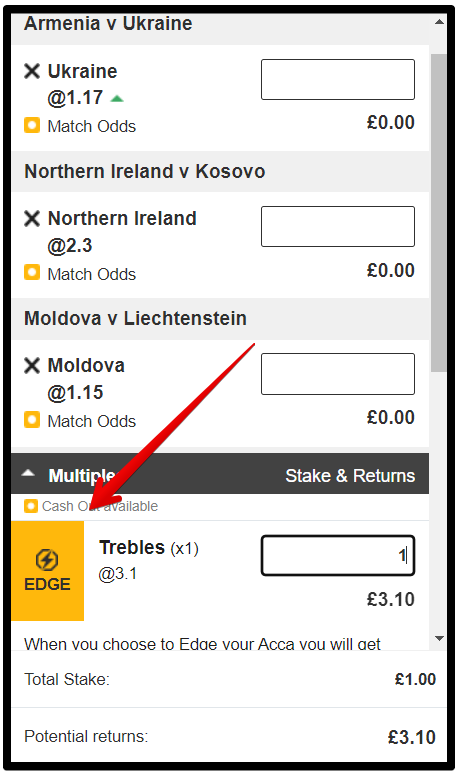 We have added three games to our Acca making it a treble and therefore we are offered acca edge if we want it. You can see it as the large orange box near where we enter our stake amount. The picture above is before we have applied Acca Edge to our bet and the treble odds are a combined Decimal 3.1.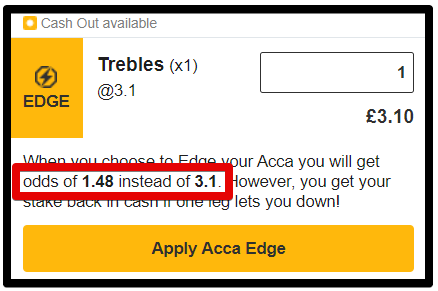 If we click the orange "EDGE" logo then we are shown the new odds, in this case they are lowered to 1.48. It is a good idea to take part in this offer if you think one leg will lose but if you thought that why add it in the first place? If your bet wins then you are much better off without adding the Acca Edge promotion.
Betfair has made it so that nearly all popular betting markets are considered to be qualifying bets. If you cannot see the option to add Acca, then it may be that your bet is not eligible but this is unlikely to happen.
If you decide to use the promotion then clicking on the orange "EDGE" box and accepting the new odds is seen to be the same as clicking on a "Claim bonus" button. The offer is now attached to this bet and if it hits then you will get your stake back upon bet settlement. Your bet receipt will show if your bet went through.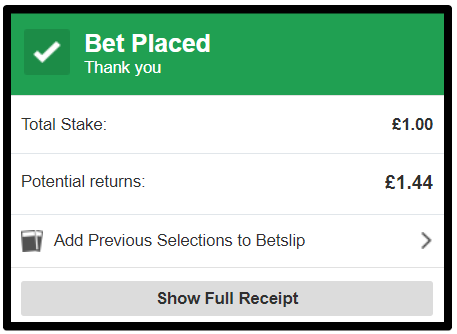 The bet above is for a treble. I need all three to win in order to get the full £1.44 return. If one or more of my selections loses, then I do not win any money. However, if two win and just one loses, then the Acca promotion kicks in and I get my £1 stake money back as cash.
How To Claim Betfair Acca Edge?
This is not a regular promotion, which means you do not need to activate the offer or fund a stake using certain deposit methods. If your betting selections are eligible, then the options to activate the offer will appear on your betting slip.
Add your selections to your betting slip.

Look for the Acca Edge symbol next to your eligible accumulator bet.

There is no minimum odds restriction.

Apply the Acca Edge feature within your betting slip.

Allow your bet to settle.

If one selection lets you down, then get your stake refunded as a cash refund.

If more than one selection lets you down, then you don't get anything.
There are several terms and conditions, but the rule of thumb is that if the Acca Edge symbol doesn't appear on your betting slip, then your accumulator on Betfair is probably not eligible.
Advantages of Acca Edge
Perhaps the best advantage comes from the change in attitude that Betfair has had towards its offers and its customers. Even a low-risk offers like Acca insurance is always loaded down with terms and conditions in small print. How you have to make a bet, with a certain amount of odds, on these certain markets, during a full Moon on Christmas morning. Betfair's Acca edge bets are far more flexible, they are broader and have far fewer restrictions when compared to their previous Acca offers and when compared with their leading competitors.
The promotion requires very little thought from the customer.

There are very few restrictions and limitations when compared with regular Acca insurance.

Betfair has not imposed any stake size limitations beyond their regular limitations.

Available for most leagues and tournaments.

You only need three or more selections.

You are still able to cash out your bets.

Stakes returned as part of your cash balance rather than as free bet stakes.

There are no minimum odds requirements.

Stakes are returned immediately after the bet has been settled.
In many cases, you will find the offer appearing on your accumulator bets without you needing to pay it any mind. All you need to do is tick the box that appears or press the Acca button. It is not automatically applied, which means you get to choose if you apply Acca to your bet.
How & When is a Refund Paid?
If we assume you applied Acca Edge, and that you met the conditions required for a refund, then you will receive your refund shortly after the bet settles. For obvious reasons, they need to wait for every selection to settle because you only get a refund if all but one of your selections win. You do not receive Free bets. You receive your stake back as part of your cash balance, which means you can withdraw the money if you wish (and your balance is above the withdrawal threshold).
Acca Insurance Tips
The Betfair website itself tells you that the best approach is to pick selections that you are sure will win, and then throw in a single outsider with tasty odds. The supposed logic behind this idea is that if the others win, but the outsider loses, then at least you get your stake back. Sadly, this is not a great strategy, since you are better off simply gambling on the ones you know will win since your chances of walking away with more money are significantly increased.
With that in mind, what are the best ways to exploit the Acca Edge system? Some of our own tips are...
Reverse the logic, and your best bet is to pick selections that you are sure will win, and then adding Acca edge to your Betfair accumulator. You are more likely to win or have a single selection fail and ergo are more likely to walk away with your stake. However, you will be offered reduced odds when you use Acca, so it is a tricky decision to make.

If you are running higher stakes, then perhaps it is worth the cut in odds for that added chance to get your stake back. The cut in odds will be painful, but at least you are lowering your chances of a total loss.

Use Acca on smaller accumulators, like trebles and four folds. You are more likely to cash out a larger accumulator, especially if you have a few tasty wins near the beginning. Secondly, larger accumulators are more likely to contain "Voids," especially if you are betting on horse racing, and voids will invalidate your Acca promotion.

Perhaps only use Acca Edge when playing with your winnings. Let's say you place your bets in the morning, you check your app during your lunch break and see you have won a tidy sum. There are still some events running, perhaps the horse racing has not finished yet, so you figure you will gamble again because you are now playing with house money (aka. your winnings). However, as a seasoned gambler, you should be more protective of your winnings if you want to end the day on a profit. For that reason, you should protect the bets you place when you are using your gambling profits as the stake.
Betfair Acca Edge Terms & Conditions
The most frustrating condition is how your odds go down when applying for the Acca Edge promotion. Betfair calculates your new odds based on what you would win if one of your selections were not selected. Since they do not know which of your selections will win or lose, they create an average odds reduction and apply it to your Acca promotion. That is why they may take a very large slice off your odds on one occasion and take significantly less on another occasion.
You get a refund as cash in your balance rather than as Free bets.

Get your stake refund shortly after your accumulator bet settles.

There are no minimum odds requirements.

It applies to trebles and above.

You can bet on most sports and even mix them up in your betting slip.

There are no max refunds beyond usual Betfair betting limits.

Bet selections with "Each Way" selected will not be eligible for the Acca promotion.

Free bets are also not eligible for Acca Edge.

Your Acca Edge is cancelled if a leg of your selection is voided, and your original odds will apply.

Using the cash out function will void your Acca Edge insurance.

Acca Edge and BOG (Best Odds Guaranteed) work in tandem.

Acca Edge and Rule 4 work in tandem.

The offer is not available to selections that have "SP" rather than an odds price selected.
Acca Edge is not auto-selected, it is an option you can add just before bet placement. This means, if you do not like the odds they are offering, then you can simply place your bet and not activate the Acca Edge promotion.
Conclusion
This is perhaps one of the most consumer-friendly Acca Insurance offers on the internet. The restrictions and limits are far less confining than other Acca offers from leading competitors. Yet, this still seems like a very situational offer. It still requires critical and analytical thought to figure out which bets will benefit and which will suffer from this offer. In general, this is probably best suited to people who are staking a lot of money, or who are running several high-risk accumulators in a single sitting.
The top betting sites are…
Here at Legalbet we have also categorised the top betting sites and their features to make them easier for you to find. They are:
By Sport: Football | Tennis | Boxing | Cricket | Snooker | Golf | UFC | Darts | Greyhound | Rugby | Horse Racing | Basketball | Baseball | Formula 1 | Ice Hockey (NHL) | Volleyball | Cycling | Netball | AFL
By Payment Systems: PayPal | Skrill | Klarna | Boku | Debit Cards | Apple Pay | Paysafecard | Neteller | Google Pay | Prepaid Cards | Revolut
By Features: Cash Out | £5 Minimum Deposit | Minimum Bet Sizing | Live Streaming | Betting Exchanges | Safest | Fast Withdrawal | Daily Free Games | New Betting Sites | Horse Betting Apps | Football Betting Apps | Virtual Sports Betting Sites
By Events: Politics | WWE | NRL Grand Final | MLB World Series
By Esports: CS:GO | Dota 2 | League of Legends | PUBG | Valorant | FIFA | CS:GO Betting Sites with Paypal
Frequently Asked Questions
What is Acca edge on Betfair?
It is an offer that is applicable to a variety of accumulator bets. If your bet is valid, the option for Acca Edge will appear on your betting slip. If only one of your selections loses, you get your stake back. If more than one selection loses, you get nothing.
How can I use Acca Insurance?
If you wish, you can select Acca Edge on your betting slip and which helps to protect yourself from a complete loss on your accumulator bet. It returns your stake on a loss (of one leg only), but also lowers your overall potential winnings by lowering the odds. You have to weigh the risks and decide what to do.
What happens to my Acca Edge bet if 1 leg is voided?
The Acca insurance on your bet will disappear, and your odds will revert to what they would have been if the Acca Edge had never been applied. As with most accumulator bets, if a leg is voided, it is considered and non-runner and will be settled accordingly.
Can you place an Acca on the Betfair Exchange?
If you try to place an accumulator bet on the Betfair exchange, you will just get a message saying that they do not accept bets of that type on the exchange. With that being the case, getting Acca Edge insurance on the exchange seems equally impossible.
How do I claim Acca Edge?
When given the option on your Betfair Sportsbook betting slip (exchange bets excluded), you must click to activate Acca Edge. If your settled bet shows all winners and just one loser, then you should receive your stake back on the same day that your bet settled. The refund happens automatically.