MansionBet withdrawal methods & "How-to guide"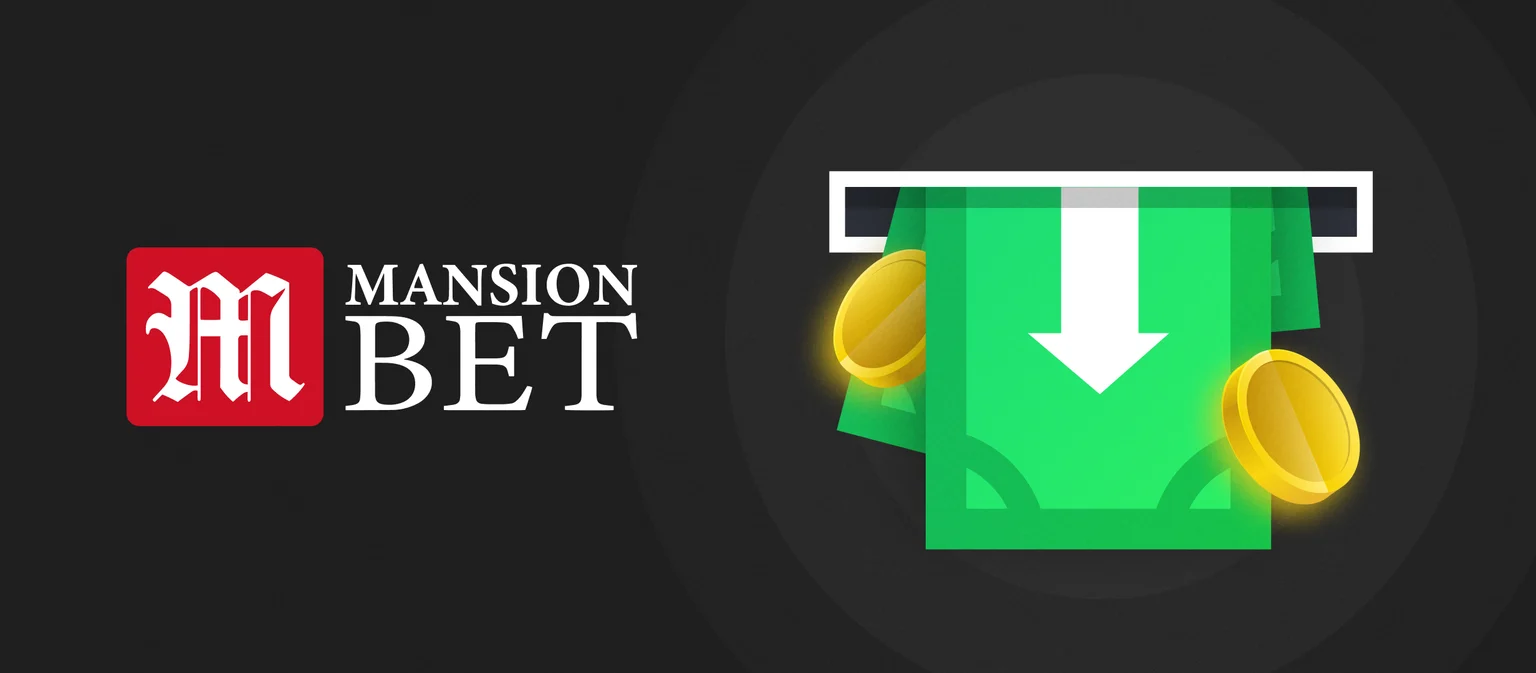 MansionBet Withdrawal methods
MansionBet pride themselves on providing a vast selection of sports markets for our punters.MansionBet is known to fans of the Premier League having been sponsors of Tottenham Hotspur, Crystal Palace and AFC Bournemouth, as well as official betting partners of Manchester City. When it comes to Withdrawals they claim that "Nothing makes us happier than paying out a winner!".
MansionBet Withdrawal Options and limits
Withdrawal Method




Fee

Processing time*

Min limit

Max limit

Debit Card

(Visa or Mastercard)

Free

Within 3 business days

£10

N/A

Skrill

Free

Within 3 business days

£10

N/A

Neteller

Free

Within 3 business days

£10

N/A

PayPal

Free

Within 3 business days

£10

N/A

MuchBetter

Free

Next working day

£10

N/A

Fast Funds

Free

3-5 working days

£10

N/A
*Large withdrawals might take longer to be processed (5-10 days)
MansionBet Withdrawal Methods – Debit Card
MansionBet accepts both Visa and Mastercards to make deposits and withdrawals and they have a £10 minimum limit for both deposits and withdrawals and no specific maximum amounts for either. In all instances they will process your withdrawal back to the debit card originally used when you deposited into your account. Transfers are always free and are advertised as taking not longer than 3 working days, but if your Visa card issuing bank is part of the Fast Funds scheme your withdrawal time could be around 2 hours.
(Note credit cards can not be used for deposits or withdrawals).
MansionBet Withdrawal Method – Neteller
Neteller is an online E-Wallet which provides a safe and quick way to transfer funds online,adding a layer of protection and extra anonymity for those wishing to remove their gambling from their main bank account. Neteller provides swift payout times and is free to use with no fee for deposits or withdrawals. The time taken to receive your money is advertised as within 3 working days but is likely to be much quicker than the worst case 3 days..
MansionBet  Withdrawal Method – Skrill
Skrill is the Sister site of Neteller and as they have the same owners they are very similar in many ways when it comes to security levels and handling your data and your funds. They also have the same transfer limits, both being £10 minimum to deposit and also withdraw with no set maximum. Skrill transfers are also free and will also take a maximum of 3 working days but probably much less.
MansionBet Withdrawal Method – PayPal
PayPal is probably the best known E-Wallet in the UK, with the majority of people having an account from the association with Ebay. Nowadays they are expanding into other areas and the online gambling industry is one of the areas they are focusing on. They carry with them their reputation for security and swiftness when it comes to moving money, and now there is no fee when you deposit or withdraw. Payments are usually back into your account within 24 hours but allow up to 3 working days to be on the safe side.
MansionBet Withdrawal Method – MuchBetter
MuchBetter are the least well known of the E-Wallets available at MansionBet. They claim to be a much better way to manage your gaming accounts, offering customers loyalty rewards from themselves as well as negotiating customers rewards from the gaming websites as well. Deposits and Withdrawals are free at MansionBet and should you use them anywhere else they claim to have the lowest gaming E-Wallet fees in the world. Their biggest selling point is the fast, real-time transactions they offer, but it should be noted that MansionBet withdrawals are initially pending an internal review before being authorised for payment, so a withdrawal can take up to 3 working days, although in reality it will often be less.
MansionBet Withdrawal Method – Fast Funds
Fast Funds is the name of the Visa Debit card system of withdrawing which is a type of bank transfer. An increasing number of banks are a party to. With Fast Funds, Visa Direct transactions are processed in real time and funds can be available within 30 minutes of approval. This is obviously great for the customer and saves a lot of uncertainty and possible frustration waiting tor winnings to be paid. It is another free withdrawal method but should be noted the minimum limit is £20 per transaction rather than £10 for a normal Visa debit withdrawal.
How Long Does A MansionBet Withdrawal Take?
The MansionBet website claims that withdrawals will take no longer than 3 working days no matter which payment method is used. In reality a payout time will vary depending on a number of factors, the method used, the amount of the withdrawal, and when you withdraw funds are just a few of these. It is a bit like asking how long a piece of string is, but the short answer is it will be around 2 or 3 days more often than not.
Step by Step Guide
How to make a MansionBet Deposit
To make a MansionBet deposit you need to be logged into your account and then you will see in the top right corner of the screen a green "Deposit" button. Click on this.

The following screen will show you on the left all the different deposit methods available to you. Click on the one you wish to use and then the central screen will display the information you need to input.



In the example above we are using a debit card. We have to enter:


A) The amount we wish to deposit
B) A bonus code (if applicable)


Then click the green "Deposit £10" button to proceed

The final screen asks you to confirm and enter any final payment details




A) Your name will be filled in for you
B) Enter the 16 digit number on the front of your card
C) Enter the expiry date of your card
D) Enter the CVC number from the back of your cardYour deposit amount will be inputted for you already, all you need to do now is hit "Deposit".
How to make a MansionBet Withdrawal
How to withdraw from MansionBet is simple, just first make sure that you are logged into your account. Providing you are then you will see in the top right of the screen.

Click on this and from the drop down list that appears select to "Withdraw"
On the withdrawal screen you will be presented with a list of payment methods but only methods which you have previously used to deposit will be available to you.
In our example we are withdrawing by debit card. We need to enter and confirm:
A) The amount we wish to withdraw
B) Where the money is going to (The last payment method we used shall be entered as default but can be changed if you have another eligible method)
 Then you just hit "Withdraw" and wait for the money.
Frequently Asked Questions
How to view my withdrawal history?
To view your withdrawal history at MansionBet you need to firstly make sure that you are logged into your account, and then proceed to click on your name in the top right of the screen which will open up your account options.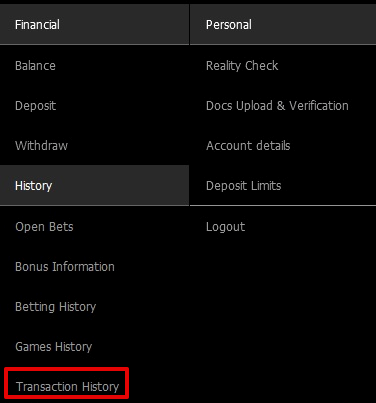 You will see the option for your various histories, in the list choose your "Transaction History". This will bring up a page with all of your deposits and withdrawals as well as details of what methods were used and when they occurred. You can edit the date range as you wish to find any specific transactions that you are after.
What is the Minimum deposit and withdrawal amounts?
The minimum deposit amount which is consistent for all methods is £10. For withdrawals most methods also have a £10 limit but if you are going to use "Fast Funds" then the minimum withdrawal amount is £20 per transaction.
How can I cancel a withdrawal?
It is not possible to cancel a withdrawal once you have submitted it and it has become pending in the MansionBet system. This is not a MansionBet policy but rather a part of UK legislation that all bookmakers must adhere to.
I am having problems with my withdrawal, what can I do?
There are many potential reasons for a problem when MansionBet attempt to transfer money, some of them are at your end such as not meeting all the payout rules and then others may be to do with MansionBet. It is a good idea to contact the MansionBet live chat at the earliest opportunity and explain the situation to them. They will be able to advise what you have to do, if anything, and if there is nothing for you to do they will advise what they problem is or investigate to find the problem for you if it is not immediately obvious.
Yes, PayPal is an accepted payment method at MansionBet for both deposits and withdrawals.