Marathonbet withdrawal methods & "How-to guide"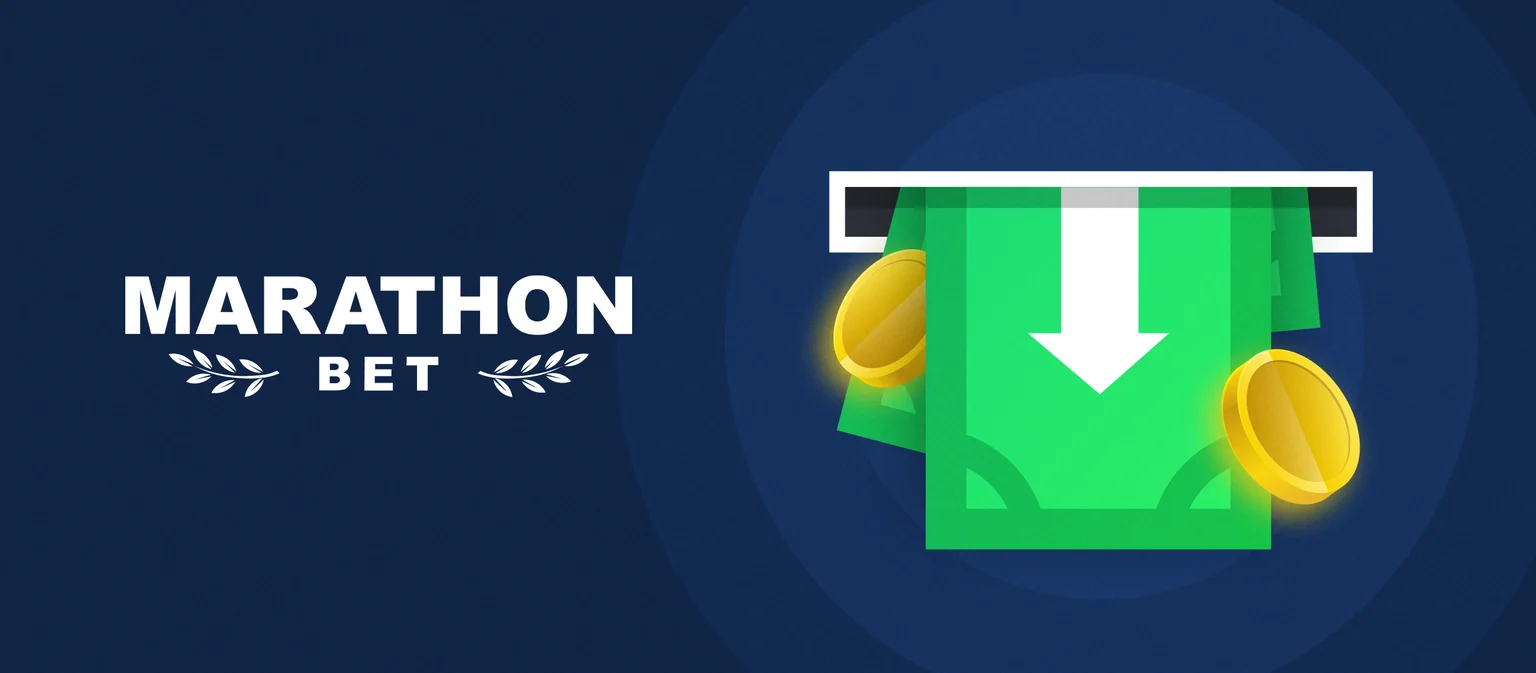 Marathonbet closed to UK customers in April 2022
Marathonbet Withdrawal methods
Marathon bet established in 1997 is an internationally operating betting site which has been successfully operating for 24 years. Therefore as you would expect, it operates with the expected visa/mastercard as well as paypal, apple pay ,trustly ,skrill,neteller ,ecopayz and paysafe card.
Marathonbet Withdrawal Options and limits
Withdrawal Method




Fee

Processing time

Min limit

Max limit

Debit Card

(Visa or Mastercard)

Free

3-5 days

£5

N/A

Skrill

Free

Up to 24 hours

£5

N/A

Neteller

Free

Up to 24 hours

£5

N/A

PayPal

Free

Up to 24 hours

£5

N/A

EcoPayz

Free

Up to 24 hours

£5

N/A

Paysafecard

Free

Up to 24 hours

£5

N/A
Marathonbet  Withdrawal Methods – Debit Card
Using a debit card to withdraw from Marathon bet has no huge advantages in comparison to the other methods except for the fact that it is pre existing and something almost everybody has, making it an easy and accessible option for anybody wanting to bet and win with marathonbet. With a min limit of £5 like all other withdrawal options from marathon bet and an uncapped max the 3-5 day processing time may be a deterrent from using a debit card. However if you're willing to wait the extra couple of days and aren't interested in setting up an e wallet account such as paypal or any of the other options listed above then debit card is still a solid option.
Marathonbet  Withdrawal Method – Neteller
Neteller is one of the more popular E wallet options especially in regards to gambling is something you will see on the vast majority of mainstream online bookies. Because of this not only is neteller a safe and reliable option for you to withdraw and transfer money with but it is also one of the faster transfer methods available to you from Marathonbet with a 24 hour maximum and a minimum of just a few minutes for your withdrawal to enter your account. As well as this Neteller uses the standard £5 minimum and uncapped maximum that Marathonbet boasts for all of its transfer methods.  
Marathonbet  Withdrawal Method – Skrill
Skrill is yet another popular E wallet with highly similar qualities to Neteller. It features the £5 minimum withdrawal as well as the uncapped max withdrawal. Skrill is yet another of the very fast withdrawal options from marathonbet again boasting a 24 hour maximum withdrawal time. This is a quality shared with the other E-wallet options on marathonbet. Another popular option especially with gambling sites skrill is a fast and reliable withdrawal method for your money.
Marathonbet  Withdrawal Method – PayPal
Paypal is potentially the most well known E-wallet to the man on the street and is likely something you already have an account set up with. Due to this, and the fact that paypal shares all the same qualities with almost every other E-wallet option makes this one of the better options for the average person to pick. Using the same £5 minimum and uncapped maximum payout as every withdrawal method on marathon bet paypal is a great option for people who want their money in under 24 hours without having to set up any extra accounts.
Alternative Methods
Ecopayz, paysafe card and trustly. All of those listed are examples of different variations of E-Wallets and money transfer methods. Ecopayz and paysafe card both promote identical features to the other E-wallets in regards to Marathonbet with identical withdrawal limits at £5 minimum and uncapped maximum and both of the options have an uncapped maximum. This leaves them both as popular and viable options for many people who wish to withdraw their money. The only difference between these two methods and trustly is the withdrawal time. Trustly offers a maximum 48 hour withdrawal opposed to the 24 offered by Ecopayz and Paysafe. Other than this slight difference they are very similar so sticking to what you know best may be a better option for you especially if it is something you have been using and operating with for a long time. Please note credit cards and prepaid cards as well as bank transfers are not accepted.
How Long Does A Marathonbet Withdrawal Take?
A marathonbet withdrawal will vary in the time it takes for the money to hit your account, however from a minimum of a few minutes to a maximum of 5 days the withdrawal method matters a lot. Typical withdrawal methods such as visa and mastercard can take from 3-5 days to enter your account however E-wallets such as Skrill, Neteller , Ecopayz or paysafe can land in your account anywhere from minutes to 24 hours
Step by Step Guide
How to do a Marathonbet Deposit
Select the green deposit option in the top right corner.

Select your deposit method and click deposit.

Enter the amount you wish to deposit and process your deposit.
How to do a Marathonbet Withdrawal
Login to your Marathon bet account and navigate to the services drop down menu on the left hand side.
Select "Withdraw".

Select your withdrawal method as well as the amount you wish to withdraw from your account and process your withdrawal.

Frequently Asked Question's
How can I view withdrawal history?
To see your withdrawal history login to your marathon bet account and locate the "account history" tab on the left hand side. After clicking on account history you will be able to see all recent transactions in your account. If you wish to filter specifically for withdrawals click the drop down menu next to the bright green "show" icon towards the centre of the page and select withdrawals. Once selected only your recent withdrawals will be shown allowing you to easily keep track of your in flow.
What are the minimum deposit and withdrawal amounts?
Marathon bet boasts an uncapped withdrawal amount however does have a £5 minimum. This is very helpful for withdrawing big wins or even an amassed sum of money from a long time playing.
How to cancel a withdrawal?
Once a request to withdraw your funds has been submitted it is not possible to cancel that request.
What should I do if there are withdrawal problems or I can't withdraw?
If you are having problems withdrawing your earnings from marathon bet your first port of call is to check the terms and conditions to make sure you have met all of marathon bets payout rules. If you are missing something such as proof of ID or a verification picture which is required by marathon bet then you can simply provide those items and withdraw your earnings however you will need to wait for them to authenticate these documents and until then your account will be pending. If the issue is more deeply rooted then getting into contact with the marathon bet support team by scrolling to the bottom of the page and clicking on the `contact us` section where you will be supplied with a phone number, email and a guide on how to access their live chat line in order to resolve your issue.
Of course! Paypal is a widely accepted method of transferring money in and out of your marathonbet account.