How to Withdraw from SponsioBet: How Long Does It Take in 2023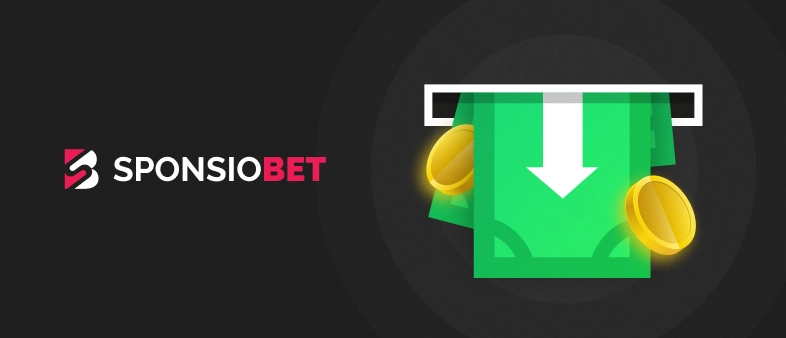 Sponsiobet Withdrawal methods
Sponsiobet is a very new online bookmaker established in 2020 Sponsiobet claims to provide a quality gambline experience in a fun safe and fair way. Based in malta a couple of their rules may be something unfamiliar to people used to the english gambling scene however nothing to worry about when it comes to gambling with sponsiobet. Sponsiobet also offers a variety of withdrawal options with an extensive collection of available withdrawal methods.
Sponsiobet Withdrawal Options and limits
Withdrawal Method




Fee

Processing time

Min limit

Max limit

Debit Card

(Visa)

£2.50

3-7 days

£2.50

£3000 per week 

£6000 per month

Skrill

£2.50

1 day

£2.50

£3000 per week 

£6000 per month

Neteller

£2.50

1 day

£2.50

£3000 per week 

£6000 per month

PayPal

£2.50

3-7 days

£2.50

£3000 per week 

£6000 per month

EcoPayz

£2.50

3 days

£2.50

£3000 per week 

£6000 per month

Trustly

£2.50

3 days

£2.50

£3000 per week 

£6000 per month

Online Bank Transfer

£2.50




4-10 days

£2.50

£3000 per week 

£6000 per month
Sponsiobet  Withdrawal Methods – Debit Card
Debit card withdrawals from Sponsiobet offer an average set of withdrawal characteristics for you to consider. All methods of withdrawal on Sponsiobet have identical characteristics except for processing time. This means that your options for withdrawal really depend on how long you are willing to wait. Given this fact Debit card is an average withdrawal method however if time is of the essence isn't your best option.
Sponsiobet  Withdrawal Method – Neteller
Neteller takes joint first place for the best withdrawal method on Sponsiobet. With only a 1 day withdrawal time yet identical characteristics in all other categories Neteller offers the fastest possible withdrawal time offered on Sponsiobet.
Sponsiobet  Withdrawal Method – Skrill
Skrill also takes joint second place sharing entirely identical features to its E-wallet competitor neteller. Because of this fact whichever one of these methods you are most familiar with will provide you with the best user experience on Sponsiobet.
.
Sponsiobet  Withdrawal Method – PayPal
Paypal unfortunately offers one of the slower withdrawal times on Sponsiobet. At 3-7 days Paypal is one of the weaker options available. Due to this Skrill and Neteller are considerably better options for you especially if you already have accounts open with all of the options.
Alternative Methods
Although there are many alternative methods on Sponsiobet (all of which are listed above) none of them offer any better features than Skrill or Paypal.Methods such as neteller or skrill take only 1 day however bank transfers can take all the way up to 10 days. Options like Ecopayz and trustly offering a 3 day waiting time and  bank transfers taking anywhere from 4-10 days although these options are open to you it is not advisable that you should use them especially with other superb methods available.
How Long Does A Sponsiobet Withdrawal Take?
A Sponsiobet withdrawal can take anywhere from 1-10 working days and is dependent on the way you withdraw. There are also other variables such as if it is your first withdrawal, the amount you are withdrawing, and specifically what day you submitted the withrawal request. The quickest payout times come from the E-Wallets Skrill and Neteller with an online bank transfer taking the longest.
Step by Step Guide
How to make a Sponsiobet Deposit
Select the cashier option on the top bar of the Sponsiobet homepage

Select deposit 
Decide which method you would like to deposit with as well as how much you would like to deposit and enter all required information for your selected option

How to do a Sponsiobet Withdrawal
Select the cashier option on the top bar of the Sponsiobet homepage

Select withdrawal as well as the method you wish to withdraw with
Select the amount you would like to withdraw and finalise your withdrawal

Frequently Asked Questions
How to view my withdrawal history?
To view your withdrawal history on Sponsiobet first login to your Sponsiobet account and locate the cashier tab on the top row of the homepage. Using this you can view your Payment history, game history, sport bet history as well as bonus history.
What are the minimum deposit and withdrawal amounts?
The minimum deposit amount is £10 and the minimum withdrawal amount is £2.50 however withdrawals also come with a £2.50 withdrawal fee so withdrawing amounts this small would result in 0 net gain.
How can I cancel a withdrawal?
Once your withdrawal has been processed you are no longer able to cancel it. This is the policy of all UK bookmakers and not something exclusive to Sponsiobet.
I am having problems with my withdrawal, what can I do?
If you are having problems with your withdrawal the first thing you should do is check the FAQ page at the bottom of the Sponsiobet homepage. This provides a collection of frequently asked questions as well as issues that may be the cause of your problem. As well as this using the built in search feature will also be helpful in order to locate the issue. Alternatively using the customer support page where a contact link is available to submit your problem or you can open a live chat in order to speak with a member of the Sponsiobet team can assist you with your issue.
Yes! Paypal is an accepted form of depositing and withdrawing from Sponsiobet.