Sportingbet Mobile App – review of betting app for iOS & Android (2023)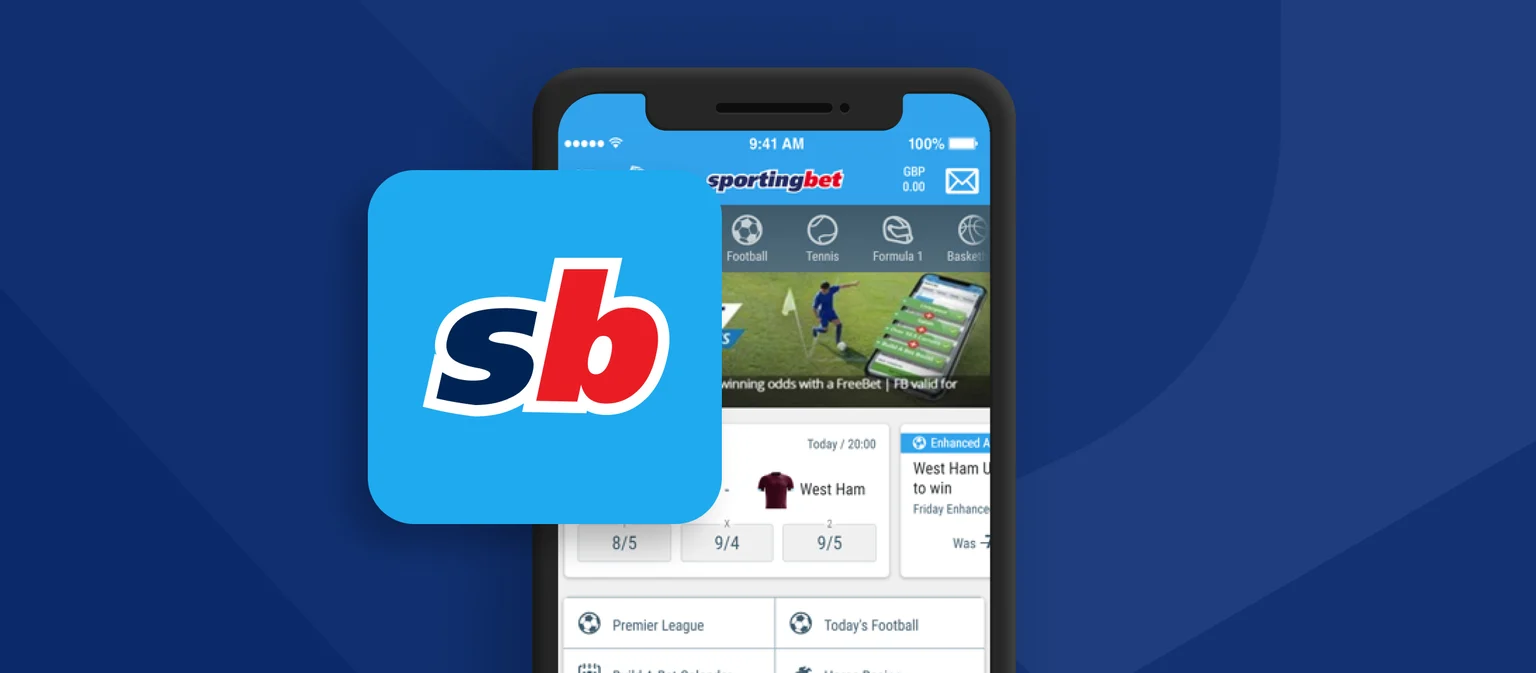 Learn everything you need to know about the Sportingbet mobile app in the article below! From the basics of depositing, withdrawing and placing your first bets through to promotions, in play betting and even answers to your FAQs. All of the information you need to have the best possible experience is listed below!
How to Download the Sportingbet App
The Sportingbet app is available to download for free on the App Store for iOS and the Google Play store. Simply search "Sportingbet" in the search bar of your respective platform's store or follow the link below to get taken directly to the apps page.
Sportingbet Mobile App for Android
Open the Google Play Store and search for the Sportingbet Mobile App
Tap on the search bar at the top of the screen and type "Sportingbet Mobile App". 
Download and Install the App. After the installation is complete, you can open the app and start using it to place bets and enjoy other features.
Sportingbet Mobile App for iOS
Search for Sportingbet on the App Store

Locate the Sportingbet app and press the install button

Once it has been installed press the open button in the App Store or alternatively press the icon on your home screen

How to use Sportingbet App
In this section we will walk you through all of the basics of using the Sportingbet app from registering an account to your first deposit and withdrawal!
Registration
Registering on Sportingbet is a simple and easy process. First open up the app and press the "Register" button in the top right. The next step is to enter all of the information requested by the app. Most of this is personal info such as your email, your address and your full name. From this point onwards your account should be created and ready to use.
Deposit with Sportingbet App
Assuming that you already have an account and are logged in, the first step to depositing on Sportingbet is to tap the "Deposit" icon in the top right corner of the app next to the account menu. Select one of the multiple payment methods available and enter your payment info. Finally select your deposit amount and finalize the transaction. Once the funds have entered your account it is ready to go!
Place a Bet
After registering and depositing the first step to placing a bet is finding a sport and market you wish to wager on! After finding a sport and market you wish to bet on and making your selection, go to the betslip section and select your stake. After selecting your stake click "place bet" and your bet will be placed.
Withdraw with Sportingbet App
To withdraw on Sportingbet simply press the account logo in the top right corner and select withdraw. After selecting your withdrawal option and amount, enter any necessary info and finalize your withdrawal. In most cases funds can take anywhere from a matter of moments up to 24 hours to enter your account however in rare cases can be anywhere from 3-5 days.
Sportingbet Mobile App Features
The Sportingbet mobile app offers users a variety of functionality and excellent features from Cashout to Live streaming and in play betting.
Sportingbet has a good In play betting ecosystem offering live streaming and cash out betting on a good amount of their in play events which really improves standard in play betting and allows customers to have a genuinely enhanced in play betting experience.
The Bet Builder feature on sportingbet allows you to combine up to 10 selections into one multi bet. Using this feature allows you significantly higher odds than almost any other bets and a more exciting rewarding experience.( Cashout, Live Streaming, Bet Builder)
Sportingbet Mobile Version Review
The Sportingbet mobile app is a well designed, useful tool to bring your betting on the go. Offering a wide variety of features all with great functionality and useability, the Sportingbet app is a great example of a good betting app. The Sportingbet app allows all the functionality of the site to be accessed in a more compact form.
Sportingbet App vs Sportingbet Mobile Site
The Sportingbet mobile app and mobile site operate using an identical user interface and has an identical set of features. Useability of the two is identical and a user betting on the mobile site can easily bet on the app or vice versa without the requirement for learning a new interface or operating system.
Both the app and mobile site allow users to bet, deposit, and withdraw as well as use the bet builder, in play betting, live streaming and cash out features!
Promotions On The Sportingbet App
Sportingbet has a few promotions for its sportsbook a full list of which is below.
Virtual Sports
Enhanced Accas
Best Odds Guaranteed
Odds boosts
Back up bet
Mobile Payment Option
Sportingbet has a variety of payment methods available to you for both Deposits an
Deposit Options
| Payment method | Min | Max | Fee % | Speed |
| --- | --- | --- | --- | --- |
| Bank Transfer | £5 | £5000 | £0 | Instant |
| VISA | £5 | £2000 | £0 | Instant |
| Mastercard | £5 | £2000 | £0 | Instant |
| PayPal | £10 | £2000 | £0 | Instant |
| paysafecard | £5 | £850 | £0 | Instant |
| Trustly | £5 | £1542.58 | £0 | Instant |
Withdrawal Options
| Payment method | Min | Max | Fee % | Withdrawal time |
| --- | --- | --- | --- | --- |
| Bank Transfer | £10 | x | £0 | 1 - 4 business days |
| VISA | £10 | £50000 | £0 | 1-2 hours |
| Mastercard | £10 | £50000 | £0 | 3-4 days |
| PayPal | £10 | £10000 | £0 | instant |
| paysafecard | N/A | N/A | N/A | N/A |
| Trustly | £7.91 | £7915 | £0 | 1-2 Business Days |
Live Streaming
Live streaming is available on select events on the app and can be accessed by going to the "Live" tab and then the "Live Streaming" section in order to see a full list of all currently available live streamed events.
In-play Betting on Mobile
In play betting on the Sportingbet mobile app is a staple feature of the app and as such is overall very good. With a good range of Sports and markets available as well as good functionality with other in play features such as cash out and live streaming, the Sportingbet in play betting experience is good.
Bet Builder
Sporting Bets bet builder allows you to combine up to 10 different markets to create a single bet with potentially massive odds! 
Sports Available To Bet On
Sportingbet offers a wide range of sports for users to bet on in many different ways! A full list of the sports available are below.
American Football

Aussie Rules

Baseball

Basketball

Biathlon

Boxing

Chess

Combat sports

Cricket

Cross Country Skiing

Cycling

Darts

Entertainment

Floorball

Football

Formula 1

Gaelic Games

Golf

Handball

Horse Racing

Ice Hockey

Motorbikes

Motorsport

Nascar

Politics

Rugby league

Rugby union

Ski jumping

Snooker

Specials

Speedway

Table Tennis 

Tennis

Volleyball 

Virtual sports

Water polo
Sportingbet Mobile Games
Sportingbet also has a small variety of casino games available. A full list of the games available is below.
Roulette

Blackjack

Poker

Baccarat

Slots
Sportingbet Mobile App Compatibility
To make sure your device is compatible with the Sportingbet app check your phone's operating system and the app version using the information below. Alternatively check the app store or google play store for up to date information.
| Devices | Requirements |
| --- | --- |
| iOS | 13.0 or later |
| Android | App Version 22.09.01 |
General Information
Developer

Entain PLC

Website

https://sports.sportingbet.com

Established

1998

Age

17+

Minimum Deposit

£5

Payment methods

Google Pay
paysafecard
Apple Pay
Neteller
Skrill
Visa/Mastercard Debit
PayPal
Instant Bank Payment
Trustly
LuxonPay



T&Cs Apply
The only terms mentioned on the iOS app store listing for the Sportingbet app relate to the promotions available within the app. The only requirement for downloading the app is that:
Users are aged 17+ (and customers must be 18+ to create an account with Sportingbet)
Conclusion & App Rating
3/5 - Overall the Sportingbet app provides a quality betting experience. With a great amount of Sports and markets to choose from and an excellent in play infrastructure with live streaming, cash out and bet builder available. Although they offer a small amount of promotions which may be a major problem for some punters. 
Frequently Asked Questions
What Languages Are Available at Sportingbet App?
Sportingbet is available in English, Deutsch, Portuguese and Spanish.
Can I Play Virtual Sports via my Sportingbet App?
Yes! Virtual Sports are available on the Sportingbet app and are available for a variety of different sports.
Can I Change the Odds from Fractional to Decimal in the App?
Odds can be changed under the settings part of the sports betting section.
How Long Does Virtual Games Last on the App?
Virtual sports are typically 1-3 minutes on Sportingbet.
Can I Play Online Casino Games and Place Sports Bets from the Same App?
Yes! Sportingbet offers both Online Casino Games and Sports betting on the Sportsbook.
Does the App Take Up a Lot of Space on a Mobile Device?
The app is less than 150mb and takes up very little space on your mobile device.
Is There a Sportingbet App Bonus?
Unfortunately there is no specific app bonus on Sportingbet and very few overall promotions to choose from.
What if the App Won't Install?
If the app won't install there may be multiple factors in play such as your internet connection speed, general device storage or even an issue with the App store or Google play store. If the app won't install ensure that your device has an adequate connection to WIFI and free up some space on your device especially if it is close to being full.
Can the App Be Accessed Via 3G Connection?
Yes, the app can be accessed via a 3G connection however may have limited functionality especially when it comes to live betting.
Can I Withdraw on Sportingbet Mobile App?
Yes, withdrawing is available on the Sportingbet mobile app.
How Much Does the Sportingbet App Cost?
The App is free to install on iOS and Android devices.
Can I Place Multiples on the Sportingbet App?
Yes, multiples are available on the Sportingbet app as well the bet builder.