How to Withdraw from Star Sports: How Long Does It Take in 2022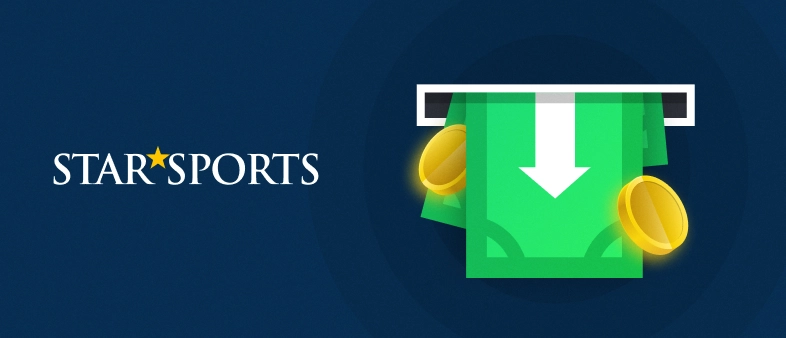 Star Sports Withdrawal methods
Star Sports was originally launched as star racing in 1999 however since it acquired independent bookmakers "Vickers", "Waldron" and "Turner & Kendrick" the company swiftly grew past its racing only origins and in 2009 rebranded its identity to Star Sports in order to reflect its growth and the larger amount of services they now offer. Star Sports offers a small selection of withdrawal methods in Visa/Mastercard as well as bank transfer and Maestro. Interestingly at present they do not accept any of the main E-Wallets, which are PayPal, Skrill and Neteller, but they may be introducing them in the future.
Star Sports Withdrawal Options and limits
| | | | | | |
| --- | --- | --- | --- | --- | --- |
| Withdrawal Method | | Fee | Processing time | Min limit | Max limit |
| Visa | | Free | 2-5 working days | £1 | N/A |
| Mastercard | | Free | 2-5 working days | £1 | N/A |
| Maestro | | Free | 2-5 working days | £1 | N/A |
| Bank Transfer | | Free | 2-5 working days | £1 | N/A |
Star Sports  Withdrawal Methods – Debit Card
All options on Star Sports feature exactly the same limits with no fee, 2-5 working days processing time and a £1 minimum and uncapped maximum withdrawal. Due to this information using whichever method you are most familiar with is likely your best option as it is the one you understand the most and don't have to worry about learning unfamiliar websites, apps or setting up any accounts. As well as this Debit cards are a very safe option as they are used by almost everybody around the world to transfer money daily.
Star Sports  Withdrawal Method – Bank transfer
Bank transfers are almost identical to a traditional debit card transaction. The only difference here is the information supplied to Star Sports. Opposed to the usual Card number, expiry date and CVV you instead use your account number and sort code. This still takes the same amount of time to transfer as much of the processing time is on Star Sports end and not to do with the bank. The ordinary Star Sports rules of no withdrawal fee and £1 minimum as well as uncapped withdrawal. (please note that credit cards are not an accepted method of depositing funds)
How Long Does A Star Sports Withdrawal Take?
Payout time with Star Sports can vary anywhere from a 2-5 day waiting time. This applies for all withdrawal methods so no matter how you withdraw your funds the processing time should be similar no matter which method you decide to withdraw funds with.
 Step by Step Guide
 How to do a Star Sports Deposit
Click in the top right hand corner on the profile icon just above your balance.

Select the yellow "Deposit" option from the drop down box that appears.

Enter the amount you wish to deposit, confirm the method you will use, enter the appropriate details and how much you want to deposit with also.

How to do a Star Sports Withdrawal
 Select the account profile in the top right hand corner of the website.

Navigate down to "Withdraw" and select it.

Select how much you wish to withdraw as well as how much you want to withdraw (please note you may only withdraw using methods you have previously deposited with)
Frequently Asked Questions
How to view my withdrawal history?
To view your withdrawal history first log in to your Star Sports account and then select account in the top right hand corner. On the drop down menu select transaction history and then withdrawal. In this menu you can also see your deposit history.
What are the Minimum deposit and withdrawal amounts?
The minimum deposit account at Star Sports is set at £10 for all of the methods and the minimum withdrawal amount is set at just £1 for all methods.
How can I cancel a withdrawal?
Cancelling a withdraw once it has been processed and is longer in the pending state is not possible with any bookie as this is standard policy.
I am having problems with my withdrawal, what can I do?
If you are having a problem with your withdrawal the first thing you should do is to check the FaQ page and see if your problem is listed there. If it is then follow the given steps to solve the problem. As well as this check the payout rules listed by Star Sports such as your account verification as well as min max limits.. If it isn't then going to their customer support page should be your next port of call. A phone number and email is listed in the help and FaQ section of the account drop down. Using these sections send in your problem or inform them over the phone and their customer support staff will help you resolve your issue.
Unfortunately due to the very limited options available with Star Sports for transferring money paypal isnt accepted as a withdrawal or deposit method.