How to Withdraw from STS Bet: How Long Does It Take in 2023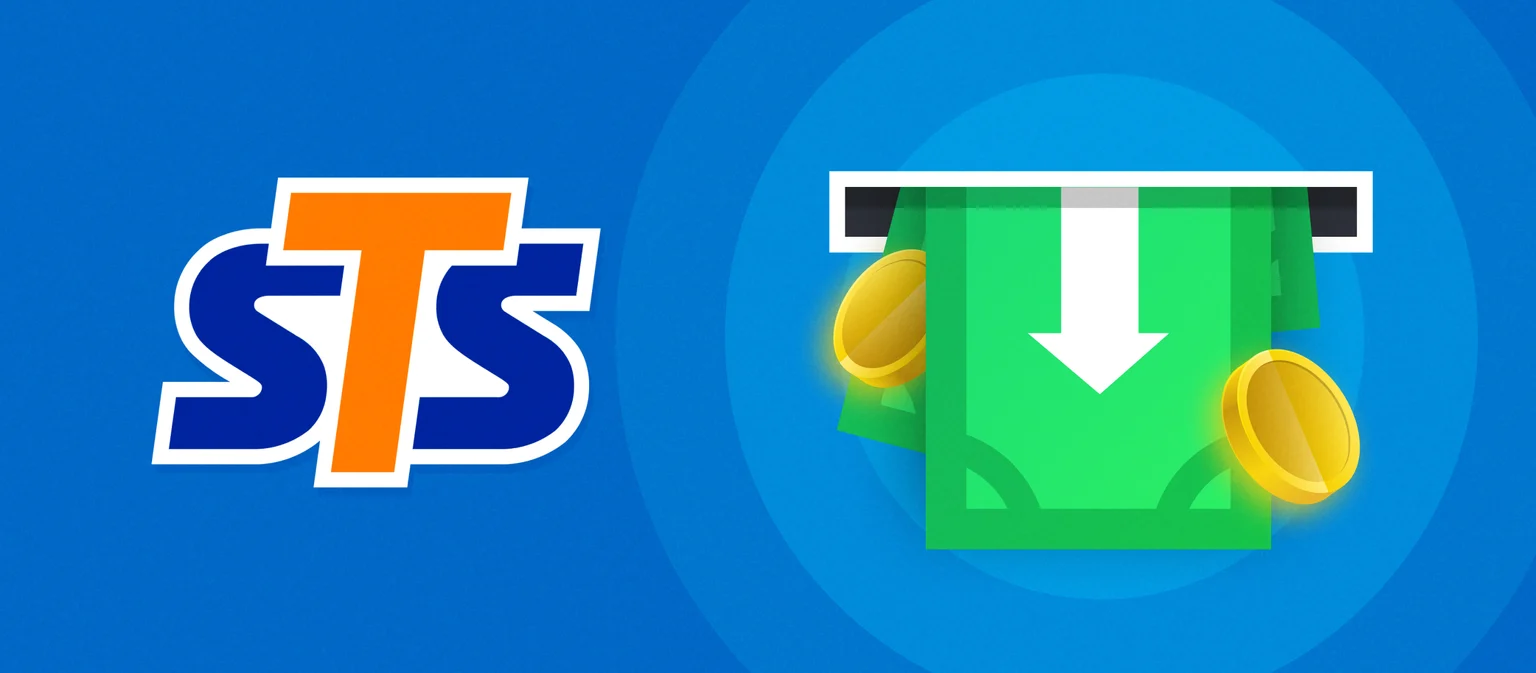 STSbet Withdrawal methods
STSbet are a fast growing UK bookmaker who have previously focused on the European market. They have a range of payment processing methods but notably NOT Skrill or Neteller. They do have Visa and Mastercard debit cards though, as well as the E-wallets PayPal, MuchBetter and EcoPayz. They also have Trustly for payments directly to and from your bank. Withdrawals have minimum limits which are always £10 but maximum limits can vary. The withdrawal time will depend on a number of factors including when you withdraw and what method you use. You can not use a credit card to deposit with or bank transfer to withdraw.
STSbet Withdrawal options and limits:
Withdrawal Method




Fee

Processing time

Min limit

Max limit

Debit Card

(Visa or Mastercard)

Free

Up to 3 working days*

£10

£20,000

MuchBetter

Free

Up to 3 working days*

£10

£2000

PayPal

Free

Up to 3 working days*

£10

£20,000

Trustly

Free

Up to 3 working days*

£10

£20,000

EcoPayz

Free

Up to 3 working days*

£10

£200
*In case transactions need additional verification or contact with the payments provider, the time of the funds' transfer may prolong up to five business days.
STSbet Withdrawal Methods – Debit Card
Using a debit card at STSbet means that withdrawals can take up to 3 business days. This is because all transfers are approved manually. In reality though your money should arrive much quicker than this.
To deposit with a debit card (Either VISA or Mastercard) you should select this method from the deposit section, enter the deposit amount, your first name and surname, then the card number, expiration date and CVV code. Once all the fields have been filled in you must review it and confirm your choice. After the successful deposit, you will be able to bet with funds instantly. When the time comes you can request a withdrawal from the withdrawal section.
All deposits should be made using payment methods which are registered in your name. Violation of this can cause major complications in returning funds or can even lead to the suspension of the account. Deposits are made immediately and STS does not charge any fees for the transfer of money to and from a player's account. Using a debit card probably has the quickest payout time of all the withdrawal methods.
STSbet Withdrawal Method – MuchBetter
MuchBetter is a relatively new payment app that's transforming the way online merchants accept deposits from and transfer withdrawals to their customers.
To deposit using MuchBetter, you need to select this method in the deposit section and enter the deposit amount. After confirming you will need to confirm the payment on the MuchBetter app on your phone. After the successful deposit, you will be able to use the funds as you wish on the STSbet website. 
STSbet Withdrawal Method – PayPal
PayPal is an online wallet that everyone has heard of, they were the first and to this day they are the largest "E-Wallet". With PayPal, customers can pay by debit card or your PayPal account balance, which can be credited from a bank or another PayPal account. 
To use PayPal at STSbet you should select it in the deposit section and enter the deposit amount. After confirming you will be redirected to PayPal where you must log in to your PayPal account. After the successful deposit you are all set.
STSbet Withdrawal method - Trustly
Trustly is a digital payment provider that offers a "bank-independent" payment service. What does that mean? Well in laymans terms it means that it is possible to transfer money directly from your bank account in a fast, simple and secure way. You don't have to register to use Trustly and no third party can store any personal information that may be used to access your bank account. Trustly uses the highest encryption standard available in addition to the bank's internal security system so if you are security conscious, this is a big plus.
STSbet Withdrawal Method – EcoPayz
EcoPayz is a digital wallet that allows you to securely and conveniently deposit, withdraw and transfer funds online. It's free and easy to open an account and you should be up and running in minutes. There is no need for a bank account and they do not do any credit checks, what is more you can top up your account in different ways to suit you. 
To deposit via Ecopayz, you should select this in the deposit area of the website and enter the amount you want to put in. After confirming you will be redirected to the Ecopayz website where you should log in to your EcoPayz account. They will then transfer money into your STSbet account and you can use it straight away.
How Long Does a STSbet Withdrawal Take?
When you withdraw funds the exact length of time it will take to receive the money will vary. It is a bit like asking "How long is a piece of string". It will take a different amount of time for each withdrawal because there are a number of different factors involved. Firstly the withdrawal must be manually processed, so if you withdraw at 9am one morning that could happen in a few hours time, but if you withdraw at 1am you will likely be waiting several hours before anyone even looks at it. Different methods also have different clearing times, so this will become a factor too. The average length of time is around two days in our experience.
Step by Step Guide
How to do a STSbet Deposit 
To deposit into STSbet log into your account and click the orange "DEPOSIT" button on the top right section of the screen. From there you will see the following page:

From here you can also chose the amount you want to deposit (A), and enter a bonus code if relevant (B). From the deposit methods click on the one that you wish to use (C) and another set of options will appear:

Enter your card (or other payment method) details (D), then "CONTINUE" (E). The next page will ask your to confirm your information is correct, check it is, then click deposit, and you are done.
How to withdraw from STSbet
To withdraw from STSbet you need to be logged into your account and then hover over your profile icon, from the drop down menu select "Withdraw". The following screen will appear:
On this page above you can see your balance and your "Withdrawable balance" which is the maximum you can withdraw. It may not always be the same if you have bonus money in play. You can select a withdrawal method which has been used before to deposit, if you have only used one method this will therefore be your only option. You enter the amount you wish to withdraw up to your limit amount and click the orange "WITHDRAWAL REQUEST" button. The following screen then appears:
You are given one final chance to view the details and check that everything is in order. Providing it is then you can push the "ACCEPT" button (D).
Not really a step so much as process, the last thing that happens is that you are given a confirmation screen which you can screen capture for your records should you wish. The withdrawal is now pending but as long as you have met all the payout rules your money will be in your account soon!
Frequently Asked Questions
How can I see my withdrawal history?
To view your withdrawal history at STSbet is not hard to do. You must simply make sure that you are logged in and then click on the profile icon in the top right of the screen.
What are the minimum deposit and withdrawal amounts?
The minimum amount which can be deposited at STSbet is £10, regardless of what method you choose. The minimum withdrawal amount is also £10. A lower amount can be requested one time only if you are closing your account and want the balance back.
How to cancel a withdrawal?
After you have asked STSbet to withdraw funds it is not possible to cancel a withdrawal. Once it has been placed into the STSbet system then that is that.
What to do if you have withdrawal problems?
If you have any problems when withdrawing, or at any time actually, your first port of call should be the customer support of the bookmaker. Although not available 24/7 the STS Live chat support is incredibly good and any issues will be clarified or ironed out swiftly.
Yes, PayPal is an accepted deposit method at STSbet.