Unibet Watch and Bet: How It Works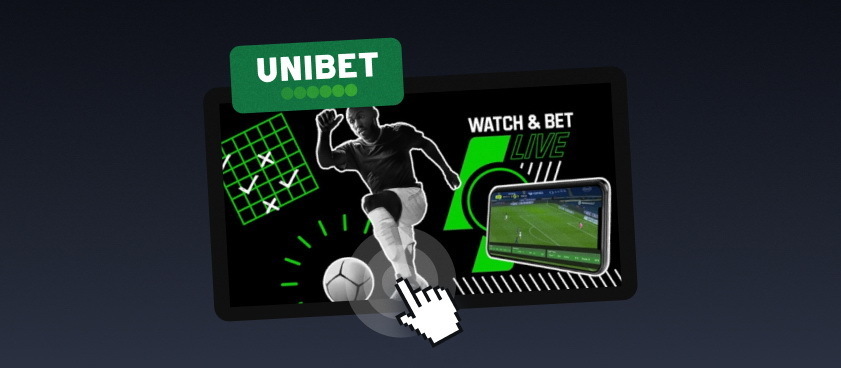 There is a new and exciting new way to punt at Unibet. With Watch and Bet, you can live stream the game and simultaneously place a bet at any time, without leaving the stream.
Unibet's Watch and Bet is particularly exciting because it's the very first betting site to offer punters the chance to watch sporting events live in full-screen mode via their mobile app, and also place bets without leaving the stream. This means that you can place your wager without missing any of the action.
What is Unibet Watch & Bet?
Watch and Bet is Unibet's exciting new mobile live streaming service where you can watch the events within your iPhone or Android app, and place bets in-play, without having to leave full-screen mode. When it comes to live streaming Unibet has delivered a hugely enjoyable, almost seamless procedure for watching an event and gambling on it.
Not only that, Unibet are live streaming eligible games all throughout the day. With over 40,000 tennis and football matches available using the new Watch & Bet service, you'll always be able to find something to punt on, while being able to watch the action live. 
With Unibet's Watch & Bet new feature, you no longer need to worry about having to exit the live stream in order to place your punt. Now, you can watch AND bet (it does what it says on the tin!) while staying within full screen mode, meaning that you won't be missing a moment of the action as you can bet within the streaming screen of your iPhone or Android app.
Not only that, watching Unibet's live streams via the app means that you'll be watching with a considerably shorter delay than competitors' live streams. What's not to like?! Unibet is regulated by the Gibraltar Gambling Commissioner under the Gambling Act 2005 so you can rest assured that you will not be doing anything illegal and you will be watching fully licenced streams only.
How to use Unibet's Watch & Bet feature?
At the time of writing, the Watch & Bet app is streaming two live sports, football and tennis. If you already have a Unibet account with their online sportsbook, then you can download the app straight to your smartphone and use your existing credentials to log in and get watching and live betting right away.
Register an account with Unibet, at their website.

Download the Unibet Watch and Bet app from the iOS App Store or Google Play. 

Log in and deposit funds into your account. You must have a positive balance to be able to access the live streams, eve if you're not interested in in-play betting.

Choose the event you'd like to watch and select the live stream TV icon. 

Tap to switch to full screen mode.

Tap 'show odds' to browse the markets available. Pick your punt from those offered.

Make your wager.

Sit back and enjoy the action on Unibet TV live, while you wait to see if you made the perfect punt.
What Can Be Watched on Unibet Live Streaming?
Unibet live streaming is broadcast by Platinum Gaming Limited via the Unibet website. Unibet customers can view one of the biggest ranges of live streaming sports of any of the online bookmakers. You can watch
horse racing
events, the FI World Grand Prix, many football leagues including the Champions league, La Liga, the Bundesliga and more. Being able to watch events on Unibet live TV is a great addition to your betting experience.
So what can you watch on Unibet TV?
Well, for a start they offer football coverage that encompasses all of the major leagues and cup competitions from around the world, including Champions League. If you're a tennis fan, then you'll be able to catch all of the big name tennis tournaments, right down to the amateur circuits. With Unibet TV, you'll be able to start watching ATP and WTA tennis all throughout the year.
Unibet TV also provides streaming and live betting options for snooker, darts, table tennis, American football, basketball, baseball and hockey. With Unibet TV, there's always something to stream live, with countless markets to punt on. With such a wide range of choice of sporting events, you'll be sure to find a wager that takes your fancy.
Unibet Football Watch & Bet
While Unibet's Watch & Bet currently offers fewer sports than Unibet TV, there's still no shortage of Unibet live streaming options for your streaming and wagering pleasure. When it comes to football you can watch your favourite sports teams from all around the world. Here are just some of the worldwide leagues that are available:
La Liga (Spain)

Bundesliga (Germany)

Serie A (Italy)

Ligue 1 (France)

Primeira Liga (Portugal)

Major League Soccer  (USA)

J1-League (Japan)

K-League 1 (S Korea)

A-League (Australia)

Champions League (Europe)
Unibet Tennis Watch and Bet
As well as football, there's plenty of tennis available on Unibet's Watch & Bet app. Here are just some of the tennis events Unibet live streaming provides live and on full screen, while placing your bets via Watch & Bet.
ATP Tour

WTA Tour

Grand Slam Events

ITF Tour

UTR Pro Tennis Series

Challenger Tour
Accessing Live Streaming
There are two ways to access live streaming with Unibet. If you're not keen on downloading an app for your live streaming, then you can use Unibet live streams on your desktop instead, with Unibet TV. Alternatively, you can of course download the Watch & Bet app for iPhone and Android, if you want to embrace the mobile live streaming experience.
For the best possible live streaming experience, we'd recommend using wi-fi wherever possible. Wi-fi is generally more reliable (not to mention cheaper!) than cellular data, and live streaming can often be a lengthy pastime, especially if your footie match goes to extra time! Remember there is up to a 10 second delay on live streams, and this can be minimised by having a strong wi-fi signal.
The great thing about all of Unibet's live streaming offerings is that they're free to watch. However, you do need to make sure that you have a positive balance in your Unibet account, in order to access Unibet's live streams. Alternatively, you can place a bet at least 24 hours before the event goes live, in order to watch for free. Either way, you can enjoy all of the action of your favourite events, without having to pay a subscription.
Accessing Unibet TV on Mobile
If you're looking to access Unibet TV's live streaming offerings on your smartphone, then this is how best to do it.
Firstly, you can access the Unibet website via your phone's website browser, and watch Unibet TV that way. This offers the widest range of sports markets, but you'll have to leave the live stream in order to make a wager. Make sure that you've got a decent cellular or, ideally, wi-fi signal in order to make the live stream as seamless as possible.
Don't forget that you'll need to have an account with Unibet, be logged in AND have a positive balance, in order to enjoy Unibet live streams via Unibet TV.
Advantages & Disadvantages of Using Unibet Live Streaming
Advantages of Using Unibet Live Streaming
You will be using a stream from a reputable sports app, the Unibet betting site is regulated by the UK gambling commission and you will not be using an illegal site to live stream football.

You can enjoy watching the action and betting from the comfort of your own home, or on the move. 

It enables you to watch matches that are not being screened on television. 

It makes following your wagers super simple, and gives much more than just statistics when it comes to results. 

You can bet live, without missing any of the action - this is especially good when using the Watch & Bet app, as you don't even need to leave full screen mode in order to place a bet.
Disadvantages of Using Unibet Live Streaming
Only football and tennis are currently available on the Watch & Bet service (although you can hop over to your browser and enjoy lots more with Unibet TV).

You'll need to leave full screen mode in order to view the betting markets and place a bet when watching Unibet TV (But don't forget that you can enjoy full screen AND make a wager simultaneously, with Watch & Bet. When placing bets please remember to always play responsibly).
Frequently Asked Questions
How do I watch matches on Unibet?
To watch matches on Unibet, you can download the Watch & Bet app to your smartphone (see our step by step guide for details on how to do this). Alternatively, you can enjoy matches via live stream using Unibet TV in your web browser.
How do I bet on Unibet during the match?
In order to place a bet during the live stream of a match on the Watch & Bet app, you can tap 'show odds' and select your preferred market. When live streaming via Unibet TV, you'll need to exit the full screen mode in order to view the available betting markets and place your bet.
Which sports are included on Unibet's Watch & Bet service?
On Unibet TV today they are offering a wide range of Football and Tennis matches on their Watch & Bet mobile live streaming service. You can get in play betting odds on all of these events.
On what platforms can I access Unibet's Watch & Bet?
An iPhone's mobile apps are all listed on the iOS App Store, and for Android all mobile apps are on Google Play. Alternatively, you can follow the link on the Unibet betting site to download the appropriate app for your device.
Is Unibet's Watch & Bet available on Android?
Yes! The app is available on Android and can be downloaded for free, from the Google Play store.