Unibet Mobile App – review of betting app for iOS & Android (2023)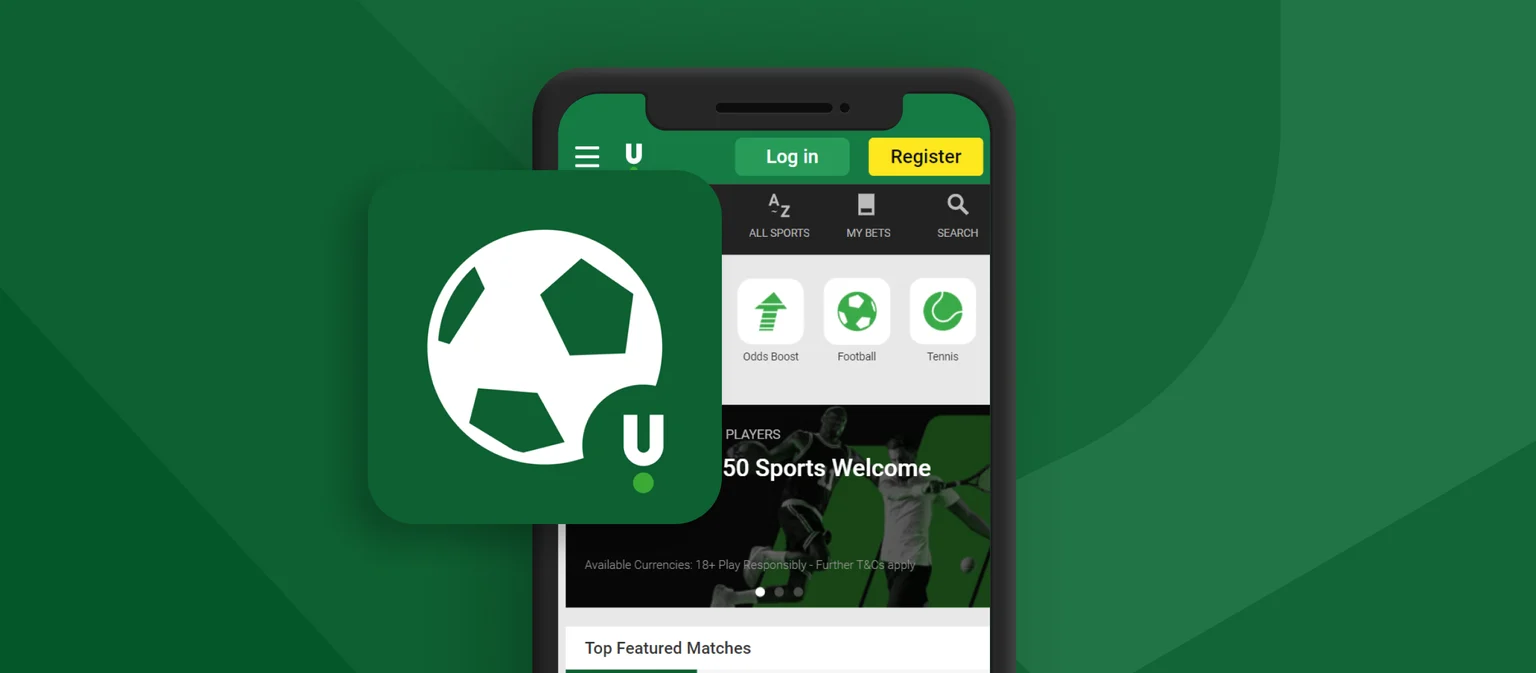 Unibet Mobile Betting
The Unibet mobile app is very aesthetically pleasing and easy to use as well as being very user friendly to boot. The overall aesthetic is a key feature of the app and something you will notice extensively throughout any use of the app. As well as this the vast majority of key features on the app are very easy to find and will be perfect for new or inexperienced users.
The Unibet mobile site also features a pleasing aesthetic however uses a slightly darker aesthetic opposed to the app as well as this many of the features are located in slightly different locations however still a great simple and intuitive user experience.
Mobile App overview
After you have your free download onto your mobile device you will be able to open the unibet app. The first thing that will greet you is a swipeable bar along the top of the page. This feature shows you a variety of available sports as well as Upcoming events and currently live events. Following on from this a slideshow of various promotions and a safe gamblimg message are displayed to you all of which can be tapped on to view a more in depth explanation of the information shown as well as the Terms and conditions or qualifying factors needed to use that promotion. For example the £150 bonus for referring a friend is available to you for referring up to 3 friends to unibet. The reward for the first friend is £30, the second friend £50 and the third friend £70 for a total of £150.
Following on from this the current in play events are displayed. After that upcoming events are shown which are all events that will be happening later on in the same day. Last are the "Recommended for you" these are events that are either currently popular or something you have previously bet on. at the very bottom of the page is a section which allows you to change your odds from Fractional to Decimal and vice versa.
Unibet Mobile Offer
New user welcome bonus
Although there are no exclusive first time bonuses available on the mobile app they are available on the mobile version of the site. This means that if you claim the bonus on the site and then login to the app using the same account the bonus will still be applied to your account.
Exisiting user promotions
To view any promotions or bonuses available to you you can either check the rotating home page and then tap them for the expanded view of each promotion or for a more extensive list go to the menu in the bottom right corner and then Bonuses & promotions. From there you will be able to see any active bonuses, bonus offers, refer a friend, free bets and profit boosts as well as promotions, enhanced accas and feature betting. Note that tapping the promotions tab takes you to an external page on the unibet site with a list of available sports & racing offers.
As well as this there is the refer a friend bonus available on the app meaning any of your friends who are logging in for the first time can also aid you in acquiring up to £150 in extra funds as is the current promotion. Remember though that promotions and bonuses all change at any time so double check what it says on the screen on the day you apply for it.
How to download the Unibet mobile app
Unibet app for iOS instructions:
Step 1) Open the app store and navigate to the search area where and enter Unibet into the search bar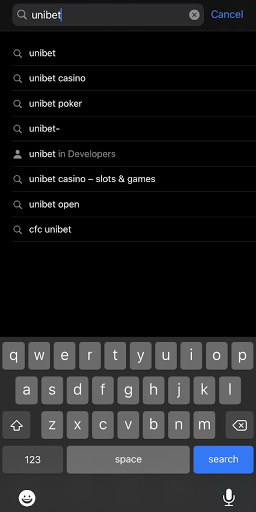 Step 2) Locate the Unibet sports app and tap on the image to go into the expanded view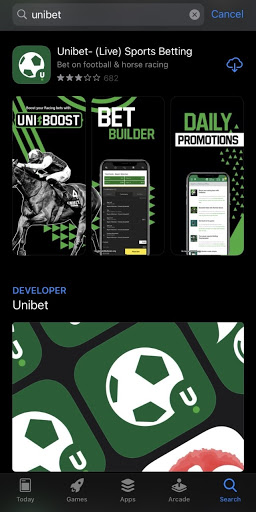 Step 3) Tap the install button which will be in the same place as the red box and enter any required information to start the installation.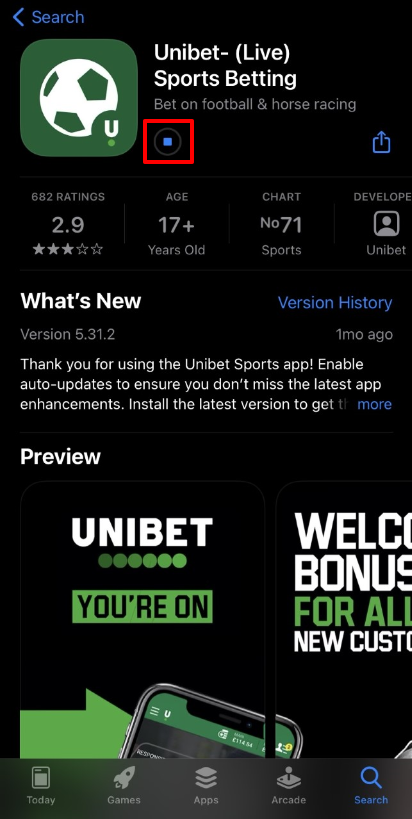 App Key features
Cash-Out
On the Unibet mobile app Cash out allows you to decide when you want to end your bet even if the event is still underway. using cashout you can guarantee an early proffit for a slightly lower profit margin. Unibet cash out is available on over 20 pre-match football bets, live football bets including correct score and half time/full time, football outright markets meaning winner and relegation as well as tennis outright market and place 1-2 bets.  to know if a bet is available to cash out with looking at the small green cash out logo as shown in the image below.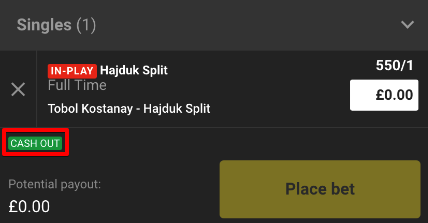 Live betting in-play
Live betting or as it is commonly referred to in play betting allows you to place bets on an event as it happens. This allows you to make more informed/ educated bets depending on the events as they unfold in front of you. to navigate to the inplay betting section simply tap on the inplay button along the bottom bar of the app as shown below. alternatively a small selection of inplay sports are listed on the home screen. These can be identified by the red in play logo as shown in the image below.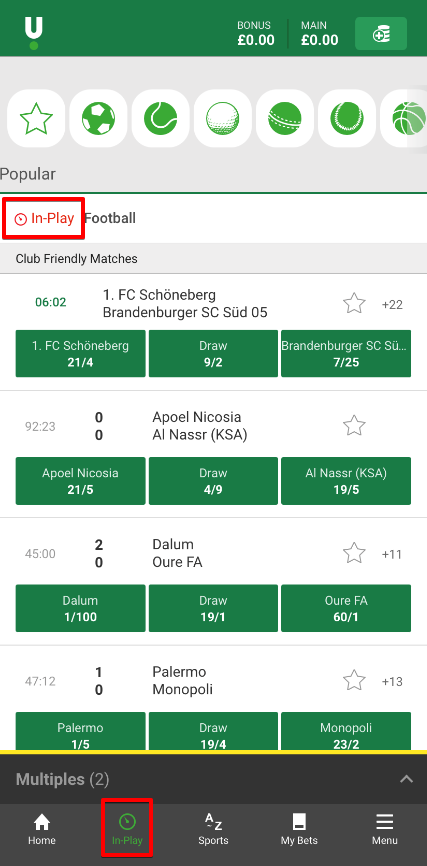 Live streaming
Live streaming allows you to see a live feed of the event or game you are betting on and allows you to watch the event unfold. This feature is only available for live sports and you must sign in to see if an event has coverage. If it does you will see a small green TV icon next to the event as shown in the small red box below.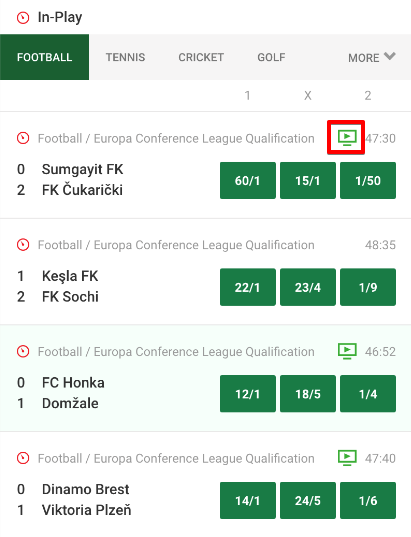 Virtual sport
Virtual sports are a simulated sports tournament similar to a real event however using a simulation to determine the results of the match. The event is still watchable the same as any normal sports however instead of live footage it is instead similar graphical qualities to a video game with virtual simulated graphics.

Frequently Asked Questions:
How do you close a Unibet app account?
To close a Unibet app account navigate to the menu in the bottom right  corner and then to account. from there locate the bottom option "close account" then fill in any required information and close your account.
What are the banking options and deposit methods?
All of the available deposit methods are as follows Visa, Maestro, Mastercard, Paypal, Apple Pay, Trustly, Paysafecard and Skrill. All of these options have a minimum deposit of between £5 and £10, and a maximum of £10,000.
Can you cash out on the Unibet app?
Yes cash out is available on Unibet app however only for specified bets which can be identified by the green cash out logo.
How do you withdraw money from Unibet?
To withdraw money from the unibet betting app first locate the menu in the bottom right corner. Then navigate to withdraw and select which method you would like to withdraw with as well as the amount you would like to withdraw and finalise your withdrawal.
Is there an Unibet app bonus?
No Unibet does not offer a specific bonus for the app however it does offer a range of other bonuses which are available to all new or existing customers, and app users are therefore also eligible.
Why doesn't the app work?
There are a number of reasons why the Unibet website may not work, be it with an iOS, android or mobile device.  The app may be down due to a large variety of reasons, from a server outage on Unibets end or a potential lack of internet connection on yours there are many reasons why the Unibet app may not be working. In order to fix these, checking your personal internet connection as well as checking the Unibet FAQ/ help page may help you to determine any issue. If this fails to resolve your problem, waiting anywhere from 15-30 minutes and allowing the Unibet team to solve any potential issue on their end would be advisable.