How to Withdraw from William Hill : How Long Does It Take in 2023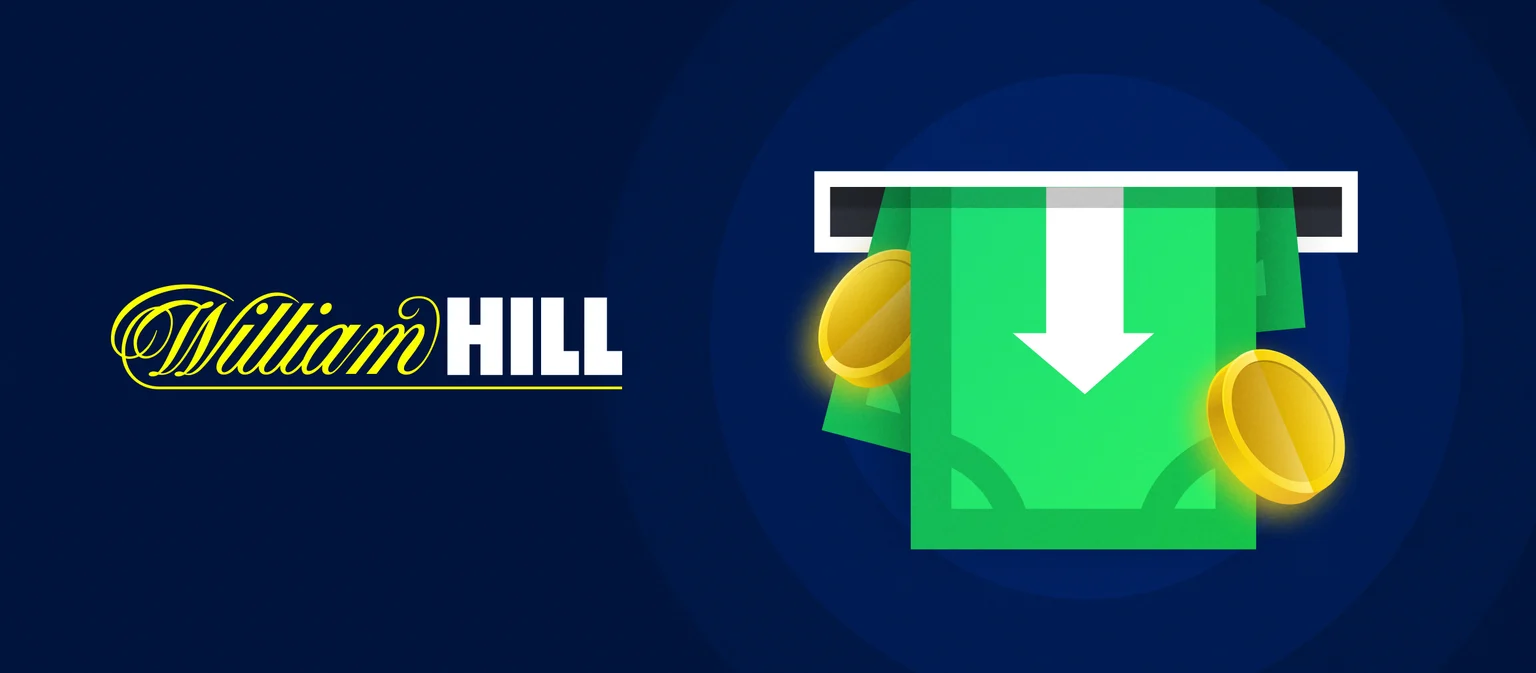 William Hill Withdrawal methods 
William Hill is a globally recognised online gambling company based in London, originally founded by William Hill himself in 1934. As expected with its lengthy history and reputation an excellent amount of withdrawal methods are available to you. They have a large range of methods and also some of the most flexibility with regards to limits, the minimum withdrawal amount is just £5 for debit cards.
William Hill Withdrawal Options and limits
Withdrawal Method




Fee

Processing time

Min limit

Max limit

Debit Card

(Visa or Mastercard)

Free

1-3 days

£10

£33,000

Debit Card (Maestro)
Free
1-3 days
£10
£40,000
Debit Card (Visa Electron)
Free
1-3 days
£10
£35,000

PayPal

Free

1 day

£10

£5,500

Apple Pay

Free

3-5 days

£25

£100,000

Fast Bank Transfer

Free

3-5 days

£5

£10,000

paysafecard
Free

3-5 days

£25

£90,000

Neosurf

Free

3-5 days

£10
£12,000
Bank Transfer

Free

3-5 days

£25
£100,000
William Hill Withdrawal Method – Debit Card
Withdrawal using your debit card on William Hill is an excellent option for almost all users. With the lowest available minimum withdrawal at £5 and a varying top end withdrawal anywhere from £33-40,000 (this depends on the type of debit card you are using and can be seen in more detail in the table above)  as well as  this the withdrawal time is anywhere from 1-3  working days. This offers an intermediate option for most users who wish to withdraw large sums of money with a relatively quick turnaround without the need for the huge £100,000 maximum withdrawal offered with other methods.
William Hill Withdrawal Method – PayPal
Paypal is another good option for withdrawal especially if you would like to withdraw smaller amounts quicker. With a minimum withdrawal of £10 and a maximum of £5,500 which is fairly low especially in comparison to other options on this list however a 1 day waiting time for your withdrawal Paypal offers a short and snappy way to withdraw from William Hill with still opportunity for a reasonable amount of funds to be accessed.
William Hill Withdrawal Method – Apple Pay
Apple pay offers some of the top end options when it comes to withdrawing with William Hill. With a top end withdrawal of £100,000 Apple pay is almost sure to fulfill your withdrawal needs. As well as this a 3-5 day withdrawal time is intermediate making apple pay a great withdrawal option for large sums of money.
William Hill Withdrawal Method – paysafecard
Paysafecard features very similar characteristics to Apple Pay with a £99,000 top end withdrawal and £25 minimum withdrawal it offers the second biggest withdrawal amount as well as a fairly short 3-5 day withdrawal time
William Hill - Alternative Payment Methods
There are many other options available to you on this list however all of them have a variety of different characteristics that provide different experiences to you throughout. Fast bank transfer giving a low minimum withdrawal of £5 however a slightly larger than paypal £10,000 top end this all however comes with a 3-5 day waiting time opposed to the 1 day you are left waiting while using paypal. As well as this Neosurf offers similar characteristics with all but identical details except for the £12,000 maximum withdrawal boasted by Neosurf. All of this considered no matter how much you would like to withdraw or how quickly you want access to your funds William Hill provides many options to you in an aim to put your satisfaction first.
How Long Does A William Hill Withdrawal Take?
A William Hill withdrawal can take anywhere from  1-5 days depending on how you would like to withdraw. The vast majority of withdrawal methods do take the latter of 3-5 days unfortunately.
Step by Step Guide
How to do a William Hill Deposit
After logging into your William Hill account navigate to the top right corner where a yellow Deposit button will be located

Select which method you would like to deposit with from the available list

Enter any required information (this will vary depending on your selected deposit method) as well as how much you would like to deposit and finalise your deposit.
How to do make a William Hill Withdrawal
How to Withdraw from William Hill is a simple affair. Locate the small account profile / balance icon in the top right corner

Select withdraw from the drop down menu

Select how much you would like to withdraw as well as which method you would like to withdraw from. Withdrawal times will vary but all payment methods have no fee attached to withdraw. (Note withdrawals can only be made into accounts you have previously deposited with, unless you are making a bank transfer)
Frequently Asked Questions
How can I view my withdrawal history?
To view your withdrawal history locate the account / balance icon in the top right and click on it. From the next screen navigate to "my transactions" inside the dropdown menu. In my transactions all previous withdrawals, deposits, wins, and losses will show up for you to view as well as handy filters to filter by date and to exclude unwanted information.
What is the Minimum deposit and withdrawal amounts?
The minimum deposit and withdrawal figures both sit at £5 however these amounts will vary depending on what method you choose to use.
How can I cancel a withdrawal?
Cancelling a withdrawal is not possible once it has been submitted and is pending. This is due to regulations set by the UK Government and is not a policy of William Hill themselves.
I am having problems with my withdrawal, what can I do?
When you come to withdraw funds if there are any problems then there is a very good help section on the William Hill website for you to troubleshoot and try solve your issue. The first thing you should do is check William Hill's extensive customer support page which lists a large variety of potential issues and will almost definitely have something relevant about the payout rules which you can read about.. However if this doesn't help then contacting the customer support via the William Hill live chat is your next port of call. They will either identify the problem and fix it or tell you what you need to do so that William Hill can transfer money to you.
Yes PayPal is one of the deposit methods used at William Hill. It is in fact the only E-Wallet you can use as surprisingly both Skrill and Neteller are not options. Withdrawing with PayPal is the quickest way you can receive your money from William Hill.