Bet365 Live Stream & Schedule 2023
The impact live streams have had when it comes to online betting is substantial. Many customers now look for the opportunity to watch events live as they place their bets. In this guide, we're going to talk about what Bet365 can offer you.
Bet365 are already popular for their range of free bets and promotions, and their Bet365 live streaming schedule compliments this. How does their streaming service compare to other bookmakers? Let's find out.
What is Bet365 Live Streaming?
One of the most popular betting sites around. So what exactly are streams? A live stream gives you the opportunity to watch sports events and how the action unfolds directly from your bookmaker account. This can include football, horse racing and other sports.
There are a couple of terms and conditions to meet to be able to access live streams of sporting events with Bet365. With this betting site, you need a funded account and to have placed a wager within the previous 24 hours. Other betting sites have different rules. With some, you need a positive balance or make a minimum deposit. With others, you need to have placed a bet on the sporting event you wish to watch via live stream.
There are a huge range of sporting events that make up the Bet365 streaming schedule. Football matches, tennis matches, horse racing, basketball, table tennis and ice hockey are just some of the events you can stream live. The most popular sport is football. Geo restrictions apply to any and all live events being streamed. For example, due to broadcasting laws in the UK, you're unable to watch live streams of Premier League action. However, the bet365 live streaming schedule is full of action from Europe's top leagues and beyond.
To view the live streaming schedule, look out for the icon in the betting menu.
How to Access Bet365 Live Streaming?
You can connect to Bet365 live streams via your tablet device or your desktop. Customers first need to log in to their sportsbook accounts. If you haven't yet got an account, hit the Join button located in the top right corner of your screen. We'll show you how to register an account shortly.
Next, head to the in-play section of your account. You'll find this either from the menu featured down the left hand side of the website, or from the main bar at the top. You'll then find a list of sporting events taking place from all over the world. Those with a video icon next to it are available to watch in your location. Click on this icon and your live stream will open.
If you've not yet signed up to Bet365, here is how to do it. Head to the bookmaker website, either via your desktop or mobile device. You can also download the Bet365 app if you wish. Hit the Join button and your registration form will open up. Complete all fields in the form. Make sure all the information you enter is accurate. Bet365 may ask you to provide proof of your identity at any time as part of the Know Your Customer guidelines.
In the form, you'll also see there is a field where you can consent to receive information about free bets, offers and bonuses. This bookmaker is renowned for a range of bonuses and promotions across a variety of sporting events. There is also a field for a bonus code, for new customers looking to take advantage of a sign up offer. This offer could involve free bets and other types of bonuses. Once you've completed the sign up, hit the Join key. You'll then be able to use everything that bet365 has to offer, including their live streaming service.
How to Register at Bet365?
Head to the Bet365 website

Click Join

Complete all fields in the sign up form

Confirm your account
How to Use Bet365 Live Streaming?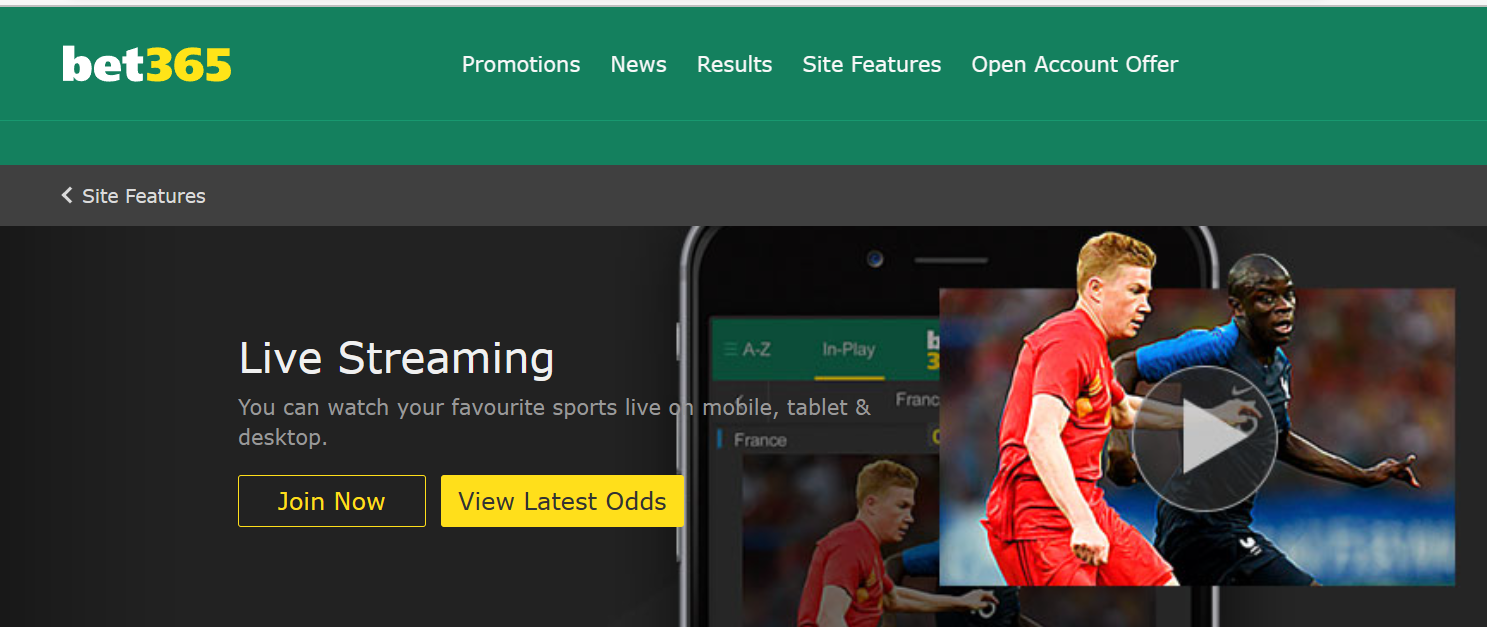 It's easy to access the Bet365 live streaming service. For a huge range of sporting events, you can view both the visual and audio stream. First up, you need to log into your betting account. From here, you can choose the stream you wish to see.
To access any live viewing, all you need is either a funded account or to have placed a bet, with no min odds limits, in the previous 24 hours. All streams are free to view, so long as these terms have been met. Watching certain competitions, sports or games could be restricted depending on which country you're betting in. For example, streaming services of Premier League action is restricted for users in the United Kingdom. Infographics for matches and games are also available from the In-Play menu for free.
Free streams are available across all devices, including desktop, phone and tablet. You can also use the Bet365 app to view live events. Punters looking for live streams should head to the In-Play menu. From here, select the events you wish to wager on. Those with live streams available will have a yellow video icon next to it. Simply click on this icon and your window will open.
For customers looking to use the live service and watch the action for free, follow the steps below.
Login to your Bet365 account

Head to the In-Play tab

Find your chosen sport

Ensure you've got a funded account or you've placed a bet in the previous 24 hours

Click the video icon

Watch the event for free
What to Watch Live On Bet365?
Out of all bookmakers, Bet365 offer one of the most extensive streaming services around. There are a huge variety of events you can see live with this service. If you're looking for a particular event, use the menu on the left hand side of your screen to find it. Click on this tab and your options will be loaded. You don't need to place a bet on the particular event you want to view. You either need to fund your account, in other words, a positive balance, or to have placed any bet in the previous 24 hours.
The same terms apply for new customers. Register, place a bet or make a deposit for a positive balance and you're ready to go. Let's take a look at some of the most popular sports events you can watch live with Bet365.
Bet365 Live Football
Out of all sports you can watch live, football is amongst the most popular. There are thousands of football matches you can see each season, covering some of the best leagues and competitions worldwide. This includes Spain's La Liga, the Bundesliga in Germany, Italy's Serie A and USA's Major League Soccer. There are a range of international matches you can also view live with no need to have placed a bet on that particular event. There are some location restrictions, though. For instance, United Kingdom customers are unable to watch Premier League, Champions League or Europa League matches due to broadcasting rights and restrictions. You can still bet on these games, of course, and you can also view to in-play match infographics.
To connect to streams for football matches, there is no need to place a bet on the specific events. Have a positive balance or have placed a bet on any sports in the previous 24 hours and you'll be able to view the event. As with all events available, new customers could receive free bets or other bonuses when betting on football.
Horse Racing
Customers can also view a range of horse racing meets. The rules for punters accessing the racing service are slightly different than with other sports. Users can view any race that is being broadcast live on the television channels At The Races or Racing UK. Customers need to place a bet on that particular meet to watch it. Bets of at least 50 pence, or 25 pence each way, will allow you to watch the race. Your bet can either be a Single or any Multiple bet. The Watch button will be available from either the card or your bet slip. New customers to Bet365 can also take advantage of racing free bets on occasion.
Tennis
Users can watch a whole host of tennis matches. Tennis games are accessible from the in-play menu. Click on the game you want to view and hit the icon to open up the streaming service.
Other Sports
Bet365 offer many more streaming options than most other bookmakers. The list of sports available is vast. In addition to those sports already listed, such as football and tennis, customers can also view snooker, volleyball and table tennis events to name just a few.
The live streaming service available here includes the following:
Football

Tennis

Basketball

Volleyball

Snooker

Golf

Greyhounds

Cricket
Key Points About Bet365 Live Streaming
Bet365 offer a very comprehensive service for new customers and old who like watching live sports. It certainly gives them an advantage and challenges other bookmakers as the best streaming service in the industry. From racing to snooker, football to cricket, punters have an array of options.
You can also check out upcoming fixtures and schedules directly from the in-play menu on the website. On the in-play page, choose the game you want to view and open up the viewing window.
You don't need to place a bet on the event you want to view (except racing)

Easy to view the game direct from the web page

View on the desktop website, phone or tablet

Audio commentary available

Infographics available
Bet365 Streaming Schedule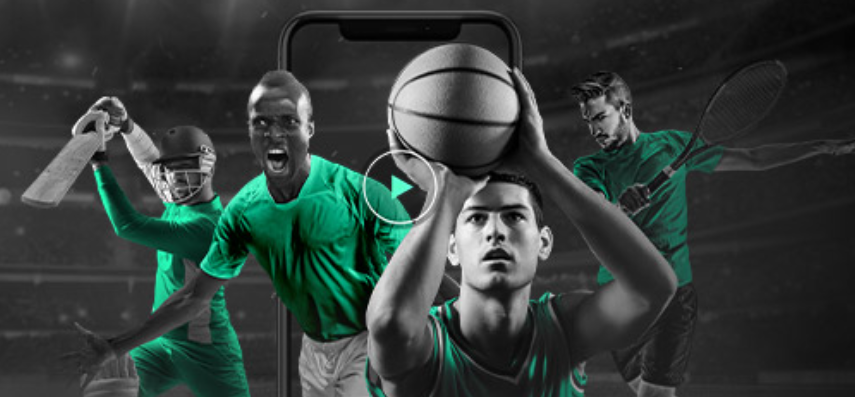 To find the schedule, go to the in-play tab for a list of upcoming fixtures. Alternatively, hit the Extras tab at the top of the page, click on Site Features and then sports live streaming.
Then find the game you want to view. If the icon is grey, it means the event hasn't started yet. For racing streams, you can watch from two minutes before the meet begins.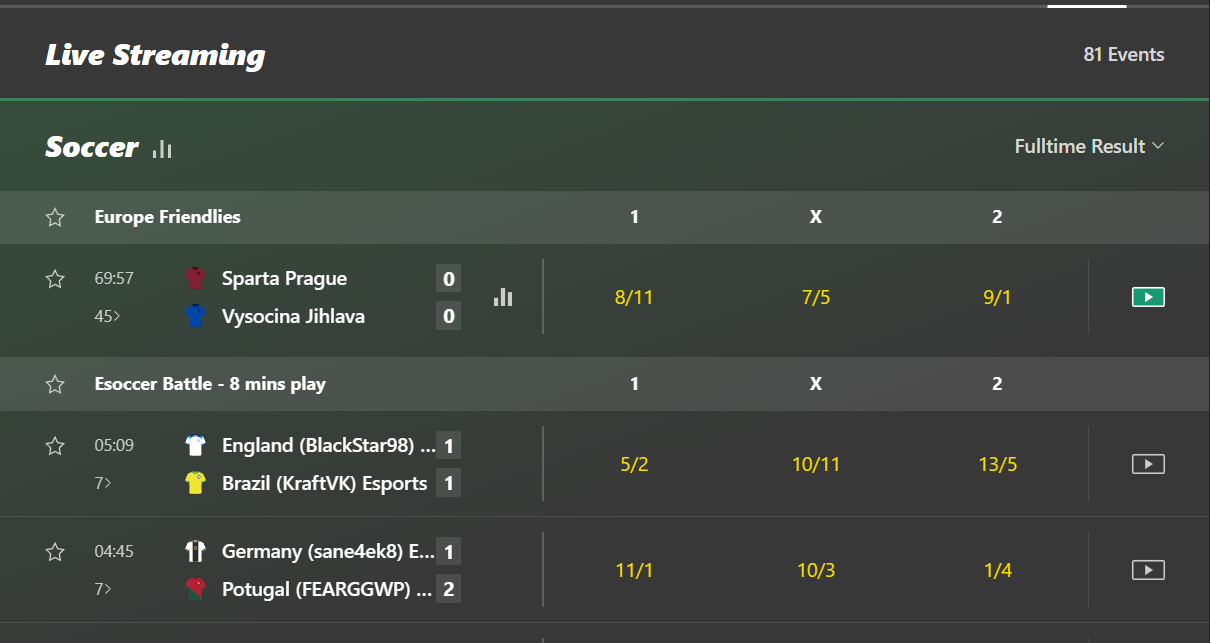 Conclusion
There is lots to be said for the quality of the Bet365 live streaming service. There are a range of options available, many more than you'll find with most other bookmakers.
Location restrictions can apply, depending on which country you're betting in. Premier League action isn't available due to broadcasting rights, this is the same with all bookmakers.
It's easy to view directly from the bookmaker page. You don't even need to place a bet on the game either, so long as you have funds in your balance or you've placed any wager in the previous 24 hours.
Frequently Asked Questions
Below, we've answered some frequently asked questions surrounding Bet365 streaming events and how you can watch live sports.
Is Bet365 Live Streaming Free
To access the Bet365 streaming schedule, you must have either a funded account or you've placed a bet in the previous 24 hours.
How to Full Screen Bet365 Live Streaming
To view your Bet365 live stream in full screen, hit the video icon on the bottom right of the TV window.
Why is My Bet365 Live Stream Not Working?
For the best live experience, you need to ensure you have a good WiFi or mobile internet connection. In addition, check that the event you're looking to view is available in your country. Any issues, contact the customer support team.
Does the Bet365 Live Stream Play the Match in Real-Time?
Essentially, yes, though there's no guarantee. You need a good internet connection for it to work successfully. On occasion, there can be a slight delay, but ultimately you can watch the match in real time with live streaming.
Can You Watch Live Sport on Bet365
Yes, you can watch live sports events with Bet365. We've covered in depth the sports available to watch earlier in this article.
Does Bet365 Show Live Premier League?
Unfortunately, due to broadcasting restrictions, no bookmakers or betting sites have the television rights to broadcast live Premier League action.