Coral Racing Super Series – Win up to £25,000 as a Cash Prize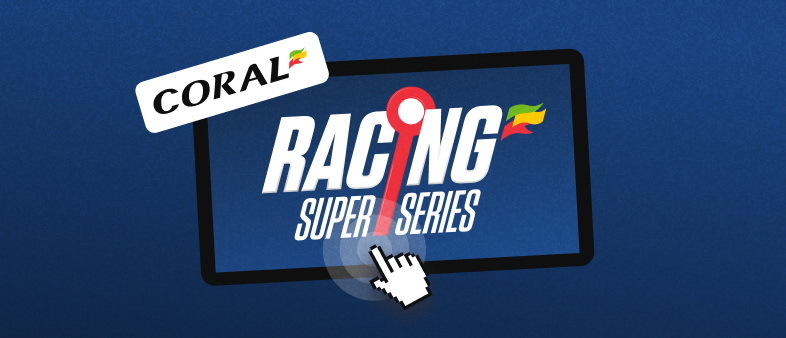 The Coral Racing Super Series is a FREE to enter competition run by each week where entrants have to predict which horses will place (not win) in seven pre selected races. This is a great promotion, and since it has zero risk what is there to lose? We look at the ins and outs of how to play and look at some potential strategies which you might like to try.
How To Play Coral Racing Super Series
Sign in (or Register)
If you do not yet have a Coral account you will need one to take part in this promotion. You can join using the link below and new customers will get £20 in Free bets (Free bets valid for 7 days from the time of issue).
If you do not yet have a Coral account you will need one to take part in this promotion. You can join using the link below and new customers will get £20 in Free bets (Free bets valid for 7 days from the time of issue).
If you already have an account you will simply have to log in with your existing details. If you do not have an account yet do not worry, we will show you exactly how to get one set up a little further down this article.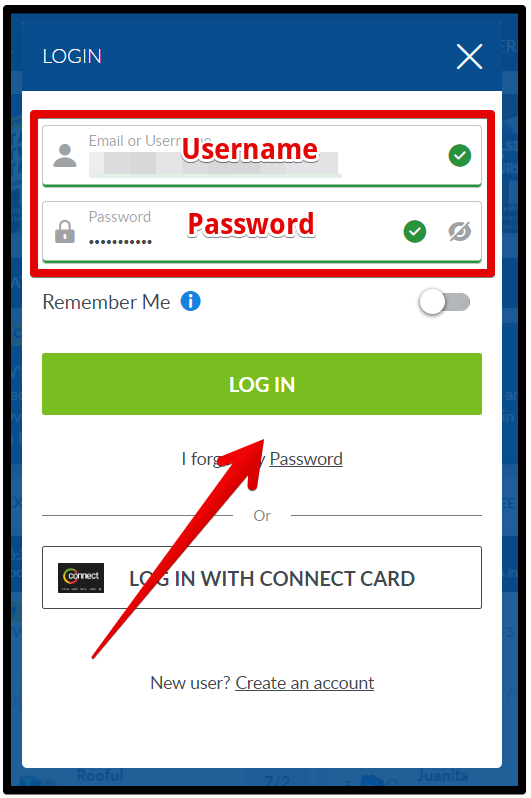 It is a free to play game so there is no need to deposit.
Locate the Racing Super Series button
At the top of the website you will see a series of quick links. Simply select "Racing Super Series" from these links and get taken to the mini site.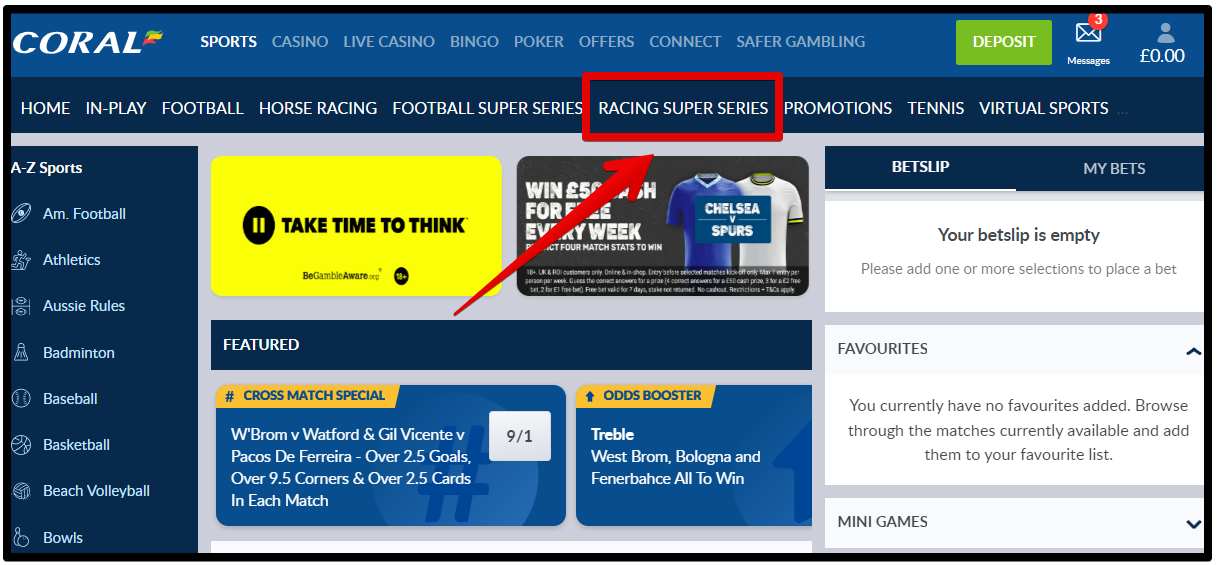 The minisite will open and here you will be given details of which races apply to the promotion this week. It will display them in numbered order for you to easily scroll through.
Go through the races - Choose wisely!
Starting at race 1 you then have the task of looking at the various horses running that race and choosing who you think will place. Then you need to scroll through the selected races making one pick for each.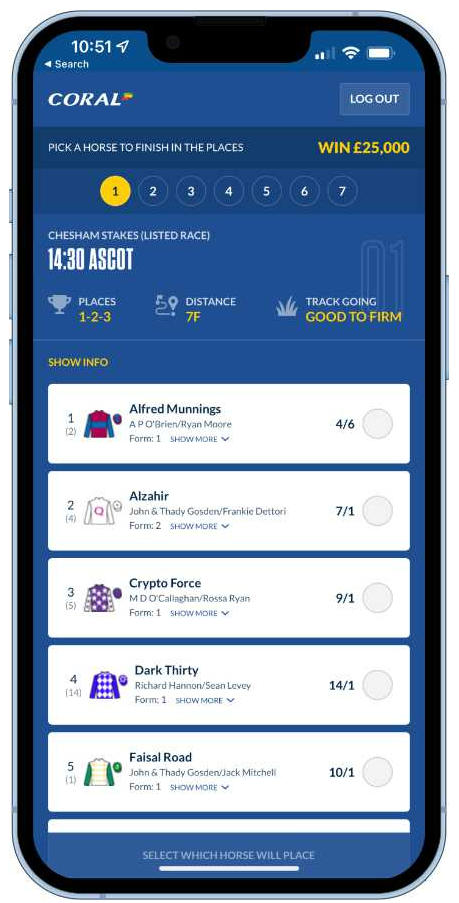 You are given helpful information to aid your decision making, such as who the trainer and jockey are, the horse's form, and what the current odds Coral offer on the win are.
Review and Edit (if required)
Once you have made a pick for each race you will have the option to scroll through and review your selected horses, making any last minute changes.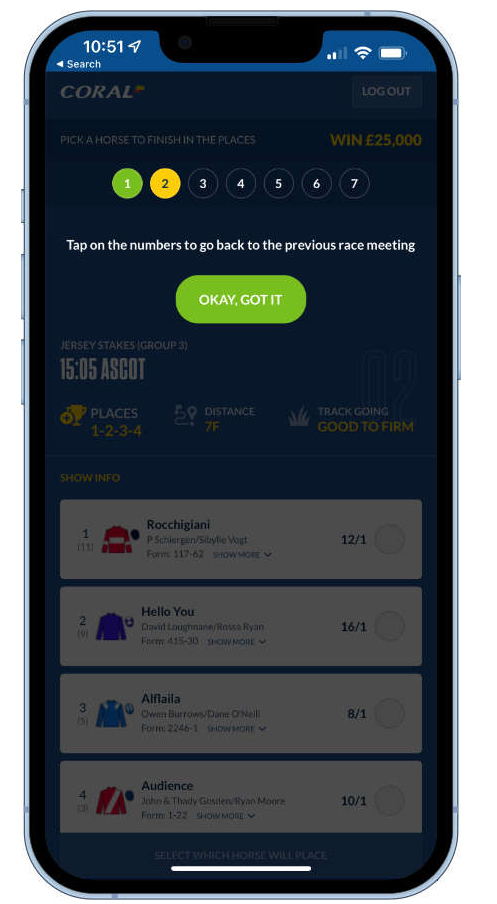 You can edit your bet anytime up to the start of the first race.
Submit
When you are ready, click the large green "submit" button at the bottom of the page. This will log your bet and mean that your selections have been placed.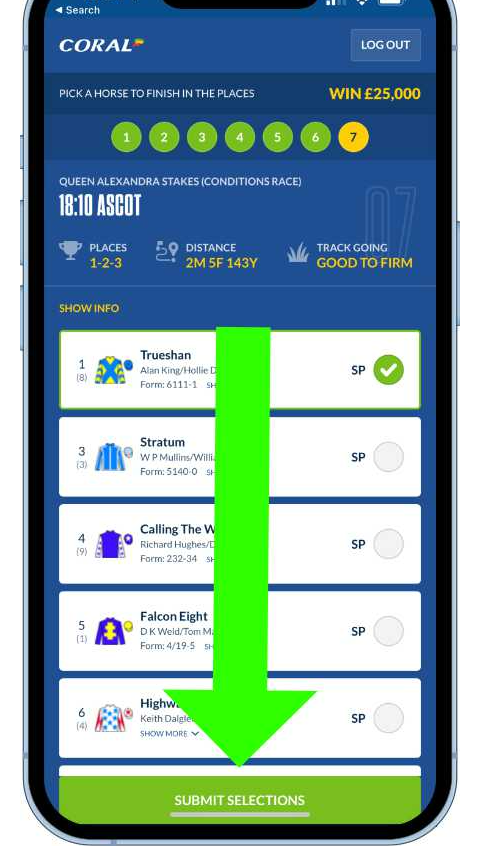 Await the results
That is it, now all you have to do is await the results. You can watch the races live on Coral as long as you have funds in your account (you do not need to have a bet).
<H3> How to Sign Up to Coral Betting Site
Signing up for a Coral betting account is quick and simple, just click on the yellow join button in the top right and begin filling in some details.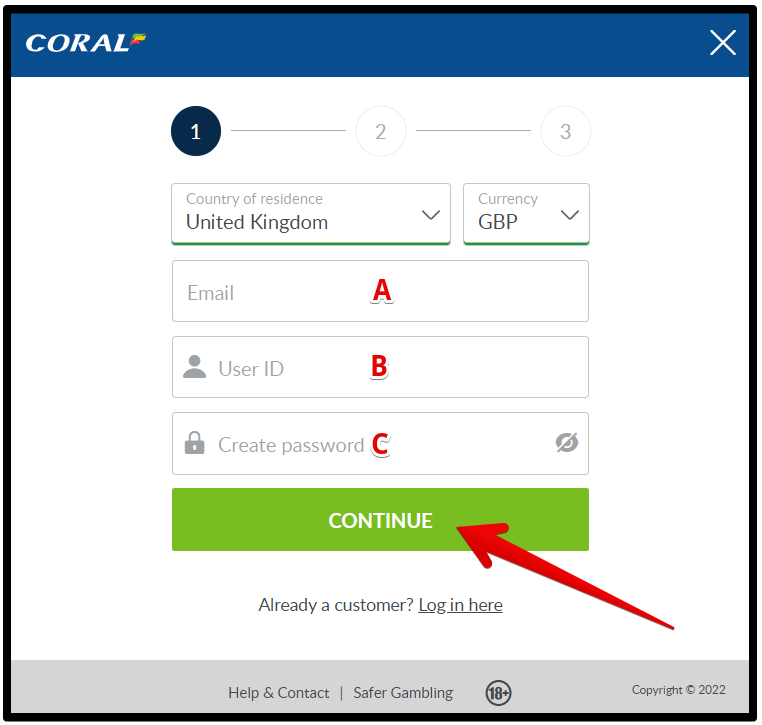 At first, you will need to enter your Email address and choose a username and secure password. We suggest you write these down somewhere safe. The location and currency will be automatically filled in for you as the UK and using £s. Although you can change £s to Euros or US dollars, it is recommended you leave it as £s for obvious reasons.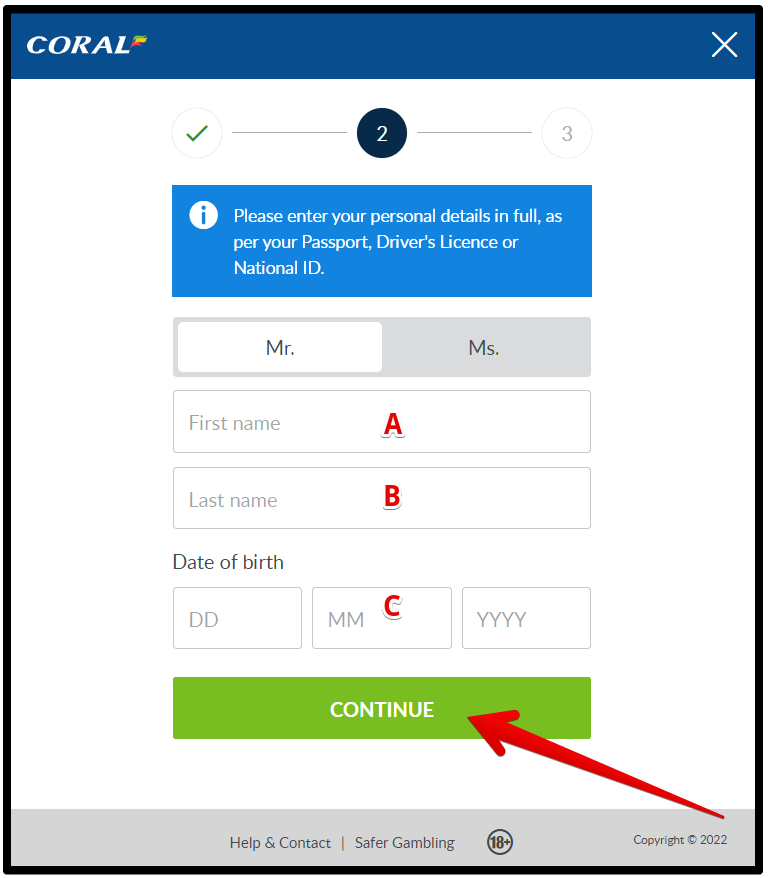 Fill in your personal details which are your Gender (we are not sure why that matters but it is their website so their rules), then:
A: First name
B: Surname
C: Birthday
Click 'CONTINUE' to move to the next screen.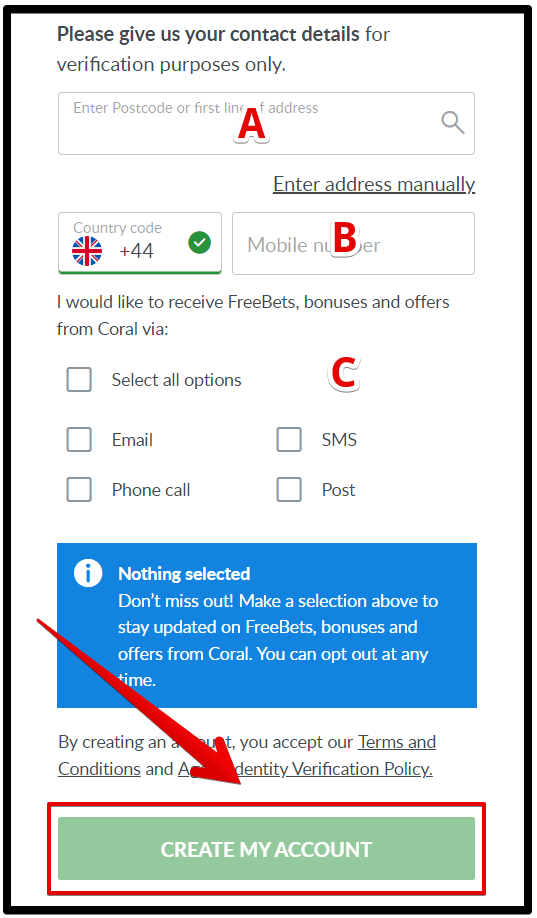 Here you can enter the rest of your info:
A: Find your address by simply entering your Postcode
B: Fill in your telephone number
C: Select what marketing preferences you prefer (we suggest Email only but it is of course up to you).
That's it, you can now create your account and enjoy all of their gambling services.
Coral Racing Super Series – Tips & Strategy
There are not many variables for you to change in order to develop a strategy as such because the stake amount is fixed (it is free) and you can not cash out the bet after 5 or 6 races if it is going well. The number of horses placing is also out of your hands as it will depend if there is a non runner or not, which you wont know in advance. There are still a few things you can do though play the game you want, and also a way to lock in a profit using an advanced strategy (not suitable for everyone).
Go for the Jackpot
The first strategy is what you can do in order to win £25,000 and not have to share it. This is a high risk strategy hence the high reward. It involves choosing the outside chanced horses because logically nobody else will have picked them so if they do place, you will be one of only a few going into the next round. This gives the most chance that IF you win then you win £25,000.
That is the method in its crudest form, to hone it you should find races with a heavy favourite, then bet on perhaps the 2nd or 3rd favourite. Here you are banking on the favourite failing to run well and finish out of the places, but still have a strong chance of your horse going through. This will knock out most of your competition and doesn't require you to bet on a horse with very little hope. Even if you don't get the result you hoped for and the favourite horse still places well you are still in the bet and just sharing the prize, which is better than choosing a horse that comes last and your bet is dead.
Maximise the chance of a winning
The other strategy is the direct opposite of what we described above. Here you are just trying to get a win of any sorts and do not mind sharing the prize with many people. The best way to do this is to bet on who is the favourite horse in each race. This gives you statistically the best chance of having every horse among the leaders in all seven races.
Lock in profits
Different from cashing out a bet but with essentially the same Net result you can attempt to lock in a profit by hedging bets on your last few races if the first five or six all came in. This is not for beginners and requires you to have an exchange account (For example Betfair), know how to lay bets, and have some money in the exchange to use as collateral. If those conditions are met then you can lay your horse in the last race or two to place for a small amount. IF it does place, then you have won the Coral bet but lost some money at the exchange.
If the horse does not place then your Coral bet dies but you win the lay stake amount at the exchange. Since the Racing Super Series game is a free-to-play game this is your profit. The major issue with this strategy is that your winnings from Coral are unknown so you can not calculate how much to lay, potentially if you lay too much you will lose money overall even if all the Coral selections place. This strategy should only be attempted by people who are experienced in gambling techniques.
Are you married?
This is not a strategy as such but more of a tip. This offer is not restricted to one entrant per household, computer, IP address, as the majority of online promotional offers are. If you have a partner living with you who likes sport then we are sure you could ask them to open an account and give them some advice and help them to place a bet too, meaning you have doubled the chances of at least one of you winning.
Coral Racing Super Series Key Terms & Conditions
Who, Where, and When...
The promotion will launch at 13.00 (UK time) on Thursday 14th April 2022 and will run on selected days until further notice. ("Promotional Period").

This promotion is available to online, mobile, and Coral Connect customers in participating shops.

By taking part in this promotion, you hereby agree to these Specific Promotional Terms and Conditions and to our General Terms and Conditions at https://help.coral.co.uk/en/general-information/legal-matters/terms-and-conditions. For details of how to enter this promotion in participating shops, ask a member of the shop team or refer to the official shop entry coupon for full Terms and Conditions.

In order to participate, players must:

a. be over 18 years old;

b. be located in the UK or ROI;

c. be a new or existing customer of Coral; and/or

d. be a Connect Cardholder if participating in our shops.

This promotion is not available to customers who open new accounts depositing funds with PayPal, Moneybookers, or Paysafe.
Full terms and conditions can be found on the Coral website.
Cash Prize Terms and Conditions
Cash will be added to the accounts of winning players no later than five days from the end of the Promotional Period.

Winning players will be notified by a pop up window appearing the next time they log into their account.

Cash prizes may be used to bet with or be withdrawn, but payments will only made to fully verified accounts as per the General T&C's.
Prize-pool
The minimum guaranteed prize pool amount is £25,000

To win a share, every selected horse must place in their race

The prize pool is split evenly between all winners

The number of horses that placed will vary depending on the number of final runners and may differ from the terms at the time a bet is made. If your selection is one of the non runners you will be assigned the Starting Price favorite

Race settlement will be based on the official result
Important Terms
Where the promotor suspects that a winning player is guilty of fraudulent activity, the promoter reserves the right to suspend that player's account or remove that player from the offer.

Coral reserve the right to terminate or discontinue the Racing Super Series in accordance with the terms of our Standard Promotional Terms and Conditions.
Frequently Asked Questions
Is the Coral Racing Super Series Free to Play?
Yes, it is completely free to play each week. At the end of your selection you are shown what the odds are to back that in an Acca and you are only a few clicks away from placing that bet, but there is no obligation to do so.
The maximum amount that you could possibly win in one week is guaranteed to be £25,000 and that would rely on you being the only winner. What is more probable is that you will split the prize pool, for example, if 5 people all win you would receive £5000 each.
There Are Limited amount of Times That I Can Play the Coral Racing Super Series?
You can only enter one time per person per week, however you can enter as many weeks as you like, every week until the promotion ends is not a problem.
Does the Coral Racing Super Series prize pot roll over if there are no winners?
No unfortunately unlike the Scoop6 and other tote style horse racing competitions the prize money does not roll over each week. If there are no winners then the following week the prize fund will remain at £25,000.
How Can I Withdraw the Coral Racing Super Series Winnings?
If you win anything from your entry then these winnings will be paid back to your Coral account balance. Once there they are the same as the rest of your balance, you are free to wager with them or withdraw them. If you withdraw them then it will go back onto the payment method you used to deposit with.
Is it Possible to Edit my Coral Racing Super Series Picks When They're Already Submitted?
Yes, it is possible to do this. You can go back into the Coral Racing Super Series section and edit them at any point until the first race is underway. You can do this either via the website or via the App.