Sky Bet Super 6 – Hints, Predictions & Results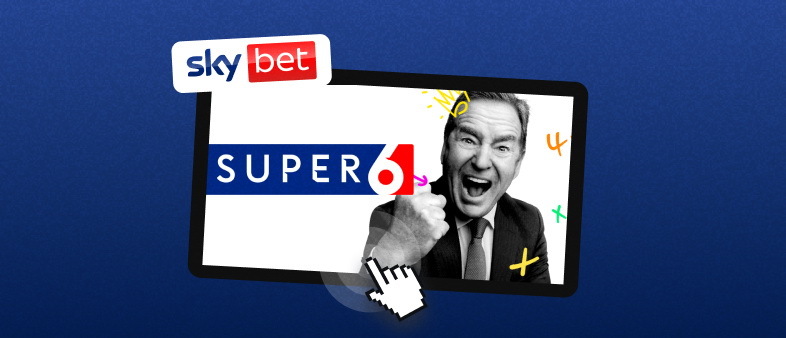 As the 2022 football season kicks off, the Sky Bet Super 6 is back! Along, of course, with your chance to win big cash prizes for correctly predicting the football results on Soccer Saturday—and it's free to play. If you've not heard of the Super 6 before, then fear not! This article will tell you all about the Sky betting Super 6, how to play and win prizes, top tips and answer your frequently asked questions.
Read also Sky Bet Request a Bet >> 
What is the Super 6?
Fancy gambling without spending any money? The Sky Betting Super Six is a free to play predict game, played every weekend in partnership with Sky Bet and Soccer Saturday, on Sky Sports, with plenty of prizes to be won. The aim is to correctly predict the six results of a group of Premier League football matches provided to you by Sky Bet. If you guess the correct score for all six matches, you win the jackpot of a whopping £250,000!
If other customers also correctly predict the scorelines for all six matches, there is a Golden Goal tie breaker. When making your Super 6 predictions, you are asked to enter the minute in which the first goal of all six matches will be scored. The player with the closest time will win the jackpot. If there are two players with the closest times to that goal, they will then share the jackpot prize equally between them.
It sounds like a tough ask and the odds may be against you, but it's still worth your time to have a go. This is because there is the opportunity to score points on all of your predictions. Furthermore, there are consolation prizes available to the player who receives the greatest points, if nobody wins the £250,000 jackpot. Five points are awarded to the player who guesses the correct score in a match, with 2 points awarded for predicting a winning team.
As with the jackpot prize, if one account and another account receive the same number of points, then the Golden Goal first goal prediction is referred to again. Not only that, if the scoreboard winner has the correct score predicted in five of the six stated games, they will also receive a £1,000 bonus. Not to be sniffed at!
For added fun, you can even create your own league to compare your ability to predict the correct results for each fixture, with a group of your friends. Who will come out on top this season?
How to Play Sky Bet Super 6
Register for a free account with Sky Bet
Before you can play Super 6, you'll need to create a Sky Bet account. To do this, simply click on one of our register links to go straight to the Sky Bet Super 6 website or use the Sky Betting app, where you'll be prompted to register an account. You'll need to choose a User ID and enter some personal details to do so, but it's completely free to join. Sky Bet is fully licensed and regulated, so you can be sure that your details are safe, and they have self help tools available to help make sure you gamble responsibly.
Make your score predictions
Now that you've successfully opened a Sky Bet account, it's time to make your score predictions. The details of the Premier League football matches are provided by Sky Bet Super 6, you simply need to adjust the scores for each team in each of the games, to ensure that they match your guess at the correct result. You are shown when your entry must be submitted by and enter the score you think it will be using the + and - buttons.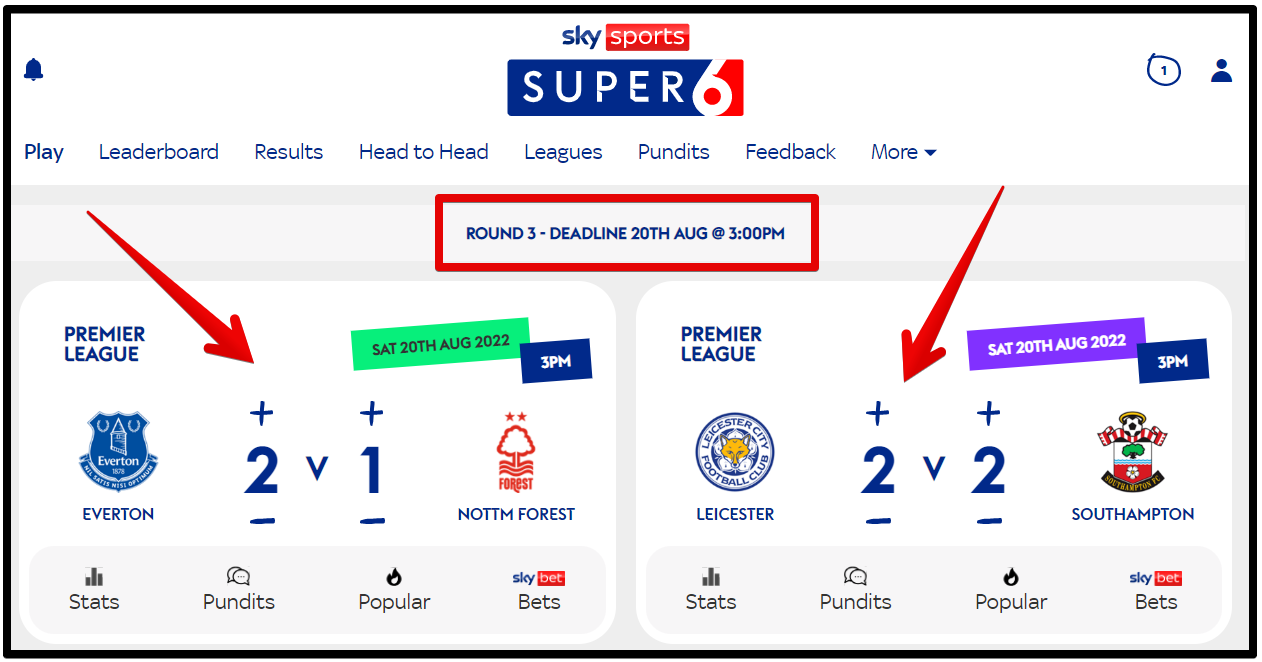 Enter your Golden Goal prediction
Once you've completed your match predictions, it's time to consider the minute of the match that you think the first goal will be scored in, out of all the six matches listed. Enter the time in the Golden Goal box beneath your match score predictions.

Submit your Predictions
Once you're committed to your predictions, simply click 'Submit Predictions' to lock them in.
Enjoy the Football!
Now it's time to sit back and enjoy the weekend's football, cheering on your favourite soccer teams to produce the correct result predicted!
Sky Bet Super 6 Prizes
There are several prizes to be won with Sky Bet Super 6. Here we outline just how much money you can win, for free!
Jackpot Competition Prize
The Jackpot Competition Prize is awarded to the player who is able to correctly predict the results of all six matches. This prize amounts to £250,000. As previously mentioned, if there are more than two players who are eligible to win the jackpot, the Golden Goal prediction is referred to and the player with the closest time to win the jackpot.
Consolation Prize
The Super 6 Consolation Prize is awarded when there are no winners of the jackpot. In this instance, a prize of £5,000 is awarded to the player who accrues the highest points in that week. Points are awarded for correct score predictions, and correctly predicting which team will win in each match. As with the Jackpot Prize, if more than two customers score the most points that week, the Golden Goal will be used to decide the winner. If multiple players correctly predict the Golden Goal time, the Consolation Prize will be split equally between them.
Get 5 Bonus
If the winner of the Super 6 Consolation Prize also correctly predicts the scores of 5 of the 6 games that week, they'll be awarded an additional Get 5 Bonus of £1,000. In the case of a group of winners, as with the other prizes, the Golden Goal prediction will be implemented and the Get 5 Bonus amount will be split between those closest.
Head to Head Challenge

Players are automatically entered into the Head to Head Challenge when entering their Super 6 predictions on the Sky Bet website or via the Sky Betting app. In the Head to Head Challenge, players are going up against their favourite Soccer Saturday presenters to see who can earn the most points from Super 6. If you beat the presenter, you win a prize. There are no odds as such it just depends on how many others also manage to predict the scores. To be one of the first to find out who the presenters have chosen this week you can watch Sky sports.
Sky Super Six Tips
There are not many variables when it comes to the Super 6 you just bet on the correct scores of games Sky sports have chosen. When it comes to selecting the scores it is of course a lot of luck involved but one thing you will notice is that 0-0 results do happen each and every week. To have the most chance of scoring at least some points predicting 0-0 for the games where the teams have a great defence and also not a lot to play for. If it is 0-0 you get the maximum 5 points, if it is a draw with any other scoreline you still get 2 points. This strategy is unlikely to ever get the maximum points but it is always going to get you at least something.
How Many Rounds Are in the Super 6 in 2022?
There is usually at least one round of The Sky Super 6 each week, throughout the football season. There may be additional rounds in some weeks. There were 58 rounds last year, so we expect there to be around 60 rounds for you to predict in the 2022 football season. So don't forget to play each week for free, for a chance to win! It's essentially a Free bet, so what's not to love?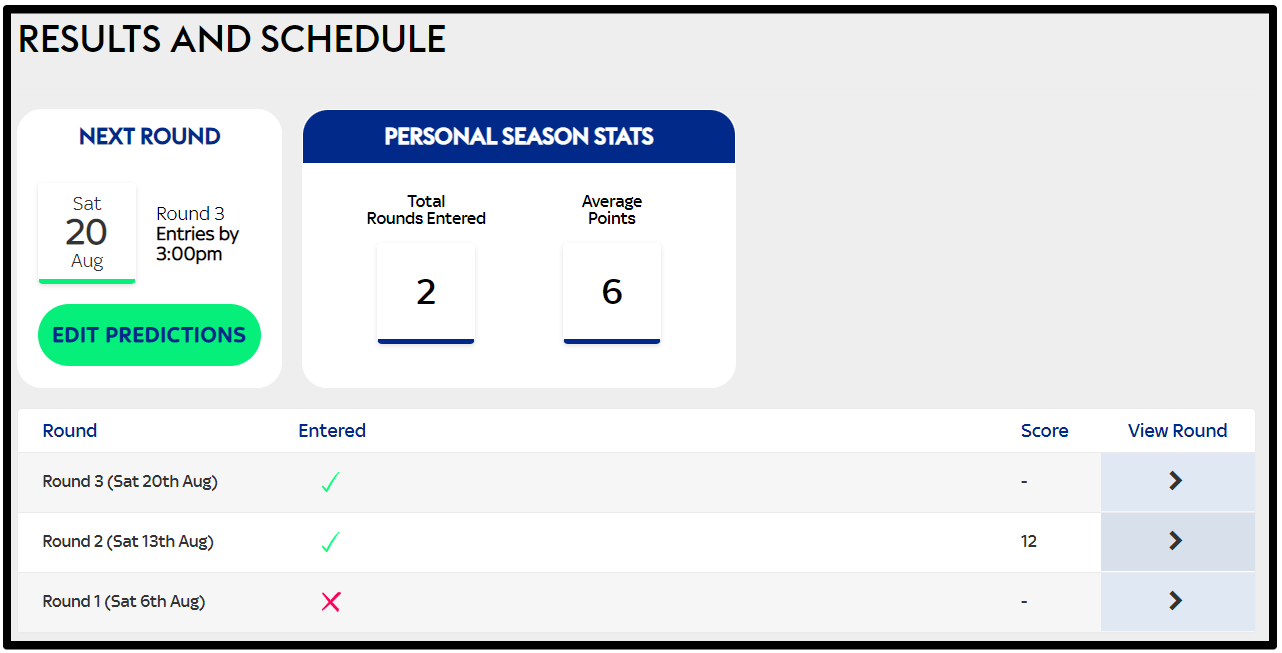 You can manage your account and see how many rounds you entered and how you've done each week. This section of the website will chart your progress and record your scores.
The top betting sites are…
Here at Legalbet we have also categorised the top betting sites and their features to make them easier for you to find. They are:
By Sport: Football | Tennis | Boxing | Cricket | Snooker | Golf | UFC | Darts | Greyhound | Rugby | Horse Racing | Basketball | Baseball | Formula 1 | Ice Hockey (NHL) | Volleyball | Cycling | Netball | AFL
By Payment Systems: PayPal | Skrill | Klarna | Boku | Debit Cards | Apple Pay | Paysafecard | Neteller | Google Pay | Prepaid Cards | Revolut
By Features: Cash Out | £5 Minimum Deposit | Minimum Bet Sizing | Live Streaming | Betting Exchanges | Safest | Fast Withdrawal | Daily Free Games | New Betting Sites | Horse Betting Apps | Football Betting Apps | Virtual Sports Betting Sites
By Events: Politics | WWE | NRL Grand Final | MLB World Series
By Esports: CS:GO | Dota 2 | League of Legends | PUBG | Valorant | FIFA | CS:GO Betting Sites with Paypal
Frequently Asked Questions
Is the Super 6 free to play?
Yes! Simply register a free Sky Bet account, then visit the Sky Bet Super 6 website or Sky Bet app. You can then enter your score predictions for free, then sit back, track the scores and see if you've won some money!
When is the next Sky Bet Super 6 round?
The Sky Bet Super 6 rounds usually run each week from 3pm Saturday to the next 3pm Saturday. This continues for the duration of the Premier League football season but there will be gaps for some weeks when there are International games instead, notably this year caused by the World Cup in November. Occasionally there may be more than one game week in a calendar week if there are Tuesday night games too, but this is rare. Whenever the next week begins is always displayed on the Scoop6 minisite homepage.
How to make Super 6 winnings?
Super 6 winnings are based on how many results you correctly predict. To win the £250,000 top prize, you must have all six match predictions right. You can also win smaller consolation prizes, based on the number of points you amass in that round. Further details on this are shared earlier in this article.
Can users play the Super 6 abroad?
Super 6 is operated by Sky UK limited so it is only officially available in the UK, Ireland, Channel Islands, and Gibraltar. You should not be able to log in to your account to play from any other country.
The entry for each round of the Sky Bet Super 6 competition closes at kick off of the first match of that week. The final weekend of Super 6 is in May.