How to Withdraw from FanTeam: How Long Does It Take in 2023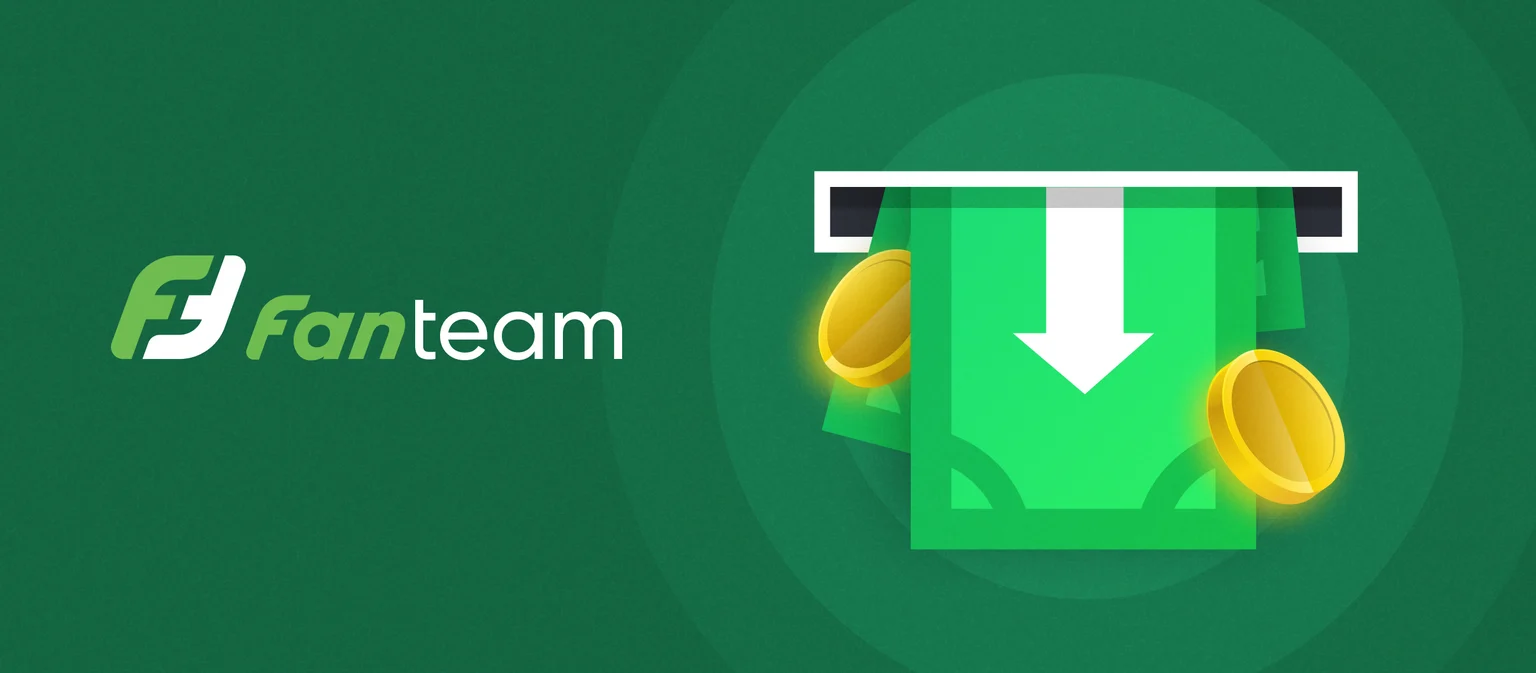 FanTeam Withdrawal methods
FanTeam has been operating for several years, originally as WooFBet where they only bet on fantasy events. In 2013 they re-branded to Fanteam and they started to grow quickly, the site is now part of the Scout Gaming Group. They have recently started to accept bets on real matches and have a traditional sportsbook alongside the fantasy tournaments which they run. They have a very large amount of ways you can withdraw funds, the only negative being that they all have a fee.
Fanteam Withdrawal Options and limits
Withdrawal Method




Fee

Processing time

Min limit

Max limit

Debit Card

(Visa or Mastercard)

£5

3-5 days

£20

£10,000

Skrill

4.95% (Max £20)

3-5 days

£20

£10,000

Neteller

4.95% (Max £20)

3-5 days

£20

£10,000

PayPal

4.95% (Max £20)

3-5 days

£20

£10,000

EcoPayz

4.95% (Max £20)

3-5 days

£20

£10,000

Trustly

4.95% (Max £20)

3-5 days

£20

£10,000

Online Bank Transfer
£5

Up to 7 days

£20

£10,000
FanTeam Withdrawal Methods – Debit Card
Debit cards are available for use at FanTeam and as they attract the lowest fees and have some of the fastest payout times they are probably the best thing to use. Another advantage is that Debit card deposits always qualify for any promotional bonuses that may be running. Please note that a "Credit" card" can not be used.
FanTeam Withdrawal Method – Skrill
Skrill is one of the leading E-Wallets as far as UK sports bettors are concerned, largely since they make it possible to ring fence gambling funds away from day to day financial activity, giving some extra privacy. Traditionally they also have quicker withdrawal times than traditional banking methods but that gap is reducing. At FanTeam they have a pretty high minimum deposit and withdrawal limit of £20. They also have a high fee of 4.95% (capped at £20) which is a lot but at FanTeam there is no E-Wallet any better.
FanTeam Withdrawal Method – Neteller
Neteller is a Sister company of Skrill, both part of the PaySafe Group. As you would therefore expect they share many of the same features and there is very little difference in withdrawal time. They also have a high minimum deposit and withdrawal limit of £20 as well as the fee of 4.95% (capped at £20).
FanTeam Withdrawal Method – PayPal
PayPal is probably the most ubiquitous E-Wallet in the UK and PayPal describes itself as "the safer, simpler, smarter way to pay". Signing up for a PayPal account is quick and easy if you do and you can fund PayPal with your debit card or bank account. There is not a lot of reason to though really as PayPal has a higher fee to withdraw than Debit cards do, 4.95% capped at £20 as opposed to a flat £5. Withdrawals to PayPal may be slightly quicker but it is unlikely to outweigh the extra cost.
FanTeam Withdrawal Method – ecoPayz
ecoPayz are another online wallet who are growing in popularity. Much like the other E-Wallets they do have high fees here when you come to withdraw, some 4.95% with a minimum of £5 capped at a maximum of £20. The payout time for you to get your money is likely to be very similar.
FanTeam Withdrawal Method – Trustly
Trustly provide a "bank-independent" service which means that it is possible to transfer money directly from your bank account to another in a simple and secure way. You don't have to register to use Trustly it is completely independent and no third party can store any personal information that may be used to access your bank account during the withdrawal process. The downside is that like the E-Wallets there is a 4.95% fee, with a £5 minimum and a £20 maximum. The payout time is likely to be the same as most other methods.
FanTeam Withdrawal Method – Bank Transfer
A bank transfer is the sure and steady way to transfer money online. It is usually used when there is a problem with another method for whatever reason. It is cheaper than most options with a fixed fee of £5 but it is likely to take longer, the payout time is estimated at 7 days.
How Long Does A FanTeam Withdrawal Take?
How long a withdrawal will take from FanTeam will depend on a number of factors, which withdrawal method you choose to use is one of the main ones. It will also depend on if this is your first withdrawal and the size of the withdrawal and therefore how long any associated security checks take. On average though the time frame offered by TeamBet is between 3-5 days.
Step by Step Guide
How to make a FanTeam Deposit 
To deposit into FanTeam you must be logged into your account and then select the cashier

From the Cashier page confirm that you wish to deposit

The next screen looks busy but it is actually very well designed. From the left you have all the possible deposit methods displayed with a helpful guide as to the limits and fees for each. You click on the one you want (In this example Debit card) and then from the right you enter details such as do you want a bonus or not, and how much money you are looking to transfer. When you are happy click "Deposit" at the bottom

If this is the first time you are depositing with this card then you have to fill in the relevant information.
Information you need to enter includes:
A) Your name as it appears on the card
B) The long 16 digit number on the front of your card
C) Your cards expiry date
D) The 3 digit CVC number on the back of the card

When you have filled in all this click "Pay" and the money will be instantly added to your account.
How to do a FanTeam Withdrawal
When it comes to how to withdraw you need to be logged in and then select the cashier option.

From the cashier page select that you wish to withdraw

On the withdrawal screen you can choose from the options on the left which method you wish to use to withdraw. Helpfully they display the fee which is involved with each method. You choose a withdrawal amount, again helpfully being told what the minimum and maximum withdrawal amounts are.
If you have any bonus funds in use there is a warning box which appears telling you about this and the consequences of withdrawing now. If you are happy with this and tick to confirm that then the last thing you do is click on the "PAYOUT £XX" box and wait for FanTeam to transfer money to you.
Frequently Asked Questions
How to view my withdrawal history?
To view your withdrawal history at FanTeam is remarkably simple, it is the default setting whenever you open the cashier. Each time you visit the Cashier by default you are shown all of your most recent Financial Transactions.
Here you are given quite a detailed breakdown with the exact times and dates, the method used, the amount and any fees, and also the status, has it been approved and paid or is it still pending.
What is the Minimum deposit and withdrawal amounts?
The minimum amount that you can deposit with any payment method is £10, the maximum amount of any deposit is £10,000. For withdrawals the minimum amount for one transaction is £20, and a maximum of £10,000.
How can I cancel a withdrawal?
Once you have submitted a withdrawal request and it is pending you can not cancel it. This is a UK Government restriction, not the policy of FanTeam themselves.
I am having problems with my withdrawal, what can I do?
If you are having problems with your withdrawal because you have been waiting longer than expected, or it has not been submitted correctly, it is possible that one or more of the payout rules have not been met. To fix this situation it is best to contact the FanTeam support who will be able to check your account and identify the problem. If it is a problem at your end they will tell you what you have to do, alternatively if something has gone wrong somewhere else they will begin working to fix that for you.
Yes PayPal is accepted by FanTeam, you can deposit from as little as £10 and up to a maximum of £10,000. Deposits are free but unfortunately there is a 4.95% fee attached to withdrawals, the minimum fee is £5 and it is capped at £20 maximum.