Pros
The website is easy to use
Quick registration
Lots of payment options
Cons
Long withdrawal time
No casino
No live chat
Payment methods
Payment method
Min
Max
Fee %
Deposit time

£10
£10,000
£0
Instant

£10
£10,000
£0
Instant

£10
£1,000
10%
Instant

£10
£10,000
£0
Instant

£10
£10,000
£0
Instant

£10
£10,000
£0
Instant
Payment method
Min
Max
Fee %
Withdrawal time

£20
£50,000
£0-£5
2 to 5 business days

£20
N/A
4.95% (£20 max)
2-10 business days

£20
N/A
4.95%(£20 max)
2-10 business days

£20
N/A
4.95%(£20 max)
2 - 10 business days

£20
N/A
£0-£5
2 -10 business days

£20
N/A
£0-£5
2 -10 business days

£20
N/A
4.95% (£20 max)
2-10 business days
This bookmaker is not working with Legalbet.uk to solve disputes.
Review of the bookmaker FanTeam from Legalbet
The bookmaker was established in 2013, and unlike most online betting sites, it is dedicated specifically to sports. That is why you will only find bets on sporting matches and games, with no casino functions. What separates it from the others in delivering a great customer experience is the option for you to build and compete against others with a Fantasy team.
Odds — bad
We calculated the margin for FanTeam by analyzing the odds they offer. We further ranked them in one of the following three categories:
From 1% to 5%: Good value
Over 5% to 7%: Average value
Over 7% to 10%: Poor value
Football
We got our results by taking into account the odds for final result outcomes measured in line with the over / under for different football leagues. Getting the average results using this method, we were able to obtain the margins for each league and the overall betting margin for the bookmaker.
FanTeam has an overall average margin of 4.7% for football and falls in the normal category. In the first section with Premier League and Championship, the margin is at 3.37%. The second section with Spanish La Liga and Italian Serie A, the margin is at 3.05%. Finally, taking leagues from the rest of the world into account, the margin is at 7.66%.
Betting options — bad
Betting Markets
FanTeam provides a fair share of betting markets for you to try out. You can bet on the following: Basketball, CS:GO, Football, Golf, and Hockey. Unlike most bookmakers, FanTeam really does not provide that wide of a range of betting markets; however, it does provide essential ones, without which a bookmaker cannot function.
Live — normal
Live Betting
Unfortunately, the bookmaker does not allow you to place any bets In-Play on any sport. You can only select the games and betting markets in advance, not after a game has started.
Live Streaming
Unfortunately, the sportsbook does not provide any live-streaming services on its platform for any occasion. In addition, it does not provide a dynamic dashboard with animation that would demonstrate changes in ball possession, goals, etc.
FanTeam Mobile App
If you are looking for a reliable and easy-to-use sportsbook, perhaps FanTeam is the option for you. You can now try it out straight through the Apple/Android mobile app.
How to Register at FanTeam
To sign up, you don't need to spend a lot of time and energy since the process is quick and easy. Firstly, navigate to the top right of your screen and click on the "Register" button, then continue.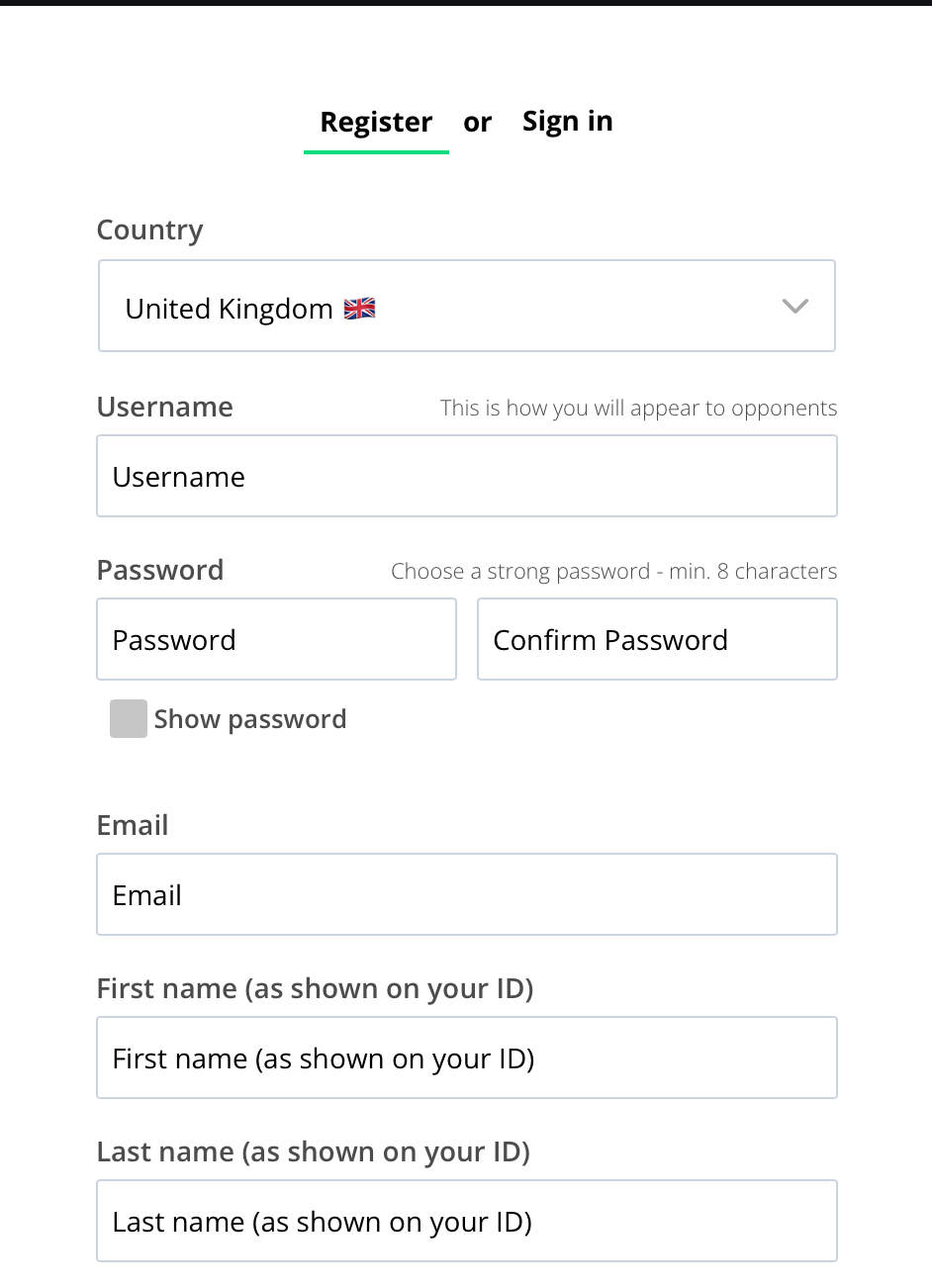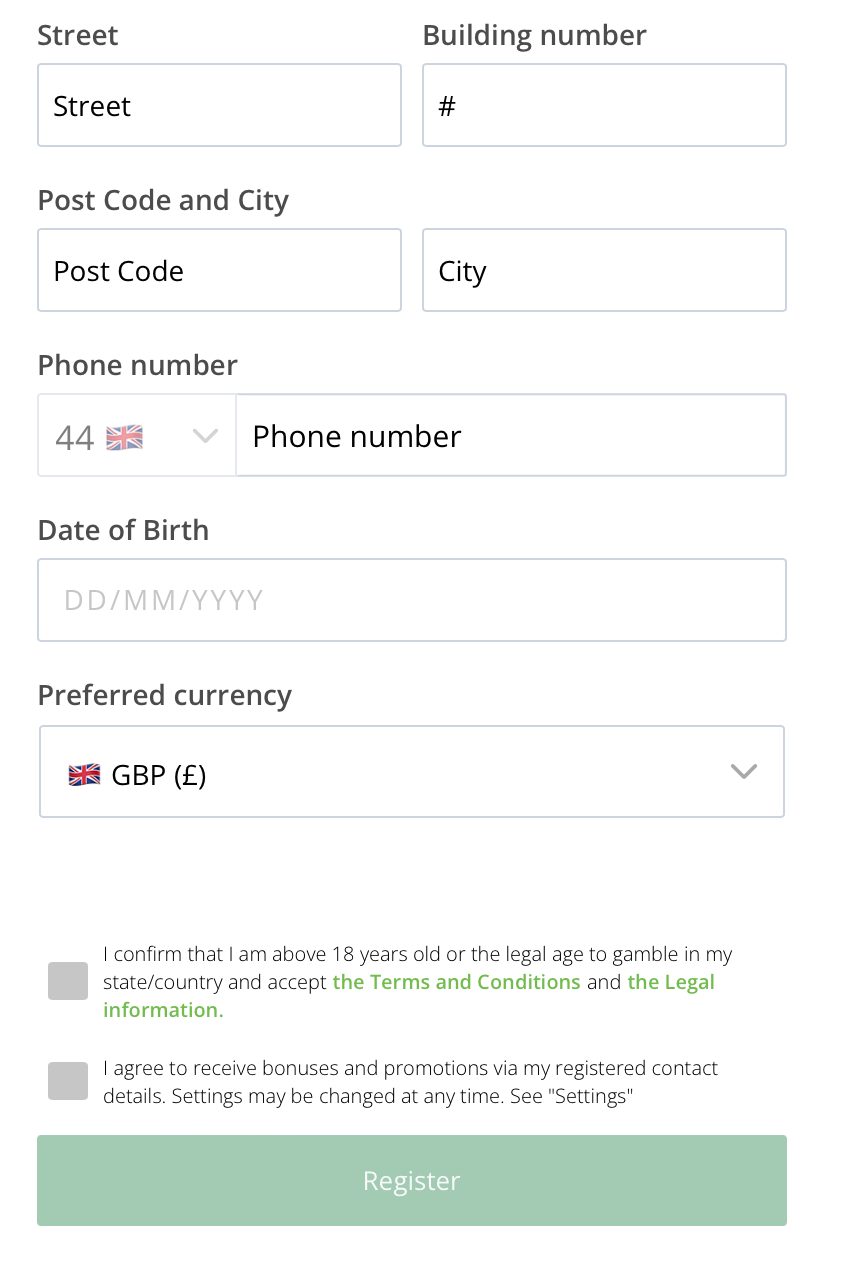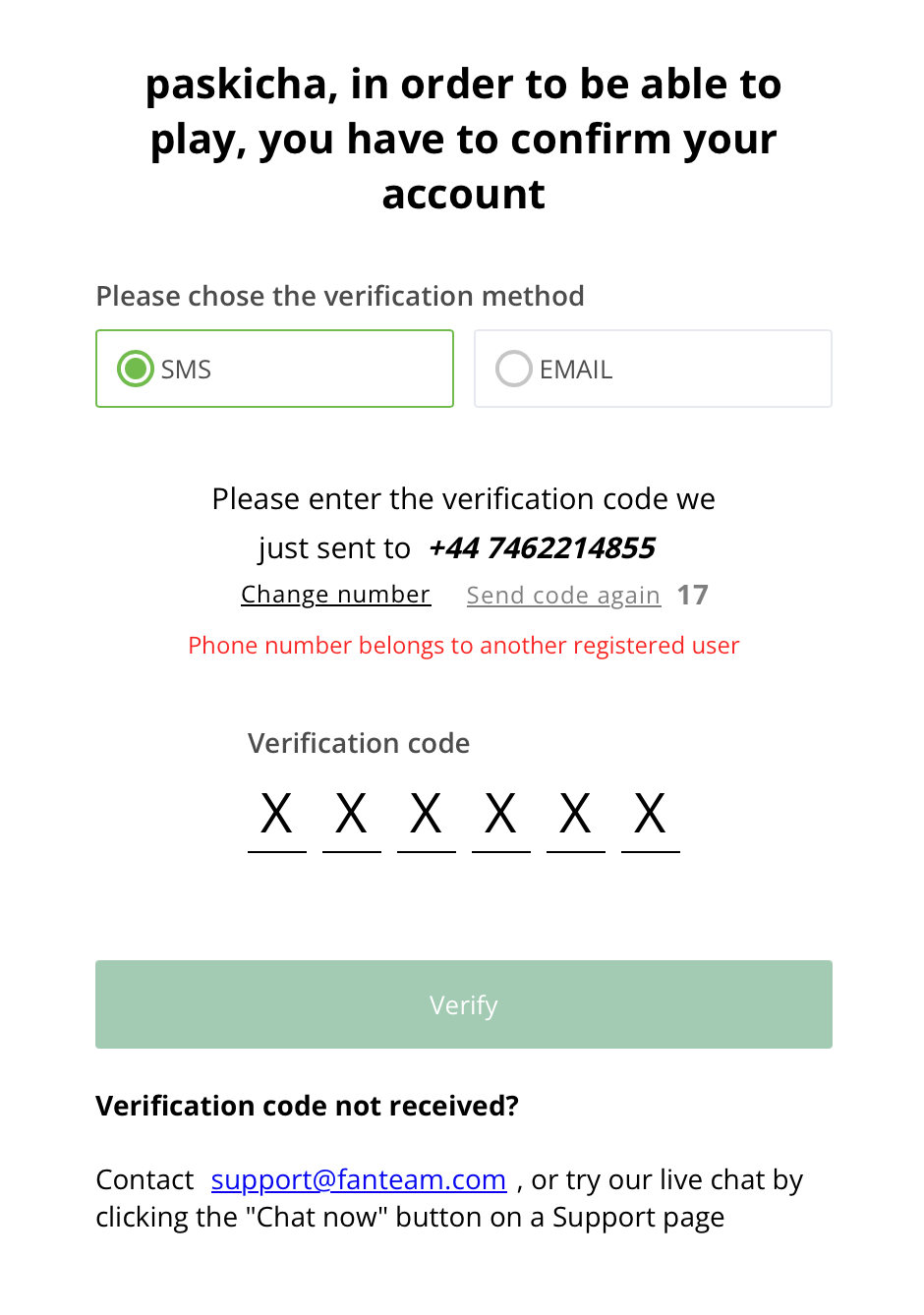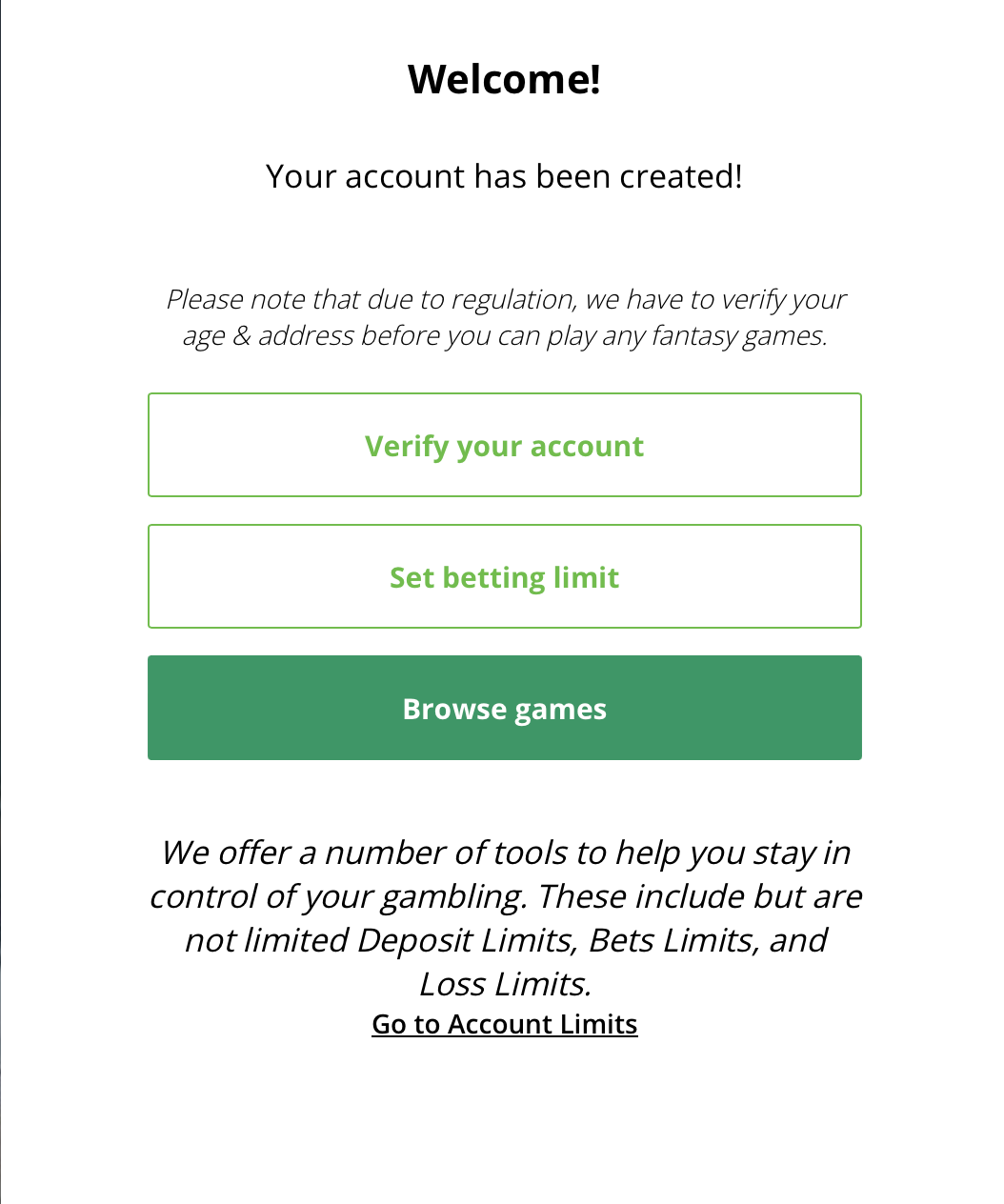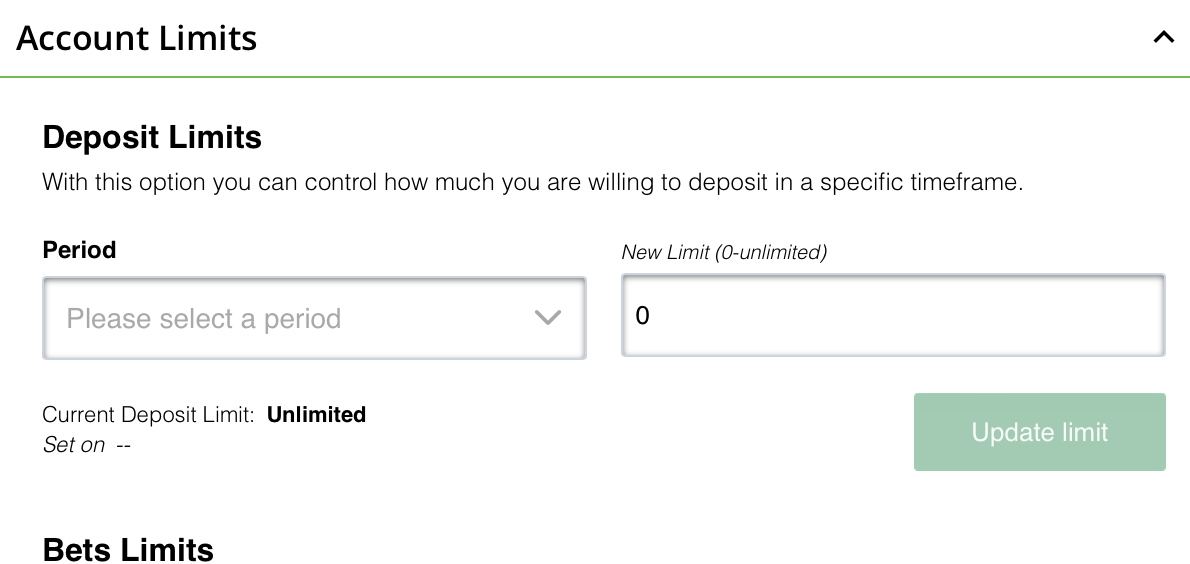 The first step for you is to fill out the fields regarding your personal information. Firstly, provide an active email address followed by your name and surname. Secondly, provide the bookmaker with an active phone number. Follow this up with a nickname and password. Afterwards, you will need to provide your address - write down your postcode first, followed by the street details and the town/ city. Confirm that you are over 18.

The bookmaker will need to verify your account, so for the next step, you will be asked to select one of two options to receive a one-time code, which you will enter on the bookmaker's platform. You can choose between an SMS and an email. You should receive the code within 10-15 seconds, no more. Transfer it to the field marked with "X" and then proceed to the next stage. 

After confirming your account registration, the bookmaker will ask you to provide proof of identity for verification and set a deposit limit. Now, if you have done every step prior to this one correctly, the bookmaker will not require you to carry out an identity verification. So, in the pop-up window, feel free to select "Deposit Limit."

The final step is one of the most crucial ones, and we strongly suggest that you do it. It involves setting a deposit limit, which can potentially prevent you from overspending funds. You can select a daily, weekly, or monthly limit and pick and choose any amount of money you wish. Make wise decisions for this; once you're done, the registration is complete, and you are ready to deposit.
How to Deposit at FanTeam
Depositing funds into your FanTeam account is no different than doing so at any other bookmaker. Simply follow the steps below, and you will be done in no time.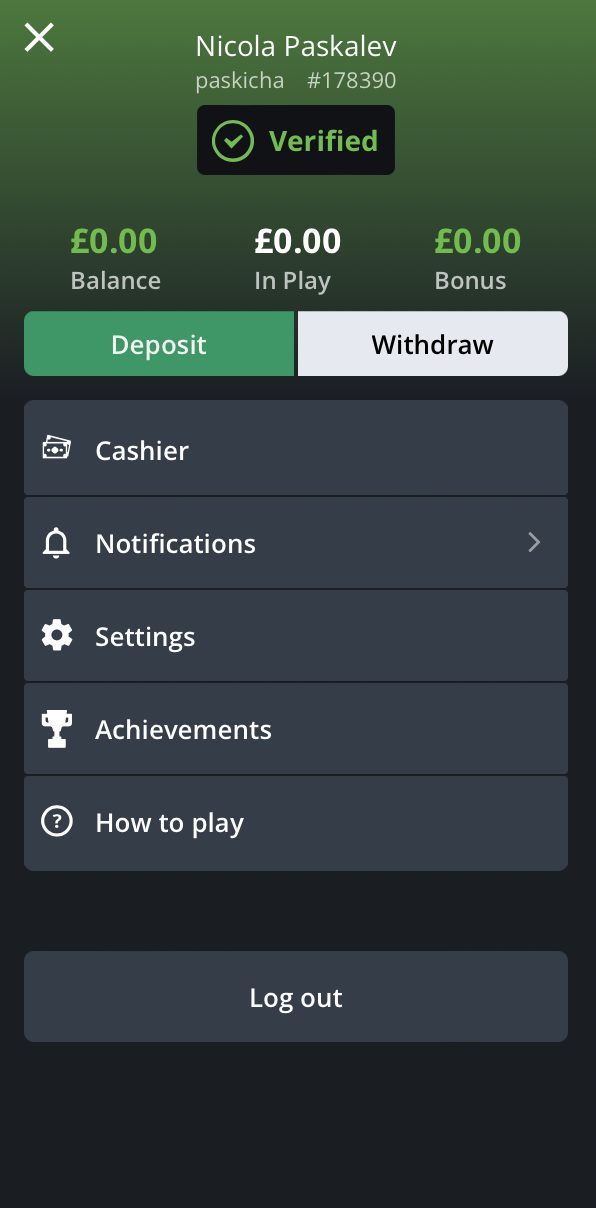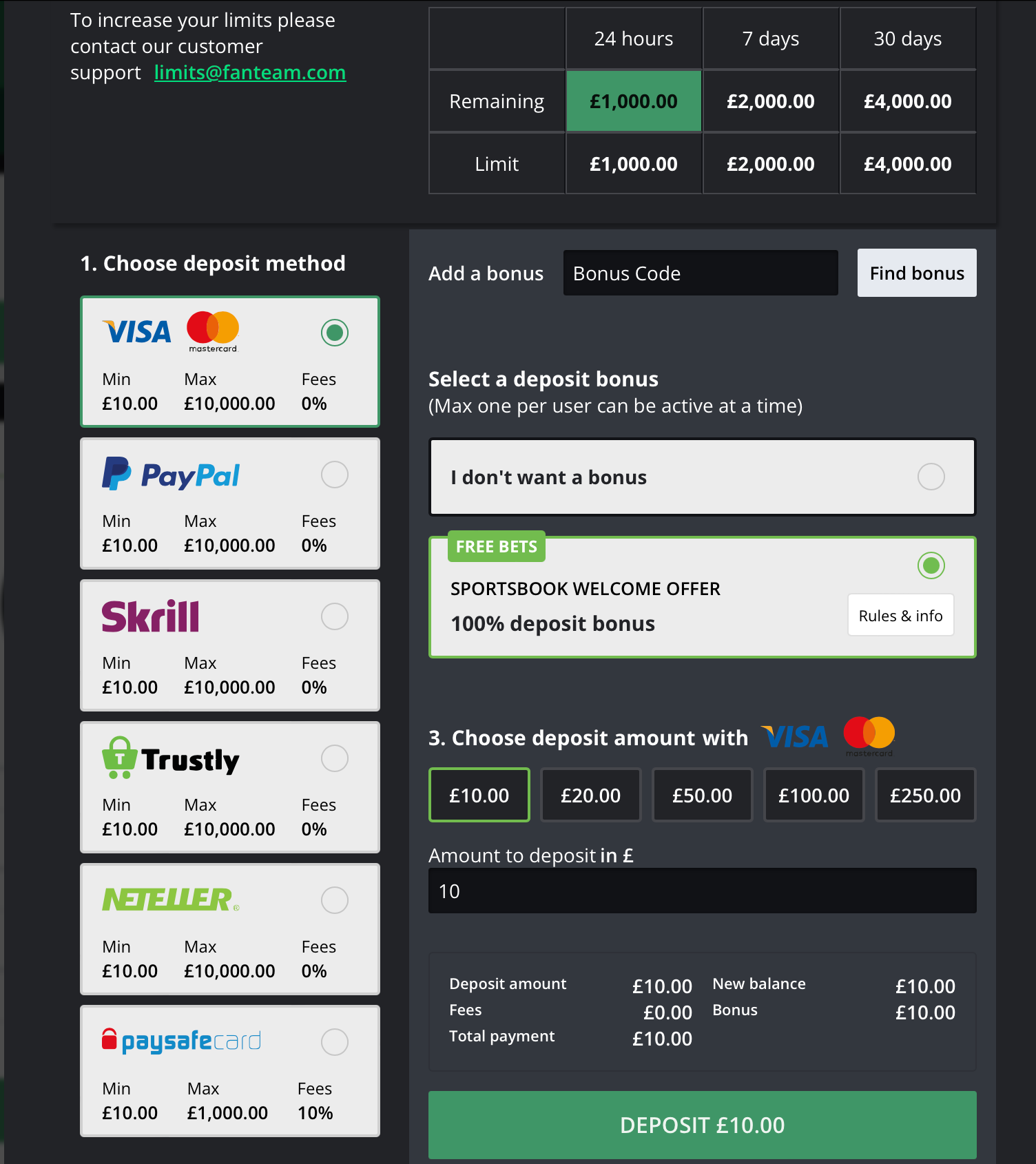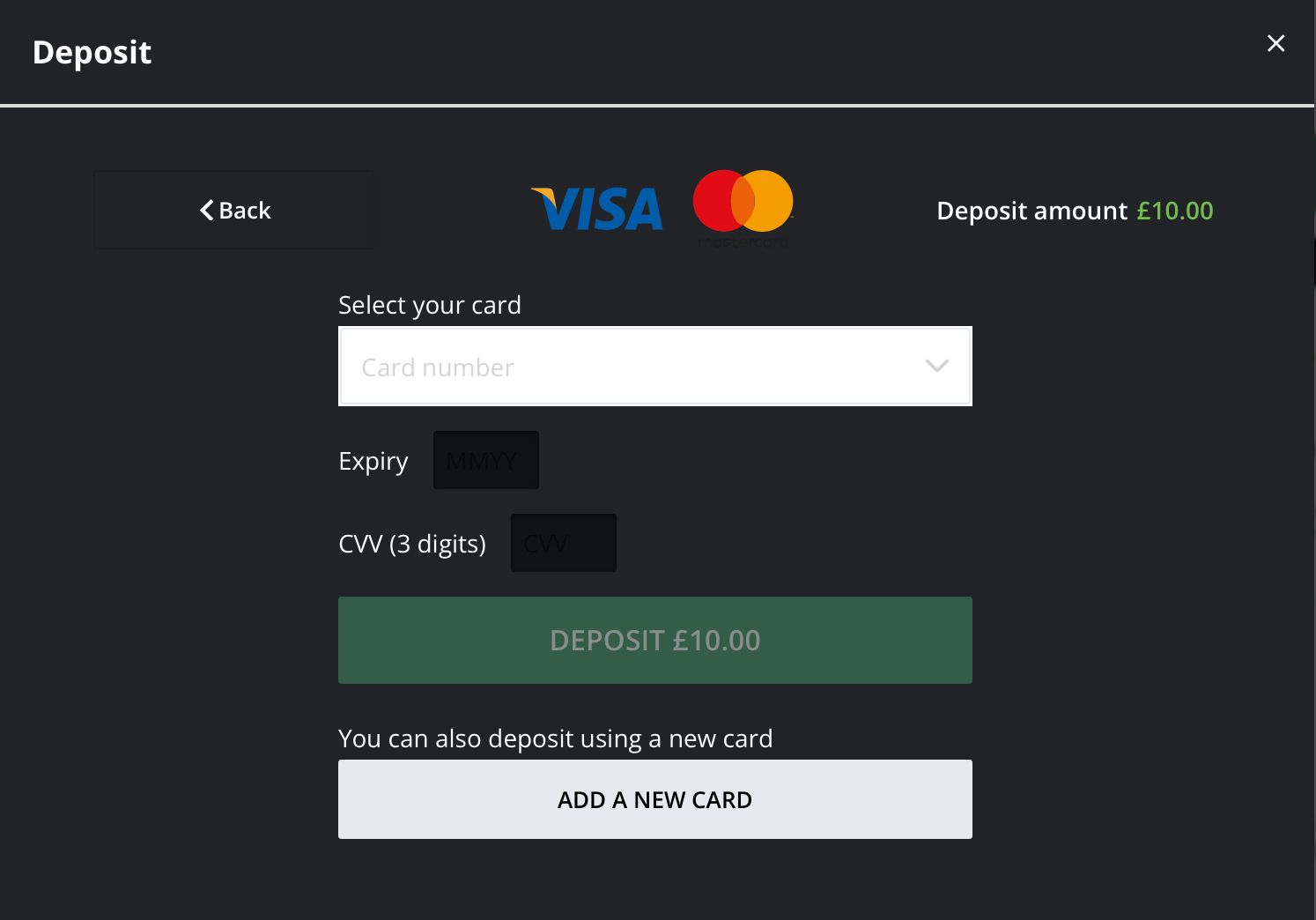 Once you have created a profile, you will need to go to your account section. To do this, navigate to the top right of your screen. There, you will find the account area icon. Once you have selected it, you will notice a small drop-down menu in front of you. Click the big green "Deposit" button on the left and continue.

Now, you are taken to the deposit portal. The first thing you will need to do is to select the payment method you are most comfortable with. You will also notice the deposit limit counter letting you know how much more money you can deposit in a specific period. Don't forget to opt-in to the sportsbook welcome offer. Select the deposit amount, which should be at least £10, and continue.

The final step is to fill out your deposit method details. If you have chosen the bank card method, you will be required to enter the card number, the name as it is on the card, the expiry date, and the CVV code. You can save the card, which will make future transactions a lot quicker. Then, click "Deposit", and the money should be in your account in seconds.
How to Bet at FanTeam
Once you have deposited, you are ready to bet. Navigate to the top of your screen and select the "Sportsbook" area to see the available betting options.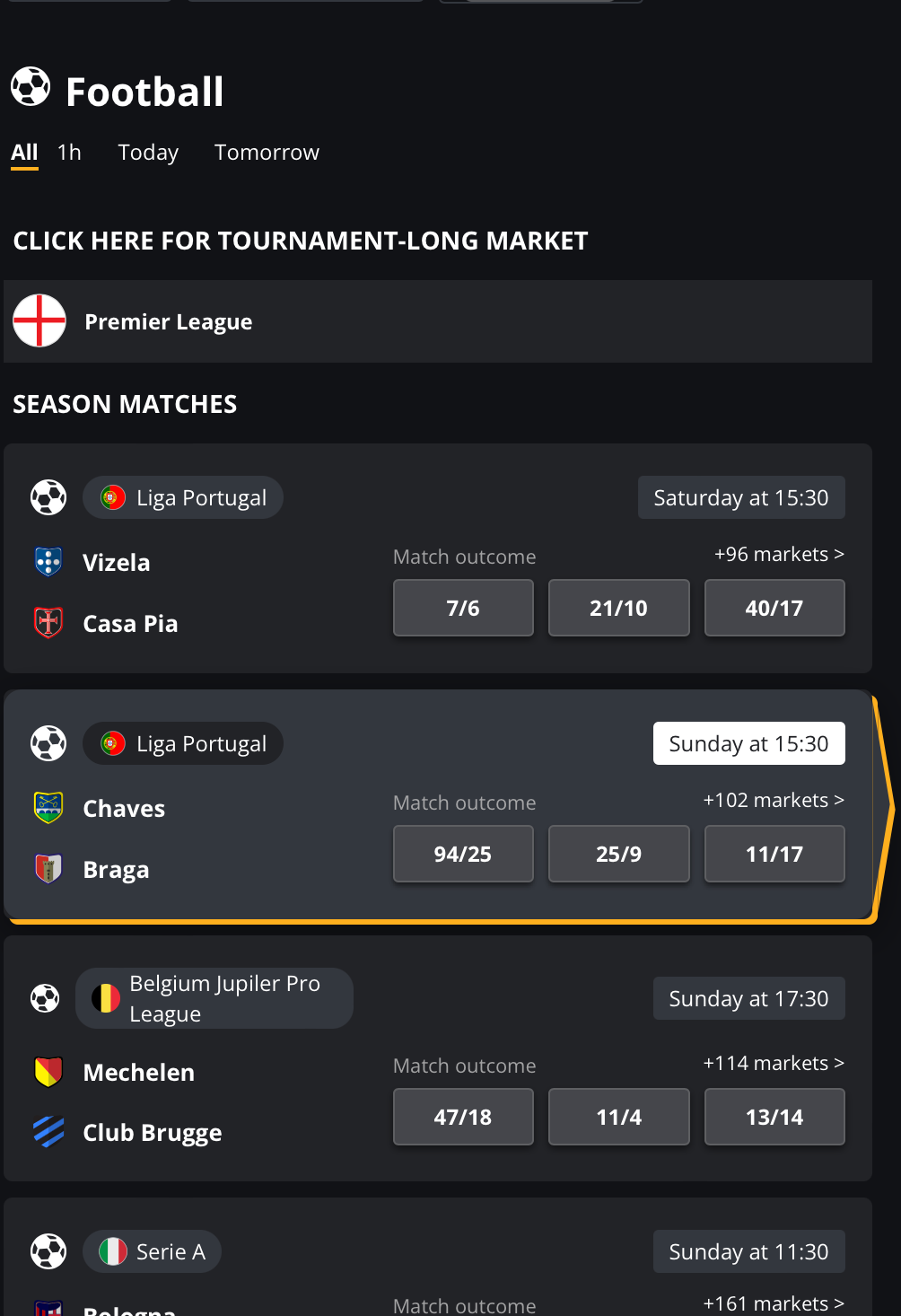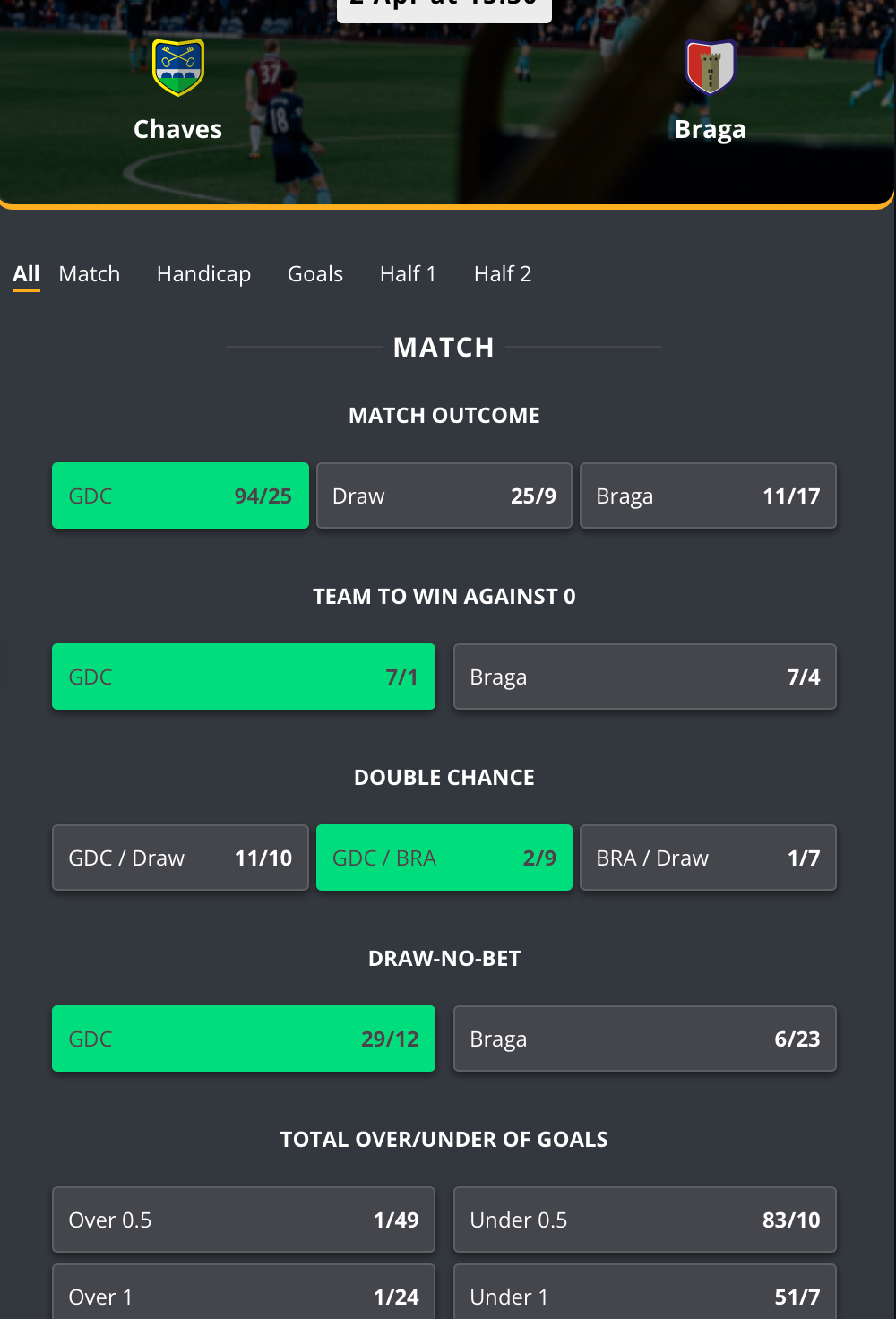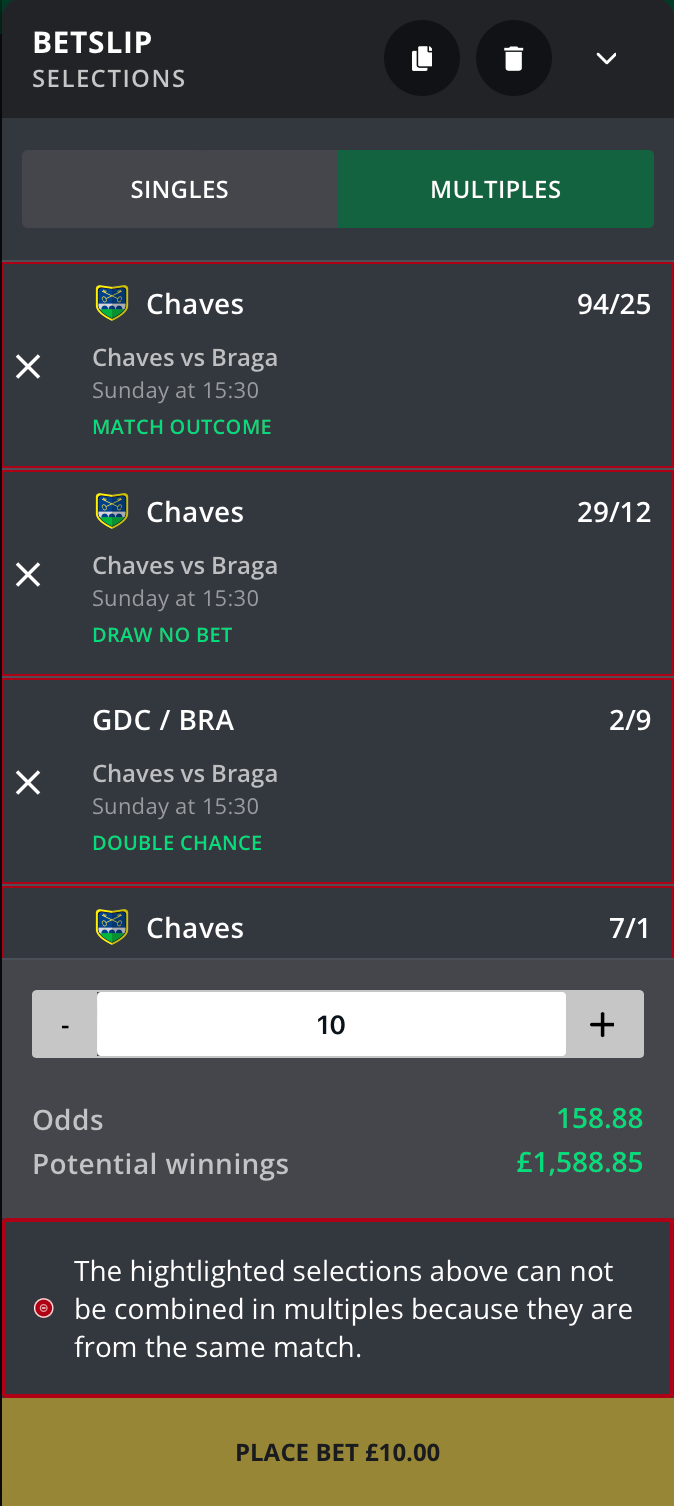 Once you are in the sportsbook area, the process will be no different than what you can expect from any other bookmaker platform. You will be presented with the games on which you can place a bet, and the default sport will be football. You will have to choose from many leagues and sub-leagues from different nations. Once you have picked the games you are interested in, proceed to the next stage.

You can now choose the betting markets for your bets. FanTeam can provide up to 150 different markets for a single match, so you will have a wide variety of options. And do not forget, the more markets you select, the greater your potential winnings will be. Select as many as you like and proceed to the final stage.

All the bets you have selected can be found on the right-hand side of the screen, in the betslip. Take one last look at them before finalising the bets, and double-check if you are happy with all of them. All that is left for you to do is select the amount you are going to bet, write it down, and press "Place Bets."
How to Withdraw at FanTeam
Before withdrawing, make sure your profile has the necessary balance to meet the minimal requirements for the withdrawal process. Once you have confirmed that, proceed and follow the steps below: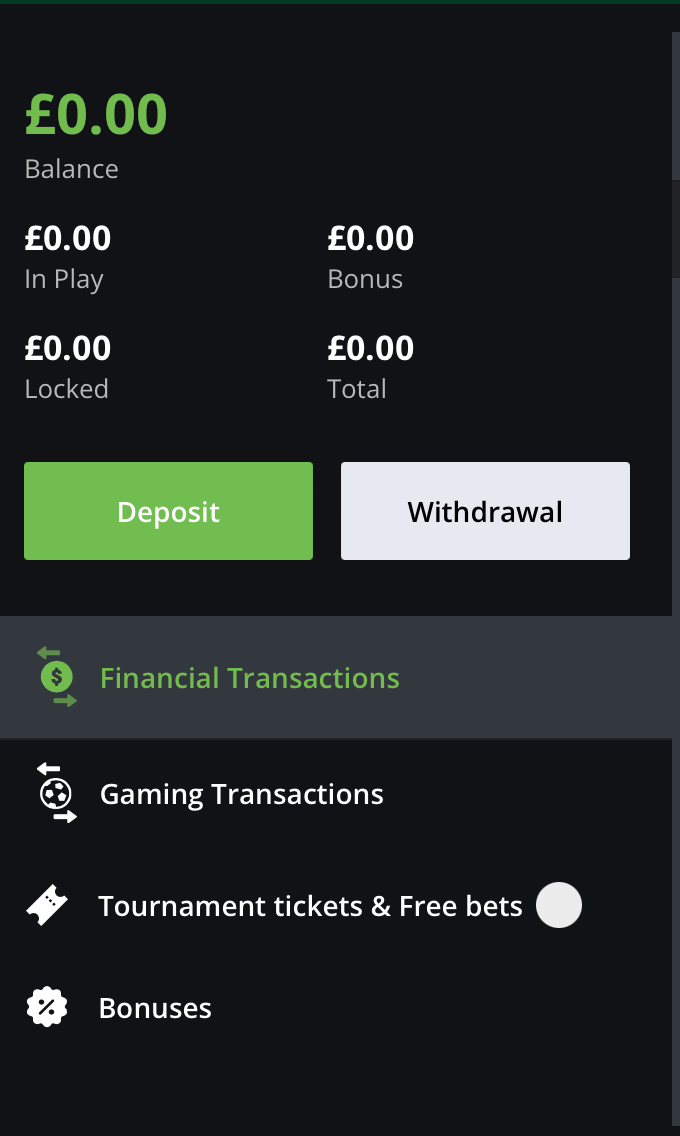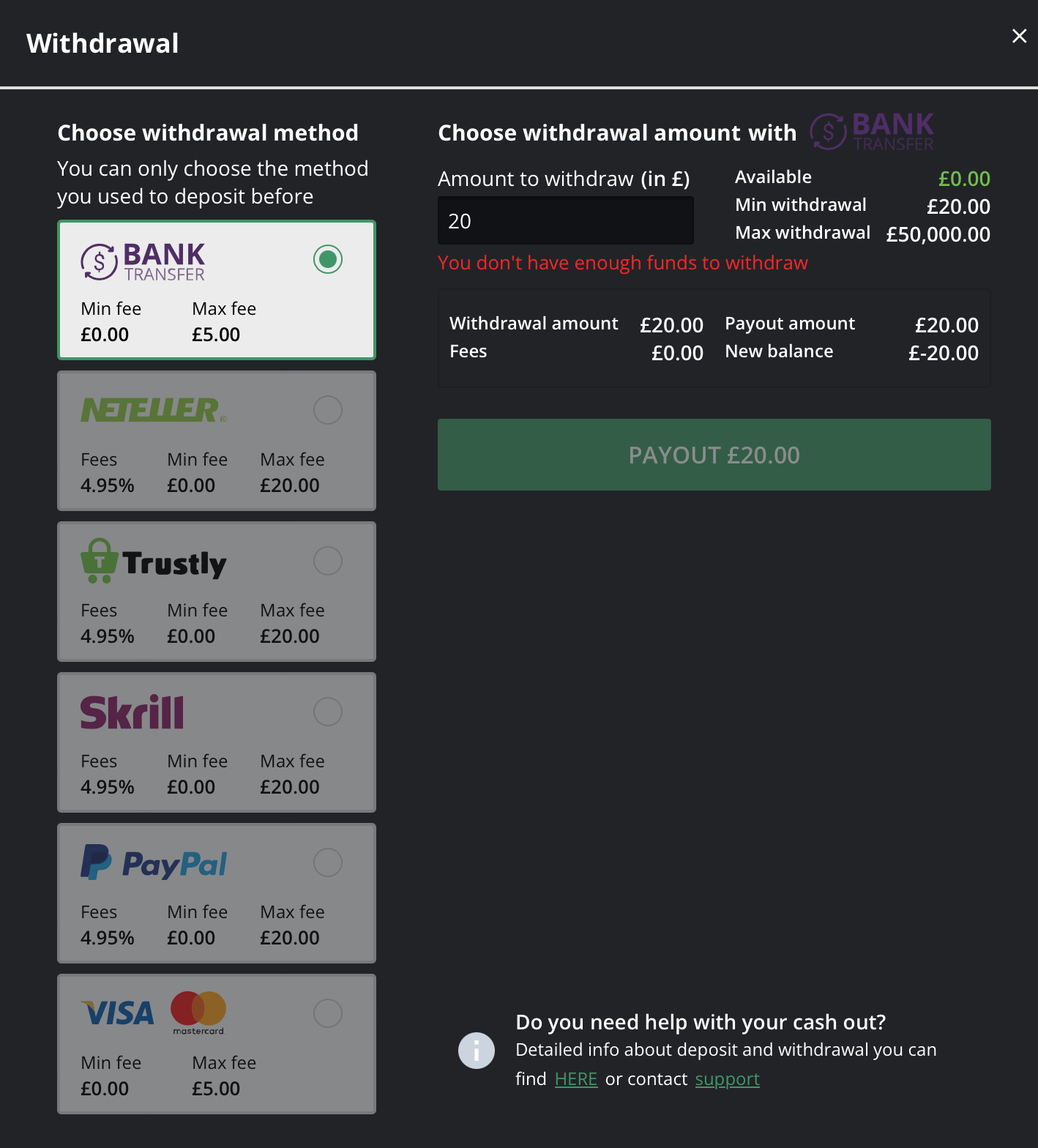 You will need to navigate to your account area again. Click on the profile icon to access the drop-down menu. Once you have accessed the drop-down menu, instead of selecting "Deposit," this time select "Withdraw." Then proceed to the next stage.

Take a look at the deposit methods. Each method will have specific details about the minimum withdrawal amount, the fee you will be charged, and the max withdrawal amount. Select the one you are most comfortable with, and then choose the withdrawal amount by typing it in the textbox. Once you are done, proceed to the next stage.

Finally, you will have to enter the details related to the withdrawal method you chose. The only initial withdrawal method that you can select will be a bank transfer, so you will be required to enter your bank account details, like sort code, account number, and IBAN/BIC. Once you are done, click on "Withdraw" and expect the funds within a couple of days.
Licensing & Safety
FanTeam is owned and operated by Scout & Co, a Maltese company, which is licensed and regulated in the UK by the UK Gambling Commission under licence number 39669. To this day, the bookmaker has not violated any rules or regulations.
Service & Customer Support
Email - [email protected]

Phone - N/A

Live Chat - N/A

Facebook -https://www.facebook.com/fanteamcommunity/

Twitter - https://twitter.com/FanTeamOfficial
The bookmaker does not have a live chat function, which is a downside. However, the customer support team is available 24/7, and you can easily reach them with the listed email above. It also has a very detailed FAQ page, which can potentially resolve your issues before you even attempt to speak to support.
FanTeam Casino Review
Do not be surprised if you go through FanTeam's website and do not find a casino section. The reason is that it doesn't exist. That is because FanTeam is focused purely on sports, hence why it only has a sportsbook section. It does, however, provide fantasy teams which you can bet on.
Live Casino
Unfortunately, FanTeam does not support a live casino function on its platform. At this stage, it is only a sportsbook.
More Information About the Bookmaker
Founded in: 2013

Owners: Scout and Co

Sponsors: Fulham FC

Registered Office: 64, Excalibur, B.Bontadini Street, Birkirkara, BKR 1737 Malta

License number: 39669

Email: [email protected]

Phone: N/A
Updated: 12.09.2023
Information about the company
Articles about the bookmaker
Other bookmakers





50% refund of first day losses
£35




"Bonus Credit" if lose
£40