How to Withdraw from Sportingbet: How Long Does It Take in 2023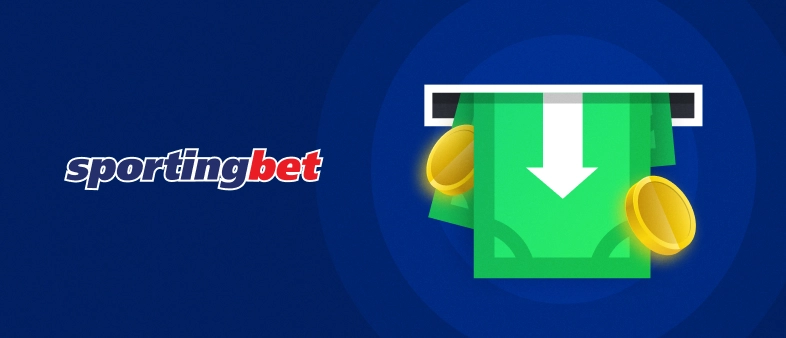 Sportingbet Withdrawal methods 
Sportingbet is a British online gambling operator originally founded by Mark Blandford. The company now owned by GVC Holdings plc was previously listed on the London stock exchange. Because of this there are many popular and well reputed withdrawal options available to you such as Visa and Mastercard, Paypal, paysafecard, Muchbetter as well as Maestro and Fast bank transfer.
Sportingbet Withdrawal Options and limits
Withdrawal Method




Fee

Processing time

Min limit

Max limit

Debit Card

(Visa or Mastercard)

Free

3-5 days

£10

N/A

Maestro
Free
3-5 days
£10
N/A

Skrill

Free

24 hours

£10

N/A

Neteller

Free

24 hours

£10

N/A

PayPal

Free

24 hours

£10

N/A

MuchBetter

Free

24 hours

£10

N/A

paysafecard

Free

24 hours

£10

N/A

Fast Bank Transfer
Free

2-4 working days

£10

N/A
Sportingbet Withdrawal Methods – Debit Card
Using a debit card has no massive advantages or disadvantages when it comes to withdrawing from Sportingbet. With a 3-5 day withdrawal time and the same standard £10 minimum and no withdrawal fee as all other withdrawal methods the only real advantage is that it is an option almost everybody already has without the need to set up an account and can immediately prepare your withdrawal.
Sportingbet Withdrawal Method – Neteller
Neteller is a popular E-wallet option especially in the gambling field making it a highly reliable and reputable option. As well as this providing you quick access to your withdrawn funds with only a maximum 24 hour withdrawal time. As well as this it features the same £10 minimum and no withdrawal fee as is with all other methods on Sportingbet. On Sportingbet Neteller is a great option to withdraw with as it shares identical characteristics to all other methods. If you already have a Neteller account this would be a great option for you to withdraw with as it shares the same characteristics as all other options on the list as well as being easily accessible to you and something you are already familiar with.
Sportingbet Withdrawal Method – Skrill
Skrill is another popular E-wallet sharing similar characteristics to Neteller and Paypal. With identical information in regards to Sportingbet with the same £10 minimum withdrawal, no withdrawal fees and 24 hour maximum withdrawal time.Skrill is very similar to Netller and Paypal especially in regards to Sportingbet. This makes it another solid option for you if you wish to withdraw using Skrill especially if you have a pre-existing account with Skrill. All of these E wallet options are entirely identical when it comes to the Sportingbet characteristics. This makes it a lot easier to decide between the available potential options. 
Sportingbet Withdrawal Method – PayPal
Paypal is likely the most popular E-Wallet option for the man on the street and is almost definitely the most well regarded and well renowned of all the options. Giving you the same benefits as all other E-wallet options as well as being highly reputable and famously popular it is likely something that most people already have and are familiar with. Because of this it is probable that this may be the best option for people especially if it is their first time with this site or gambling in general. Having experience with the operation of your withdrawal method as well as.
Alternative Withdrawal Methods
All of the alternative methods available to you are fairly common and have very similar characteristics except for Maestro. Maestro is owned and operated by Mastercard therefore has identical characteristics to Mastercard. This means that it has the 3-5 business day processing time and £10 minimum withdrawal with an uncapped maximum withdrawal. 
All other methods are E-wallets in the form of paysafecard and Muchbetter, these options often used by all the larger sites.. All of these E-wallets share identical characteristics to the other options available on Sportingbet. This means that 24 hour withdrawal time as well as £10 minimum withdrawal and uncapped maximum withdrawal. However no matter which method you decide to use they are all perfectly good options for you to transfer with!
(Please note that Credit cards are not accepted at Sportingbet)
How Long Does A Sportingbet Withdrawal Take?
At Sportingbet your payout time can vary depending on how you wish to withdraw with them. However this can take anywhere from a matter of minutes up to 5 days.however if you wish to use one of the E-wallet options on Sportingbet the time that you are waiting will be cut down significantly in comparison to using debit cards.
Step by Step Guide
How to do a Sportingbet Deposit
Navigate to the Deposit section in the top right hand corner of the screen and select it.

Choose your deposit method from the 8 listed.

 Enter the required information as well as the amount you wish to deposit and finish the transaction.
How to do a Sportingbet Withdrawal
Select the small icon at the top right corner of the screen to enter the drop down menu.

Select cashier and then withdraw.

Select the method you wish to withdraw with as well as the amount you would like to withdraw.
Frequently Asked Questions
How can I view my withdrawal history?
To view your withdrawal history first login to your Sportingbet account and navigate to the small user icon in the top right corner.then select cashier and then payment history. Using this you can select your history of all withdrawals and deposits as well as the date you wish to view with adjustable start and end dates.
What are the Minimum deposit and withdrawal amounts?
The minimum deposit amount is with paysafecard at £5 however almost every other option has a £10 minimum deposit. The minimum withdrawal is a standard £10 and goes for all withdrawal methods.
How can I cancel a withdrawal?
Cancelling a withdrawal once it has been processed is not possible and this is standard to all bookies.
I am having problems with my withdrawal, what can I do?
The first port of call if there is a problem with your withdrawal would be to check the Sportingbet FAQ page. Using the built in search tab to search for things related to your issue will be very beneficial to solving your problem. As well as this check that your account is authenticated and that you meet all of the payout rules required from Sportingbet. Finally getting into contact with the sports betting customer support team either using the supplied email, phone number or live chat.
Yes PayPal is an accepted way to move money at Sportingbet, either Depositing or Withdrawing.