How to Withdraw from Virgin Bet: How Long Does It Take in 2023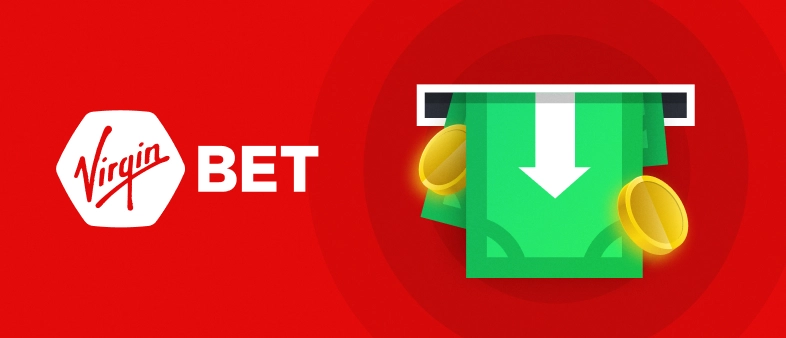 Virgin Bet Withdrawal methods
Virgin Bet is part of the "Virgin Group", and their reputation for quality and a focus on customer service shines through here. Based in Gibraltar the 50 man team uses software powered by Gamesys technology to deliver a first class betting product to their customers. They have a limited number of deposit methods which can be used to transfer money into and out of your account, and we will examine those now.
Virgin Bet Withdrawal Options and limits
Withdrawal Method




Fee

Processing time

Min limit

Max limit

Debit Cards

(Visa or Mastercard)




Free

1-3 Days

£10

£10,000

PayPal

Free

24 Hours

£10

£5,500

Trustly

Free

1-5 Days

£10

£10,000
Virgin Bet Withdrawal Methods – Debit Card
VirginBet offers fee free withdrawals back onto both Visa and Mastercard debit cards, with funds paid back in between 1 to 3 working days. It has advantages of a high maximum withdrawal ceiling, but there is a trade off given the relatively longer payout time. As a rule though you can not go wrong using a debit card and it is the default payment method for most players. Please note this is DEBIT cards only, you can not use a credit card at any UK regulated site.
Virgin Bet Withdrawal Method – PayPal
PayPal is probably the most common E-wallet that there is, due to its long standing association with Ebay. These days those ties are not so strong and it is branching out more into a general online payment processor, available for all types of transactions. At Virgin Bet it is the fastest payment method available, with withdrawals taking just 24 hours to be paid. This combined with the relative anonymity of your gambling, and the potential to ring fence your gambling spending, make PayPal the payment method of choice for many. Perhaps surprisingly PayPal is the only E-Wallet you can select, neither Skrill nor Neteller being options.
Virgin Bet Withdrawal Method – Trustly
Trustly is another name for basically making an online bank transfer, directly from one account into another. It allows you to shop and pay from your online bank account, without the use of a card or app. Its account-to-account network supports over 6000 banks, so you are sure to be compatible with it.
How Long Does A Virgin Bet Withdrawal Take?
Withdrawal times at Virgin Bet, like all bookmakers, are dependent on a number of factors, and how long it will take depends on which withdrawal method you are using. If you are using PayPal expect it to take no more than a day to receive your money, however a bank transfer with Trustly could take up to five. There are a number of other factors to consider such as the size of the withdrawal and also is this your first withdrawal meaning ID documents may need to be supplied and verified. Overall though on average you should expect to receive your money in most cases within three days at the most.
Step by Step Guide
How to make a Virgin Bet Deposit
Depositing into Virgin Bet is quick and simple. You firstly need to be logged into your account, and from there on the homepage in the top right hand side of the screen you will see a large dark red "DEPOSIT" button. Click on it.

After you have clicked on this you will see the following page, on this page you have the options to pick:
A) Which deposit method you wish to use
B) What amount of money you wish to deposit

Once this has been confirmed by clicking in this example "Deposit £10" you will be taken to a final page to confirm your details. On this page, which is using a debit card, you can decide whether to use an existing card stored on file or enter the details of a new card. If you are using a new card you will have to enter the long 16 digit number from the front but everything else is the same. You simply need to put:
C) Your name as it appears on the card
D) The various card security details

After that you "Confirm Deposit" and the funds should be available in your account immediately. There is never a fee to deposit.
How to make a Virgin Bet Withdrawal
To withdraw funds from Virgin Bet, similarly to the deposit you must of course make sure that you are logged into your account. Once you are then in the top right corner of the screen you will see a small icon of a person, click on this.

Once you have done so then the following account options will appear on the page, you want to click on "My Account"

After this you will get another similar looking screen and this time you will want to select "Withdraw"

Now you all almost there, the last screen you need to fill in will look like the one here below

On this last screen you just need to give a few details:

A) Which method you wish to withdraw by
B) How much do you want to withdraw
C) Select a specific account you want the money to go back to or make sure the one that is there is indeed correct.
If everything is in order click the Green "Withdraw" button and your money will be transferred to you as soon as possible. The withdrawal time will depend on the method you have used but you are unlikely to be waiting long.
Frequently Asked Questions
How can I view my withdrawal history?
In order to view your withdrawal history you need to be logged into your Virgin Bet account. Once logged in you need to click on the small profile icon in the very top right and then from the main screen select the option which says "History". This will bring up the following page.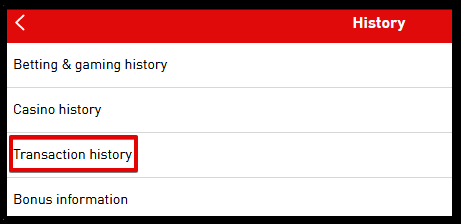 From here it is possible to view a record of all of your gambling bets be it in the sportsbook or in the casino. It is also possible to see all your deposits and your withdrawals and you do tha by choosing "Transaction history", from that screen just view the date range you wish to appear, and you are there. You will be able to browse through all processed and also any pending transactions.
What are the minimum deposit and withdrawal amounts?
The minimum deposit amount at Virgin Bet is just £5. For withdrawals the minimum amount which you can request is slightly higher at £10. The maximum amount to withdraw depends on your payment method but will be at least £5000.
How can I cancel a withdrawal?
As is standard across all UK bookmakers who are licenced by the UK Gambling Commission it is not possible for you to cancel a withdrawal once it has been submitted into the system.
I am having problems with my withdrawal, what can I do?
It is unlikely that you will have a problem but if you do then you will need to contact the Virgin Bet customer services in order to get it resolved. It is possible that you have not yet met one of the payout rules. They will be able to check your account and you can run through the problem with them. They will either be able to fix it there and then, tell you what you have to do in order to fix it, or direct you to the people who can fix it for you if they can not.
The short answer is Yes. PayPal is an accepted payment method at Virgin Bet. It is in fact the only E-Wallet which is.