Virgin Bet FIVES Ultimate Guide
Virgin Bet FIVES is a free to play game available on their website in which users can get real money for goals scored by footballers awarded to them. This weekly promotion is open to both existing and new members.
We have examined the ins and outs of the game carefully and are ready to provide a comprehensive review. Virgin Bet FIVES is explained in all the detail that you could possibly need to know.

What is Virgin Bet FIVES?
Virgin FIVES is like a minor version of fantasy football. Several betting sites in the UK have fantasy games, but the promotion from Virgin has its own special features.
The main difference is that football players are not chosen manually by yourself but instead for you by blind lottery. You don't have to consider a budget, plan trades or keep an eye on the prospects of hundreds of players. Instead, the computer randomly selects a footballer for your team each weekday.
The players are usually from the English Premier League, but FIVES can also select footballers from international tournaments such as the Womens Euros; it depends on which betting events are available at the time. At the end of this ''fantasy lottery'' you can reveal up to five players by Friday. For each goal they score, a Virgin Bet FIVES participant receives a prize depending on the cash amount on the Fortune Wheel.
In the sweepstake, you get real money into your account, which does not require wagering on sports betting or online casino games. You can spend the money by betting at virginbet.com or withdraw it immediately.
The benefits of the Virgin FIVES promotion are:
Available to all registered Virgin Bet users;

Free to play: just sign up or log in;

No entering requirements, simple full rules

No wagering: real cash prizes, not free bets;

You don't have to bet, even a qualifying bet is not needed.
All you have to do is visit the promotion page every day and add a new player to your Virgin Bet FIVES list. Among the players who can be added to "your team" will be defenders, midfielders, and strikers. The time available for player selection is indicated on the promotion page.
Here are detailed instructions on how to take part in FIVES.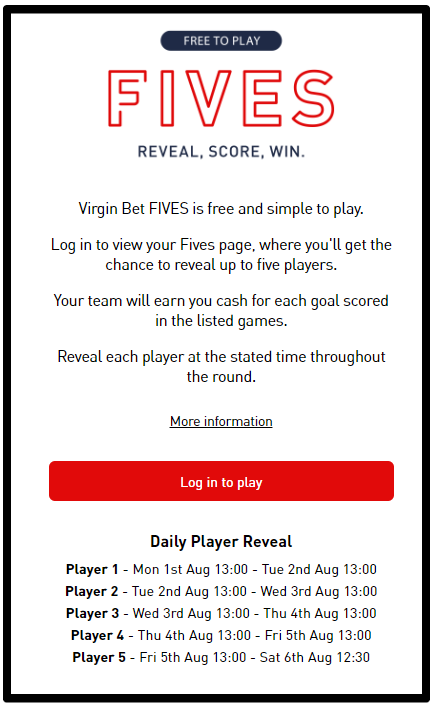 How to Play Virgin Bet FIVES
FIVES offers a slightly different way to play from standard fantasy games you may have seen on other betting sites. We will describe the whole procedure from start to finish. To play Virgin Bet FIVES you will  need to:
Log in or register on the Virgin Bet website
The Virgin Bet FIVES promotion is only available to those with an account at virginbet.com. To create it, click "Join now" and fill the sign up form. If you are already an active betting site user, click "Log In" and enter your username and password in the relevant area.
If using a desktop computer your screen will look like: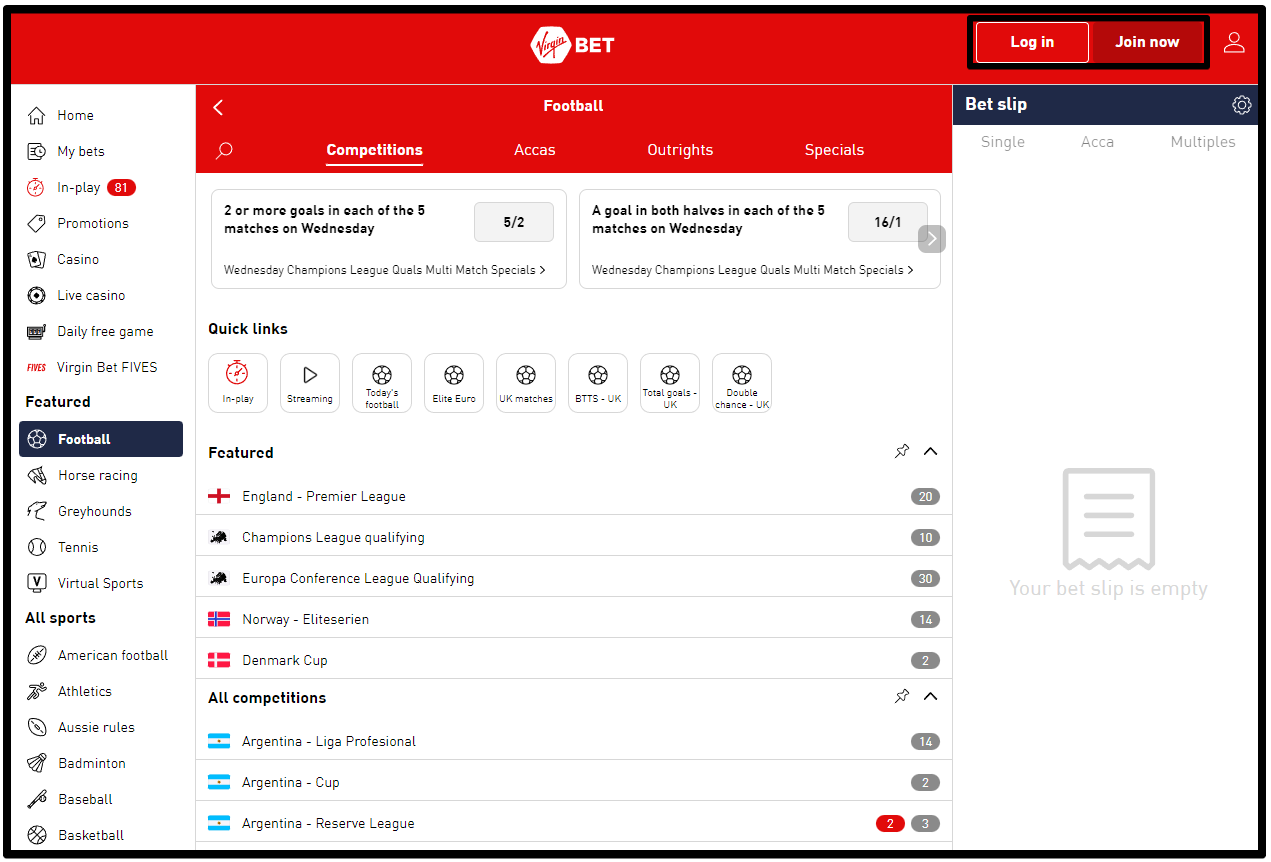 If joining via a mobile phone your screen will look like: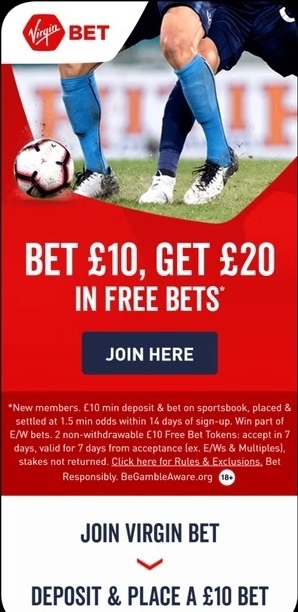 Open the Virgin Bet FIVES tab
After logging into the website, go to the Virgin Bet FIVES section. You will find it in the menu on the left hand side of the virginbet.com homepage next to the casino and Daily free game sections. On the mobile website and app, the FIVES icon is located in the top horizontal menu on the home screen. Before you start playing read the full terms and rules carefully in case something has changed since the publication of this review.
Desktop view: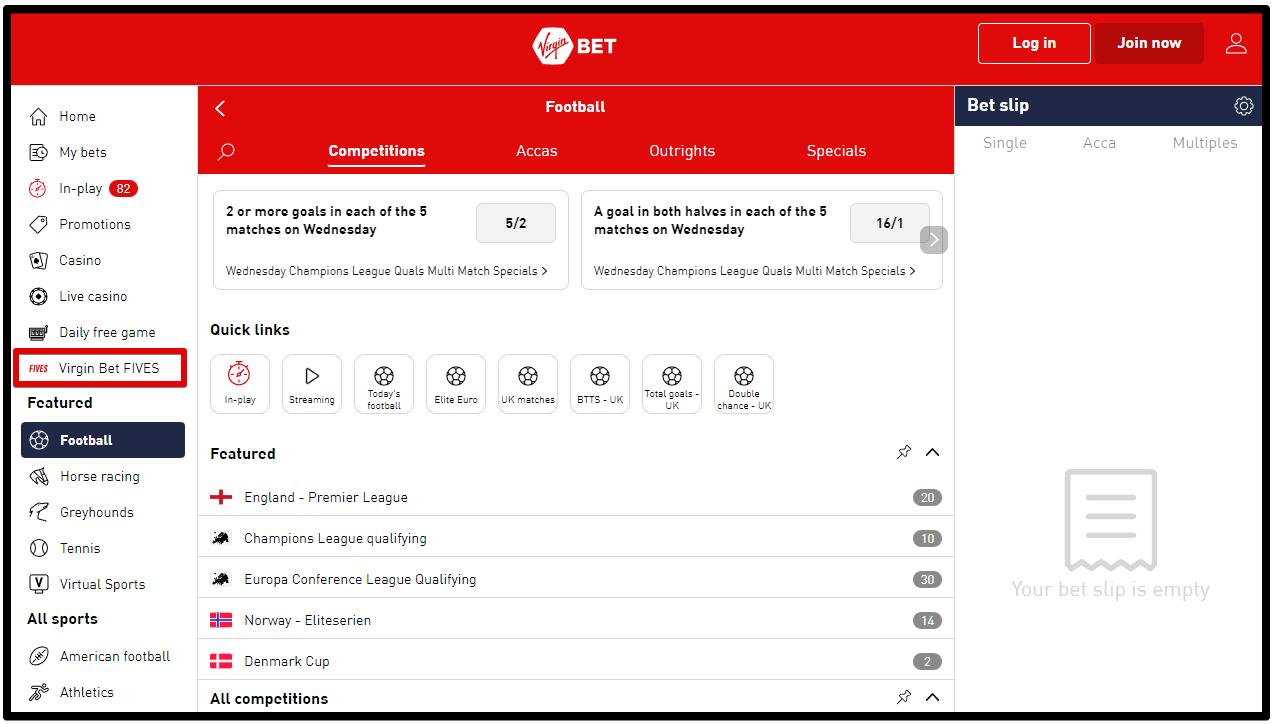 Mobile view: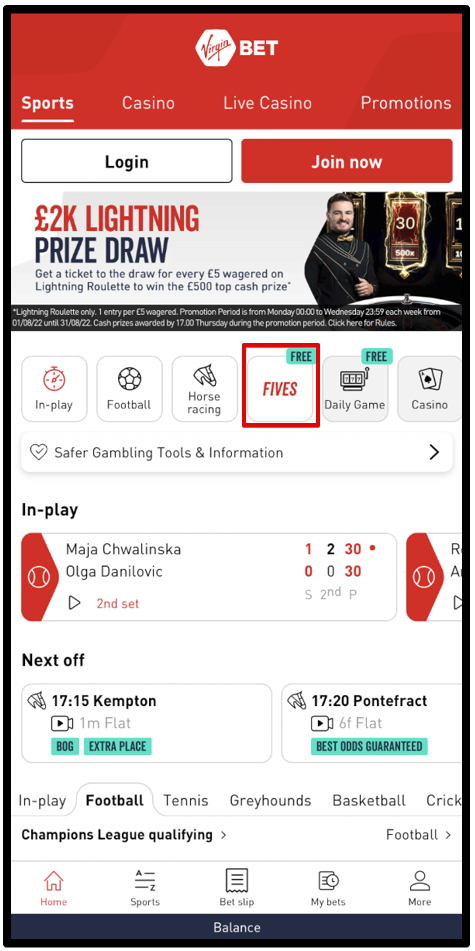 Uncover the list of players
Open the Virgin Bet FIVES page and tap "Reveal now" to get a new player into your top five. This can be either a defender, a midfielder or a striker, so your prospects can be very different. The reveal option is available immediately, you do not have to fulfill any conditions, such as making a qualifying bet.
Make your own team
Enter the FIVES game every day to reveal up to five players. If you don't get a new player in 24 hours, he will be lost. This means that you will have fewer than five players in your team this week.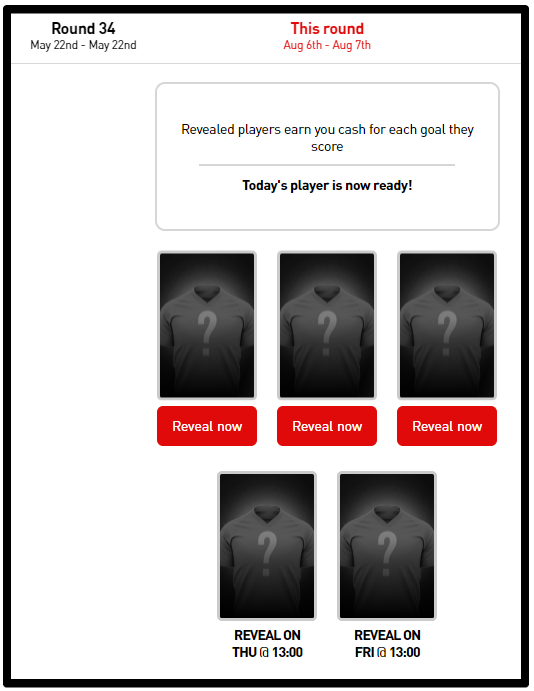 Find out how much the cash bonus is
After you reveal the last player on the FIVES list, a spinning prize wheel will appear on the screen. It will show how big the cash bonus you can claim for each goal scored by players on your list will be. The minimum cash amount is £0.10, the maximum is £50.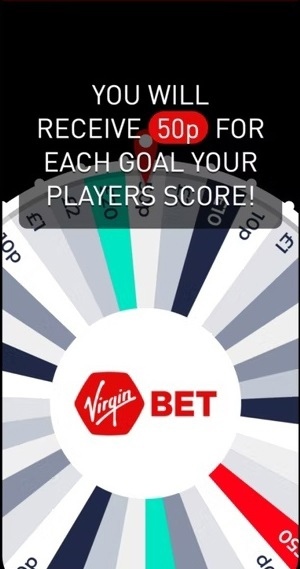 Please note. You cannot get a cash bonus for a goal scored in a penalty shootout. Also there is no reward, if players score own goals or if a goal was disallowed.
Once you have revealed your five player squad on the Virgin Bet FIVES page and revealed the potential cash bonus amount, you can follow the matches involving "your" players and monitor your potential future prize. For every goal scored by the chosen footballers you will receive withdrawable cash and it will be credited to your main account.
Virgin Bet FIVES Player Reveal Dates
The promotion page publishes the date and time when you can get a new player for "your" selection. If you don't go to the page in time and click "Reveal now", you will miss out on a chance to add a player (and increase your chances of earning from his goals). 
Below are the dates and reveal times for an example round of the Virgin Bet FIVES game.
| | | |
| --- | --- | --- |
| | Reveal Start Time | Reveal Close Time |
| Player 1 | Mon 16th May 16:00 | Tue 17th May 16:00 |
| Player 2 | Tue 17th May 16:00 | Wed 18th May 16:00 |
| Player 3 | Wed 18th May 16:00 | Thu 19th May 16:00 |
| Player 4 | Thu 19th May 16:00 | Fri 20th May 16:00 |
| Player 5 |  Fri 20th May 16:00 | Sun 22th May 19:00 |
The top betting sites are…
Here at Legalbet we have also categorised the top betting sites and their features to make them easier for you to find. They are:
By Sport: Football | Tennis | Boxing | Cricket | Snooker | Golf | UFC | Darts | Greyhound | Rugby | Horse Racing | Basketball | Baseball | Formula 1 | Ice Hockey (NHL) | Volleyball | Cycling | Netball | AFL
By Payment Systems: PayPal | Skrill | Klarna | Boku | Debit Cards | Apple Pay | Paysafecard | Neteller | Google Pay | Prepaid Cards | Revolut
By Features: Cash Out | £5 Minimum Deposit | Minimum Bet Sizing | Live Streaming | Betting Exchanges | Safest | Fast Withdrawal | Daily Free Games | New Betting Sites | Horse Betting Apps | Football Betting Apps | Virtual Sports Betting Sites
By Events: Politics | WWE | NRL Grand Final | MLB World Series
By Esports: CS:GO | Dota 2 | League of Legends | PUBG | Valorant | FIFA | CS:GO Betting Sites with Paypal
Frequently Asked Questions
Is Virgin Bet 5s free to play?
Yes, Virgin Bet FIVES is a free to play game, you do not even need to bet, so you can save your welcome free bets to use in the sportsbook. We can say more: you can get withdrawable cash prizes straight into your account instead of the free bets that you have to wager.
If you already have an account at Virgin Bet, all you need to do is log in and open the promotion page. If you don't have a Virgin Bet account yet, sign up by clicking "Join now" on the website or in the app and filling in the form.
What's the maximum I can win on Virgin Bet Fives?
There is no maximum winnings limit in the Virgin Bet FIVES promotion. You can win up to £50 each time when your squad players score, the maximum payout is not stated in the bookmaker's rules. If you're very lucky, you can win several hundred pounds every seven days.
What happens If I forget to redeem a player?
Customers only get a new football player when visiting the promotion page every day. If you do not reveal a new player, this space will remain empty. Even so you will still participate in the promotion, but you will have less than five players on your squad. So pick you first player in the day the game starts and then visit site to choose a next player on the following days until you reveal the final player.
What if my player didn't play or was injured?
If one or more players on your Virgin Bet FIVES roster does not get on the pitch, you simply won't be rewarded for their actions. Substitutions are not possible in the Virgin Bet promo. 
Can I choose other players in my squad?
Customers who want to participate in the FIVES promotion cannot choose players who will be in his squad. All five players are randomly picked and you have no influence on that. So in one week you may get five forwards and in the next seven days you may get five defenders.
When will I claim my win?
The bookmaker Virgin Bet pays out a certain amount each time a player from your team scores a goal. The cash bonus is credited to your account within minutes of a goal being scored. Unlike the free bets, you can withdraw it immediately, or you can use it for gambling or sports stakes, but bet responsibly.
If 4 of my 5 players are center-backs. Is that right?
The bookmaker Virgin Bet claims that players for the FIVES promotion are randomly selected. If you end up with four center-backs at once, alas, it's just bad luck with the lottery. Play every week and you'll get a squad with stellar forwards. Someday.