Bet365 Inplay – What Is It & How Does It Work?
Bet365 provide a fantastic in play betting offering, with a number of great features. In this article, we discuss those features alongside an explanation of Bet365 in play betting, including how to place an in play bet, the sports on which you can place an in play bet, and the Cash Out feature available for selected in play bets at Bet365. We also outline the different payment methods that you can use at Bet365, and describe some of the features of football in play betting and in running betting on the horses. Finally, we answer your Frequently Asked Questions.
What is Bet365 In-Play Betting?
Bet365 in-play betting, otherwise known as live betting, allows bettors to place bets on an event that has already started, as it happens.
For example, a Bet365 bet in play in football, may be a bet on the next player to score. Or, it could be on the team to be winning at half time. An in-play bet on Tennis could be the player to win the next point, or serve the next ace.
Whichever market you choose to bet on, Bet365 allow you to place these bets live, during the event, from kick off right through to the final whistle.
What is the Bet365 In-play Offer?
At the time of writing there is no Bet365 In-play offer publicised on the website. It is more common for this offer to be Emailed to specific customers who have opted to receive promotional communications from the company. The offer usually involves betting on a specific Premier League or Champions League match. You are invited to place a pre-match single bet on the chosen match and when the game starts you are credited with a Free in-play bet to the value of your qualifying bet.
Sports that you can place In-Play Bets on at Bet365
You can place in-play bets on the following sports at Bet365: (but remember only a pre match bet on the featured game qualifies for the offer)
Soccer ⚽

Tennis 🎾

Badminton 🏸

Baseball ⚾

Basketball 🏀

Beach Volleyball 🏐

Cricket 🏏

Cycling 🛵

Darts 🎯

Esports 🎮

Futsal

Golf 🏌️

Greyhounds 🐕

Handball 🤾

Horse Racing 🏇

Rugby Union 🏉

Snooker 🎱

Table Tennis 🏓

Tennis 🎾

US Horse Racing 🏇

Volleyball 🏐
How To Claim Bet365's In-Play Offer
When Bet365 offer an in-play Free bet offer it usually follows the same steps. It is super easy to take part you just need to:
Make sure you either received the promotional Email, or the offer is on the site.

Log into your Bet365 account

Go to the chosen fixture and place a pre-match bet up to £50 and above the min odds level

Once the game kicks off, Bet365 will credit you with a £50 Free bet
How To Place A Bet365 In-Play Bet
If you are new to in play betting or not sure where to start at Bet365, then worry not! We share our step by step guide to placing in play Bet365 bets, here: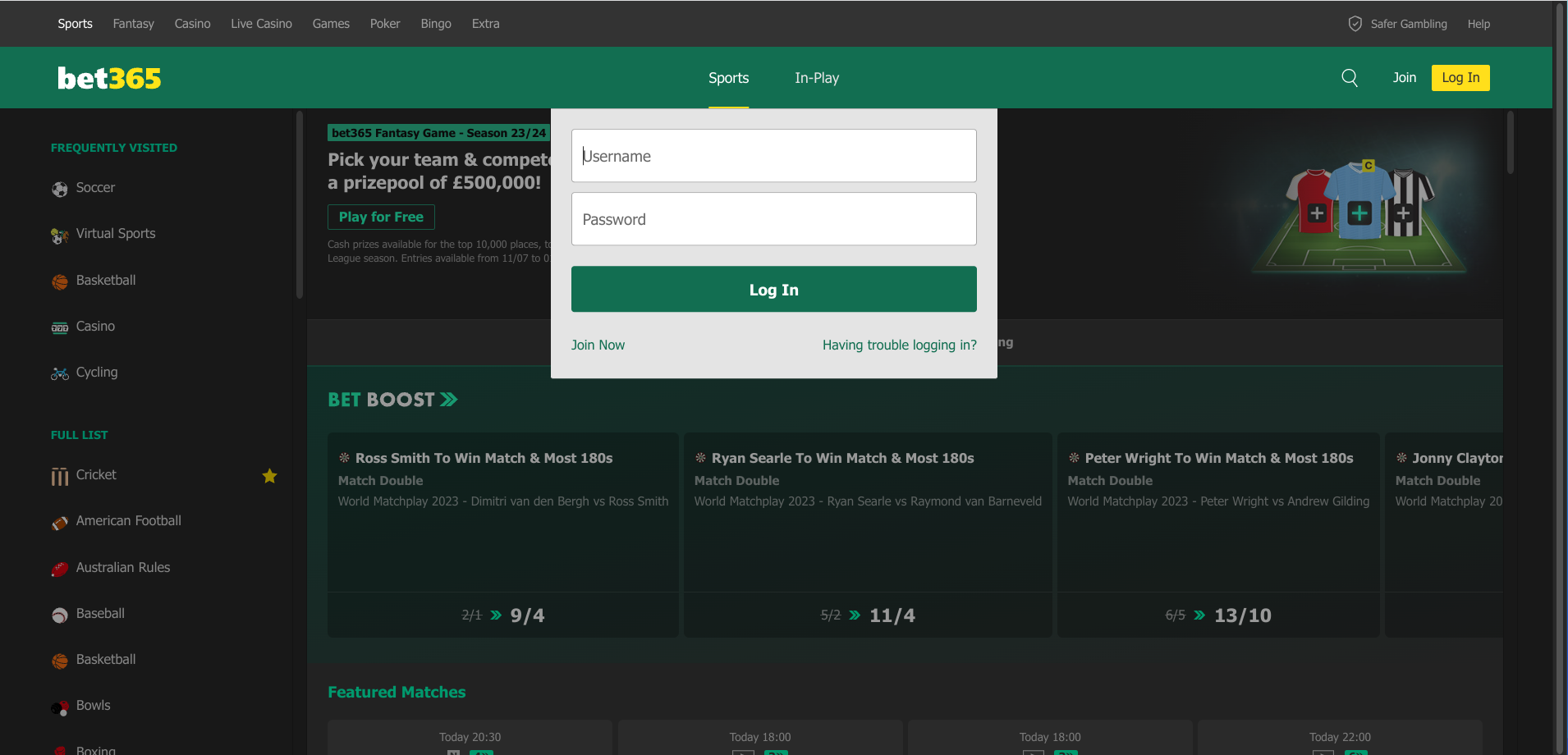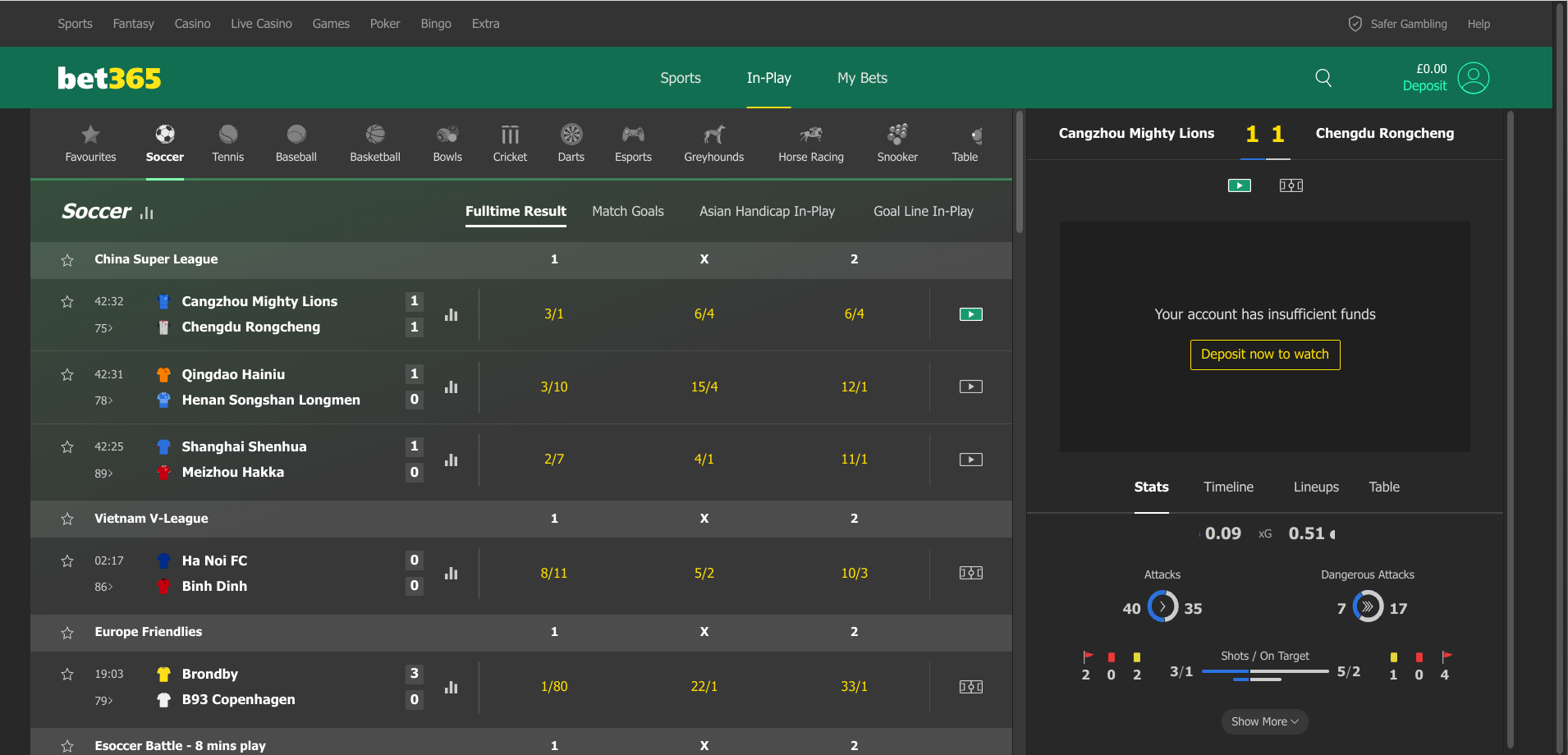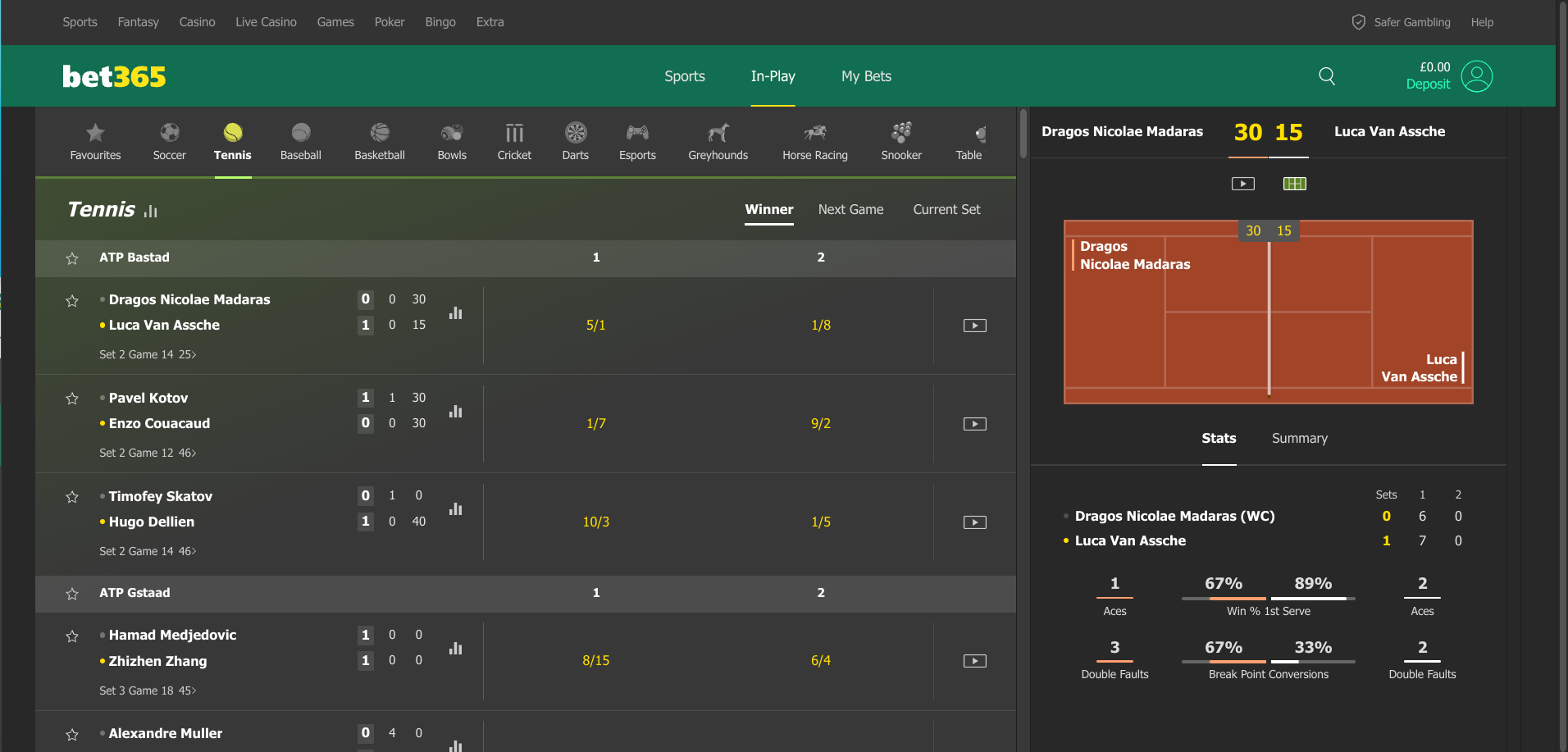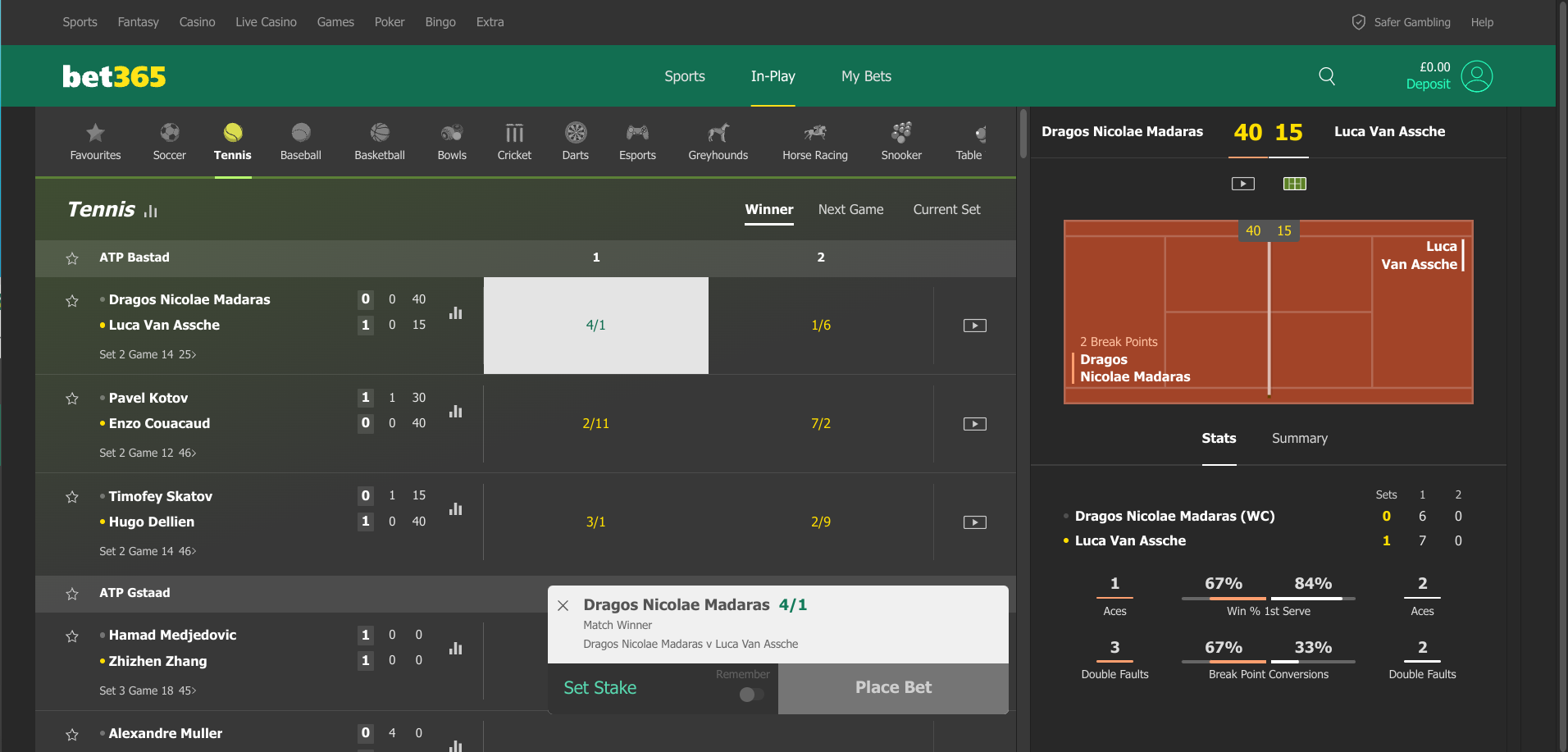 Start by logging in to your Bet365 account.
Click on the in play betting tab in the top middle of the screen.

Select the sport you wish to bet on, by clicking the icon from the menu at the top of the screen. This allows you to see the main in play betting markets for each event. For the purposes of this example, we have chosen tennis.

Click on the odds of your desired in play selection. You will see that it will be added to your bet slip, which will pop up at the bottom of the screen.
Enter your stake, then click the green 'Place Bet' button to confirm your wager.
Bet365 Bet In-Play Football
Bet365 is one of the best bookmakers when it comes to in play football betting. Here's some of what they have to offer bettors who enjoy placing in play bets on football:
Live streaming of most games (provided they are not in the UK as Sky Sports hold the broadcasting rights for those).

Excellent graphics streaming for football matches where live streaming is not available, to enable bettors to continue to follow the action, live.

Comprehensive statistics for both teams available, both pre-match and live, so you can track each team's form while placing your in play bet.

Huge range of in play markets available for each football match, including both teams to score, half time result, full time result, odd/even goals and Asian handicap markets.

Bet365's excellent Bet Builder tool is available for all live events, giving the punter complete control over their wager. Automatic cash out on any final score bet, at full odds. If your team goes ahead by two goals, your bet will automatically be cashed out as a winner, regardless of the final result.
Bet365 In-Play Running Horse Racing Betting
In play betting on horse racing is known as in running betting. Here are some of the reasons why Bet365 betting in running with the live stream feature is so good:
Bettors can see how the horse starts the race, to judge whether they are in good form or not.

Punters can watch how the horses take the jumps.

Bettors can observe whether a horse is on or off the bridle, to see if the horse is struggling or not.

Bettors can see how well their favourites are coping with the ground or course conditions before placing a bet.
Being able to judge all of these things using the live streaming feature of Bet365 in play gives horse racing punters a great chance at a solid bet.
Bet365 Cash Out In-Play
Bet365 offer bettors the opportunity to cash out or partially cash out their in play bet, on selected markets.
With Cash Out, punters do not need to wait for an event to finish, before their bet is settled. Instead, customers can opt to use Bet365's Cash Out feature to cash out their bet, usually at a reduced return, before the final result is announced.
In order for users to facilitate the Cash Out feature, it must be available and show a Cash Out figure for their bet. If they wish, users can opt for a partially cashed out bet, where they cash out some of their stake and the related winnings, but leave the rest of the stake to run its course until the end of the event.
Bet365 Cash Out is available for both in play pre match bets, on a variety of sporting events including football, tennis, horse racing, cricket and basketball, making it a great choice for in play betting fans. However, it is worth keeping in mind that the ability to cash out your bet will stop as soon as the in-play coverage stops, for whatever reason, so you will need to get your timing right if you wish to use the feature.
If you do decide to cash out your in play bet, then all you need to do is click on the Cash Out button below your selections, when you will be shown the Cash Out amount and asked to confirm your Cash Out. Remember, once you have cashed out your bet, the final result of the event will have to relevance to your bet at all, so make sure that you're sure before you commit!
Key Points from the Bet365 In-Play Offer T&C's
Max refund of £50 (the same stake as your qualifying bet if less).

Only customers who receive the promotional email and/or web message are eligible for this offer.

Your active qualifying bet cannot be edited using the Bet365 Edit Bet feature.

Pre-match bets that are fully or partially Cashed Out will not qualify for the offer whether Cashed Out pre-match or In-Play.

Your pre-match bet must be paid for in the usual way. Your In-Play Bet will then be available to use as the stake when you add a qualifying In-Play selection to the bet slip for the qualifying match.

In-Play Bet will expire if not used on the qualifying big match.

Any returns from bets placed using In-Play Bets will be added to your withdrawable balance but the In-Play Bet stake is not included in any returns.

The Cash Out and Edit Bet features are not available on bets placed using In-Play Bets.

Once your In-Play Bet has been used to place your In-Play bet, the Cash Out feature is not available on your qualifying bet.

Pre-match bets placed using Bet365's Telephone Betting service will not qualify for this offer and In-Play Bets cannot be used via Bet365's Telephone Betting service.
Bet365 In-Play Offer Tips
Placing your Free bet at half time can help you to make a more informed choice on how the game is going, and also the odds will be considerably more stable for that 15 minutes compared to when the teams are on the pitch.

There is no way to make a guaranteed profit, but if your qualifying bet was on one team to win, using your Free bet on the draw, or the other team, or any scoreline that reflects that will increase your chances of having a return of some kind.

Read the T&C's carefully, always know the minimum odds, what payment method exclusions apply, and what markets can be used for your pre match single bet.
Bet365 In-Play Payment Methods
Bet365 offer customers a range of different options when it comes to payment methods for deposits and withdrawals. In this section, we discuss some of the most commonly used payment methods available at Bet365.
Debit Cards
Debit cards are generally the preferred payment method at bookmakers, and Bet365 is no exception. That is why you will generally find that debit cards are usually the only deposit option eligible for most, if not all, Free bet bonus promotions at Bet365. Customers can deposit between £5 and £20,000 via debit card at Bet365.
Of course, this also means that users are providing their debit card details to the Bet365 website, and the details of said website will appear on the user's bank statement.
PayPal
PayPal is an online E-Wallet, which allows customers to keep their personal banking details private from the bookmaker they are depositing at. Users simply need to provide their PayPal email and password to Bet365, in order to complete the transaction.
Deposits via PayPal at Bet365 are free, although there can sometimes be fees associated with some PayPal transactions, which customers will incur from PayPal. Bet365 has a slightly higher minimum deposit value of £10 via PayPal (compared to other payment methods, which have a £5 minimum deposit value) but unlike other bookmakers who limit the amount customers can deposit via PayPal to relatively small amounts, Bet365 allows customers to deposit up to £5,500 via PayPal.
paysafecard
PaySafeCard is a prepaid payment method. Users can buy a PaySafeCard with a specific value using cash, from a physical retailer. Using PaySafeCard allows customers to keep their personal banking details private from betting sites as only the details of the card are provided, and they are not linked to the user's bank account in any way.
The main benefit of using a prepaid card for gambling deposits is that it allows users to set and stick to a specific budget, which cannot be exceeded. Bet365 allow customers to deposit up to £770 via PaySafeCard.
Apple Pay
iOS users can use their Apple Pay wallet to make deposits at Bet365. Apple Pay works by customers uploading their debit card details to their Apple Wallet, so users can simply double click the side button on their device to make payments.
Using Apple Pay is quick and easy, but it is essentially the same as making a debit card payment, so details of Bet365 will still appear in your banking history. Bet365 allow customers a maximum deposit amount of £5,000 when using Apple Pay as a payment method.
Conclusion
In conclusion, Bet365 have a lot to offer fans of the in play bet. The Bet365 in play offer is not to be sniffed at, and their Cash Out feature allows nervous punters to take their money and run! When you add in the quality of Bet365's live streaming and wide range of in play markets, Bet365 in play is definitely giving the competition a run for their money.
Frequently Asked Questions
What is Bet365 In Play Live Betting?
Bet365 in play betting allows customers to place an in play bet on events that are already in progress.
What Does Push Mean On Bet365?
A push on Bet365 refers to a situation where a bet is neither won nor lost - it results in a tie between Bet365 and the punter. In this circumstance, Bet365 will return the bettor's original stake to them.
How To Get a Free Bet On Bet365?
Currently, new customers to Bet365 can gain a free bet via Bet365's welcome offer.
What Sports Can I Place In-Play Bets on With Bet365?
Bet365 offer customers the ability to place an in play bet on a wide range of sports, including (but not limited to) football, basketball, baseball, tennis, darts, cricket, Esports, horse racing and greyhound racing.
What Does Cash Out Betting Mean On Bet365?
Cash Out betting at Bet365 means that customers can choose to cash out their bet before the event that they have bet on has concluded. Cash Out is only available on some bet selections, so look out for the option on your bet slip.
Can I Place Live Bets Through Bet365 On My Mobile Device?
Yes, it is possible to place live bets through Bet365 on a mobile device. Bet365 also have an app which is available for users to download to their smart devices.
Can I Watch Live Events At Bet365?
Yes, users can watch live events at Bet365, provided that they have a positively funded account balance.