How to Use the Bet365 Bet Builder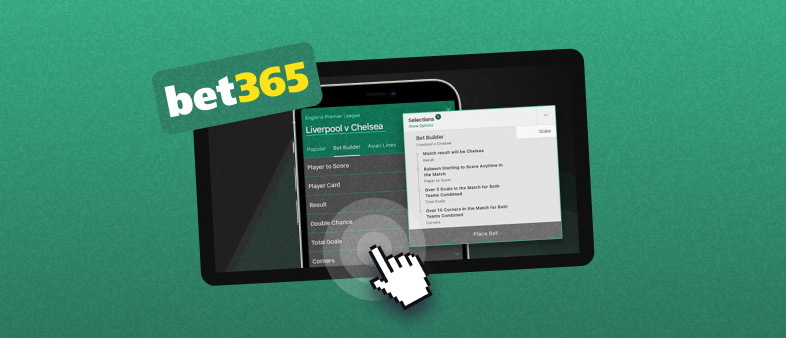 Bet365's Bet Builder option (or bet constructor) is a powerful tool for betting and can be used on either the website or mobile app. It allows you to make your own customised bet from a number of markets offered on the same match. This bet type is a great way to increase the odds using just one game to do so.
On this page we will consider how to use the Bet365 Bet Builder in betting on various sports, tell what betting markets the bookmaker offers to combine and present the Pros and Cons of doing so.
What is the Bet365 Bet Builder?
Bet365's Bet Builder is a method that can be used to create a unique wager from the events of a single match. This is slightly different from an accumulator bet which can only be made by predicting results in several different matches that are independent of each other. The final odds which will be received from both types of bet are calculated in the same way though.
The constructor feature is now available in Football, Tennis, Basketball, and occasionally other sports covered by Bet365.
Using the Bet Builder feature, you can build your combined wager from up to 12 selections offered on a particular game. If all selections are correct, your bet will win which could be a large payout. You can even use Free bet credits to fund the stake, which is a good thing because Free bets are often excluded from novelty or niche betting types.
How to Use Bet365 Builder?
Bet365 Bet Builder is an option for gamblers who prepare carefully for every match they plan to bet on. Often this means that after reading all the team news, predictions, and studying analytics, you will have the most likely scenario of the game in your mind. That's when it's time to use Bet Builder to put all the options you think fit that scenario into your bet. Please remember though to always play responsibly with money you can afford to lose.
The Bet Builder option can be used by all existing Bet365 customers to create their own personalised bet. Open the page of the match you are interested in and select the Bet Builder tab in the top bar. You will see all possible markets that can be selected for a combined bet on this match: click on the desired section (result, total, etc.) to see available options in this market. The bookmaker can offer you a maximum of 12 betting options for the match, but only up to six selections per team can be included for goal and card markets.
After selecting your choices for the relevant betting markets, these will be added to the betting slip. All you have to do is enter your stake amount and confirm the Bet Builder coupon. If you ever want to check what it is that you have bet on then the wager details will appear in the "My Bets" menu.
Bet365 Bet Builder Markets
The choice of markets which can be used with the Bet Builder depends on the sport. Let's take a look at betting options that are available in Football, Tennis, and Basketball. 
Bet365 Bet Builder - Football
Football has traditionally been among the most popular betting sports in the UK. The Bet365 Bet Builder feature is one of the most detailed ways you can bet on an individual football match.
The number of possible bets that can be included depends on the level of the event. Typically, someone betting on the match can add the following markets to a builder betslip:
Result. The main bet here is on which team will win the match. You can also bet on who will be winning at Half time as well, and also who will be winning after each 10 minute period.

Double Chance. You are betting on two of the possible three outcomes of a game at the same time. It could be Team A or a Draw, it could be Team B or a Draw, It could even be Team A or Team B (which is essentially just betting "not a draw").

Total Goals. The total number of goals that both teams will score in the 90 minutes. You can bet on either Over/Under a specified number of goals (Usually 2.5) and also the exact number of goals to be scored.

Both Teams to Score. Both teams must score at least one goal (which includes own goals scored by the opposition. You can bet for this to happen in either regular time (90 mins) or by the end of the first half.

Half Time/Full Time. Result of the first half AND the whole match. For example, if you bet Team A / Team A, if they are winning 3-0 at Half time, and eventually win 3-2, your bet wins as they were leading at the end of the half and the end of the match. (Note: This is different to "to win both halves".)

Score. You can bet on either the exact score of the first half or of the whole match.

Half with Most Goals. In which half of the game will the most goals be scored.

Team Specials. Special scenario options for each team (win both halves, goals in both halves, and others).

Winning Margin. Winning Margin. Goal advantage for each opponent at the end of the match, before the break, and in the first 10 minutes.

Odd/Even Goals. Betting on whether the number of goals in a match will be even or odd.
For top matches, like the World Cup, the European Championship, the decisive stages of the Champions League or the EPL, additional markets may be offered: player to score, player card, corners, cards, both teams to receive cards, free kicks, throw ins, goal kicks, etc. For some of the bigger tournaments, there are promotions that give you a chance to have Free bets credited and use them for combo bets.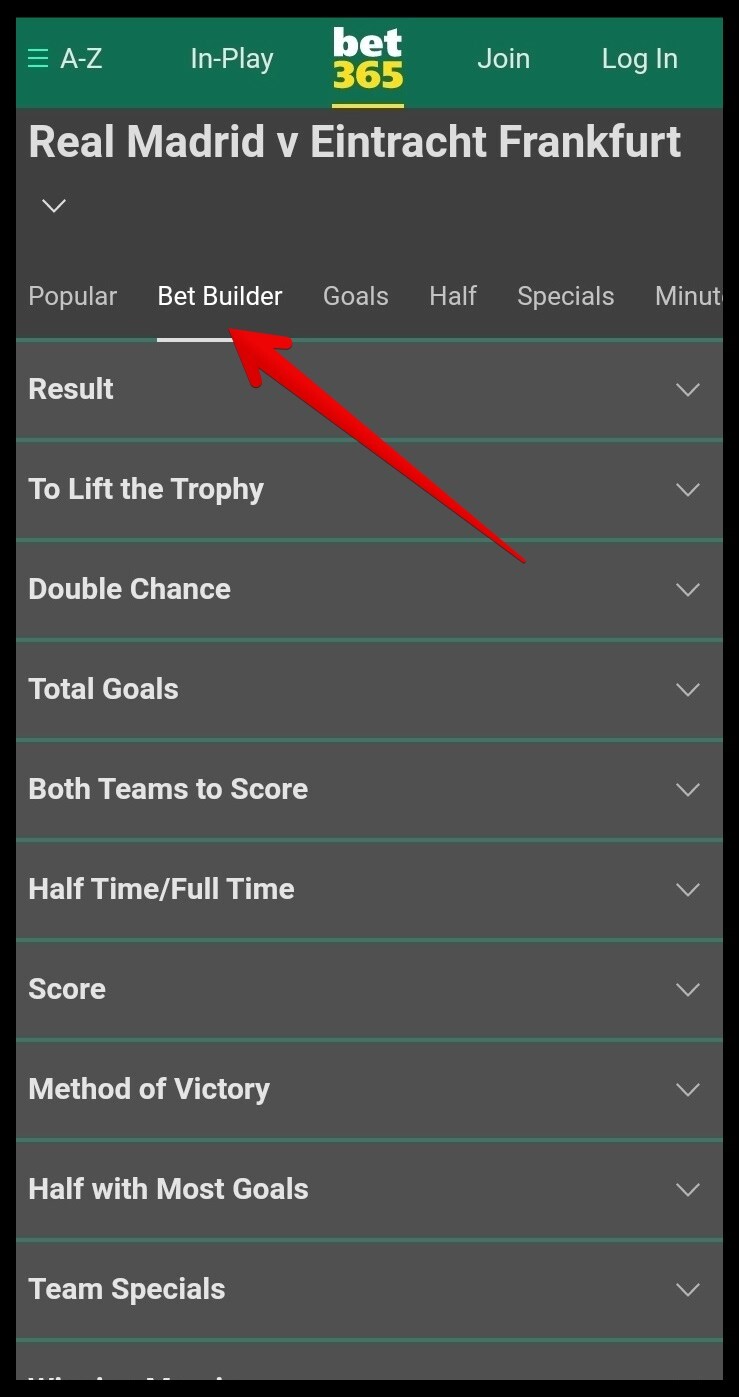 A Bet Builder wager when football betting can be either pre match or in play but it can not mix the two. In play being does not have as may markets for you to bet on as placing bets before the game starts does.
How to Place a Football Bet Builder bet
To construct bid a builder combo with Bet365's Bet Builder, you need to:
Register at or log in to Bet365

Open the Soccer section and navigate to the match of interest.

Select the Bet Builder tab.

Add all desired markets to a combo by pressing the "Add to Bet Slip" button.

Open the betting slip, enter the amount you want to bet or choose "Use free bets", if you have any and want to do that.

Confirm the bet.
The constructor option is available for all football matches on the Bet365 website or app. The company offers one of the highest quality live streaming services in the UK, you can follow a number of games via video streaming.
Bet365 Bet Builder - Tennis
Tennis tournaments at different levels take place practically all day and all year round. For the majority of matches it is possible to place both pre-match and live bets.
Bet365 has a huge range of tennis tournaments for you to choose from, be it Grand Slam events to Challenger Series and ITF tournaments. The availability of Bet Builder depends on the level of the tennis tournament, builder bets are available for major tennis tournaments, but in Challenger Series matches, for example, this option is not found in every game.
The following markets are available for bet building in major tennis tournaments:
Match Winner or Set Winner. You have to choose the winner of a Set or the whole match.

Match/Player Total Games. The total number of games in the match and the individual game totals of each player.

Total Games in Set. The number of games in the selected Set.

Set Game Score. The exact score in either Set.

Set 1 Correct Score Group. The exact score in the first Set. Each option offers several results (e.g. 6-0, 6-1, 6-2, etc.).

Set Betting. Exact score by Sets.

Breaks of Serve. When a serve player loses his game, his pr her opponent breakes. You can bid on total number of break points in a match.

Player Specials. Match scenario options for each opponent (e.g. win in straight Sets, win from behind and others).

Match Specials. Common match scenarios (e.g. five setter, straight Sets winner, etc.). 

Match Total Tie Breaks. Total number of tie-breaks in a match.

Match/Set Handicap (Games). Handicap in games in a match.

Match Total Sets. Exact number of Sets.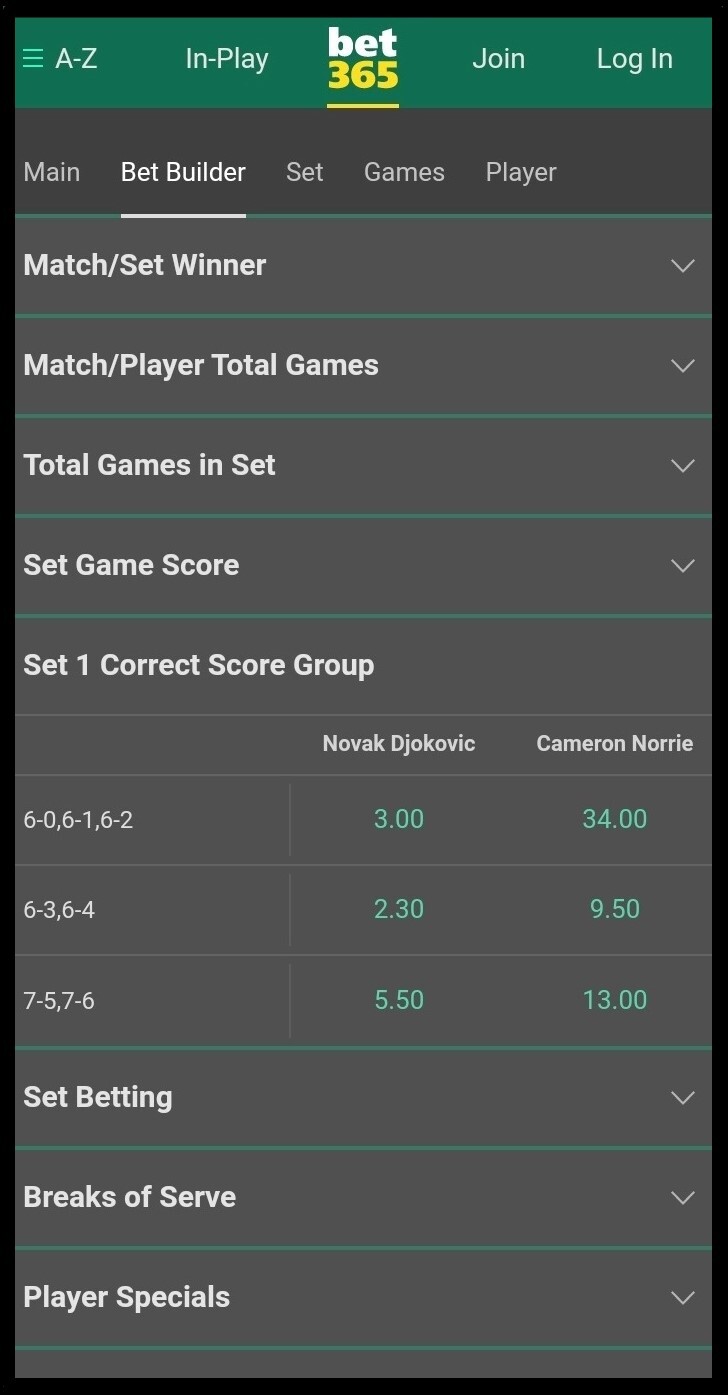 Bet365 includes the feature for some in-play matches, though you should consider time limits. In live betting, the user can combine bets on total points in the next game, the next game to deuce, the next set handicap as well as other options.
Bet365 Bet Builder - Basketball
The bet constructor can also be used for basketball matches at 
At Bet365 you'll find bets on NBA, Euroleague, World Championships and European Championships. Less popular events include Australian minor leagues, Bolivian, Nicaraguan and Vietnamese championships, and FIBA 3x3 tournaments. The bet constructor option can be found on almost every match page, except perhaps FIBA 3x3.
The main types of basketball markets available for betting via Bet Builder:
Spread. This sets a handicap at the end of a match, the first quarter, or the first half of a game.

Total. The total number of points in a game, the first quarter or the first half of a game.

Match result (Money Line). The main outcomes (One of the teams winning) in a match, the first half or the first quarter.

Team Totals. The number of points for each team at the end of the game

Tied At End of regulation. Betting on a draw at the end of four quarters.

Result and Both Teams to Score X Points. Victory for one of the teams and the total scores of both teams exceeding X (e.g. both teams will score 100 points each).

Half/Quarter - Race To. Race to 20, 25, 30, 35 and more points. Guess which team will be the first to score the specified number of points.

Half/Quarter - Both Teams to Score X Points. The number of points each team scores in a quarter or half.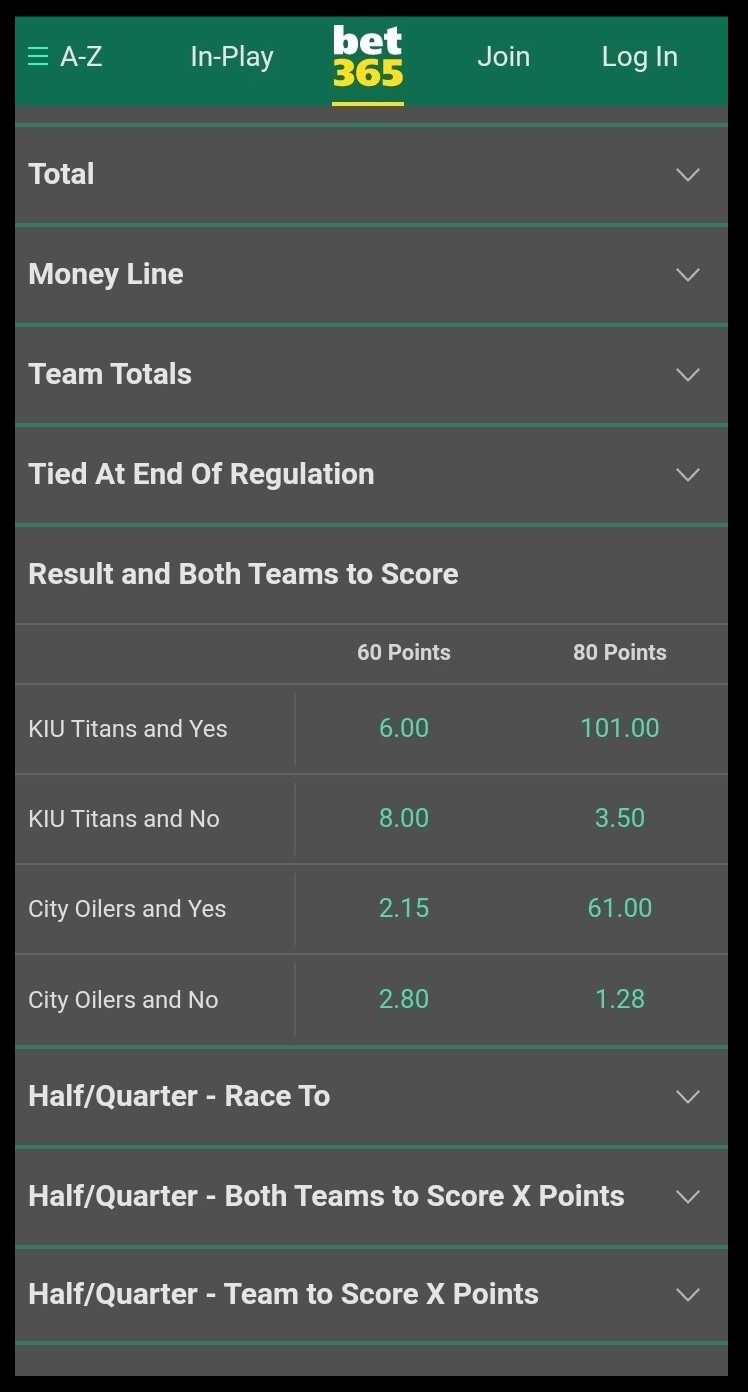 In big matches, the bookmaker may offer to add bets on player points, assists, rebounds, steals, turnovers, blocks, three's made, double-doubles, and triple-doubles and more to the Builder.
Bet365 Bet Builder Strategies
Let's look at situations where betting with builder works most effectively. In this section, we'll take a look at bet365 Bet Builder tips for betting on the same game.
High-Risk High-Reward Bet
In the Live line for football matches in the Bet Builder section, the bookmaker can offer betting options on the number of yellow cards.
A football referee is often slow to give warnings to players at the start of a game, so the quotes for the total number of yellow cards will go up. You can get an impression after watching 15-20 minutes of a game. If the situation does not change, Bet365 will offer a decent multiplier on the total number of yellow cards, you can consider this in addition to the other odds. This way you can increase the total odds of your bet.
Before a match, you can study a player's foul statistics to be ready to wager on yellow card totals. If ever the odds represent value add this to your total bet builder bet.
Underrated Prop Bets
To determine underrated outcomes, you need to prepare carefully for a particular match and calculate the probability of a particular combination on your own. If, according to your calculations, the probability of an event is higher than in the bookmaker's opinion, such a wager is considered to be a value bet, i.e. undervalued by the bookmaker. You can add it to another wager to increase the total odds.
Bet365 Bet Builder Key Terms & Rules
Bet365 currently offers the Builder feature in prematch and In-Play in the following disciplines:
Soccer.

Basketball.

Tennis.

Australian Rules.
Some disciplines are available for combo building only in the pre-game mode:
American Football (NFL Only).

Rugby League.

Baseball.
According to Bet365 rules: 
Builder combination can be placed as a single bet and can also be added to the bet slip as a part of an accumulator, that is you can make a double builder bet;

Edit bet feature is not available for this type of a wager;

Bookmaker can offer Cash Out for Bet Builder bets;

Entire bet will be void, if only one chosen market or bet type is voided.
There are ussually no restrictions on bonuses, so you can use a Free bet or other bet credits for a bet constructor wager. At the same time, a builder wager cannot always be used for qualifying bets for free bets and other bonuses, so be careful to read the terms and conditions of the promotions, which also specify what payment method exclusions apply.
The bookmaker is not responsible if the Bet Builder function is unavailable for technical reasons. Bet365 may also cancel the calculation of an entire bet, even if one selection has been calculated incorrectly, suspend and disable this mechanic at any time during a match. Also the company reserve the right to deactivate the constructor for certain customers if it deems that they are abusing this feature and decline any bet requested for a builder bet.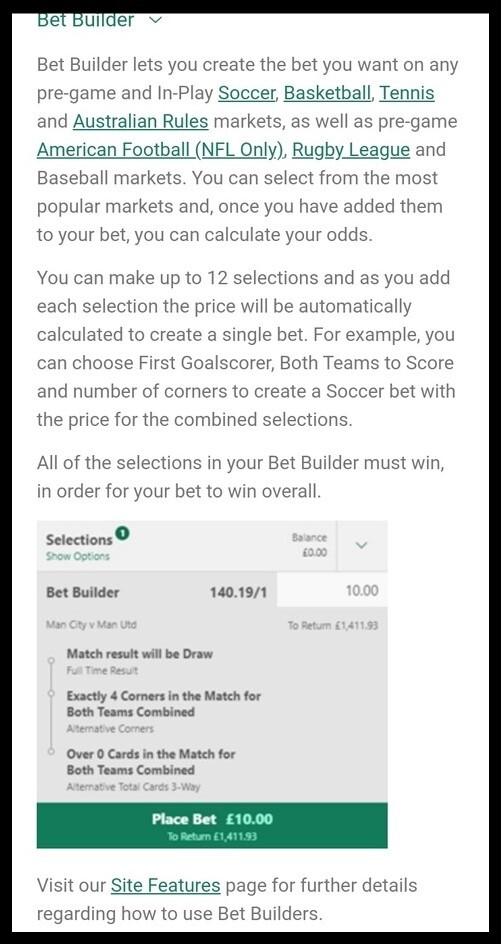 How to Evaluate the Bet365 Bet Builder Odds
Bet365's Bet Builder feature gives players great opportunities to increase the potential profitability of a wager on a match. Odds for a builder bet will be higher than the odds for individual bets on the same event.
What is a Bet Builder Double at Bet365
Bet365 makes possible to combine up to four other Bet Builder bets on different events. The final odds will be the result of multiplying the resulting quotes.
For example, let's combine the two Bet Builders for the Tottenham-Southampton and Fulham-Liverpool matches:
In the first builder bet: Tottenham win at odds of 43/100, both teams score is 17/20 and a total of more than 2 goals with a quote of 27/100. The total are 59/25.

In the second builder bet: Liverpool win (17/50), Both to Score (17/20) and Total Goals over 2.5 (27/50). The total is 141/50 which is just under 3/1. 
The total odds of the two Bet Builders will be 296/25 which is just under 12/1. You can increase this huge multiplier even more by adding two builder wagers on other soccer matches or another sports games. However, also consider the huge risk of such bets. If possible, use free bets for such low-probability combos.
Drawbacks of the Bet365 Bet Builder
The wager constructor feature has no serious disadvantages and no particular reason for criticism. It is a superb idea from bookmaker Bet365, allowing you to diversify your bets on the site and increase the final winning multiplier. It's important to remember that the more events you add to your combo, the lower the probability of winning.
The number and options of markets offered for a builder combinaton depend on the level of a match. For example, you will have maximum choices for a big game like an EPL football match, but in niche tournaments, you will get fewer selections. Specific markets can be unavailable, though you can usually include all the most popular markets of tier 1 matches.
Probably the biggest drawback is the inability to use this as qualifying bets for free bets and other bonuses. Read the promotion terms and conditions carefully.
Remember, the bookmaker can suspend betting on Bet Builder or deactivate this feature in In-Play mode at its discretion.
Advantages of the Bet365 Bet Builder
Bet365's Bet Builder feature is the most powerful betting constructor in the UK betting market. You can make a single builder bet as well as combining such bets with each other or with single bets. Another plus of the feature is its ease of use. All a player has to do is open the match page and enter the builder section, then the process is intuitive.
The terms and conditions of bonus offers are individual, but they rarely apply to combinations of this type. This means that you can make a free bet or a bet credits stake, if you were awarded some.
Bet365 bookmaker also offers a Cash Out option in combined betting mode. If the match does not go as you planned and you still have an early payout offer to minimise your losses, click Cash Out and receive a portion of the betting amount.
Conclusion
Bet365's betting constructor stands out from the competition. The company offers, in our opinion, the easiest tool to use. At the same time, the Bet Builder has a wide range of features. With it, a player can make a unique bet from a variety of options and significantly increase the final odds.
A builder stake can be placed either in pre-match or during a game. You can construct a wager of markets from one game and even combine it with a non bet builder selections in one multiple bet.

All Bet365 promotions >>
Frequently Asked Questions
What is a Bet Builder double on Bet365?
A double Bet Builder is an accumulator of two Bet Builder bets on different sporting events. Alternatively, the user can combine a builder combo with the constructor as a single bet.
Why should I use Bet Builder?
The builder feature is a way of creating an accumulator of different markets for a single sporting event. With this tool, you can combine several markets that are not offered in the standard Bet365 combo bets. Many punters want to make their combinations for one game, so online bookmakers are actively implementing and developing this option.
Why Is my Bet365 Bet Builder void?
There can be a number of reasons why bets placed in the Bet Builder may be canceled. For example, if a player you have included in your Bet Builder (e.g. you chose a goalscorer selection or a yellow card market) does not appear. If only one outcome is called off this is seen as reasonable grounds for the whole bet to be called off. You will receive the full wager amount in your account, unless you used free bets, which are likely to be canceled.
Can I use A Bet Builder calculator?
You can, of course, calculate the final Bet Builder odds yourself, based on the odds of the combined selections, but this is not necessary. On the Bet365 website or app the system will automatically calculate the resulting odds for the combination inside a bet builder slip. All you need to do is enter the amount and confirm the bet.
What is the best Bet Builder strategy?
On this page we have provided some tips for betting in the Bet Builder that may be of use to you. We should warn you, however, that there is no guaranteed winning strategy for betting through the Bet Builder.
Can I use Bet Builders on any sports?
Bet365 is constantly developing the Bet Builder feature. The Bet365 Bet Builder is evolving and is now available for betting on Football, Basketball, Tennis, Australian rules, American football (pre-game only), Rugby league (pre-game only) and Baseball (pre-game only).
Are there Bet Builder prop bets?
The Bet Builder can offer up to 12 different betting choices on a sporting event. In football, for example, you can bid on goals and infringements by selected players. In basketball, you can bet on player points, assists, double-doubles and more. In tennis, users can place bets on total games, breaks of serve, as well as match scenarios for each player.
How many selections can I add to my Bet365 Bet Builder?
In each Bet Builder, a user can add up to 12 different outcomes (and up to six selections on players for goal and card markets in football).
Can I combine Bet365 Bet Builders into an accumulator?
Yes, you can make accumulators of Bet Builder bets. You can add up to four constructor bets to one bet.
Where can I find the Bet365 Bet Builder option?
To place a combo on a match, open its page in the Bet365 bookmaker's line. Then click on the Bet Builder tab and select the outcomes of interest.