How to Withdraw from Coral: How Long Does It Take in 2023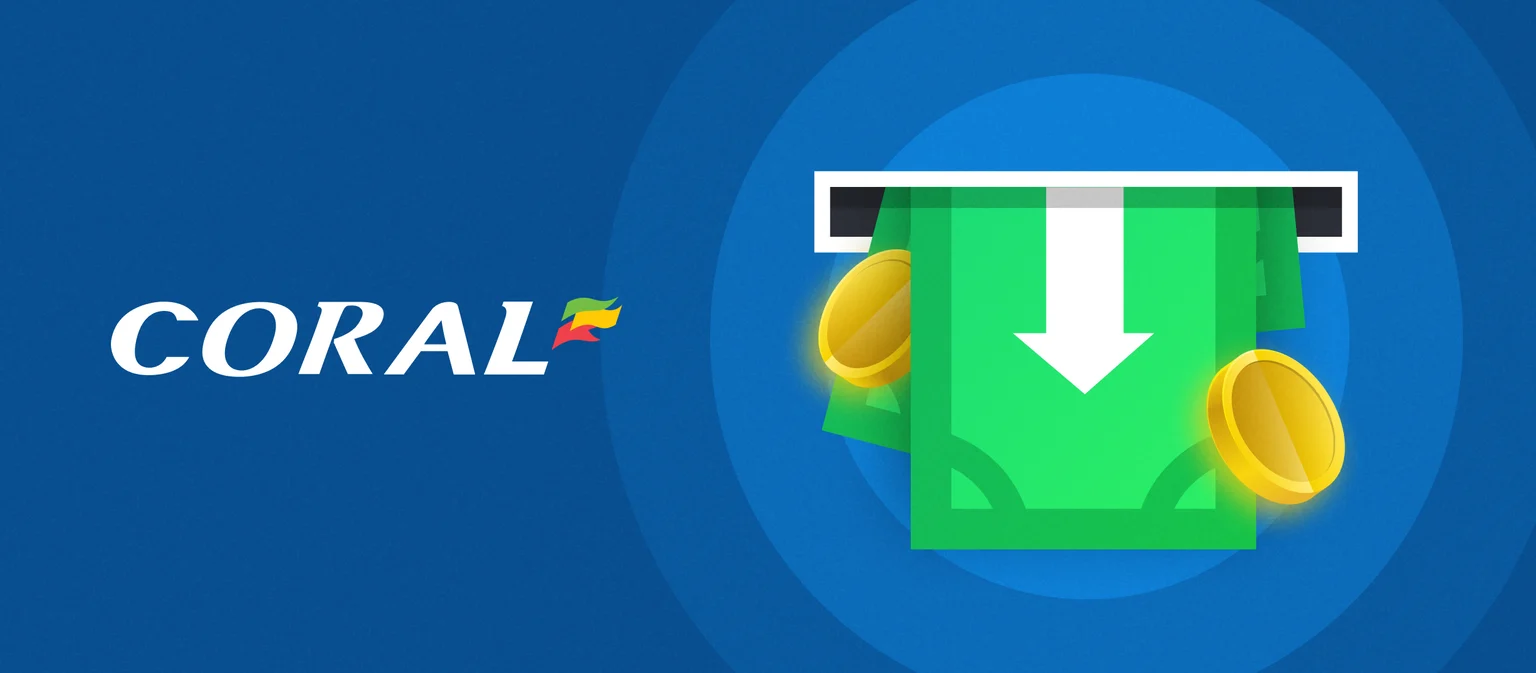 Coral Withdrawal methods
 Coral were formed as an independent bookmaker back in 1926 by Joe Coral. In 1999 they acquired Eurobet (an online betting operation based in Gibraltar), and the Coral we know today was born. They are a major highstreet brand and so it is slightly surprising that the online operation is slightly lacking when it comes to the number of deposit methods you can use to transfer money. They only have the E-Wallet PayPal for example, Skrill, Neteller and MuchBetter are all lacking.
Coral Withdrawal Options and limits
Withdrawal Method




Fee

Processing time

Min limit

Max limit**

Debit Card

(Visa or Mastercard)

Free

1 – 3 Banking Days*

£10

£35,000

Debit Card
 (Maestro)
Free

1 – 3 Banking Days*



£10
£35,000

PayPal

Free

Within 8 hours

£5

N/A

Visa Fast Funds

Free

Within 4 hours

£5
£2000
Bank Transfer
Free

2 - 4 Banking Days*

£10
N/A

Coral Connect 

(High street shop)

Free

Instant (Once you get to the shop)

£0.01

£1000
*This entirely depends on your bank's processing times, meaning it could take up to 5 banking days to reach your account.
Coral Withdrawal Methods – Debit Card
Coral accept all major forms of debit card, Visa, Mastercard, and Maestro. They are one of the best ways to withdraw if you have large amounts to transfer as the maximum limit per transaction is £100,000 but it is one of the slower methods, taking 3-5 days as standard. All transactions must be made using a card in your name and also withdrawals must go back onto this card to the value of deposits until you can withdraw by any other method.There is no fee to withdraw.
(Note that since April 2020 it has not been legal for UK licenced bookmakers to accept credit card deposits)
Coral Withdrawal Method – Visa Fast Funds
Although Visa debit card withdrawals can as standard take between 3-5 business days there is the Visa Fast Funds scheme which if your bank is registered for, smaller transactions up to £2000 are processed in less than 2 hours. Withdrawals by this method do not have a fee attached..
Coral Withdrawal Method – PayPal
PayPal is a household name when it comes to transferring money due to their longstanding association with Ebay. In recent times they have begun branching out and online gambling is one of those areas. You can use PayPal to deposit into your account without telling anyone your card details which is a level of privacy many people like. There is no fee for using PayPal, money is credited instantly so no waiting and withdrawals should be back in your account same day.
Coral Withdrawal Method – Bank Transfer
Bank transfer is often preferred for very large withdrawals, or when for one reason or another all other options have failed. It is seen as something of a method of last resort. Despite that payouts are free and although taking slightly longer than other methods they can be made even if the bank account receiving funds has never deposited into your Coral account before.
Coral Withdrawal Method – Coral Connect
Coral Connect is the name of the card scheme run by Coral, primarily as a loyalty program an added advantage is that it links to your online account, meaning money can be deposited into your online account by handing cash over in a Coral bookmaker shop. The reverse is also true and you can use it to withdraw funds as cash. It is possible for this to be the quickest payout time IF you live close to a Coral shop.
How Long Does A Coral Withdrawal Take?
How long a Coral withdrawal takes will depend on several factors, not least of which are what payment method you are using, but also is this your first withdrawal, the size of the withdrawal, and several other potential reasons on top. The quickest it can possibly be is the instant cash payout once you get to a Coral shop with your Coral Connect card. The longest is some 4 or 5 days depending on how long it takes for Coral to process it and move it from being pending coupled with how long your bank takes to credit it to your account at their end.
Step by Step Guide
How to make a Coral Deposit
Making sure that you are logged into your Coral account navigate the green deposit logo in the top right corner of the page

Once you have clicked on this you will be presented with your deposit page, here you can enter:
A) The amount you wish to deposit, this can be typed in manually or you can click on one of the hot keys below.
B) Confirm your deposit method, the same method as you used last will be in place by default.
C) Confirm your security details.
D) Confirm which currency you wish to use.

Finally once you have checked everything is correct and as you wish click on the large green "DEPOSIT" button at the bottom. You may be taken to a third party screen to verify your identity once more for security purposes, but once all is confirmed your funds should be credited to your Coral account instantly.
How to make a Coral Withdrawal
How to withdraw from Coral is simple, once you are logged in you need to click on the profile image in the top right of the screen, this will bring up your account options

From the options available select that you want to "Withdraw".

Now you need to fill in the relevant details for your withdrawal. These would be:
A) The method that you want to use. Returning funds to the most recent source of funds used to deposit is the default choice, but if you wish to use another method available options are displayed to you.
B) The amount you wish to withdraw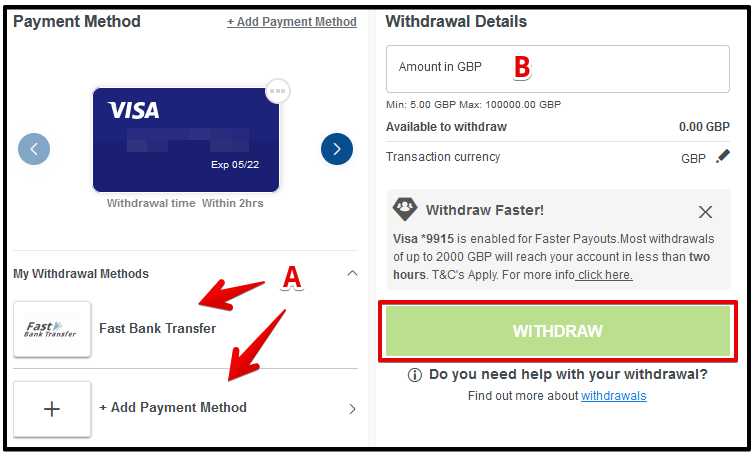 When you have done that you click on the large green "WITHDRAW" button. Your money will become pending inside the Coral system and you can no longer bet with it. Once Coral have completed their security checks, it will be on its way to you.
Frequently Asked Questions
How to view my withdrawal history?
To view your withdrawal history at Coral you must first ensure that you are logged into your Coral online account. Once you are then you need to click on the Profile icon in the top right hand side of your screen.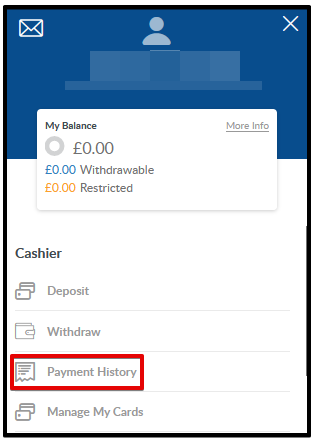 Clicking on this will open up a number of account options, half way down the list is the option to see your "Payment History". If you click on this and select the date range you wish to view, narrow down your search to just withdrawals if you wish, or keep the default view of all transactions, click on search, and all your withdrawal history will be visible.
What is the Minimum deposit and withdrawal amounts?
The minimum deposit amount into Coral is just £5 and to withdraw with either Debit card or PayPal this minimum limit is £5 too.
How can I cancel a withdrawal?
Once a withdrawal has been submitted and is pending on the Coral system it is not possible to cancel it. This is one of the payout rules put in place by the UK Government and not a policy of Coral.
I am having problems with my withdrawal, what can I do?
Should you ever find yourself having trouble with a withdrawal then contacting the Coral customer service staff is one of the first things that you should do. They will either identify the problem there and then and fix it if it is simple problem their end, or, if the problem is your end or it is more complex then they will explain what it is you have to do and/or point you in the direction of the people that you need to contact in order to resolve the problem.
Yes PayPal is an accepted deposit and withdrawal method, with minimum limits as low as £5 and a quick withdrawal time, no fees ever, they are a great payment method to use.