Coral Connect Card – How It Works & How To Claim One (2023)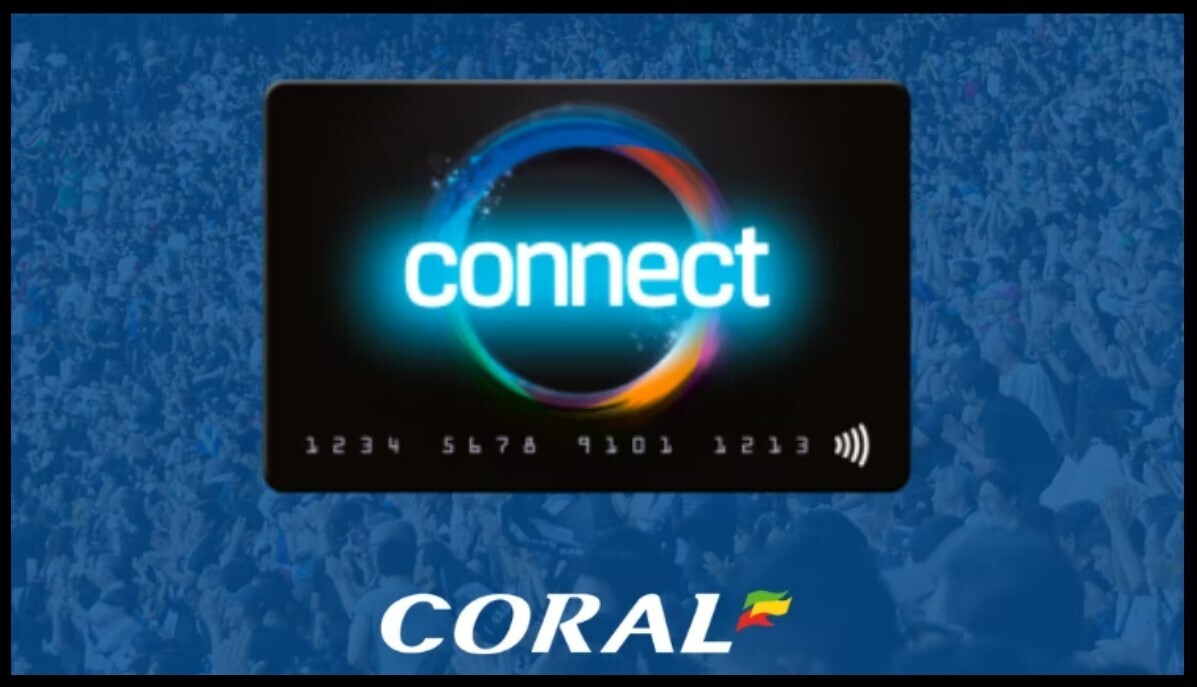 All you need to know about the Coral Connect Card. How to get one, what it does, and how to use it to withdraw online winnings in any Coral shop.
Coral Connect Card – How It Works & How To Claim One
Coral Connect Card — The best way to get your winnings fast.
The UK bookmaker Coral provides customers with several methods to deposit and withdraw into their online Coral account. You can choose from using your debit card, online bank account, PayPal, or several other E-Wallets. Deposits are taken instantly, whereas the withdrawal time can range anywhere from 4 hours to 4 banking days.
But there is an alternative option to get hold of your money - you can take it out as cash in a Coral Shop. To do this, you need to simply get a Coral Connect Card which links directly to your Coral account online. Now you can deposit and withdraw winnings instantly. Each Coral client can access this service through a simple application process. Read up on Corals Connect Card, how to get it, and what the benefits are.
What is the Coral Connect card?
The Coral Connect card is a special payment method developed by Coral to connect online betting to the real World by facilitating deposits and withdraws of cash from the Coral online betting account in any Coral shop.
The Coral Connect card is a physical card, much like a standard debit card. It's issued at any of Coral betting shops after you've verified your personal details. The card is linked to your online Coral account. With it you can now put cash into and out of your online account. You can bet online as usual and withdraw winnings at any Coral shop.
Coral Connect benefits
A Coral Connect card has 3 distinct advantages over other payment systems:
There is no need to pay online. There are just a few bookmakers in the UK who offer this possibility. Given Coral shops' prevalence, this will likely be convenient. You can deposit and withdraw using cash in the shops in person and so E-wallets and bank cards are no longer necessary.
Instant payouts. The Coral Connect card is one of the only ways to withdraw your online account winnings that allow you to get your money as soon as you are in a Coral shop. With other methods you'll have to wait from 4 hours to 4 banking days, depending on the selected payment method.
The minimum withdrawal limit is just £0.01. The Coral Connect card allows you to make payments as low as 1 penny. To compare, other payment systems' minimal withdrawal amount is £5.
How to get a Coral Connect Card
Here we'll tell you how to get a Coral Connect Card if you just registered in the bookmaker's office. The manual contains 4 steps.
Go To Coral's Website

Open the Coral site. Push the "Join" button on the main page. You'll see the online account reg form.


Registration

The registration form has 3 parts:

Specify your residence and account currency. Then enter your E-mail address, pick a username, and create a secure password.

Enter a Prefix, (Mr, Dr, Mrs, etc), your first and last name, and your date of birth. The information must match exactly what is on your Government issued ID.

Find your address by either entering the postcode or filling in your address manually. Then type your mobile number and choose whether and how you want to receive information on promotions, free bets, bonuses and other offers from Coral.

Finish the account registration by pushing "Create my account".

Verification and getting a card at Coral Shop

Once you have a Coral account you then want to turn it onto a Connect account. Open the "Connect" section of the Coral website and open the "Shop Locator" to find the nearest Coral betting offices to yourself. There is very likely to be a nearby Coral bookmaker if you live in any urban area of the UK. Check the opening hours and at a convenient time you need to go there. Tell the staff that you have a Coral betting account and that you would like to get a Coral Connect Card.

Tell them what your Coral account username is and they will locate it on their system. You will now need to prove to them who you are so provide your ID which will verify your info such as name, birthday, address, phone number, and E-mail. If you have ever deposited into your Coral account before with a bank card the staff may ask to see the card to verify this payment method was done by you as well.

After the relevant checks have been done you'll get a physical card that will be assigned a 4-digit PIN. You can immediately change the PIN in the Coral shop terminal should you wish to. Your card is active and you are ready to go.
Coral Connect Betting Card Withdrawals
What's special about the Coral Connect Card:
You can withdraw money from your online Coral account in cash.

The withdrawal is instant once you are in the shop.

The minimum withdrawal amount starts at £0,01 (It should be noted that the maximum daily payout is £1000.)
How to Use the Coral Connect App?
There is no specific Coral Connect app right now, but previously it was required to connect your betting online to betting offline at Coral Shops. There is no such need now.
If you want to trace your offline bets with your online Coral account you can, just download the usual Coral app or via the website. Find the "Connect" section and then pick "Shop Bet Tracker". In the field that appears, enter the ID number on the shop betslip, then click "Submit" (You should enter all of the bold numbers on the slip!).
Coral Connect Betting Offers
Are there benefits for Coral Connect Card users? Let's look at the question in more detail.
Coral Connect Free Bet
In the past when there were two separate divisions, "Coral Connect" / "Coral Retail" users of each could get exclusive promotions, bonuses, and Free bets. Now the two have merged and all customers are entitled to the same Welcome bonus - £20 in free bets on their first qualifying bet of £5, regardless of whether they have Coral connect accounts or not.
No Welcome offer Free bets will be credited if you deposit money via Connect. To get the bonus, deposit via a debit card linked to your bank account. You must place a qualifying bet of £5 at min odds of 1/2 (Decimal 1.5) and once it settles you will be credited with £20 in Free bets. The Free bet stakes are not included in any returns unfortunately but you can use them on any Sports betting market you wish.
Best Odds Guaranteed
If you bet online or in a Coral shop you automatically become a participant of the promotional "Best Odds Guaranteed". What this means is that you can take the Early Price on any horse listed to run in a UK or Irish meeting and if the odds drift during the day, you will get paid out at the official Starting price should your horse go on to win.
Read also about Coral Racing Super Series >> 
Coral Connect Frequently Asked Questions
Coral Connect is a section on the website and app of the Coral betting company. It helps you to do two things. The first is allowing you to track in shop bets using your Coral account as well as when you bet online. To facilitate this you manually have to enter the bet number from the bet slip (numbers in bold). The second step is it helps you to locate the nearest Coral shop in your town by using your current location and synching that with google maps.
What to do if I lose my Coral Connect Card?
If you lose the Coral Connect card then contact the Coral support via either Live chat, on the phone, or in the nearest shop and report the problem. You will receive instructions on how and where to obtain a new one. Do not panic because it will not be possible for anyone to withdraw money from your card: after three incorrect attempts to enter the four-digit code, your Coral Connect account will be blocked for security reasons.
Is there a Coral Connect Sign up offer?
No, there isn't a specific one. Unfortunately Coral does not offer bonuses for deposits via Connect. Welcome bonuses are only awarded for deposits via VISA and Mastercard debit cards. The best thing to do if you are interested in the Free bets is to register an online account and deposit £5 or more, wager this and you will then get £20 in Free bets. Once you have used these, THEN visit your nearest Coral betting shop and register for a Coral connect account. Any Free bets will be added to your online betting account but you can use the Connect Card to deposit and withdraw any money.
Are There Withdrawal Limits?
Yes, the system allows Coral Connect Card customers to withdraw cash up to £1000 per day from your Coral account in person. You can withdraw as little as £0.01 so in effect there is no minimum withdrawal amount.
Do You Need To Present your ID To Claim a Connect Card?
Yes, this requirement is mandatory. Take your Government issued ID such as your Passport or Driver's licence to a Coral betting shop. Before handing you a Connect Card, a member of staff will check your identity so they know that an imposter is not trying to take control of your online winnings!
Does Owning A Connect Card Limit Other Deposit/Withdrawal Options?
No, you can still use any other deposit and withdrawal methods. Your online betting options are not affected by owning a Connect Card, it just gives you one more choice if you want it.
Is There A Limit On Daily Cash Deposits?
Yes, there is. The maximum daily deposit limit that can be added using a Connect Card is £5500.
Can you use the Connect Card to fund Coral Casino?
Yes, you can. Since the Coral Connect cards fund your online account, which shares a Wallet with Coral Casino, funds that are deposited do not have to be used on sports betting, instead you can use it to play online casino games too!