Coral Rewards Grabber – Complete Guide, Tips & Prizes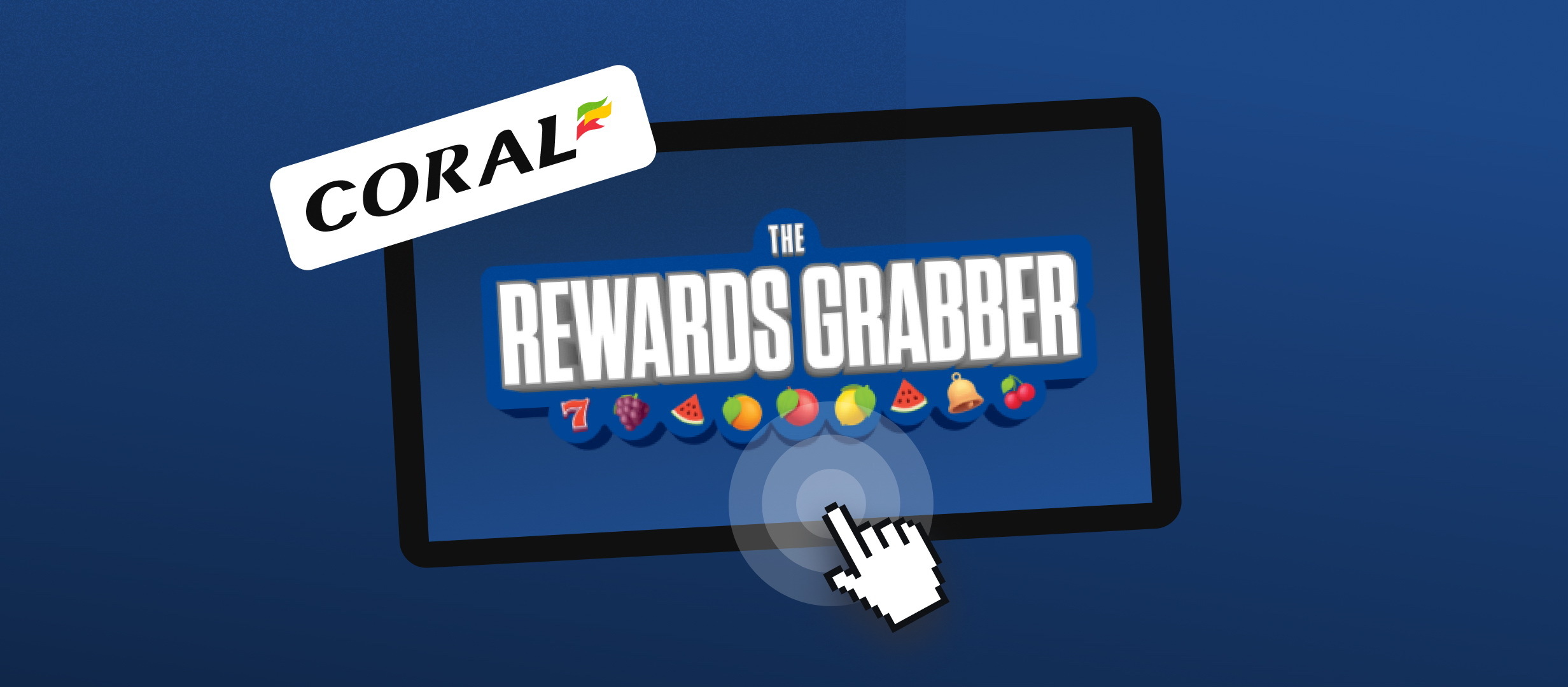 For those that aren't familiar with Coral Rewards Grabber, this article will provide you with all the info you will need to play the game as well as answer any questions you may have about how it operates.  
What Is Coral Rewards Grabber?
Coral Rewards Grabber is a Free to play online arcade game where you receive a free grab every day! Using your grab you can win a variety of bonuses and prizes to use on the Coral site. Originally released in 2021, the Rewards Grabber provided a reason for many bettors to return to the site daily and play the grabber. With the ability to be played on mobile and desktop and the potential for a supercharged golden rewards grabber, the Rewards Grabber is certainly a very enticing game!
How To Play Coral Rewards Grabber
Playing the Coral Rewards Grabber is simple and easy to do and can easily be broken down into steps. If for any reason you're struggling with the Rewards Grabber read through our steps below and learn how to play this free game. The below list assumes that you are already a member at Coral and have made a deposit. If you don't have an account signing up is a simple and easy process we cover further on in this article.
To access the Rewards Grabber, Log in and head to the promotions page and find the Coral Rewards Grabber game banner.


By clicking on "More info" you will open the game details, with instructions on how to play and a green "PLAY HERE" button for you to click on.


Having clicked on "PLAY HERE" you will be taken to Coral Casino which opens the game for you. will be presented with a virtual arcade grabber machine. You can choose to "SHUFFLE" the prizes at the bottom of the screen or click on the screen near the grabber to lower it down as things are.


Once your grabber reaches the objects at the bottom of the screen, you are actually given the choice of taking the one you have or exchanging it for another. Since there is no way of knowing what each prize actually is until you open them, this feature is essentially pointless and you will save time by always revealing what you have.


If you have won, you will get a screen congratulating you and explaining the details of exactly what you have as a prize. In the example below, the prize was 4 Free spins on a slots game in the Coral Casino. These Free spins have just a 1x wagering requirement.


You must still choose to Accept or Reject the Casino bonus. You should always "Accept" your bonus because you will not get given another if you decline it. Once you have done that, you will be notified that it has been claimed successfully and you can now go to the relevant game to use the Free spins.


You must accept rewards and use them within 48 hours or you will, unfortunately, lose them.
Sign Up For An Account To Plat The Rewards Grabber
To play the Rewards Grabber you must have a Coral account. Creating a Coral account is simple and easy and can be done in a matter of minutes on a desktop or mobile.
Locate the yellow Join icon in the top right corner of the page and click it to open up the account creation page.


On the first page enter all of the account information required:

A: Your country is filled in automatically as the United Kingdom, if you live in a restricted country unfortunately you will not be able to open an account

B: The currency will default to GBP but can be changed

C: Enter your Email address

D: Choose a Username that will be required each time you log in

E: Choose a Secure Password

F: Click "CONTINUE" to carry on to the next page.
image

On the next page enter some of your personal details:

G: Your first name and surname

H: Your date of birth

Then click "CONTINUE" again


On the final page fill in the final details"

I: Enter your postcode and choose your address from the drop down list

J: Enter your mobile number, which may be required for verification purposes

K: Choose which methods you want to recieve promotional offers by

And that is it, now just click "CREATE MY ACCOUNT"

Golden Rewards Grabber
The Golden Rewards Grabber is different from the regular Coral rewards grabber game because it means that you will definitely receive a prize. It is still free to play but this time no matter which token you pick inside of the grabber you will receive a casino bonus of some kind. Although it is pretty rare it can make visiting the Coral casino and playing each day worth it because sometimes you are certain to get one of the great rewards that are available for free!
Who Is Eligible To Play Rewards Grabber?
The rewards grabber is available to most of Coral's existing customers but not all. There are a few conditions that must be met in order to play the rewards grabber. The biggest two of these conditions are:
That you have registered for a Coral account

That you have made one or more debit card deposit at some point in your account's lifetime

That you are not currently in a restricted country
Coral customers who have only just discovered the Rewards Grabber but have been betting on the Coral website and at the Coral Casino for some time have nothing to worry about and can crack on! If you have created an account and just play the Coral rewards grabber game for the Free spins but do nothing else there is a chance that you will eventually be denied access to the rewards grabber.
What Is Available To Get From The Rewards Grabber?
Although the specifics of the Grabber Game rewards change frequently at the time of writing the promotions from Coral include either Free Spins, Bonus gifts, Scratch cards (or Free bets) all of which are available to be used on either the Coral Sportsbook or Coral Casino. It is not known from the promotional terms and conditions what the maximum pay out is but it is likely to be the same maximum as normal bets.
Frequently Asked Questions
What Is The Coral Rewards Grabber?
The Coral Rewards Grabber promotion is a free to play game where you can use a virtual grabber claw to receive a variety of bonuses such as Casino bonuses, free spins for the Coral casino, and Free bets.
What Prizes Can Be Won On Coral Rewards Grabber?
The Coral rewards grabber allows customers to win free spins, casino bonuses and casino promotions, free bets for the sportsbook and a variety of other unknown rewards. Please note that casino bonuses claimed after 48 hours will no longer be valid for use and are void.
How Many Times Is Possible To Play Rewards Grabber?
You can take part in the rewards grabber once every 24 hours. This means that you can check back in every day for a chance to win Free spins, Casino bonuses, or a variety of other rewards!
How Much Is Possible To Win?
When you receive casino promotions the amount that you can win is not often capped differently from the amount you can win in normal play. The amount that can be one is not a quantifiable figure, but there will be the usual maximum pay out restrictions that all betting sites have.
Are There Some Guarantees To Win A Prize?
Unfortunately, with the standard Coral Rewards Grabber, there is no guarantee of any prize being won. However, should you happen upon the Golden Grabber, there is a guaranteed prize awaiting you every time!
Where To Find The Rewards Grabber?
The Rewards Grabber can be found either in the promotions section of the Coral site or on the scrolling banner on the homepage.
Are There Any Games Similar to Rewards Grabber?
Many other sites provide similar games, such as both Ladbrokes and William Hill Vegas offering daily Instant spins and a daily Bonus Drop respectively. Also, Sky Bet has a Sky Casino section that offers a free spin on a slot machine to potentially win free spins bonuses or similar each day.
Does This Impact Other Promotions?
No, the Coral Rewards Grabber doesn't impact any other Coral rewards including the Welcome bonus.