Coral Cash Out – How Does It Work in 2023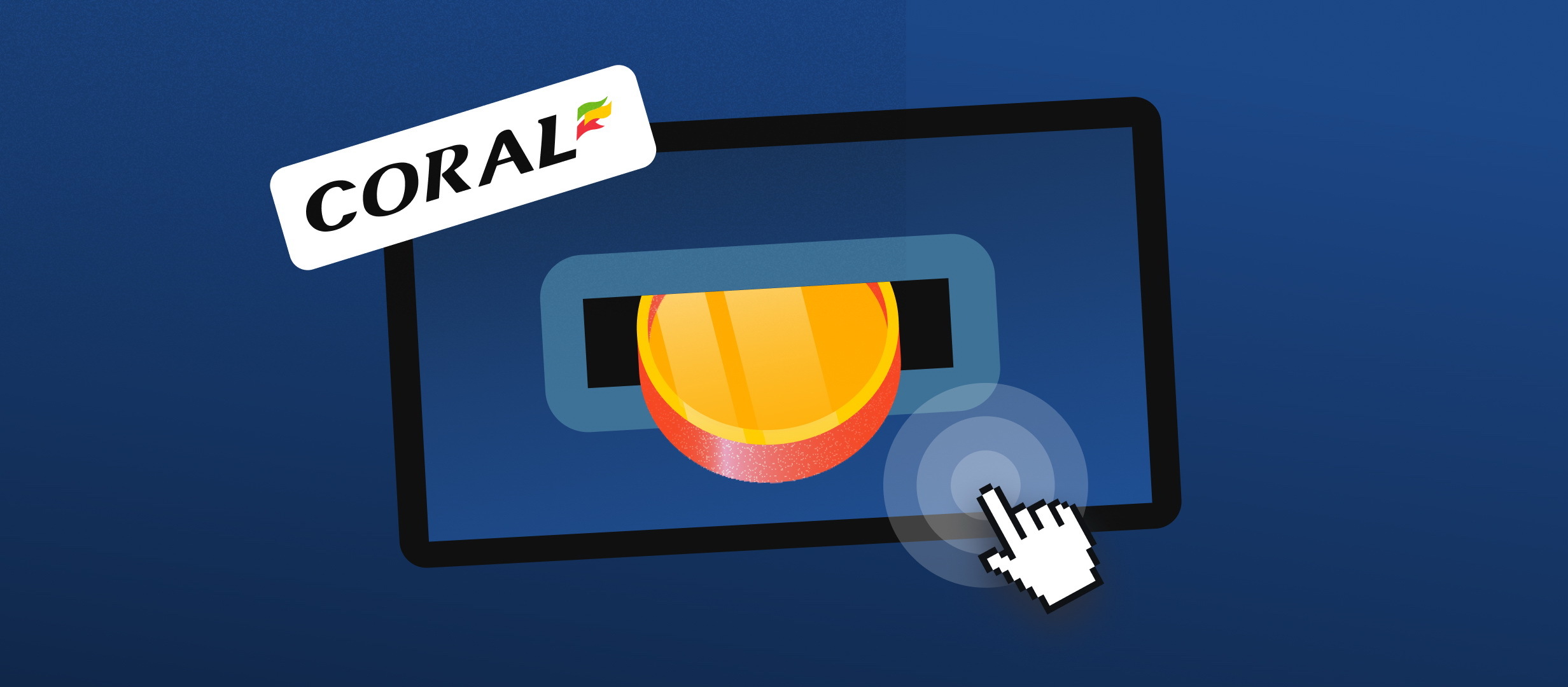 If you are an avid online gambler who enjoys watching live streams of your sports, then the Coral bet tracker and Coral Cash Out feature could be the most fun you can have sitting down. If you are watching an event live on a stream, or you have a bet tracker with live updates, you can use the Coral Cash Out function to settle your bet for a profit, even if the bet would have ended up losing.
What Is Coral Cash Out?
The Coral Cash Out feature is a function of the website and app that allows you to settle a bet before it has finished running. Back when the feature was introduced in 2015, it was called "Coral Cash Out My Bet," and as the name suggests it allowed people to cash out part of their winnings before the bet was supposed to settle.
Though it is most convenient online, the function is not limited to websites and apps. If you are in a Coral bookmaker shop and you have "Coral check my bet" and they say so, you can actually Cash Out your paper bet before the events have finished as well.
Let's say you have bet on three football matches in a treble bet. You see that the first two selections have won, but you also see a Cash Out offer. This is an amount of money you will be paid if you Cash Out your bet right now rather than letting it complete naturally when the third game finishes. It is Coral's way of saying, "We think you may win, will you take this lesser amount instead?"
You can cash out part of your bet or all of it. In many cases, you can Cash Out a bet before any of the events have even started. You may think this is just like getting a refund, but if the odds have changed significantly since you put on your bet, then you may walk away with more or less than you first staked.
How to Use Coral Cash Out?
The "Cashout Coral" feature is present on the website and App, and is often easiest to find by looking at your bets. In most cases, you can see your Cash Out offer there, or via your Coral bet tracker.
To Cash Out online bets you will need to register for a Coral account, and you can do so now using the link below. The minimum deposit is £5 if you bet above the min odds of 1/2 you can qualify for £20 of Free bets.
For Players Using the PC Website
The website is the best place to use the Coral Cash out function. If you were to "Cash Out my bet" during play, or before each event, you can get an up-to-date view of what is on offer. Plus, it is very easy to cash out on a PC via the website, and the website allows you to cash out several bets very quickly.
Make your bet

Check your "MY BETS" section or watch the event live. You will see the value of your bet if you choose to Cash Out now at the bottom of the slip.

Click on 'CASH OUT' (or sometimes you can partially cash out) your bet if you are happy with the amount offered

Cashed out bets are credited almost instantly to your account balance
For Players Using the Coral Mobile Website & App
Cashing out using the App can be okay if you are looking to cash out fully while you are waiting for your teams to score. Making a partial cash out is a little trickier and slightly more time consuming, but is still possible to do.
Make your bet

Check your Coral bet tracker or your individual bets on the app

Cash Out or partially Cash Out your bet

There is a button you can press to reach the Cash Out screen

Cashed out bets are credited fairly quickly to your account
Cash Out An In-Shop Bet
The official Coral rhetoric is that you should take a code from the bottom of your bet, use a Coral bet tracker to see how much you can cash out, and then go to the counter and ask to cash it out.
However, the easier way is to take it to your local Coral bookies and ask them to cash it out for you. You have to trust the amounts they say, but an experienced gambler will be able to guess the amount the Cash Out should be when considering the current odds.
Coral Cash Out Bet Types
There are full Cash Outs, partial Cash Outs, and then pre-event Cash Outs, which are closer to canceling the bet rather than a genuine Cash Out.
Full Cash Outs - Your bet is fully settled and you receive a fixed amount and that is that.

Partial Cash Out - If a bet is partially cashed out some money is withdrawn, a portion of your stake is removed from the bet, and the remainder of the bet continues until settled.

Pre-Event Cash Outs - A cash out before any selection event has taken place, where you may receive more, less, or the same amount that you first staked.
Coral's policy is to allow a Cash Out on all betting markets except for specific examples and/or at their discretion. For example, an error in pricing will eliminate any chances of a Cash Out. Free bets are also not valid, as are certain special event bets where the outcome and/or bet settlement time is unpredictable.
Coral Retail Cash Out Bet Tracker
The bet trackers on the websites and apps will simply track the progress of your selections and events so that you may check up on them as the day goes on. If you have a paper bet from a retail store, then you can look up the specifics and the progress of your bet using the retail Cash Out bet tracker.
Your betting slip has a code written on it. You have to enter that code into the bet tracker to see the details and progress of your bet. This will give you enough information to decide if you should cash out your singles or multiple bets using the cash out facility. Or, if you should let your bet agreement continue until the bet is settled in due course.
Why Coral Cash Out Is Not Working?
There are many reasons why either Coral online or the shop are not offering the ability to "Cash Out my bet." Many times, it is simply down to Coral's discretion and eligible markets. For example, they may be happy for you to cash out bets while a football match is in play. However, if you set a 147-frame bet on a snooker match, then Coral may be unwilling to cash out your bet even if there is still a fair chance you may win. Here are a few other reasons why Coral Cash Out may not be working.
The Coral system is down

You have lost your internet connection

The Cash Out feature is paused during an unexpected moment in the event

Cash Out is not valid during your event

Your stake was made with a Free credit or Free bet

Coral is sure at this moment that your bet will lose

Your app or website has frozen

Your connection was deemed insecure or compromised

Your bet does not have a high enough value to Cash Out

Your bet has already fulfilled the parameters of a loss
Coral Cash Out Key Terms & Rules
Something like the Cashout Coral function, or the retail coral bet tracker, or even the website/app Coral bet tracker, they are all core features of the Coral service. As a result, there are no real terms or rules beyond those being used by the entire website. For example, any attempts to manipulate or trick the system, or hack the system, or delay the system, are considered cheating and result in a permanent ban.
The rules and terms are not worth bothering yourself about. If you are able to Cash Out your bet, then you will be able to. If not, then it is probably due to one of the reasons listed above, such as how you cannot Cash Out free bets or free bet credits.
The Bottom Line
It cannot be stressed enough that the Cash Out facility is possibly one of the most innovative things to happen to online gambling in the last ten years. It has completely revitalized the industry, and only now are big data analysts able to see its impact on the popularity of online gaming. This has worked in tandem with how easy it has become to get a stable streaming connection. The mixture of easy streaming and live cash out features has made in-play betting more fun than ever before.
Carefully hovering your finger over the "Cash Out My Bet" button as the event runs on longer and the amount being offered gets higher. Wondering if you should cash out now for a hefty profit, or wait just a little longer and see if your luck holds. Being able to watch games and events and see your Cash Out amounts rise upwards, especially on your mixed accumulators, and asking yourself some hard questions about how far you wish to push your luck. It is exciting, and above all, it feels like you have far more control over your bets than you ever have in the past. If you mix live event streaming (watching) with gambling and the Cash Out feature, you are going to have a good time.
It should be remembered though that Cash Out is available from the bookmakers because it usually offers incredibly bad value. Admittedly there is a benefit from being able to reduce your stress towards the end of a game, enjoy a guaranteed return and relax, but in the long run you will make much more money by letting your bets ride. At a push if you do want to hedge your bets towards the end of a game and lock in profits then doing so by laying your bet at a betting exchange will provide much more value.
Frequently Asked Questions
Is It Possible To Cash Out At Coral?
You can use the function that Coral called "Cash Out my bet" and you will receive a partial payment of your potential winnings. It is an offer made by Coral to you the customer while your bet is still in play.
How To Cash Out A Shop Bet At Coral?
If you waiting for teams to score, and decide you want to Cash Out. You can show the clerk at the bookies your bet receipt and ask if your bet can be Cashed Out. You will be given the offer and will be asked if you wish to take it.
How Does Partial Cash Out Work At Coral?
It works on a percentage scale. When you partially cash out, then you are partially Cashing Out some of your stake too. Ergo the continuing bet will see far lower potential winnings when compared with the original bet.
Is It Possible To Collect Your Winnings From Any Coral shop?
Bets made online or with the app must be collected through those means unless you have a Coral connect card. Bets made in Coral shops can be collected from any Coral shop within the same country. Bets over £10 may be collected online in some cases.