How to Withdraw from Paddy Power: How Long Does It Take in 2023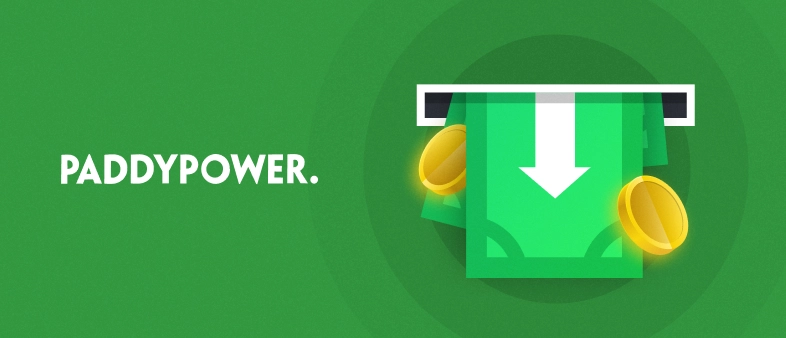 Paddy Power Withdrawal methods
Paddy Power is an Irish bookmaker established in Dublin in 1988. It operates the largest telephone betting service in Ireland as well as operates a chain of betting shops throughout Ireland and the uk. It features the usual withdrawal methods of Debit card, paypal, Skrill , Neteller, bank transfer and Muchbetter.
Paddy Power Withdrawal Options and limits
Withdrawal Method




Fee

Processing time

Min limit

Max limit

Debit Card

(Visa or Mastercard)

Free

2-3 days

£0.01

N/A

Skrill

Free

Up to 24 hours

£1

N/A

Neteller

Free

Up to 24 hours

£1

N/A

PayPal

Free

Up to 24 hours

£1

N/A

Muchbetter

Free

Up to 24 hours

£10

N/A

Paysafecard
Free

Up to 24 hours



N/A
N/A

Bank transfer



Free

1-5 days

£100

N/A
Paddy Power  Withdrawal Methods – Debit Card
Withdrawing using a debit card from Paddy Power comes with a 1 pence minimum withdrawal. This means virtually any minor winnings can be withdrawn without the need to meet any sort of minimum requirements. This is very handy especially if you only wish to withdraw small amounts. As well as this the lack of fee and fairly average 2-3 day processing time makes Debit card a very solid withdrawal option to be used on Paddy Power
(please note credit cards are not an accepted method of depositing or withdrawing from paddy power)
Paddy Power  Withdrawal Method – Skrill
Skrill is another renowned E-wallet option featuring identical characteristics to its competitor Neteller. With a £1 minimum and uncapped maximum withdrawal limit as well as a no fee withdrawal and 24 hour waiting time Skrill is a perfect option for anybody wishing to withdraw virtually any amount without having to wait for the funds to land in their account.
Paddy Power  Withdrawal Method – Neteller
Neteller is a highly popular E-wallet with Online Bookmakers. It is featured on many of the large sites such as 888Sport, Bet365 and Ladbrokes all of which are well respected and very popular Bookmakers. Neteller boasts a very low £1 minimum withdrawal as well as a very short 24 hour maximum withdrawal time. This makes Neteller a great option to withdraw with if time is an important factor for your withdrawal. Neteller also lacks a fee which is a characteristic shared by all Paddy Power withdrawal methods.
Paddy Power  Withdrawal Method – PayPal
Paypal may be the most commonly recognised E-wallet especially to the man on the street. Being used by almost all large businesses throughout the UK and Europe Paypal is a very well respected and trusted E-wallet. With a £1 minimum withdrawal and uncapped maximum withdrawal Paypal shares again identical characteristics to its E-wallet competitors however with the sheer size of paypal externally and the trust placed in it by many thousands of people around the world it may be the most used and trusted option. As well as this paypal also lacks the withdrawal fee shared across all Paddy Power withdrawal options as well a short 24 hour processing time.
Alternative Methods
There are 3 potential alternative withdrawal methods from Paddy Power those in the form of Much Better, paysafecard and Bank transfers. The two E-wallet options (Muchbetter and paysafecard) have fairly similar characteristics however Paysafecard has no minimum withdrawal amount set by Paddy Power but given how low the £1 Withdrawal given by Muchbetter is, the difference really is miniscule. As well as this they both offer uncapped max withdrawal with a 24 hour potential wait time and no fee. Banktransfer is an option very similar to a debit card withdrawal however you only supply your sort code and account number opposed to the usual card number CVV and expiry date. As well as this Bank transfer features a 1-5 day wait time which is very lengthy in comparison to other potential options available to you on Paddy Power.
How Long Does A Paddy Power Withdrawal Take?
Using Paddy Power payout time can vary anywhere from a matter of minutes to 5 days however this majorly depends on which method you choose to withdraw with and can easily be checked using the table shown above.
Step by Step Guide
How to do a Paddy Power Deposit
Login to your Paddy Power account and select the large green deposit button in the top right hand of the screen.

Select how you would like to deposit, one you have used before will appear as default but you can add "Alternative Methods" to change it. If this is your first deposit you will have to choose which method you want to use first. You then choose the amount you wish to transfer, any security information, then click "Deposit".


The payment will be processed and funds will be available for you to use almost instantly.
How to do a Paddy Power Withdrawal
Select the "My account" drop down menu and then, again, the "My Account" option.

From this next screen you should select the option to "Withdraw Funds".


Your original deposit method will be on the page by default, and provide you with a summary of your total deposits and withdrawals to date. All you need to do is enter the amount which you want to take out, and click "Withdraw". Your money should be with you shortly.

Frequently Asked Questions
How to view my withdrawal history?
To view your withdrawal history login to your Paddy Power account and navigate to the "My account" drop down menu next to deposit. From there select "my account" again and navigate to "betting activity" and then "Transaction history". From there you can see all of your account transactions however you can use the filter tool to see specific information such as withdrawals only as well as the time frame filter in order to see when each transaction took place.
What is the Minimum deposit and withdrawal amounts?
The minimum deposit amount with Paddy Power is £5 and the minimum withdrawal amount sits at £0.01 (one pence).
How can I cancel a withdrawal?
Cancelling a withdrawal is not possible once it is out of the pending stage. This is standard of all bookmakers and is standard policy.
I am having problems with my withdrawal, what can I do?
One of the first things you should do is check that your account meets the payout rules given by Paddy Power. This may likely include a verified ID document as well as proof of address. As well as this you must meet the minimum £5 withdrawal amount. If all of this is met then navigate across to the Help page where a long list of FaQs can be found. Using this page you can either manually look for or search for the problem at hand and browse one of the many areas to see if your problem can be solved. If not then using the contact us section you can enter a live chat with a Paddy Power member of staff where you can talk through your problem with them and they will be happy to assist you.
Yes! Paypal is an accepted way to transfer money in and withdraw funds from your account.