Paddy Power Beat the Drop

Paddy Powers "Beat The Drop" is an adaptation of the Channel 4 TV game show £100k Drop. It is a game of skill where players must answer a series of questions, risking between half and all of their pot balance each time. What is left at the end of the questions is theirs to keep.
What is Paddy Power Beat the Drop?
The Paddy Power "Beat the Drop" game is offered to all customers giving a chance to win big prizes simply for answering simple predictions about upcoming sporting events. It is a game of skill, combined with a game of chance, which is what makes it so appealing to players. Although luck will play a huge part in your game, there are a few tips that we can give to help you.
How does Paddy Power Beat the Drop Work?
Paddy Power Beat the Drop works by giving all players a set amount of money in their "pot" at the start of the game, the task at hand is to keep it through set rounds of questions until the very end. The questions asked are all phrased so that you can answer either "Yes" or "No" to each and if you are very confident then you can place all of your stake on your choice and none on the other, or if you are unsure of the answer you can split the pot 50/50 between the two. Any other combination between those is also available and you use a handy slider at the bottom of the question area to choose which you want. 
How to Play Paddy Power Beat the Drop?
In order to take part in Paddy Power's "Beat the Drop" game you need to follow the following steps:
Step 1.
Sign Up to Paddy Power. This can be done online on either a desktop computer, or via your mobile device after downloading the PaddyPower App.

Step 2.
Once you are logged in you need to navigate to Beat the Drop tab on the website or the App.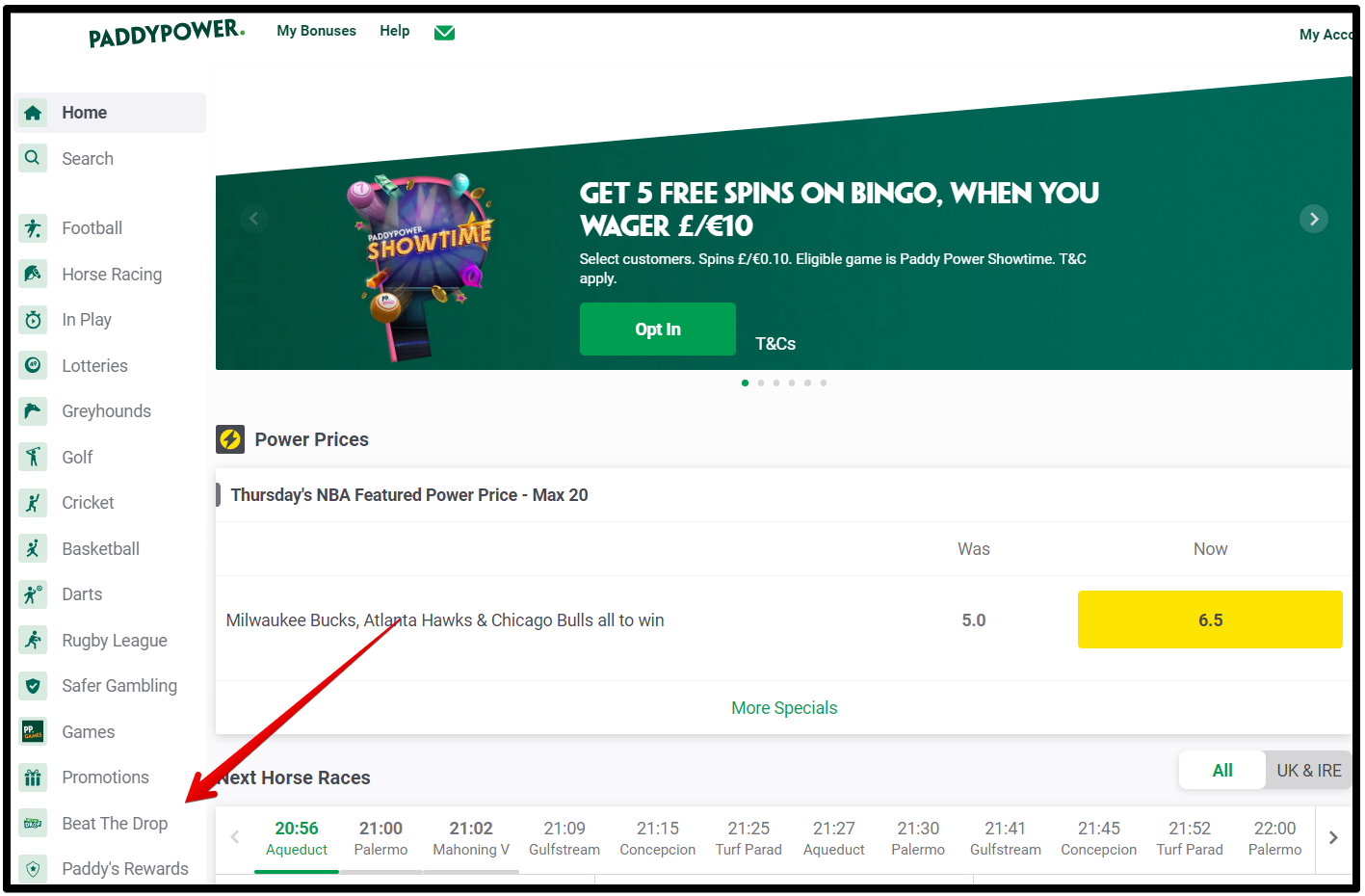 Step 3.
You will then start a Beat the Drop Game and the criteria of the game will be displayed at the top, for example it will display "Your Pot" which is the maximum amount you can win in this game and also "Questions" which is how many questions you will have to answer to win something.
You will see a slider underneath each question and you can choose how much of your pot you want to place on each possible outcome. If it is a prediction you feel strongly that you will get right then you may put your entire pot on it. If it is something you are not so sure about then you may split your pot between the two options. Once the slider is in a position which you are comfortable with then you click "Lock in your split".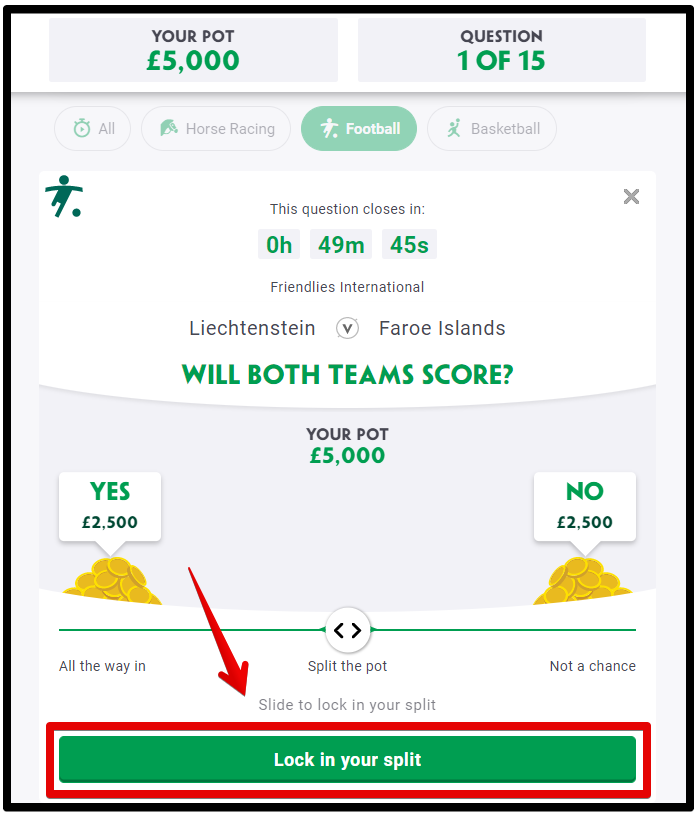 You will then see that your prediction has been "Locked in".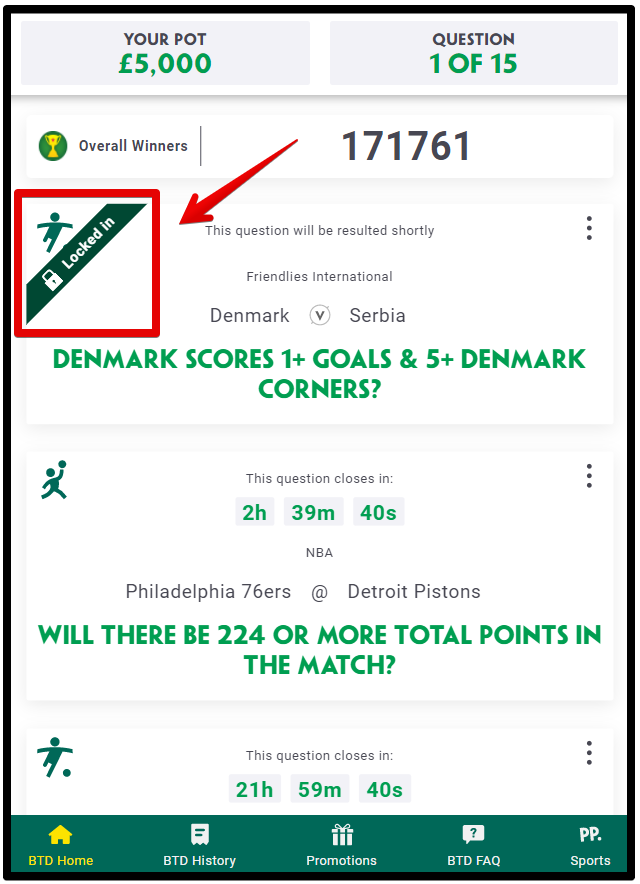 Step 4.
You must then navigate through each round. Once the result of your prediction is know you will then move onto the next round, you take with you the amount of the pot which you had on that choice. It could range from 100% of the amount available to 0% in which case your game is over. If you have some of the pot left after the first round you move onto round two as shown below.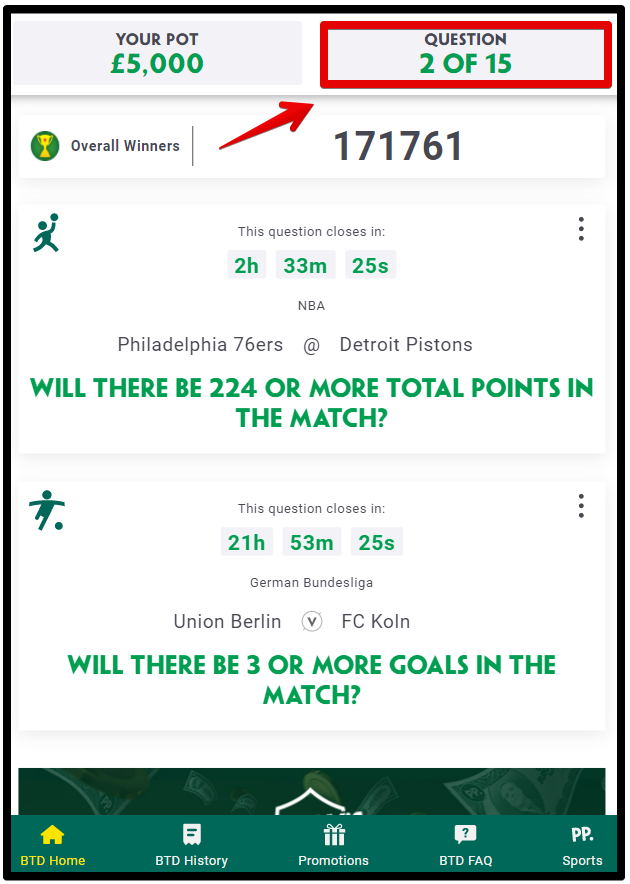 Step 5.
If at any point you have 0% of the pot on a selection and that is what occurs, you will be informed that it is "GAME OVER" like in the picture below, but you will be allowed to "Play Again" as soon as you lose.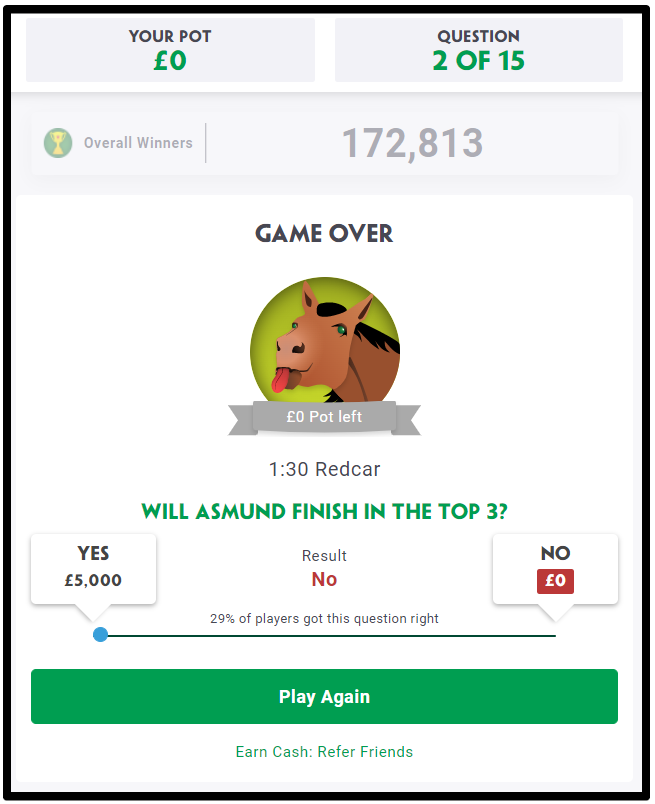 Paddy Power Sign Up Offer 
Paddy Power offer all New Members a very attractive £10 Welcome Bonus. All that you need to do is simply sign up and then deposit £10 into your account using a debit card. Then place your FIRST bet for a value of up to £10. If this bet wins then great everything is yours to keep. If this bet loses then the stake amount is refunded to you as CASH which can be withdrawn again if you wish.
Paddy Power Beat the Drop Strategy
Some people have developed different strategies for playing Beat the Drop. There are Pros and Cons to them all and which of these tips you choose will depend on your own personal preference, there is not necessarily a "best" one.
Going 'All In'
Going "All in" each time means that you place 100% of your chips (in other words all of your potential winnings) on each selection each and every round. Doing this will ensure that you win the maximum amount of cash possible, the entire pot. The other side of the coin though is that this strategy carries with it the most risk and has the highest probability of resulting in no winnings at all.
Splitting the Pot
A lower risk, but lower reward strategy is to "Split the pot" as you progress through the rounds, in an attempt to keep hold of at least some of the pot. The trade off here is that each time you progress to a new question you will definitely lose some of your potential winnings, as well as being guaranteed to keep some.
Hedging Using the Sportsbook
This is a strategy which is in effect the same as splitting the pot but can be used more effectively due to the odds involved. When splitting the pot it will always be at odds of Evens (50/50). It is possible, especially at the later stages of the game, to bet on a football team who are the odds on favourites to win the game. If you did that and put the whole pot amount on it, you could in theory bet on the +0.5 Asian Handicap on the opposing team, which would give better odds of either profiting or continuing in the current Beat the Drop game.
Paddy Power Beat the Drop Split - Amounts 
Are there any Beat the Drop tips?
Like all forms of gambling there is a large amount of luck involved, and there is no possible way to guarantee winning the Jackpot. There is like all things a trade off to the amount of risk that you take and the amount of reward that you get. Tips would be that you should remember that you do not have to bet every day, and some questions will have a more obvious probable correct answer than others. Try to avoid questions which are 50/50 chances and focus on betting on the more one sided questions as they come up.
What Can I Win on Beat the Drop?
At the moment, the main free to play game open to all players allows you to receive up to £15,000 prize for correctly answering 15 questions correctly. There have been different variations running in the past, with one game having a £250,000 top prize but this is the exception rather than the rule.
UK's Top 5 Betting Promotions for 2022
Full list of Paddy Power's promotions >>  
Frequently Asked Questions
Is Paddy Power Beat the Drop Free?
Yes Beat the Drop is Free to play for all new or existing Paddy Power players. Get a £5,000 starting pot and proceed to answer 15 questions correctly, what is left at the end is yours to keep.
How to win Paddy Power Beat the Drop?
In order to win you must navigate 15 (the number can change) questions and at the end still have some of your initial starting pot left. Unlike most competitions Beat the Drop is different due to the fact that you get your winnings at the start and have to try to keep them, rather than start with nothing and have to win as you go along.
How often can you play Beat the Drop at Paddy Power?
You can enter for free every day at the moment but this could change at any time. Although you can start a new game each day only one game can be in play at any one time, so you must complete one game before starting a new one.
Which sports are featured on Paddy Power Beat the Drop?
There are a large range of sports featured and it varies day to day with some sports occurring more frequently than others. Probably the most popular sport to feature is football, but there is also basketball, horse racing, rugby, cricket, the list of possible sports is pretty extensive.