Bill Pascrell, III, Esq: "In three years time the US market will be a half trillion dollar industry"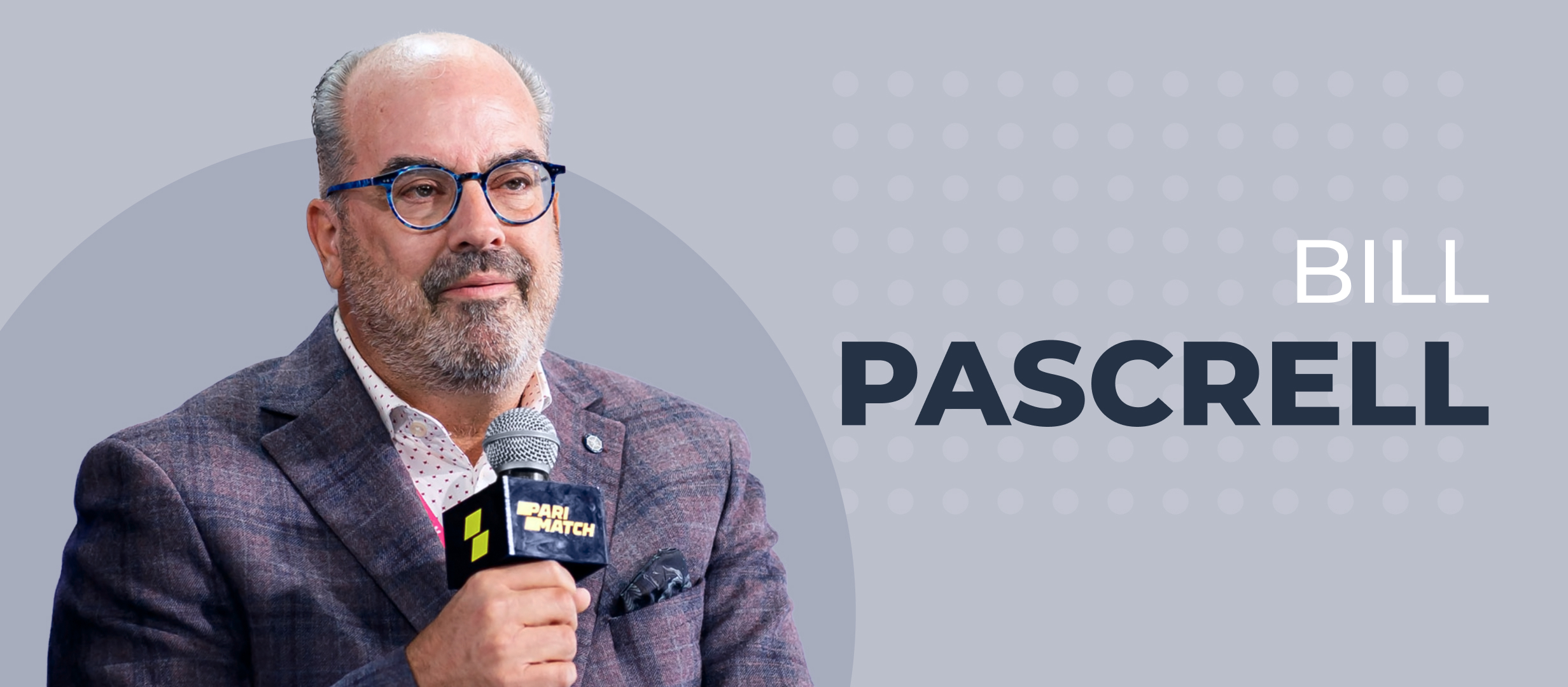 Gaming expert, adviser, board member, and the man who successfully lobbied for sports betting legalization in the USA - it's all about Mr. Bill Pascrell III. Let's learn more about the US market, sustainable gambling, and tons of other things in this interview.
Mr. Pascrell, not everybody knows you well in Europe and CIS. Tell us please about yourself.
Born and raised in Paterson, New Jersey. My father is a politician, a member of US Congress for thirty years.  He is a member of the powerful House Ways & Means Committee.  I was born into a political family.  I went to Rutgers University, then I went to The Kennedy Graduate School of Government at Harvard University. I realized a masters in public administration's not too sexy, so I went to a law school.   I worked in government for several years, special counsel to the Governor of New Jersey, and then Chief of staff to a member of Congress.  I also have worked on dozens of political campaigns both local and federally including Bill Clinton, John Kerry, Barack Obama and Hillary Clinton.  Then in January 1995 I joined my firm, Princeton Public Affairs Group, Inc and became a principal partner a few years later.  I've been a member of my firm for 27 years. Princeton Public Affairs Group is the largest state government affairs firm in the USA.
We have over 200 clients in various sectors including gaming, lottery, horse racing, sports betting lottery, cannabis, petrochemical, energy, pharmaceutical, engineering, cyber security, labor unions, banking and education.  When I first joined the firm I got involved in Brick and Mortar casinos at the retail level. My first client was Donald Trump representing all his casinos in NJ. Not the best experience in the world, and I am not a big fan. Very long story short I ended up working for Wynn - properties, a big-big American company. They have casinos in many states: Vegas, even in Macau now too. So, as I was working in the Brick and Mortar casino industry I got a phone call in 2009 from an organization called iMEGA (Interactive Media Entertainment Gaming Association). They represented 38 offshore online gaming companies that were illegally taking bets from the US citizens.
I told them to shut down and I began to get online gaming legislation passed on their behalf. As I was working on it I met a person who changed my life. Isai Scheinberg, the founder of PokerStars. We've had many-many unbelievable experiences. He was spending $40 million per year in the US to get legislation passed at the US Congress.  I told him stop wasting money on a far fetched federal solution and let's work the states and start in NJ. He agreed.
$40m just for lobbying?
Just for lobbying. I said: Isai, let me tell you something. My father is a member of Congress, he's sponsoring your bill. It's never gonna move. "Why Bill?" I said: "How many years have you been spending 40 million dollars per year?" O, about six-seven years? Add it up that money like there was no tomorrow. I said: "Take ten percent of that, give me three years. I'll get it done in New Jersey and then the dominoes will fall. Get it done on a state level. In America, states are the crucible for experimentation in the democracy.
I lost all my retail casino clients because they were against iGaming they obviously did not understand. They thought it would cannibalize their retail business. I lost all of my Vegas  and Atlantic City casino clients over my intense and successful advocacy for iGaming in America.  Two years later the legislation became law. Certainly, a very proud moment for me.  We tethered the online with the offline. So in order to get an online license you have to be partnered with a casino.
The Tax Rate was perfect 13,5% of GGR for online and 8% of GGR for retail. As a result of me getting that done, I then began to work on getting sports betting legalized throughout the USA. There was only one place in America you could bet on sports, and that was Vegas since 1952. It was a hard fought ten-year legislative and legal court battle.
The NFL, NBA, PGA, NCAA, MLB, NHL all sued New Jersey and me to stop sports betting. We went up to the United States Supreme Court and on May 14, 2018 it was, other than the birth of my four children, the most incredible experience of my life - we won, and then we launched New Jersey. Now we have 24 states that have legalized it. Many have online as well as retail.  It's been a boom for my business. Typically what happens when a state is interested in doing legislation either the governor, legislators or the regulator call me to provide advice and counsel: Bill would you come and advice? So yes. I will advise you.
And the final thing I'll say is just kinda introductory. Why am I blessed? Because I got involved in Brick and Mortar by accident. I didn't crave to be in the casino business.  I learned a lot from Donald Trump's behavior.  He was my very first gaming client.  Then I got involved with online poker and casino, representing the best brands. Then I engaged in sports betting, then exchange wagering. All cutting edge, innovative and emerging markets.  Most recently, BetMakers from Australia, a publicly traded technology company in horse racing retained my services. I just got the first in America fixed-odd horse racing bill passed in NJ for BetMakers. We are now about to launch in NJ and then take it to the rest of the USA. This will be the next powerful wave in the industry attracting millions of younger players to horse racing. There are 40,000 horse races in America per year. More content for the sportsbooks. So everybody's excited about it.
Alex Kornilov told us you were huge for him to get to the US market.
I like what I do because I get to meet people from all over the world. Get to eat their food, get to hear their stories. I love diversity. I really like what I'm doing with Alex. He appreciates who I am. I'm on his board. It gives me an opportunity for the future. Because I'm 56 years old. But I'm starting to become a member of boards of good companies like BETEGY. Which would be able to compensate me down the road and I'll be able to advise them as opposed to running around like a chicken with my head chopped off.
Fortunately, you gave me the opportunity and privilege to be interviewed. Maybe somebody will read it and understand there's three things you get when you get me. At first - no bullshit! Number two - ethics and integrity. And number three - once I'm a part of your team I am very loyal. Not cheap though, that's true 😊
The US market is exploding. People recognize that, they can see the numbers. What I am concerned about with the CIS market is that there are a lot of companies over here who are hiring the wrong people. You can't just hire somebody because he has a US address. You gotta do some background work. I love working with Alex Kornilov. I feel blessed that I'm a part of his team. BETEGY is an explosive business with tremendous potential.  Because of our great working relationship, I'm able to introduce him to niche companies that are also gonna be exploding.
We've talked earlier about BetMakers, my client, one day they hired me like Alex because they came to Barcelona to listen to me speak and talk about USA Sports Betting and to meet me. That was two and a half years ago. Their stock was trading at 3 cents on the Australian NASDAQ, it's now trading at 1 dollar 30 cents.  We have not even launched yet in the US, but we are about to launch any day now. BETEGY is going to do extremely well, and BetMakers is going to help them do a lot.  Exposing Alex to the US horse racing market, which he would not be able to penetrate on his own, it's very hard.  This is a great opportunity for a company like BETEGY at its early stages.
Let's talk about the US sports betting market a little bit more. How big could it be in your opinion?
New Jersey's been taking bets on sports for three years. Prior to that Nevada was doing around $5 to $6 billion a year in sports bets. About 18 months ago New Jersey was doing nearly $1 billion dollars a month with a population of 9.3 million people. A billion.  New Jersey is the 3rd largest market in the world outside of the UK and Germany. Germany is number one, UK is number two, and New Jersey is number three. That's 12 billion a year for one state and growing.
The US sports betting market, I believe, in another three years will be at a half of trillion dollars. Just sports betting. So what do you do? You take that market and you massage those customers to transition to poker and casino where the margins are bigger. The margins at sports betting are thin. And we have a very low tax.
But in addition to that, sports betting is not considered horse racing. Horse racing market in America is dying. It's a 10 billion dollars industry. That's it.
Is "dying" a good word for a 10 billion industry?
It used to do 14-15 billion. It has been going downwards recently. Why? Because in horse racing it caters to the older crowd, because they're used to betting on a horse and the odds changing. Young folks want to put a 10 dollars bet down on a 7/1 horse and if it wins, they win 70 dollars. They do not want hear that the odds have changed.  Fixed-odds horse racing is going to explode in America. It's going to triple the market. Just in horse racing. It will also create sustainability for the parimutual tote system
Why is that important? Well, if we ever have another pandemic or we get more explosion of the delta variant, or mega variant, and things shut down. Where's the content? You can do horse racing, because it's horses and outside. And it's huge content. Every sportsbook wants that. Forty thousand races a year - that's more content. The other thing that is going to balloon, and it is not sports betting, is Esports. It's coming in a big way.  Fast and furious. There is a tremendous amount of pent-up demand, because the casino floor, wherever you are in the world, is not going to look like it does today.  Ten years from now, it is going to be a very interactive experience. If you just have craps tables, roulette, slots and poker - yeah, OK, big deal. People want that ability to socially interact. Skill based gaming, exchange and social wagering. Players will bet each other and the floor takes a rake, no exposure.  Lots of upside.  All of these things are teed up and the regulations are coming out.
Cantor Gaming, a big organization that studies various sectors, believes America will generate  300,000 jobs in sports betting alone in the next two to three years.
When the US market opened after the Supreme Court's decision it was like a great opportunity for European experienced betting companies to intervene. But what we see now is American companies making purchases in Europe. I'm talking about the William Hill deal, now it's DraftKings and Entain… Why is it happening?
There are two things. One - technology. DraftKings is a good company but they haven't made any money. Because they spend all the money on acquiring players. Like Amazon they're trying to buy more market share. I've said to my European clients "If DraftKings, which has zero profit and huge debt, can buy a company like Entain, why shouldn't you think about buying an American casino company like MGM, or Hard Rock, or Golden Nugget?" I don't know if it's cultural. Maybe Europeans are a little bit more conservative. But I think you're going to start to see a reverse from European companies.
I think one of the best buys on the market right now is MGM. Strong company, Brick and Mortar, technology challenged. MGM tried to buy Entain for 11 billion dollars, got rejected. DraftKings deal with Entain is still not official and I don't believe it will ultimately happen, but we shall see.  
America is a great country and all, but technology is really in Europe, Israel where all the engineers are. We have a long way to go to catch up with innovation and technology.  There's gonna be continued consolidation and M&A for sure which is good for a company like BETEGY. Very good. But the question becomes when is BETEGY gonna be ready to sell? Do you do it now or do you wait?  This is the constant challenge, when to say "yes".
What do you think about the DraftKings and Entain deal?
Remember just how DraftKings became a public company. They didn't do it through a traditional IPO. They did it through a SPAC (Special Purchase Asset Company). They were the first in the nation in gaming to do it. Now everybody else's pursuing that route. There's tons of capital in the market that would help DraftKings buy this.
The question I have is why would Entain do that now. Is it all about just cashing out? Then yes, go ahead, cash out. I don't think DraftKings will be able to come up with cash though. Maybe 5 to 8 billion. But the balance will be paper, stock, what have you.
Right now DraftKings is buying Golden Nugget Interactive which is a far smaller deal/transaction. It's only 350 million dollars, so relatively small.   DraftKings is having some problems with the regulators. The deal will happen, it will happen, but they need to work on their regulatory relationships.  Good, strong relationships with regulators is critical for sustainability.
(After this interview was conducted, on October 26th 2021, Entain announced to the stock market that DraftKings had decided not to make a firm offer for the company)
How experienced are the US regulators?
Prior to 2013 they had zero experience with online or sports betting. Other than Vegas sports betting. I think the market is starting to mature. And what I like most and that I'm proud of most about the American regulatory market - it's very strong. It's not bullshit. The stronger your regulations are the better your market will be and will attract more capital.
But you shouldn't overregulate it?
It depends on what you mean by that. The toughest regulatory market of the world is New Jersey. Number one by far. The third largest online market in the world. Gambling in New Jersey used to be dominated by the mob, black shadow market. And when we finally legalized casinos in Atlantic City we made sure there was no mob influence. Strong AML, strong age verification, strong KYC and very strong licensing backed by stringent probity and suitability standards.
And if I'm an investor, unless I'm a crook, I wanna think about a strong, stable regulatory regime, because it is sustainable versus when you have weak regulators when the government takes kick backs. That makes investors nervous.
Can you describe how to make a perfect regulation?
There are three things that markets (and CIS markets, too) need to focus on. Regulation, smart taxation and RG (responsible gaming). Entain is probably the most powerful online gaming company publicly traded in the world. They've got a massive focus on RG. They are working hard to build strong, vibrant and collaborative relationships with all regulators.  Without careful, focused and comprehensive self-regulation on RG, the regulators will likely bring harsh, unfriendly and intrusive regulations like they did in the UK.  A lot of casinos in the USA look at their clients that are gambling addicted as they are VIPs. You can't look at it that way.  If your best VIP clients are gambling addicts that is not a sustainable business.  Slow down or shut down that player.  The average number of addicted gamblers in any market is around two percent.  It can be a little higher in certain areas. You have to be careful that you don't look like you're preying on the innocent consumer. Because you will not be able to stay away from the politicians coming in to shut things down when gambling addiction balloons and creates daily headlines.
I do not call it responsible gambling anymore.  I call it sustainable gambling. Not only is it the right thing to do ethically and socially responsibly, but it is good for your business commercially.
In my view US regulators usually take the customer side in complaints with operators. Even if an odd was incorrect or there were some technical issues in bettors' favor regulators still protect them. Operators pay and still can be profitable. In CIS for example the situation is totally different. Why is the landscape so customer friendly in the USA?
It's a couple of things. Consumer protection in a democracy is very important. Because you want to stay away from somebody shutting you down. The social media will blow up if a betting and gaming company does not honor the small contract they have with me as a punter. Forget about what regulators do, the rest of the punters are gonna get away from the company.  They will say, that can happen to me tomorrow.
And number two. The regulators know that the ultimate power is not in the politicians, it's in the people, the consumers.  Because when they explode, shit happens. Elections change, politicians go, so the American politicians watch carefully. 
Entain is spending significant money on Integrity, Compliance and RG.  Many European companies are questioning why they are doing that, "Why should I spend 10 million euro on responsible gaming?" Because if you don't it's gonna cost you more than 10 million down the road! But not everybody appreciates that. That's why Kindred, Evolution, Golden Nugget, Hard Rock are starting to appreciate what Entain is doing.  Entain are the true trailblazers in the RG space.  If you ignore this you do it at your own peril. 
We have a whole game plan. Entain has hired me. We commissioned Harvard medical school for 2 million dollars to do a two-year study on gambling addiction. Everybody, politicians and regulators, needs to understand - there's no cure for gambling addiction. There's no cure for alcohol either. You need to go to programs to stop from going back but there's no cure. You're not gonna wake up one day and say "Oh, I'm cured. I never wanna drink again. I never wanna gamble again". It's education, education, education.
Number three - we're trying to educate the American public that there's more than just one solution for RG. It's game blocking, bank blocking, clinical therapy, hotline, players limits, self preclusion and massive constant education. We are starting to talk to banks, labor unions, professional and collegiate athletes, veterans groups and many others about the importance of protecting their members. It's the biggest jeopardy to a mortgage company. I have a mortgage, I'm a gambling addict. I don't care about my mortgage, I will gamble, because I will win it back. And if I'm out of money, what happens to my mortgage? It's very interesting that America is not educated yet. The banking community has not embraced that yet. They're nervous about it.
Another thing we're doing is working with the sports leagues. Entain, Gamban, EPIC Risk Management, The Wager Score and other clients of mine are working to create a comprehensive researched based attack strategy for RG.  We are going to come to  collegiate and professional locker rooms to educate the players to be very careful about gambling, be very careful about somebody approaching you and saying "Hey tomorrow get sick or drop the ball or whatever".
Quick-quick closing story. My kids know I've been in gaming forever and they said to me "Hey Dad, why are you getting  involved in RG? We know your clients just wanna grab money from their players". I said: of course, they wanna be profitable but they also understand if gambling addiction explodes what's gonna happen. They're gonna shut everybody down. They'll make it so challenging that you can't make a profit. So self-regulation is the most powerful thing to prevent the regulatory overreach.
Speaking of drop the ball and gambling addiction. Evander Kane's case made some noise didn't it?
It did. Another thing that's interesting and a newly emerging issue you're gonna start to see at conferences is the importance of localization, diversity and player sensitivity. Ten years ago in this business you never saw a black, brown person or woman. It's changing. The first minority gaming company was just licensed in Tennessee. A Latino man and woman, who are Harvard educated have a company called Wagr. It's a powerful company. After Tennessee they want to come to Virginia and probably New Jersey.
Further reading: