Ladbrokes "5-A-Side" Rules and Tips
Betting sites are always looking to stand out from the crowd, and in order to do so they are trying to add new, innovative, and exciting new features and are always trying to expand the number of betting options available. Ladbrokes game "5-A-Side" is the latest way of doing that.
What is Ladbrokes 5-A-Side?
Ladbrokes 5-A-Side is game designed by Ladbrokes which allows you to bet on individual players in a match, creating your own dream team. You are betting on five players (made up of different positions depending on the formation you choose) to meet certain criteria during the game. All players must be on the pitch at some point during the game but you can select players from both teams to make up your squad. Each player must meet their target which could be a certain number of shots or passes or saves, etc, etc and the odds on each happening are multiplied together giving you in effect a five fold Acca.
How Does Ladbrokes 5 A Side Work?
There are several steps required to take part in a game of Ladbrokes 5-A-Side. The first thing to do is once logged into your account navigate to the match you would like to bet on. From there you will see all your betting options and in the Header this will include a tab for the 5-A-Side game.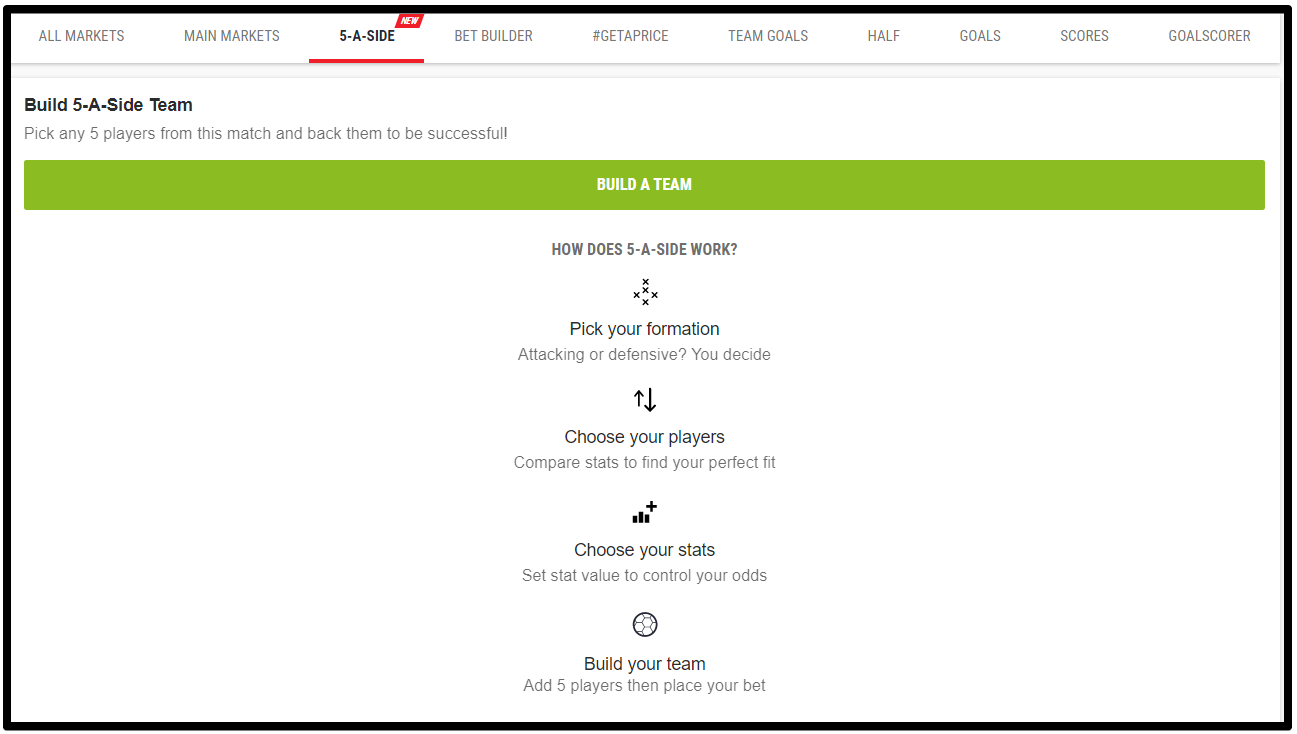 Once you have opened this tab you must chose the formation you wish to use. There are 6 options available, once you have chosen one that you feel will work best for this game you then have to chose the players you want in your team. Depending on how well (or badly) you think they will perform you can chose the stats that they must beat during the game, the odds for each player will change as you do this. Once you have completed this for all five players the total odds are multiplied together and that is your bet. You chose a stake amount you are happy with and submit it.
Ladbrokes New Customer Offer: Terms And Conditions
Bet £5 and get £20 to play with at Ladbrokes thanks to their Welcome offer
Ladbrokes 5-A-Side Formations
There are several different formations which can be selected when playing a game of Ladbrokes 5-A-Side. Depending on which you chose you will have different combinations of a goal keeper (Keeper), defenders (Cruncher), strikers (Sniper or Finisher)  and various mid field players (Ballers and Playmakers) to chose from. You can also include a player who you think will get carded in the game (Hacker).
Tiki Taka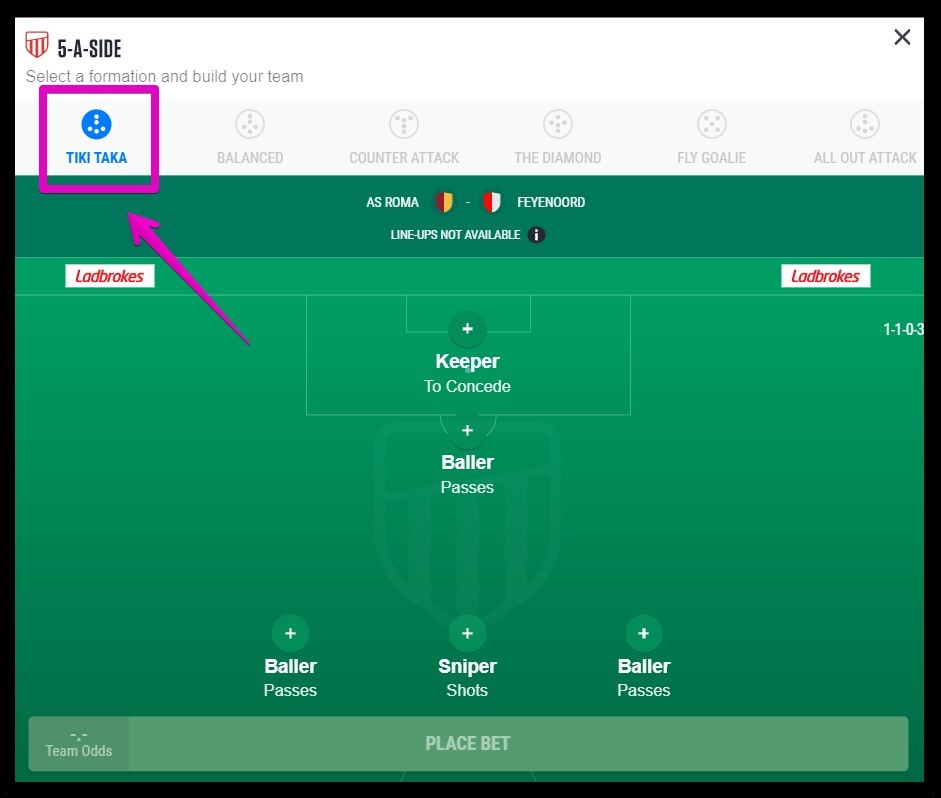 This combination consists of one Keeper, three Ballers and one Sniper
Balanced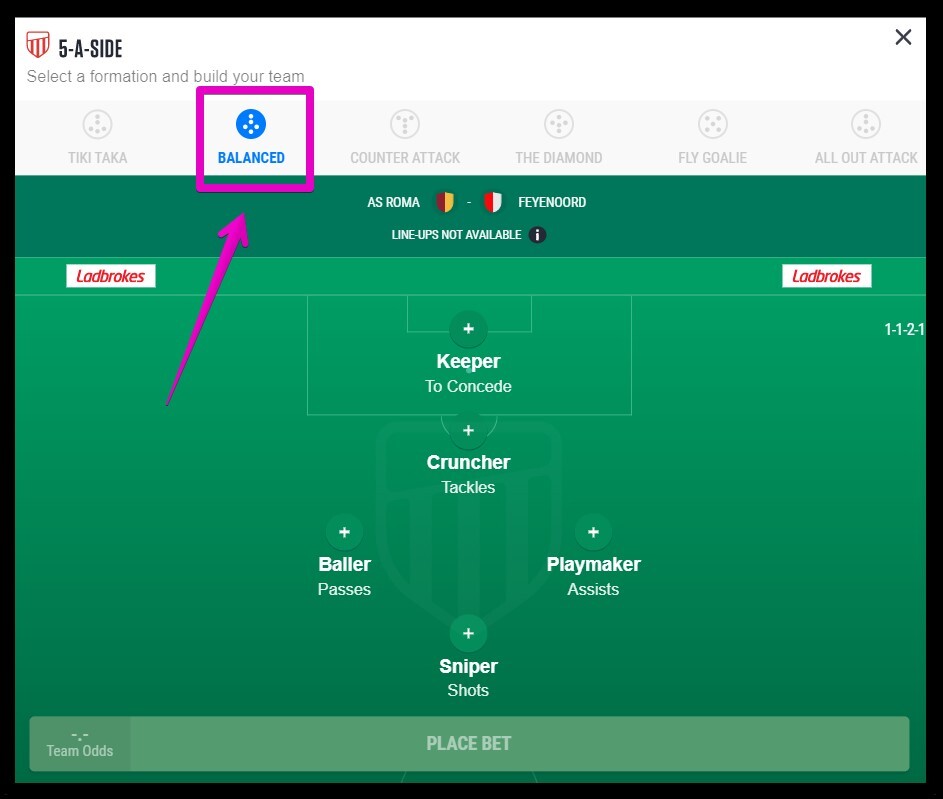 This is the playing positions, one Keeper, one Cruncher, one Baller, one Playmaker, and one Sniper.
Counter Attack
This is three Ballers and two Snipers
The Diamond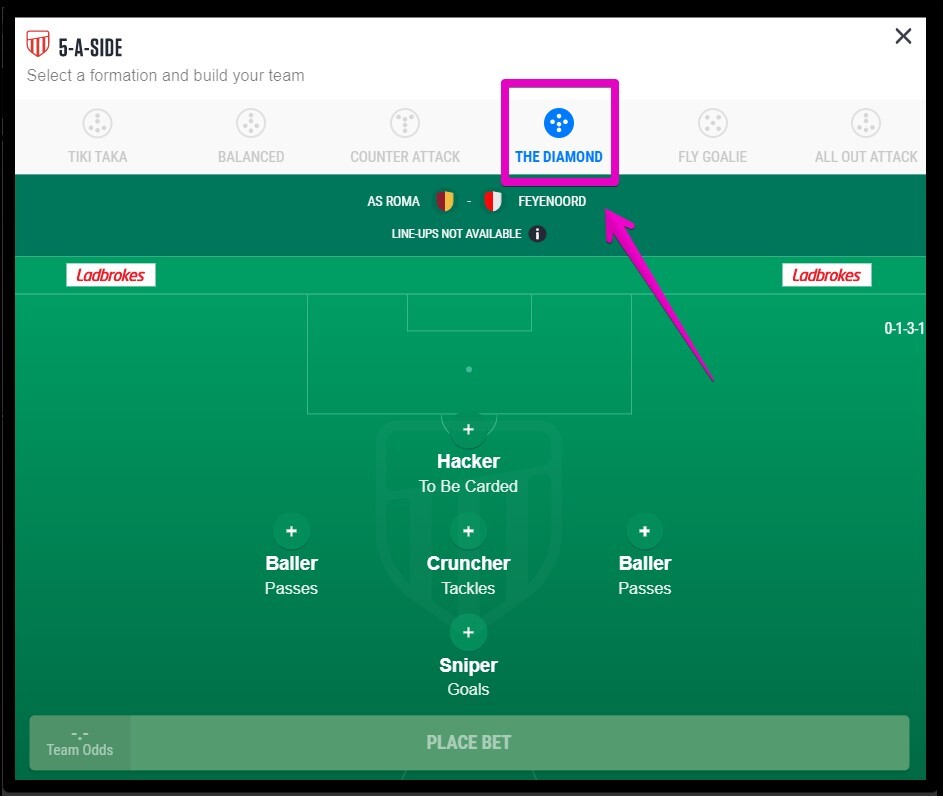 This is made up of a Hacker, two Ballers, a Cruncher and a Sniper.
Fly Goalie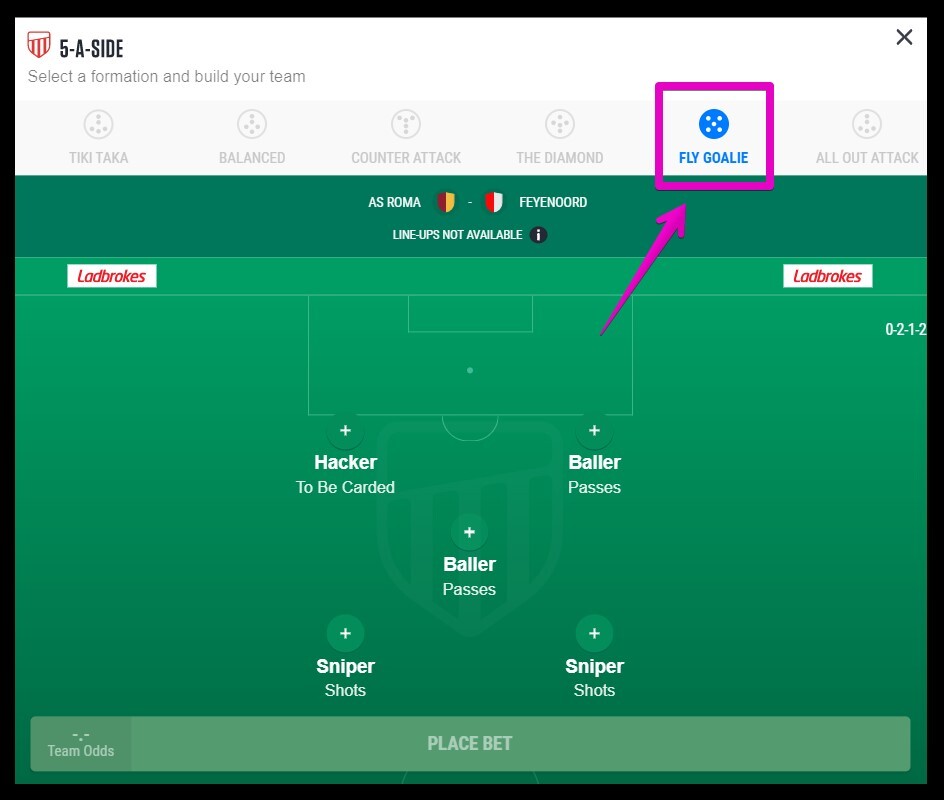 Here you have one Hacker two Ballers and two Snipers.
All Out Attack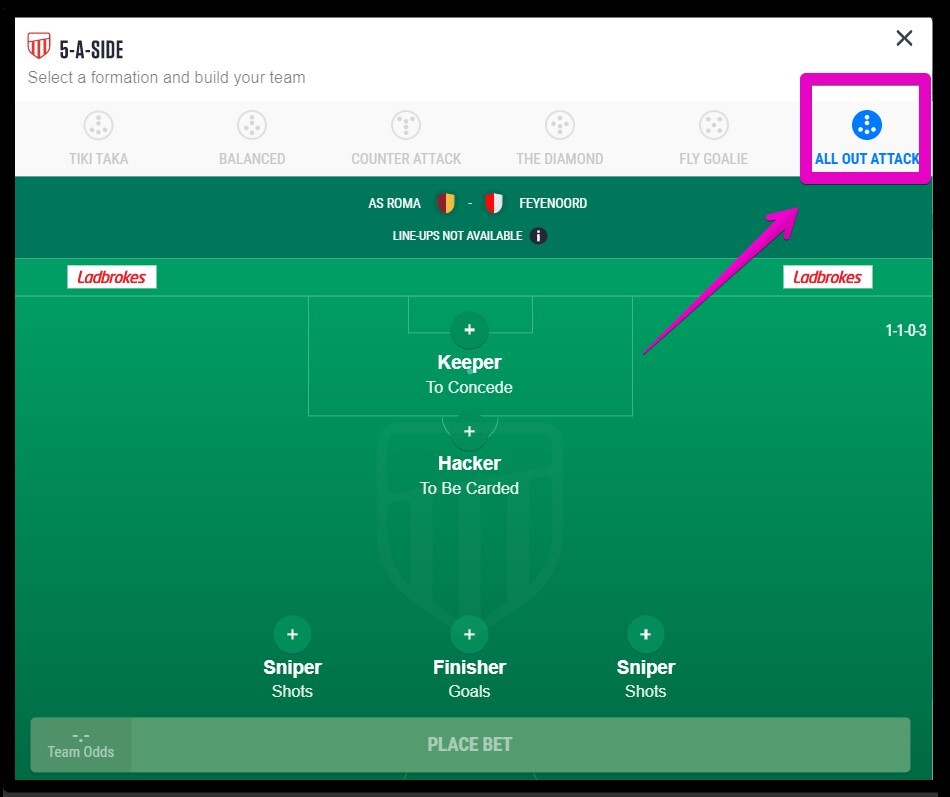 This is one Keeper, one Hacker, two Snipers and a Finisher.
Ladbrokes 5-A-Side Player Positions
Each position allows you to bet on a different measure of that players performance. The criteria for each position are:
Keeper

When choosing a Keeper you can adjust and then predict how many goals will be conceded by that goal keeper in the game. The options range from a clean sheet, so no goal conceded, through to four goals or more.
Cruncher

The cruncher role is a prediction on how many successful tackles will be made by the player. The players chosen are normally defenders although defensive midfielders are also possible. The odds that you get for each player will be influenced by the role they play on the pitch.
Baller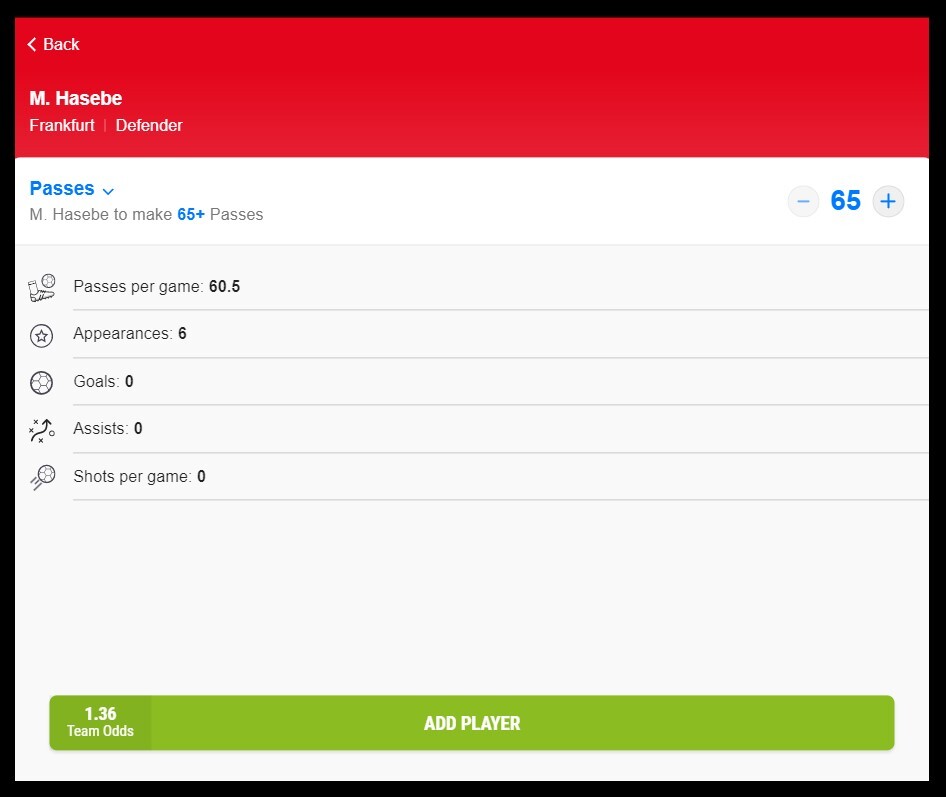 bets on the number of passes the player will make in a game, and each player will have a different predicted value largely based on their past form. You are always betting that they will score more than the predicted value, and you can raise and lower the value as you see fit, with the odds that you are given also rising and falling in line with this.
Hacker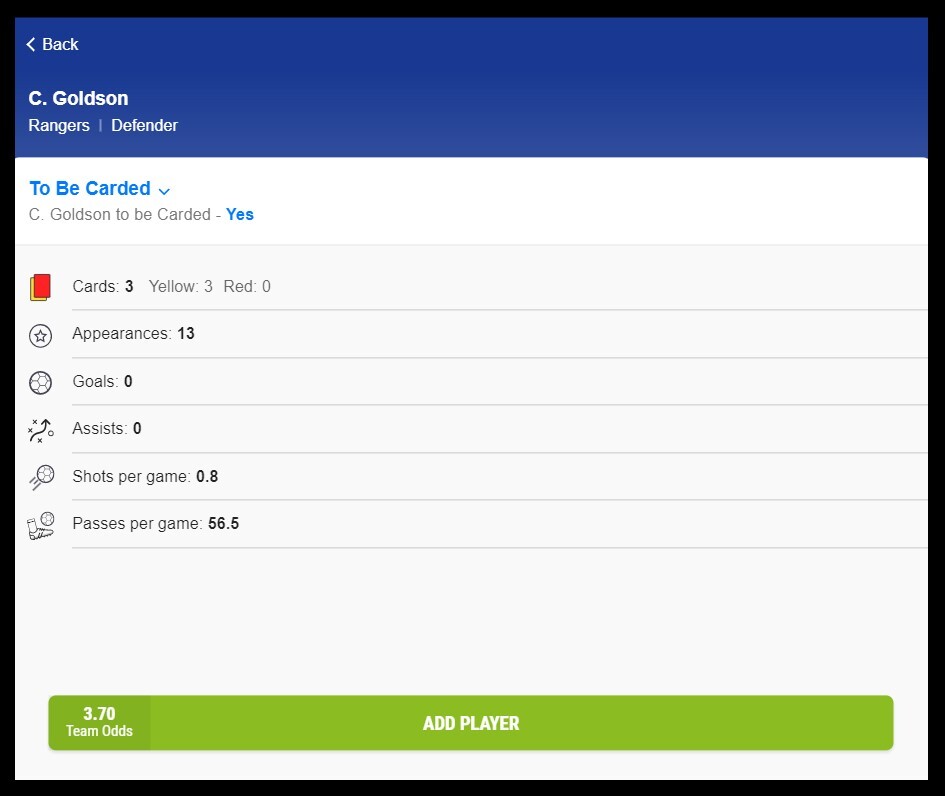 The role of a 'hacker' is to make important challenges and win the ball at all costs, often this can be at the expense of a card. All teams tend to have at least one of these players on the pitch, and you can bet on the probability of them taking on for the team here. 
Sniper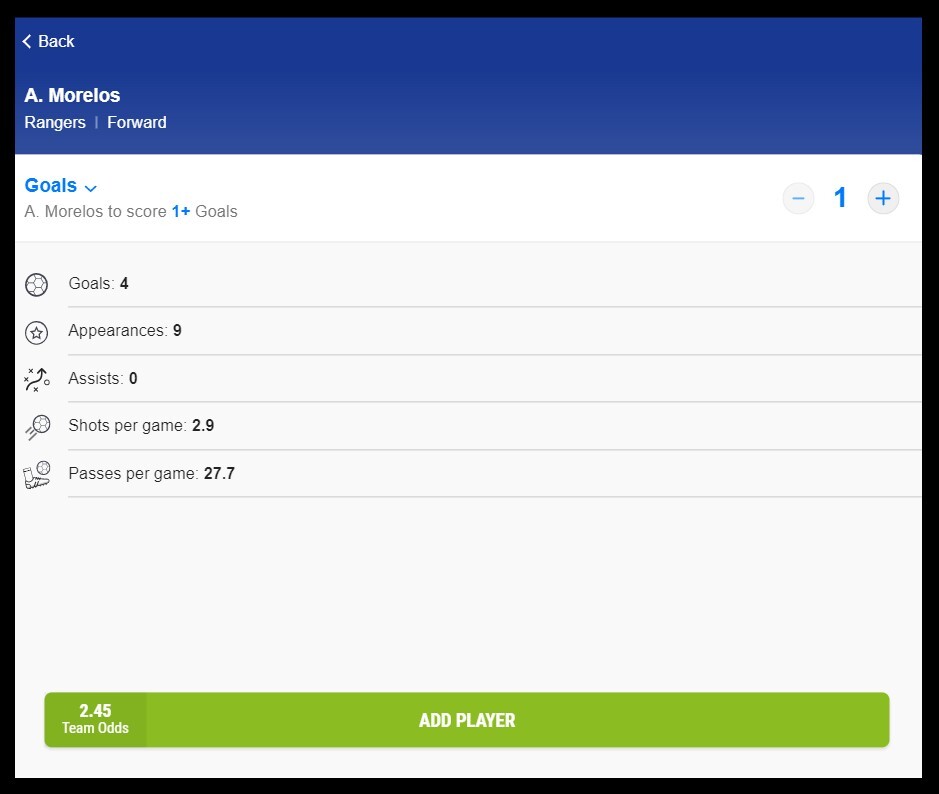 A 'sniper' is a clinical finisher who plays in some formations set back from the front line. You are betting on whether or not they will score a goal and more likely than not these players will be free kick specialists or attacking minded mid field players.
Finisher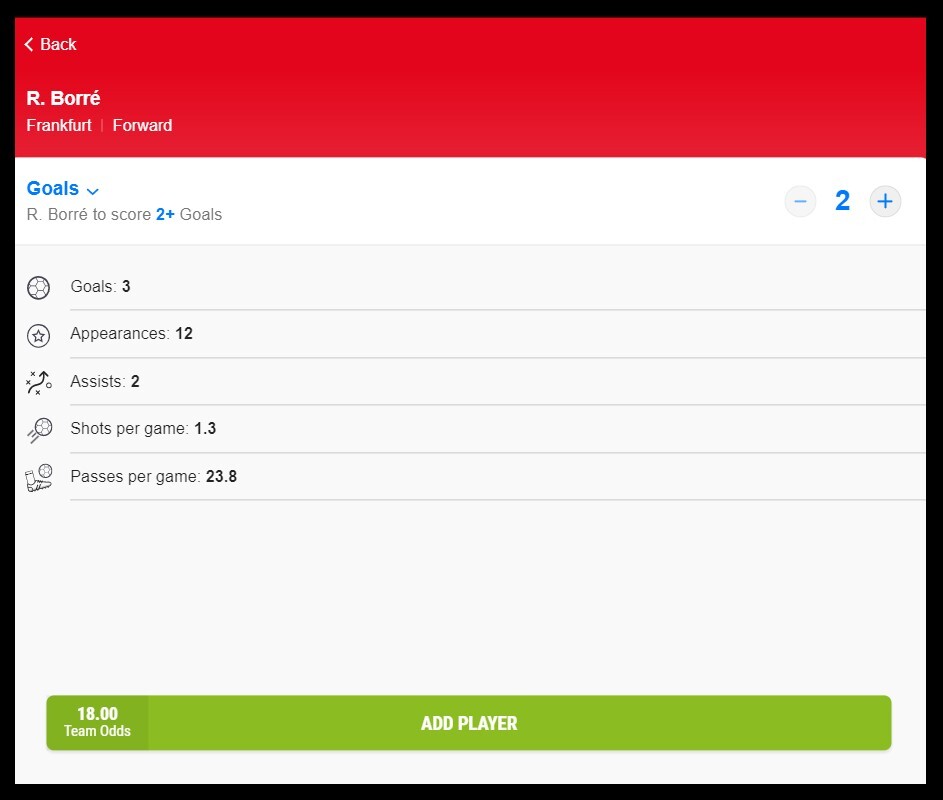 The same as the Sniper role the Finisher is there to score goals, and this is what you are betting on, can they do that and furthermore how many times will they do that. The higher the expected goals that you bet on being scored the higher the odds will go. These players are normally all out number 9s who are the main goal scorers for their team.
Playmaker
The position of playmaker is that of central midfield, linking the defence to the attack and pushing forwards. The variable which you are betting on here is how many goals will they provide the pass to before a goal is scored, known as an 'assist'.
How To Play Ladbrokes 5 A Side - Rules 
-Please describe the process of how to play 5-A-Side. For the explanation use some steps what the user should do and each step - make as <H3>. Please add screenshots from the app for each step and if needed mark where to click.
Step 1 - Chose the match!
The first thing that you need to do is decide what match you want to bet on. Look for one where you know the players on both sides well, where they have predictable tactics and it is fairly easy to read how the game is going to play out.
Step 2 - Select 5-A-Side
Once you have you game chosen you then need to navigate to the 5-A-Side bet section. This is not listed in the main markets but is instead its own tab on the top header bar, click on this.
Step 3 - Pick your formation
So now you are in your game, what formation are you going to play? We suggest always running through a couple and imagining how you will fill the spaces, even if you feel strongly about 4 if there is one of concern then avoid the bet, it only takes one player to under perform for the whole bet to fail. It would be better to have five reasonably confident bets than four extremely strong bets and one which is a doubt. Your formation choice is where you have the chance to adjust this.
Step 4 - Choose your players 
Once you have a formation picked you get to choose which players from both teams you want to include into your 5-A-Side squad. It is this merging of players on the pitch into one new fantasy team which makes the Ladbrokes 5-A-Side bet so unique. You select your players from a drop down tab, a tip here is to make sure they are starting and more so that they are likely to stay on the pitch for the 90 minutes.
Step 5 - Choose your stats
It is then possible to tailor each performance prediction and customise it to your player. For example there is the option to chose a striker to score a goal, well you can alter this to the player scoring 2+ goals which would significantly boost the odds. All players and all performance targets can be adjusted until you find a level which you are happy with.
Step 6 - Place your bet
Once you have your players in position, and the targets for them to achieve all selected and ready to go, the last thing to do is enter your requested bet stake amount into the bet slip and submit the bet. You will receive a confirmation it has been placed and then all there is to do is to watch the game or wait to find out the result.
An Example Ladbrokes 5-A-Side Bet
Ok so let's go through a real example. The match that has been chosen is a big one, the Champions League Final between Liverpool FC and Real Madrid. Navigate to the game you wish to bet on and select the 5-A-Side tab before choosing to 'BUILD TEAM'.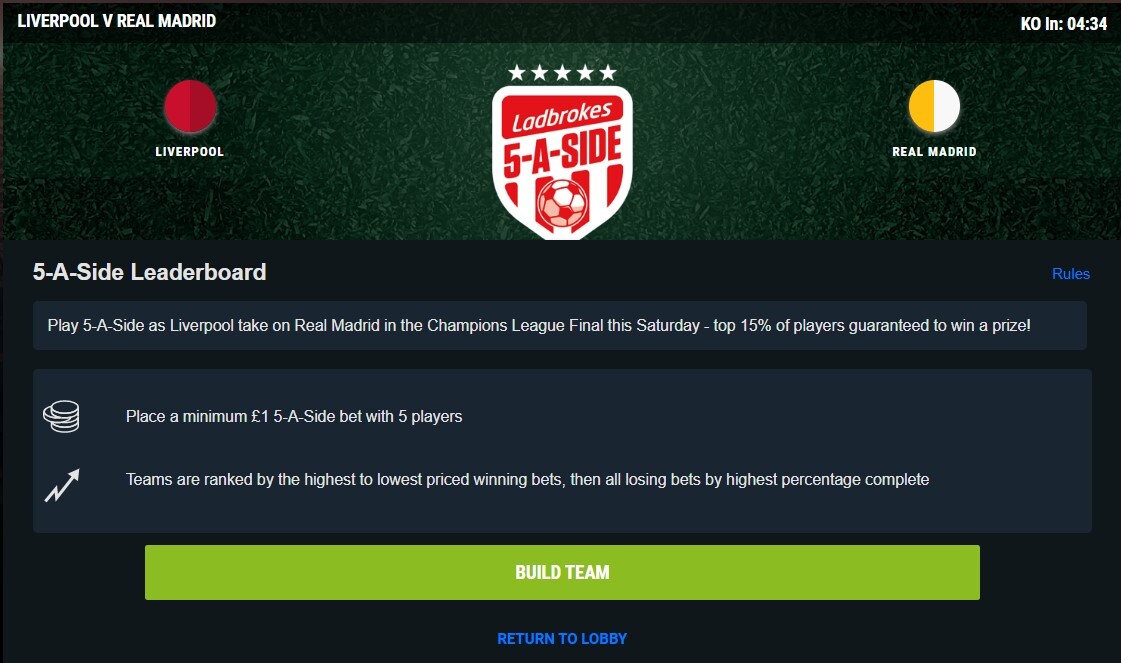 Once you are in the 5-A-Side interface the first thing that you will have to decide is what formation you wish to play. Different formations have different combinations of player types and it can be beneficial to choose a formation which reflects how you think the game is going to go. In the example below we have gone for 'ALL OUT ATTACK'.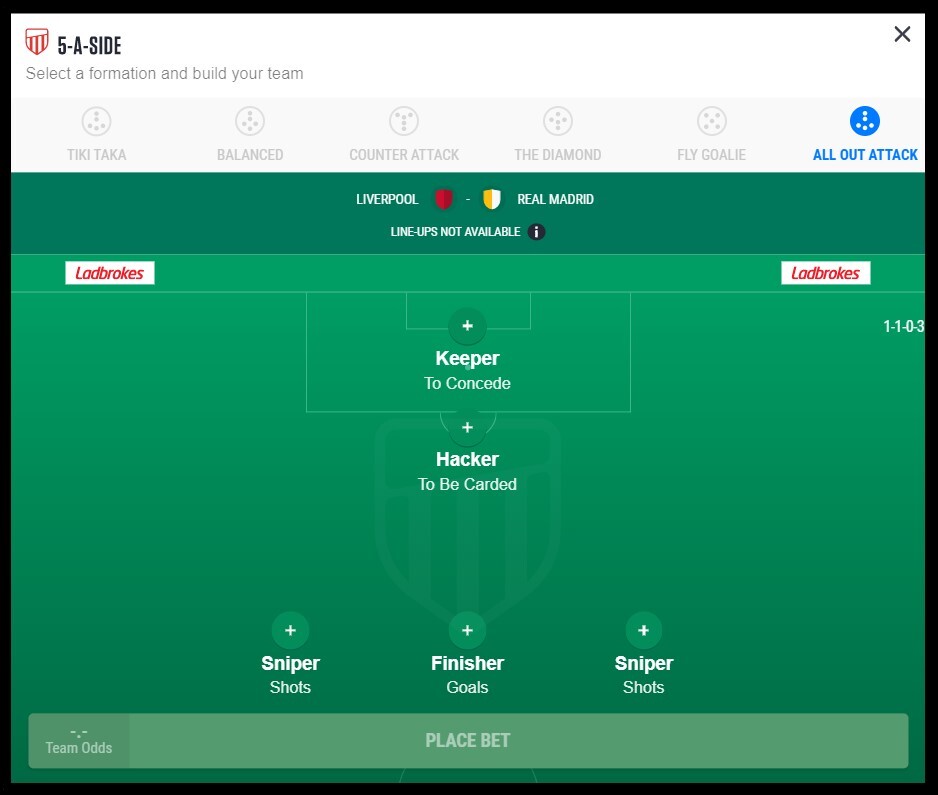 The first position to fill is the Keeper role where you are predicting how many (if any) goals will be let in. You can tab between 1,2,3, and 4 depending on quite how you think the game will go. In the example below you can see that if choosing 2 goals or more to be let in, there would be odds of 1.8.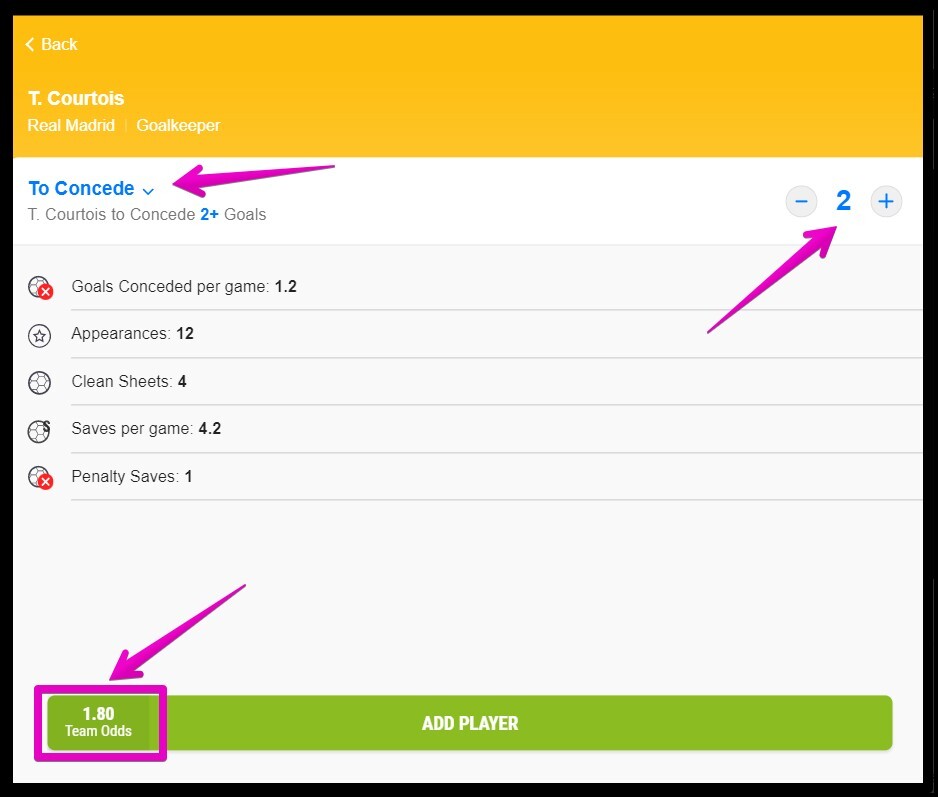 This is not a huge return though and we think it will be more free flowing than that, based on past Champions League Finals these teams have been involved in. So if you look at the image below we have adjusted the goals conceded to 3. This has subsequently raised the odds to 3.3 which is much better value.
The next position to fill is that of the 'Hacker' in the center of midfield. Once you click on the position you get a very helpful display of players recent performances. We are informed that Eder Militao has been booked 4 times in the tournament so far, with the next highest being 3 cards awarded, and for that reason alone we are choosing him.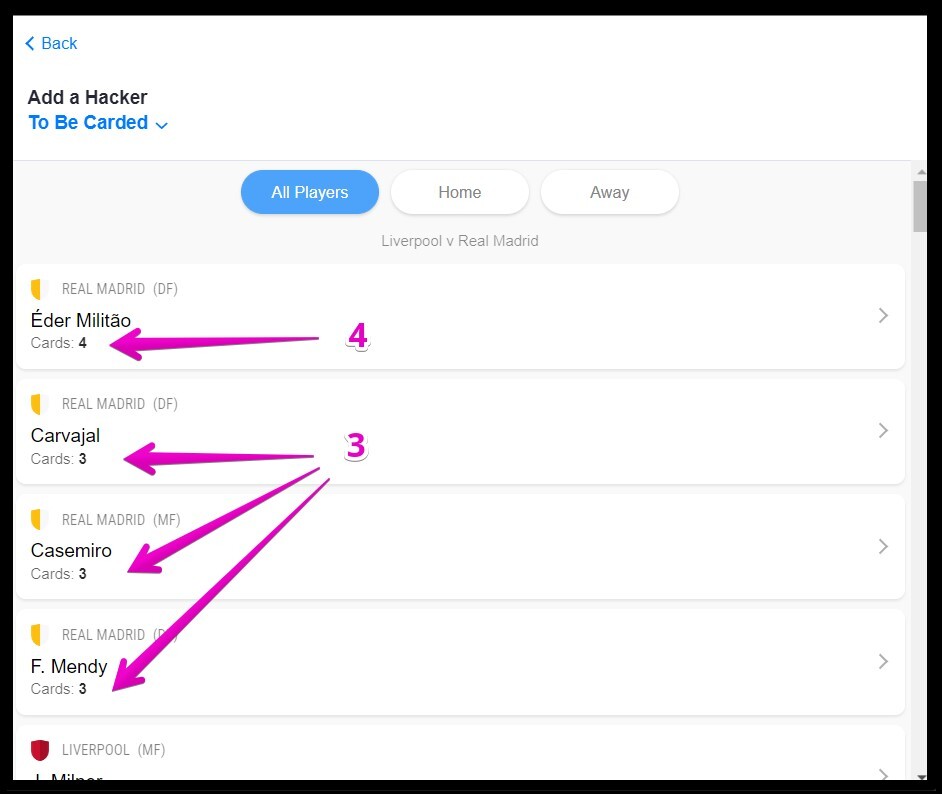 There are two strikers needed for the 'Sniper' positions and we had our minds made up before even seeing the statistics on the card, as you can probably guess we went for Benzema and Salah both to have shots on target.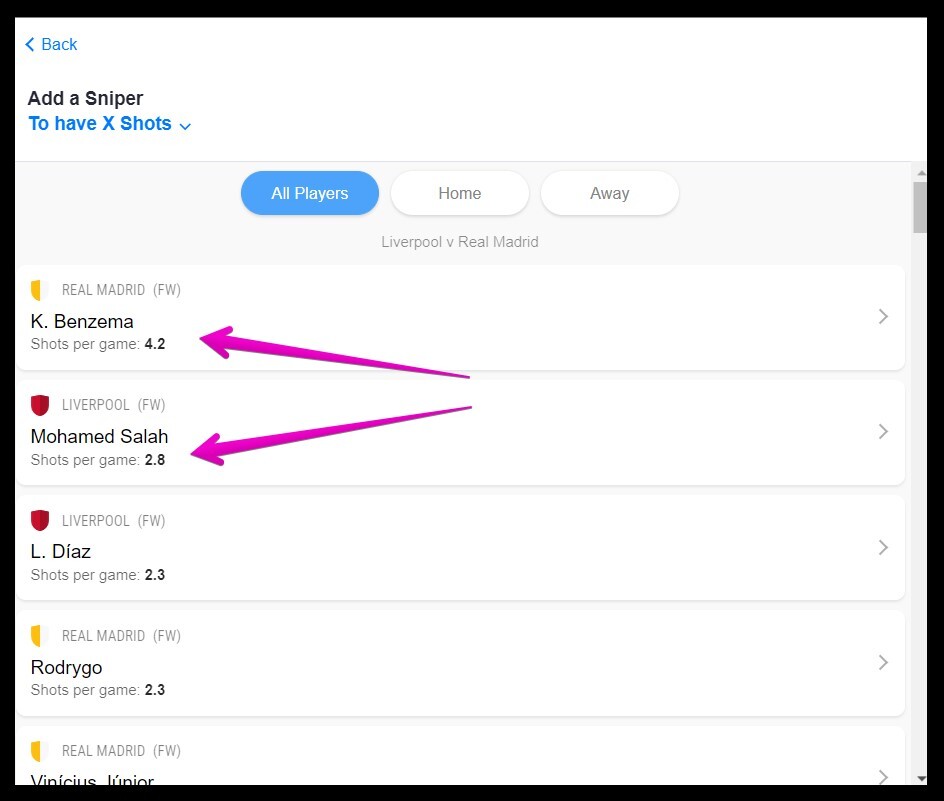 The final position to fill is that of the Forward and this player needs to score, you have the job of choosing how many. We are going for S. Mane who is in form at the moment and has as good a chance as anyone, especially as the two other contenders are already on the pitch and no player can be selected twice.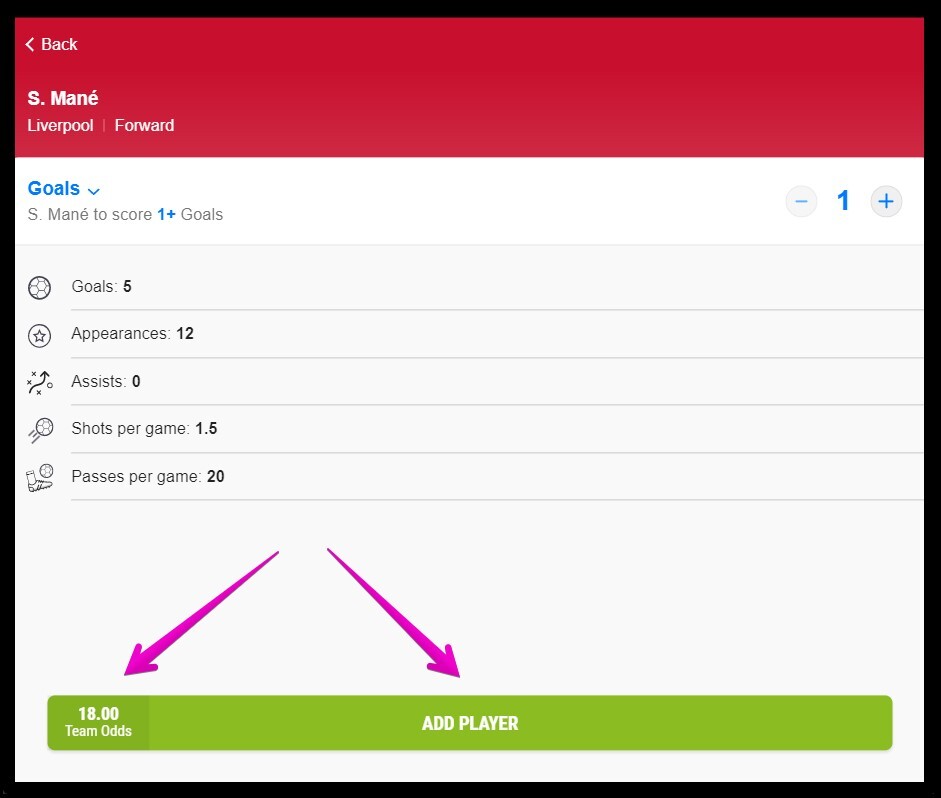 Once the final player is selected you can see what the odds will be for your bet.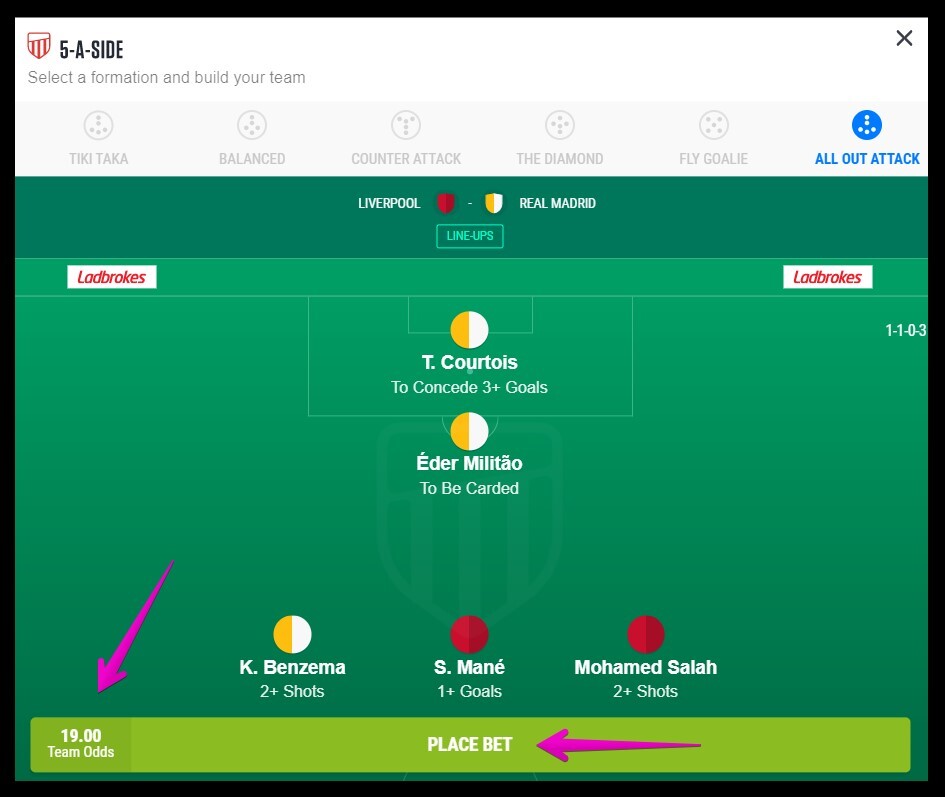 On this last screen you enter the stake amount which you wish to place. Interestingly, between us beginning to choose players and getting to the eventual 'PLACE BET' action, the odds of one (or more) of our selections had moved, in this example in our favour pushing the odds out to 19. This demonstrates two things, the need to make your selections quickly if you have a good price because it may not be there long, and also... double check the odds at the end in case they have gone down, all that matters is the price shown just as you click 'PLACE BET'.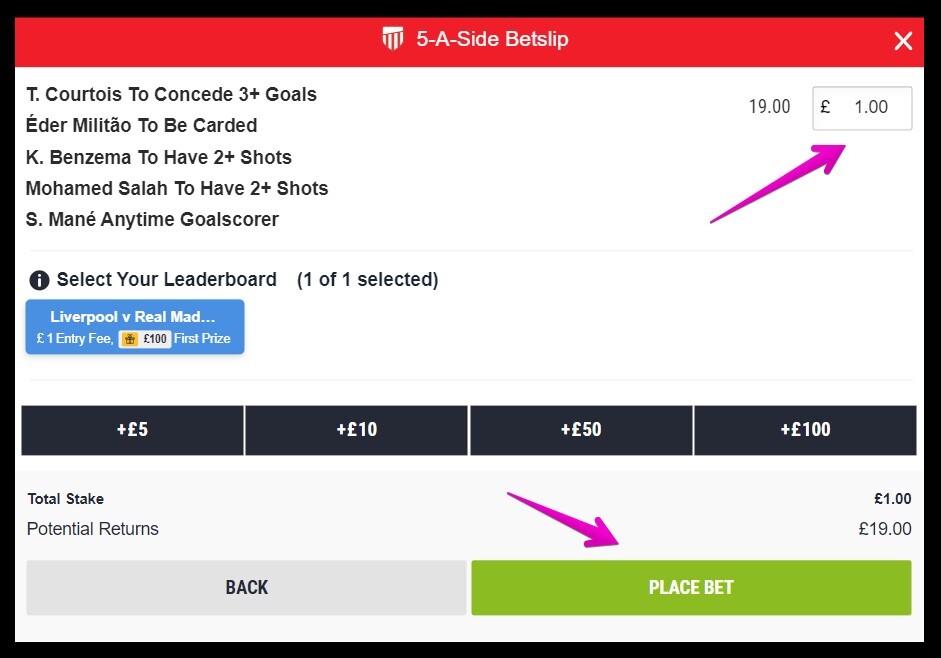 Then you are there, your bet is on. You are shown your receipt and you just wait for the match to finish to see if you have won or lost.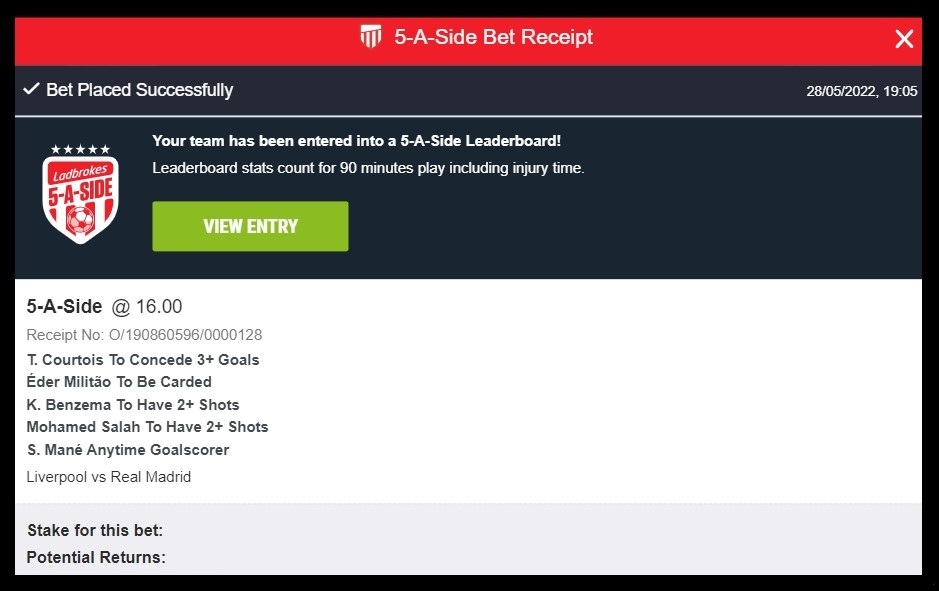 Ladbrokes 5-A-Side Betting Tips
There are a few things which can be considered to give yourself a better chance of profiting from a 5-A-Side bet but essentially when it comes to a long run profit and loss all that matters is the odds you are offered. Regardless all things being equal factors to think about are:
Only bet once the starting eleven have been announced, because from this the formation and likely tactics of the game can be determined.  Once you know a player is starting as the lone striker betting on him to score is now better than it would be if there were two up front. Likewise when you know what the defence looks like you will have a much better idea of the probability that a keeper will keep a clean sheet, etc, etc, Basically until you know who is playing you are just betting blind, which is highly unlikely to end well.
Linked to the above knowing the current form of a player and their past statistics should help get an idea of a players likely performance in the next game. Some players go through hot streaks and success breeds success whilst others may have a crisis of confidence, be carrying a niggling injury, or any number of other things to mean they are going to under perform. Keeping abreast of these trends and changes are important when weighing up what is likely to occour in the future.
Given the nature of the bet, that it is in effect a five leg accumulator bet, we would advise you keep expectations low and bet defensively. It only takes one player to slip up, it could be one goal keeping error, or one player getting subbed off early, potentially because of a factor totally out of their control and then they do not get to score and the whole bet is lost. You do not get extra points for how much four of your five are correct by, but you do lose everything if one is wrong. 
Finally, and this sort of goes without saying for all bets really, pick the games that you bet on wisely. The bookmakers must price up pretty much every game but you do not have to bet on them all if there is no value in it. By biding your time, being patient and waiting for a good value bet to occour naturally you will have a much much better chance than if you go about chasing a win on sub optimal games. Pick games 
Frequently Asked Qusetions
Is Ladbrokes 5-A-Side a fantasy sports game?
Well this is a very good question with no clear answer, in some ways it is and in some ways it isn't. To explain why that is, you firstly need to consider that you are betting on actual events and player performances which are true in real life, they are not results predicted by a computer algorithm, and so in that sense the game is not a fantasy sports game. However, it is important to remember that you are not betting on a real team or match itself either, in fact your chosen 5-a-side team can have players from both sides in it, so in that sense what you are betting on is a fantasy, there is no actual team that you selected in reality.
Do Ladbrokes offer Free bets?
Yes they certainly do, they have a Free bet Welcome Bonus for new players as well as ongoing offers and promotions for existing customers. New Customers can receive up to £20 in Free bets after depositing and placing their first bet. Ongoing Free bets can be awarded from the daily Free Spin wheel, or predicting three Premier League scores each week, or randomly deposited into your account.
For which football leagues can I play Ladbrokes 5-A-Side?
Ladbrokes 5-A-Side can be used on all of Europe's top leagues and competitions, including the Premier League, UEFA Champions League and Europa League plus the elite divisions from Spain, Italy, Germany and France.