What is Ladbrokes Acca Insurance & How Does It Work? Ultimate Guide 2023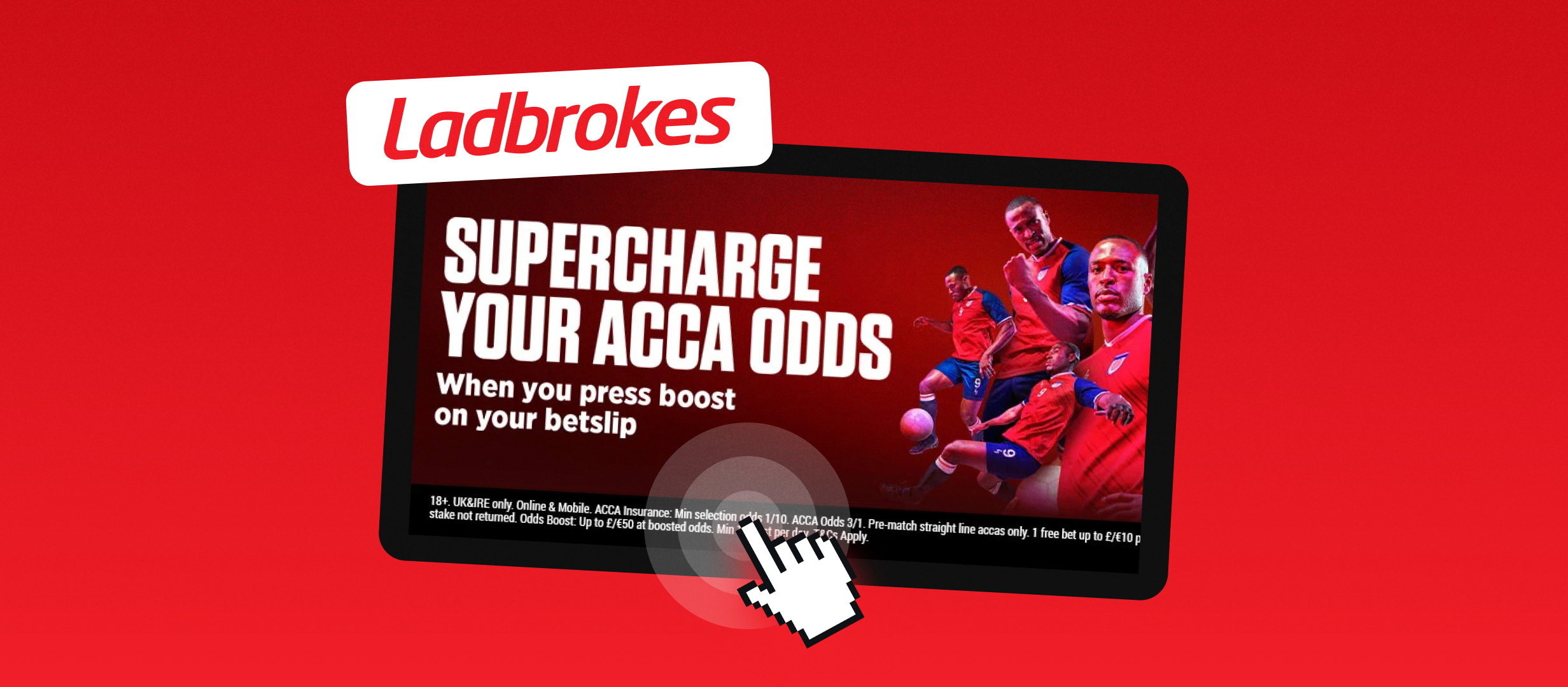 Though you can place an Acca bet on everything from horse racing to handball, when people talk about an ACCA, they are usually talking about football accumulators. In most cases, if one of your football selections lets you down, then your accumulator bet loses outright. Ladbrokes have set up a new offer where if one of your selections lets you down, then the accumulator may still stand to win at least something because you get to have another go.
What Is Ladbrokes Acca Insurance?
What is Acca insurance? To qualify you must place a football accumulator with at least five football selections. If one of your teams lets you down, the 5+ acca insurance still allows you to walk away with something. They refund your original bet amount and return it as a Free bet. The Ladbrokes Acca promotion only works for just one of these accumulators per 24 hours, so pick your first football acca carefully. The offer gives people an incentive to place 5+ accumulator bets on football, and encourages to spend just a little more on their first Acca bet of the day.
How Ladbrokes Acca Insurance Works?
To get this refund "insurance" will still require a fair amount of luck. You still need to win four out of the five matches in your accumulator bet. If only one of your selections loses, and the others win, then you get your original stake back as a Free bet, which is credited to your account automatically.
The term "Insurance" is a tiny bit misleading because it suggests that you still win even if one of your selections loses. Instead, think of it as a free refund for your stake if you pick four winners and one loser so at least you can try again.
How To Claim Ladbrokes Acca Insurance
Getting Acca insurance is easy because this betting offer is applied automatically to your bets and to your account. The hard part is making sure that you are eligible and/or that your bet is eligible. You can assume that the Acca promotion is active for your bets and will remain active until the promotion is over. But the promotion will also be advertised on your bet slip most of the time adding an extra layer of reassurance.
If you do not yet have a Ladbrokes account then you can join by clicking the "Bet" button above. At the present time depositing funds with a debit card and betting £5 gets you a £20 Welcome Free bet.

If you already have an account then log in to it with your registered Email address and password. You can also log in with your Grid Card if you prefer.


Check what bets meet the insurance criteria (the T&Cs are further down this page)

Select your five-fold football qualifying ACCA

Enter your stake amount (The insurance is for up to £10) and place the bet

Sit back and wait to see if your bet wins
This is not like an odds boost sports promotion or one of the various free bet wager offers. You do not have to activate your bonus bet, you simply place your Acca bet and hope it either wins or that if it doesn't you are close enough to qualify for the insurance to try again.
What Matches & Competitions Does It Apply To?
At the moment, the Ladbrokes football Acca insurance promotion applies to all football leagues featured on the Ladbrokes website, and all the mainstream championships. In other words, if you didn't have to spend five minutes digging through the Ladbrokes system to find the game, then it is probably eligible for your Acca football betting. 
The Acca insurance promotion applies to a 5+ team Acca from these sportsbook markets:
Match Result

Both Teams to Score

Correct Score

Over/Under Total Goals

Match Result and Both Teams to Score
Only bets placed pre-match are considered a qualifying bet, but you can use the edit my Acca feature to remove any postponed or void selections and make sure you have the required number of legs to qualify.
Acca Insurance Bookies
Bookmaker

Welcome Bonus

(Can be used for Acca bets)

Acca Boosts

Acca Insurance Terms

Ladbrokes

£20 of Free bets

Yes

5 legs

1/10 minimum odds per leg

3/1 min total odds

£10 max refund

BoyleSports

£20 of Free bets

Yes

5 legs

1/5 minimum odds per leg

£20 max refund

Betfred

£30 of Free bets

No

5 legs

1/2 minimum odds per leg

£20 max refund


EnergyBet

£10 Cashable bonus

No

4 legs

1/4 minimum odds per leg

£25 max refund

VBET

£10 Free bet/

No

4 legs

3/5 minimum odds per leg

£25 (25%) max refund
How & When Is A Refund Paid?
The refund is paid as a Free bet. After your Acca loses, you will normally receive it the morning after and at the most it will take 24 hours to appear in your account. If it is not there after this time then contact the customer services team for assistance. The amount of money you originally placed into your fivefold bet is the same amount that your reward will be for.
A Real Example...
Let's say that you place a bet where you guess the winner of five football matches, and you are feeling lucky, so you put £5 on the bet. You check the Ladbrokes system later, and you see that four of your bets actually won. However, one of your guesses was completely incorrect. Under normal circumstances, you would walk away with nothing. But, if this is your first fivefold accumulator bet on the football today, then tomorrow you will receive a £5 bet credit to use.
You cannot cash out your Free bets, and Free bets cannot be used to place further "Eligible for Acca insurance" bets. This means that you can use your Free bets to place further accumulator bets, but they will not be eligible for insurance this time or for the winning of further Free bets.
Acca Insurance Tips
Exploiting this promotion is pretty tricky because the odds are still stacked against you, and since the betting sites seem to limit this promotion to one insured bet per day, it seems there are few tips for the Ladbrokes football Acca insurance.
The Ladbrokes promotion team seem to understand that people could simply pick very obvious winners and then have an almost no-risk bet every day. It would either win or if it loses then chances are it would only be one leg that lost. This is why the qualifying bets are limited in size to £10 and is why the combined odds of your bet need to be 3/1. This is before any odds boosts are applied. The cumulative odds element is possibly the only avenue of exploit if you give it a little work.
You pick four selections that are very easy winners with small odds of 1/10 or just over. Each selection must have minimum odds of 1/10. You pick the outright favourites where there is almost no chance of loss. As your final selection out of the five, you pick one that is a genuine gamble. It is a genuine gamble because its odds are so hefty that it pulls your cumulative total above 3/1.
The risky selection is the one that is likely to lose, but if it wins, then your payday will probably make the endeavour worthwhile. However, if it loses, but the other outright favourites win (the ones with tiny odds), then you haven't lost anything because you get your money back in the form of a free bet tomorrow. Under these circumstances, you are still gambling and taking a risk, but you expose yourself to the chance of a bigger win without the bigger risk of an absolute loss of your money.
So, to recap. Make your qualifying bet have four tiny odds choices that you are confident will win. Pick the fifth selection with bigger odds so that your cumulative odds are nicely above 3/1. Place this as your first fivefold Acca of the day, and wait to see if you either win or get the insurance refund.
How To Make A Profit From The Ladbrokes Acca Insurance
With the Ladbrokes Acca insurance promotion it is not possible to lose one day, get a Free bet, place it again, lose and keep having your losses refunded. The only method is to get lucky, to use the method mentioned above, or to double your bets when you get a Free bet. For example, if you spend £5 per day betting on accumulators, and today you get a Free bet because of only one leg losing, then you can use your Free bets and your £5 real money bet next time giving double the potential winnings. Just remember that your Free bet doesn't count as a qualifying bet for further Acca promotions.
Again, as mentioned above, the Ladbrokes Acca insurance offers only a very slim chance of coming into play. Your best chance of using it is if you place a bet with four easy winners and one tough winner. Otherwise, you will have to rely on gambling prowess, tactics, and raw luck.
Terms & Conditions
Create your fivefold accumulator bet on the football, making sure it is within one of the markets mentioned earlier in this article.

Qualifying bets must have odds of 1/10 and the cumulative odds must be 3/1 or over.

The offer is open to existing customers betting online and on the app, and to new customers who sign up within the promotional period.

You are not eligible for the promotion if you open a new account and fund it with Prepaid Cards, PayPal, Moneybookers, or Paysafe. Older accounts may fund their bets with these.

Your accumulator must be funded with real money, not free bets, and must be placed before all the matches have started. In-play bets do not count.

You only get one free bet per day on this promotion. Only your first Acca is eligible for Acca insurance.

If any of your selections become void, then Acca insurance is not applied. It may revert to the next Acca bet you have placed.

If any selections forming part of your qualifying bet are void or postponed, you will still be eligible for Acca insurance so long as your bet is still made up of 5 or more qualifying selections when the void or postponed selections are removed.
Frequently Asked Questions
<h3>How to use Acca Insurance?</h3>
There is no need to use or activate the promotion. If you place a qualifying bet, then it is applied to your selection and you will receive your free bet tomorrow. You don't have to worry about it, just be aware of it when you place your bets.
Do I still qualify for Acca Insurance if one leg is void?
No, you do not qualify if one leg or selection is void. In this case, your insurance will move onto your next eligible bet or you will have to wait until tomorrow. If you had more than five selections and one was void, your Acca insurance would still count.
Can edited or cashed out Accas qualify for Acca Insurance?
Your edited or cashed-out bets will not be eligible for the refund. Even if four out of five of your selections win, you will receive nothing the next day.
What Does Acca Insurance Mean?
It is a way of saying they will refund your bet's stake tomorrow if your fivefold football bet has four selected winners. It is a promotion that was created to encourage people to place fivefold accumulator bets on football.
What Is The Best Acca Bet?
The best Acca bet is almost always where you bet on reasonably small odds with a fairly small stake amount. The thing about Acca insurance is that it encourages slightly higher stakes with the offer of a possible reward if just four out of five selections win.
What Sports Is Possible To Get Acca Insurance On?
With Ladbrokes, it is only for football, which is also the case for most betting sites. However, there are some that may offer Acca insurance on various different sports.