Ladbrokes 1-2-FREE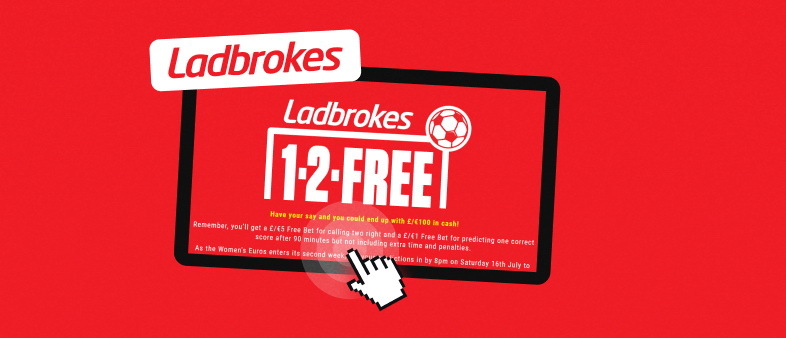 The 1-2 Free offer from Ladbrokes is a free-to-play game based on predicting three correct scores over three different football matches. As well as the ability to win £100 in cash there are also Free bets available if you get two or even only one score correct.

How Does Ladbrokes 1-2-Free Work?
Ladbrokes 1-2 Free is a free-to-enter game based on predicting the correct scores of three pre-selected football matches. If you correctly guess the final scores of just one you get a £1 Free bet, if you predict two you get a £5 Free bet, and getting all three football matches correct wins a massive £100 in cash. You can play 1-2 Free each and every week to try your luck with your predictions.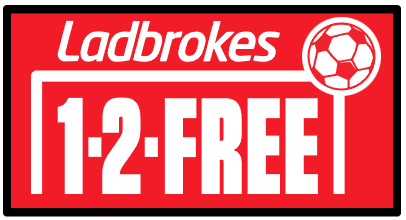 How to Play Ladbrokes 1-2-Free?
Sign Up
Account reg at Ladbrokes is a simple process. Either navigate to the Ladbrokes website or install the free mobile app. Select "JOIN" and enter all of the information required. After entering your personal info keep navigating through the sign up process ticking any boxes or entering any necessary info until reaching the final page and clicking "Sign up" to finish the process. Now your account has been created and you can log in!
Navigate to Ladbrokes 1-2-Free
To navigate to the Ladbrokes 1-2 Free section of the app simply go to the promotions section located in the menu or wait to see the 1-2 Free banner appear along the image carousel on the homepage of the app. On the website it is usually located in the top banner or it will definitely be listed under "Promotions".
Check Last Entry Times or Click Play Now
To check the Last entry times for the 1-2 Free offer simply navigate to the 1-2 Free offer page. As well as containing a variety of useful info about the prizes, the page also displays the last entry time for the current game week.
Make Your Predictions
Click on the arrows to increase or decrease the projected correct scores for the pre-selected matches. Once your done with this hit submit and wait for the matches to be over to see if you won!

All Done!
All that's left to do is watch and wait! If you do predict any of the matches correctly and win a Free bet or the grand prize of £100 you will receive an email from Ladbrokes directly alerting you of this!

Ladbrokes 1-2-Free: How to Claim
If any of your three score predictions are correct then your prize will be credited to your account automatically once the matches have all ended. If one of the 3 predictions are correct you will receive £1 in Free bets credited to your account. If two of them are correct you will receive £5 in Free bets credited to your account and should all three of the match scores be correct you will receive £100 in cash to play with or withdraw!
Top Tip To Win at Ladbrokes 1-2-Free
One of the main things to differentiate the Ladbrokes 1-2 Free prediction game from the prizes on offer from many other betting sites is the fact that no matter how many winners there are you will receive the full Free bet or cash amount of your winnings (rather than it being split between everybody). The Ladbrokes 1-2 Free offer always pay a £1 or £5 Free bet for one or two predictions and if the final fixture also comes in then that is worth £100. This means that you could choose to lay your score on the last game played at an exchange to lock in a certain profit.
In other offers where it is not certain how much you will win and you could end up with a smaller amount of winnings you can not do that. The 1-2 Free bet offer however states that once you've won, no matter how many other winners there are, the £100 cash prize is yours. This means that your betting strategy should definitely gravitate towards the most likely potential scores for each match based on the teams and players who are playing.
Terms & Conditions
Although the Ladbrokes 1-2 Free offer is totally Free to enter there are still a few terms and conditions and entry requirements to be aware of before you begin to play. Always remember to only ever risk what you can afford to lose, and follow responsible gambling rules, even when it is using Free bets.
The promotion is open to any new or existing customers who have an account registered in the UK or the Republic of Ireland. You can bet either via a desktop computer on the website or via Ladbrokes mobile app. Predictions must be made before the kick off of the 1st match of the 3. Your Free bets are valid for 7 days after the date of them being issued. When you deposit try to use a debit card because payment method restrictions will apply to most other deposit types.
Should for any reason any of the matches be cancelled or voided, the matches which were correctly predicted are still classed as a qualifying bet for the £1 and £5 Free bets reward. For example if one match is cancelled and you still correctly predict the scores of the other two matches the £5 free bet will still be credited.
Read about 
Frequently Asked Questions
How to qualify for the Ladbrokes 1-2-Free competition?
Qualifying for the 1-2 Free prediction game is as simple as having a Ladbrokes account if you are one of their Republic of Ireland or UK customers. You do not need to opt in to the 1 2 free promotion as such, just make your correct score predictions and Free bets will be added to your account within 24hrs of the last game finishing if you win.
How much does it cost to play 1-2-Free at Ladbrokes?
The 1-2 Free prediction game is totally free to enter and play. There are no qualifying bets or minimum odds required for this! Just sign up and play. As well as offering real money prizes there is also the more probable chance of winning what is essentially a no deposit Free bet every single game week. Remember Free bets valid for 7 days with no min odds or bet types excluded.
How much can I win by playing 1-2-Free at Ladbrokes?
Playing the 1-2 Free prediction game at Ladbrokes can net you either a £1 in Free bet up to a £5 Free bet credited to your account. It is even possible if you get all three correct score predictions right and win the £100 cash prize.
Does Ladbrokes give free bets?
Ladbrokes provides Free bets with a variety of offers including their welcome bonus for new customers (and of course the two free bets available via this 1 2 free promotion). Please note that some offers must be claimed within 14 days of account reg and will have min odds to qualify. Free bets valid for 7 days unless otherwise stated and other restrictions apply so read the T&Cs carefully.
What markets are offered?
Ladbrokes is one of the best betting sites there is when it comes to offering a huge variety of markets and bet types outside of this promotion. With a great amount of Sports markets available for new and existing customers for all of the popular sports such as American football, Cricket, Tennis, Golf, Football, Horse racing, motor racing and so many more.