How to Withdraw from Ladbrokes: How Long Does It Take in 2023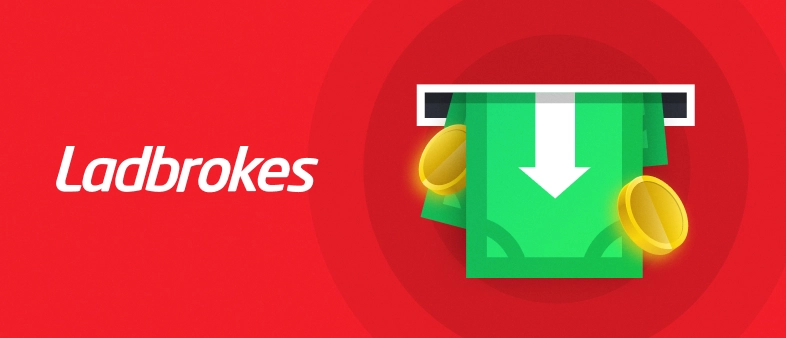 Ladbrokes Withdrawal methods
Ladbrokes is perhaps one of the world's oldest gambling sites, tracing its roots back some 150 years. From the beginnings as a small enterprise in a small village named Ladbroke just outside South London it has grown into a global behemoth. Today Ladbrokes is available in over 20 languages, accepts bets all across the globe, and accepts deposits in over 15 currencies. From a centralised player bank they offer bets on every Sport imaginable alongside Financial betting, Bingo, Casino, and Poker games. They have a large range of deposit options but please note Credit Cards are no longer accepted as one of the deposit methods
Labrokes Withdrawal Options and limits
Withdrawal Method




Fee

Processing time

Min limit

Max limit

Debit Card

(Visa or Mastercard)

Free

1 – 3 Banking Days**

£5*

N/A

Visa Fast Funds

Free

4 hours

£5*

N/A

PayPal

Free

8 hours

£5*

N/A

Much Better

Free

8 hours

£10*

N/A

Online Bank Transfer
Free

2 - 4 Banking Days **

£5*

N/A

The Grid (Ladbrokes Shops)
Free
Instant
£0.01
N/A
*Please contact the customer services team for withdrawal requests for less than £5.
**Ladbrokes say this can depend on your bank's processing times, meaning it could take up to 5 banking days to reach your account.
Ladbrokes Withdrawal Methods – Debit Card
Ladbrokes accept Visa, Mastercard, and Maestro debit cards. As is standard across all gambling sites you can only deposit money into your account using cards that are registered in your name. Payments taken from and paid back to the card are always free of charge provided that the deposit has been turned over at least one time.
Ladbrokes Withdrawal Method – PayPal
PayPal is the E-Wallet of choice for the vast majority of the UK general public, due to its association with the online auction house EBay. However in the gambling World it was late to the game and has only recently gained prominence. It is one of the better payment methods to use at Ladbrokes with a swift same day (8 hour) payout time and relatively low minimum withdrawal limit of just £5. Withdrawing money by this method is always free, and PayPal is the main E-Wallet available, both Skrill and Neteller not being accepted.
Ladbrokes Withdrawal Method – MuchBetter
MuchBetter is another good option if you want to transfer money at Ladbrokes, with withdrawal times on a par with the other E-Wallet PayPal. The only real difference between them is PayPals £5 minimum withdrawal limit compared to MuchBetters £10 limit. MuchBetter is a Peer to Peer system that allows you to pay conveniently anytime and anywhere with your email address and password
Ladbrokes Withdrawal Method – Bank Transfer
Nearly always the method of last resort is to Bank Transfer your winnings back to your bank account. This method is likely to take longer than other methods, up to 4 days in fact, but it is sometimes preferable if very large sums are involved as there is no maximum limit. 
Alternative Methods
Ladbrokes off something called "The Grid" for their customers to use to withdraw funds. This is basically a loyalty type card which links your online gambling account to your high street betting. If you have a Grid card you can use any Ladbrokes shop to deposit real cash at the cashier and it will be added online, and vice versa funds won online can be taken out as cash. This method potentially has the quickest withdrawal time.
How Long Does A Ladbrokes Withdrawal Take?
Each withdrawal can take a different amount of time depending on a large number of factors. How long can vary depending on how you withdraw, when you withdraw, how much you withdraw, to name but a few.
Step by Step Guide
How to make a Ladbrokes Deposit
After logging in to your ladbrokes account navigate the green deposit logo in the top right corner of the page

Select which method you would like to deposit with from those available and enter any required information as well as the amount you would like to deposit. Finalise your deposit by clicking the deposit button and wait for your funds to reach your account.

How to make a Ladbrokes Withdrawal
After logging in to your Ladbrokes account select the account logo in the top right corner

Select withdraw from the panel that appears

Finally select which method you would like to withdraw with as well as how much you would like to withdraw. Finalise your withdrawal and wait for the money to enter your account! 

(Note that withdrawal processing times will vary heavily depending on the withdrawal method, see our table above for guidance)
Frequently Asked Questions
How can I view my withdrawal history?
To view your withdrawal history at Ladbrokes sign in to your account and then click the account logo in the top right corner of the screen. From there navigate to payment history. Inside of payment history is a variety of filters allowing you to choose withdrawal or deposits as well as the date of the transaction and even the method of transaction if you have used a variety of methods.
What are the minimum deposit and withdrawal amounts?
The minimum deposit and also withdrawal amount at Ladbrokes is remarkably just £0.01 if you use the Ladbrokes Grid card and visit your local Ladbrokes shop. For purely online transactions though, without leaving the comfort of your own home, it is £5 for both deposits and withdrawals.
How can I cancel a withdrawal?
It is not possible to cancel a withdrawal at Ladbrokes once it has been submitted. This is true of all UK regulated online bookies.
I am having problems with my withdrawal, what can I do?
If there is a problem with your withdrawal, for example you think that you have been waiting too long, the first thing to do is check with customer services to see if all the payout rules have been met, and if they have, is the payment pending? If they have not then what you need to do from here will be explained to you. If all the payout rules have been met at Ladbrokes end then the problem may be with your payment processor and you will be provided with any info you need from Ladbrokes to take to them.
Yes PayPal is a method of payment accepted at Ladbrokes and it is free to use, payments credited instantly and for free.