Betting Sites with Fast Withdrawals – Our Top 5
| | | | | |
| --- | --- | --- | --- | --- |
| Bookmaker | Fastest Withdrawal Methods | Processing Time (As advertised on their websites) | Minimum Withdrawal | Maximum Withdrawal |
| Parimatch | | Within 30 minutes | £5 | £30,000 |
| BetVictor | | Within 40 minutes | £5 | £30,000 |
| PaddyPower | | Within 4 hours | £1 | £5,000 |
| Betway | | Within 2-24 hours | £5 | N/A |
| William Hill | | Within 4 hours | £5 | £33,000 |
Parimatch

Parimatch provides customers with some of the fastest withdrawals available. With the ability to send anywhere from £5 to £30,000 back to your bank account within 30 minutes Parimatch really allows you to have your winnings whenever you want.
Pros ✅
£40 in Free bets as a Welcome bonus

Several New User offers allowing you to pick the one that right for you

Excellent odds on minor league football games, often best priced among the competition
BetVictor

BetVictor comes in second on our list of betting sites for the fastest withdrawals available! Offering the same £5 to £30,000 withdrawal limits and up to 40 minute withdrawal time, BetVictor is a close second place to Parimatch.
Pros ✅
£50 in Free bets for New Users (T&Cs apply)

Bet Builder covers a large range of sports

Best Odds Guaranteed and a Run for your money on all UK races
PaddyPower

Offering one of the fastest withdrawals available and the first E-Wallet on the list, PaddyPower provides up to a £5000 withdrawal in under 4 hours of your withdrawal request if you use PayPal.
Pros ✅
£10 Risk free first bet

Best Odds Guaranteed on all UK racing

Fun and Friendly well designed website
Betway

Betways withdrawal times come in slightly quicker than PaddyPower however with much more variance. Using Neteller on Betway allows your withdrawal to be processed within 2 - 24 hours. This means a shorter time than PaddyPower may be possible however it is not guaranteed.
Pros ✅
£30 Risk free Acca as your first bet

Excellent 24/7 customer support

Great App with built in Cash out feature
WilliamHill

WilliamHill may be the bookmaker of choice for high rollers when it comes to fast withdrawals. Providing a less than 4 hour withdrawal time for a maximum amount of £33,000. WilliamHill provides an extremely high maximum withdrawal and allows you to withdraw a great amount of cash.
Pros ✅
£30 of Free bets for new users

Acca Freedom: Boost or Insure

Epic Odds Price boosts on every big game!
Top Sports Betting Apps With Quick Withdrawal
Many of the fast withdrawal betting sites listed above have their own sports betting apps which allow the excellent withdrawal speeds to be carried over!
Parimatch offers its customers a great mobile app with all the functionality of the online site. Offering the same £5 to £2500 withdrawal in less than 30 minutes, Parimatch is an exceptionally fast site with any withdrawal method.


The BetVictor mobile app also provides you with excellent functionality and allows you access to the same great payout speeds offered on the website. Providing the same £5 to £2500 withdrawal limits and 40 minute withdrawal time, BetVictor is an excellent fast withdrawal option.


The PaddyPower mobile app is one of the best mobile apps available. Offering a great user interface and a variety of excellent features as well as the aforementioned £5000 maximum withdrawal paid in under 4 hours. PaddyPower is a great withdrawal option on both the app and their mobile site if you are looking for fast payout betting.

How Payout Process Works On Betting Sites?
Withdrawing from online sportsbooks back to your bank account is typically a three step process.
The first step consists of verifying your identity. Although some bookmakers may require this when you initially create your account, some will request it only upon your first withdrawal. No matter when your ID is requested the process is the same and either uploading or Emailing them a valid form of ID such as a passport or driving license is necessary. As well as proof of ID many online gambling sites require proof of address in the form of a bank account statement or utility bill.

The second step of paying out is requesting a withdrawal from your betting account. Betting sites will always have a wallet or some sort of cashier section which allows you to make a withdrawal request. As well as choosing a withdrawal amount you will have a huge variety of payment methods to choose from but it is very likely you need to have deposited by that method first.

Processing your payment is the final step required to withdraw money. This step is done exclusively by the bookmaker and consists of them checking the personal details and ID of all UK customers to make sure that any wagering requirements have been met and there are no anomalies. As long as everything checks out the withdrawal request can be authorised and processed. Normally the payment process takes 24 - 48 hours however fast payout betting sites can take significantly less time with some of the payment methods mentioned above.
How to Make a Withdrawal?
Withdrawing is arguably the best part of real money online gambling because this is where you get hold of your winnings! Withdrawing has been streamlined into an exceptionally simple process by online bookmakers and these days it simply requires a few easy steps to get your money. Assuming that you are already logged in and have funds in your wallet that need to be withdrawn, the following guide will show you how to make a withdrawal.
Locate the withdrawal section of your betting account
Start by locating your account wallet which is normally in the menu towards the top right hand side of the screen. After locating the correct area you should see a drop down menu usually referred to as your 'My Account' area.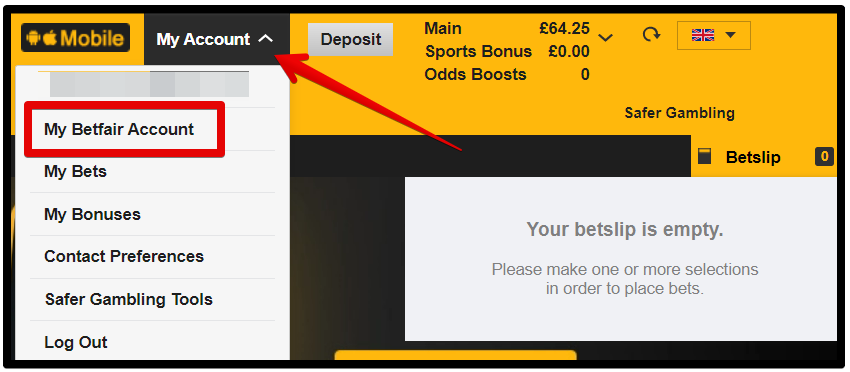 From here access your account controls, or at some sites at this stage you can jump straight to selecting 'withdraw' as an option.
On the next screen you can see your basic account info, including your withdrawable balance and some other relevant details. Notice how they have made it very easy to find the deposit button by making it yellow, but not so easy to spot the withdrawal button (they are not alone in doing this). Choose that you want to 'Withdraw Funds'.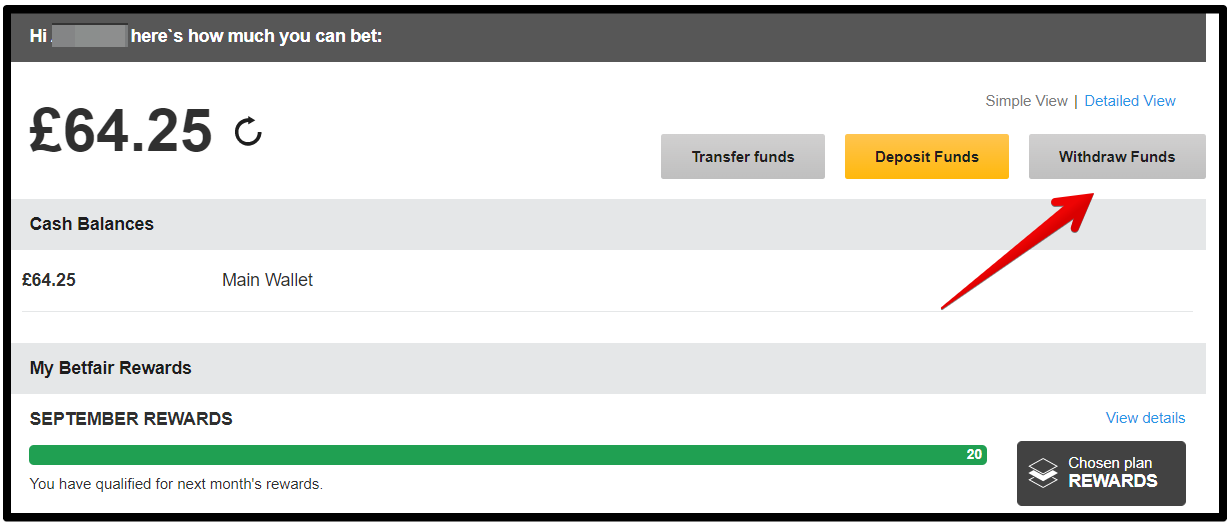 Select your payment method and amount

Image
Choose your preferred payment method from those provided by your bookmaker. Many sports gambling sites offer a great variety of withdrawal methods (each method comes with its Pros and Cons) but UK customers must withdraw back to a method they previously deposited with. As well as choosing how you want to withdraw you also need to decide how much to withdraw. If you feel your time with a site is done for now then as long as there are no withdrawal fees taking the money out of your betting account makes sense. In this example we are just going to withdraw £5 which is the minimum amount possible. Enter the amount and click 'Withdraw'.
Enjoy your money!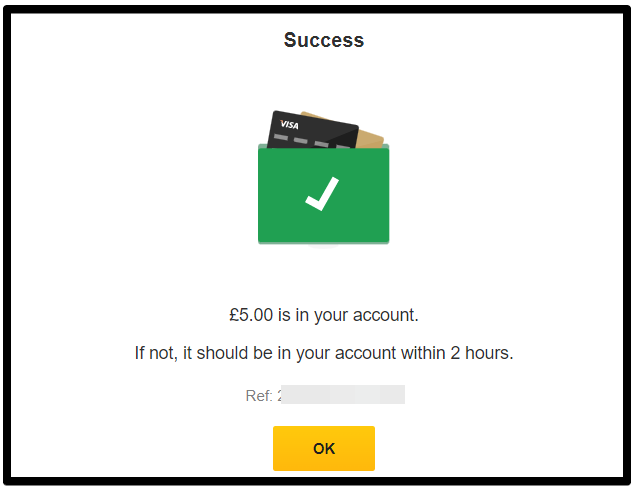 Your money will be in your account typically within 24-48 hours and this is what most betting sites will state. However if you are using a fast payout betting site (as we are) and the Visa Fast Funds payment method then your money could be with you in a matter of minutes. For us when researching this article this was actually an instant withdrawal!
Which Online Withdrawal Method The Fastest?
With a huge range of withdrawal methods available at almost every online bookmaker, finding the fastest payment method is a difficult task but we have done the research for you, and below give you our findings on the fastest online payment methods. Although the exact withdrawal time will vary from bookmaker to bookmaker they often share a similar withdrawal speed.
Debit Card
Using a debit card can result in near instant withdrawals if it is a Visa card and both the banks involved are part of the Visa Fast Funds scheme. Regardless even if it is a standard debit card withdrawal it will still provide some of the fastest withdrawal times available. At a variety of sites, Debit card withdrawals take less than an hour and in some instances can just minutes for your money to be back in your bank account. As well as the high speed, a debit card will typically have higher limits than other payment methods and some bookmakers offer withdrawals of £25,000 or more (However this depends on the bookmaker and some sites enforce significantly lower limits).
E-Wallets
E-Wallets are definitely the second fastest withdrawal betting method. Some of the most popular E-Wallets such as PayPal and Neteller provide withdrawals in 1 - 4 hours if done in the UK and they are usually the quickest way to send money to and from foreign bookmakers, but with UK gambling legislation that does not really happen anymore.
Which Withdrawal Methods Are The Slowest?
Of the payment methods available there are few that could be considered especially slow. Bookmakers themselves are often the limitation when it comes to withdrawal speeds. However below we list the two methods which although rarely used, when they are used, they are slow...
Wire transfers (also known as Bank transfers) are one of the slowest methods of withdrawal. It is not uncommon that when you withdraw funds it is 3-5 days before the money hits your account. Bank transfers are exceedingly slow and are only really good for withdrawing large sums for high rollers who bet with large amounts frequently.
Cheques are still, remarkably, used to pay withdrawals but this is quite rare, is only on request and there is often a fee involved. Should you request a withdrawal via cheque in the post expect to be waiting for around a week or more until the funds are in your bank account.
How To Get Betting Payouts Faster?
Choose a reputable bookmaker: Some bookmakers like to drag their feet when it is time to process withdrawals, whilst with others you can have a near instant withdrawal. As a rule the older, more established, sites in the UK with greater financial muscle behind them make payments more swiftly than the newer and probably smaller operators.

Plan when you withdraw: This advice is a double edged sword. On the one hand, it is true that if you withdraw at 1 pm on a Wednesday afternoon there is a good chance you will get paid quicker than if you withdraw at 11:30 pm on a Saturday night. This is due to a number of factors and will depend on the banking method you use, bank transfers being the worst hit and debit cards next. However, if you decide you want your money on Saturday night, perhaps because you have bet on Saturday's football games and now have some winnings, then there is little point in waiting for Monday morning at 9 am to withdraw funds. Yes, it might have a quicker turnaround time from submission to the money arriving but you will get the money at 10 am Monday morning in both scenarios so in reality there is no difference.

Choose a fast payment method: There is a good chance that when you go to withdraw from your betting account the bookmakers give some guidance as to what withdrawal methods are available to you and how long each one will likely take. If you want to withdraw money quickly then choose the one that is a fast payout (which is usually one of the Fast Funds debit cards).

Sort out the admin ASAP: It is likely that at some point during your time online betting you will be asked to provide ID documents as part of the KYC (Know your customer) procedure. It is nothing to worry about but it can cause delays when you want to get paid. It does not hurt to ask what documents they require and upload everything as soon as you join, rather than wait for them to ask you.
Possible Reasons for a delayed Betting Site Withdrawal?
ID Checks not completed
The most likely cause of a delay to a withdrawal will be that they are waiting for some form of ID from you. This can range from simple Govt photo ID such as a passport scan or a Driving Licence scan as well as some proof of address like a bank statement. It can be more complex though and if you are unlucky you may need to send scans of the card that you used and a source of funds form amongst other things!
Slow bookmaker
It is actually hard to know this in advance but sometimes you will open a betting account at a bookmaker who are slow paying people. They may not have been when you deposited but if they are when you make a withdrawal request then it is you who will be waiting for your money.
Bad timing
You can find yourself with a delayed withdrawal if you find the expected time frame clashes with a weekend, or even worse a bank holiday. This can be especially problematic around the end of the year when you have Public holidays for Christmas Day, Boxing Day, and New Year's Day, and if there is a weekend in the middle, a normal payment time of three days can easily take over a week.
Tips for Fast Withdrawals
Use Visa Fast Funds Debit cards
This will only be an option if your card issuing bank, and that of the bookmaker, are both part of the Visa Fast Funds scheme but if they are then your payment will be almost instant. This is head and shoulders the best method to use for fast withdrawal betting but unfortunately not all debit cards support it.
Have your account fully verified
To have your withdrawal processed straight away you must have all your documents up to date and approved by the bookmaker as soon as possible. It won't make any difference what payment method you use if the bookmaker is not processing it. Even if you have Visa Fast Funds and you are withdrawing from one of the payout betting sites that support it you still won't get a penny until you have passed the anti-money laundering regulations. The best betting sites will make you aware of these before they are needed, but not all will.
How to Sign Up to Instant Payout Betting Sites UK
There is not really such a thing as an "Instant Payout Betting Site", although there are bookmakers who at times will payout instantly that is true. All betting sites have different payout times depending on what method is used, what time of day is it when the request is submitted, is it a first withdrawal, and how large it is, these are but a few of the things that will affect a payout time. A betting site can be instant for one set of circumstances but still take a week with a different set of circumstances. That being said some bookmakers are consistently quicker than others more often than not and certainly have the possibility of being instant, so we will run through how to join one below... 
Go to the Legalbet list of bookmakers to see our breakdown of who are the top UK betting sites, read the full reviews if you want to or just jump in by clicking "Bet now"


In this example we have decided to click "Bet now" next to Parimatch (the #1 Fast Withdrawal Betting Site) and have been taken to their Welcome bonus landing page. From here you have two buttons to choose from in order to begin the Sign up process, click on one of them.


Initially you will need to enter your personal details. These are:

A) Your Gender (We have no idea why that matters)


B) Your name as it appears on your Government ID

C) Your date of birth

D) Your current mobile number

Then when that is complete click on the green circle in the bottom right of the screen.

You will be taken to your address section:

E) Enter your postcode and a list of addresses will appear, choose your current home address.


Click on the green button in the bottom right again.


Finally you need to finalise your account settings:

F) Enter your Email address and a strong password

G) Choose your marketing preferences and agree to the T&Cs

H) Click on "Create Account" and you are finished!
What's the Best Payment Option?
There is no such thing as a "best", because of the huge range of variables involved such as how much money it is for? When are you withdrawing? From which betting site you doing withdrawing? The answers to each of these questions will make one payment method better than another because they all have different Pros and Cons when using them. On average though to answer the question, in our experience using a Visa debit card is the best payment option as long as your bank is registered with the Visa Fast Funds scheme.
Regardless of what a betting site says, the reality can be different. In order to provide you with the most accurate information possible we test each site thoroughly, and part of that process involves withdrawing from (and timing) each betting site, so we can say with absolute certainty how long you should expect to wait.
| | | | | |
| --- | --- | --- | --- | --- |
| Bookmaker | Min Visa Debit Card Withdrawal Amount | Max Visa Debit Card Withdrawal Amount | Payment time on Website | Payment time: Legalbet research |
| Betfair | £5 | £1000 | Up 2 hours | Instant |
| Sky Bet | £5 | £1000 | Less than 2 hours | Instant |
| William Hill | £5 | £33,000 | 30 mins - 4 hours | 4 - 8 hours |
| Paddy Power | £0.01 | £1000 | Up 2 hours | 2 hours |
| Betway | £5 | No Max | Less than 12 hours. | 3 - 4 hours |
| Parimatch | £5 | £30,000 | Within 30 minutes | Instant |
| Ladbrokes | £5 | £5,000 | Within 4 hours | 2 hours |
| QuinnBet | £10 | £20,000 | Within 4 hours | 2 hours |
| Betfred | £5 (paid automatically, £0.01 on request) | £20,000 | 48 Hours | 4 - 8 hours |
The top betting sites are…
Here at Legalbet we have also categorised the top betting sites and their features to make them easier for you to find. They are:
By Sport: Football | Tennis | Boxing | Cricket | Snooker | Golf | UFC | Darts | Greyhound | Rugby | Horse Racing | Basketball | Baseball | Formula 1 | Ice Hockey (NHL) | Volleyball | Cycling
By Payment Systems: PayPal | Skrill | Klarna | Boku | Debit Cards | Apple Pay | Paysafecard | Neteller | Google Pay | Prepaid Cards
By Features: Cash Out | £5 Minimum Deposit | Minimum Bet Sizing | Live Streaming | Betting Exchanges | Safest | Fast Withdrawal | Daily Free Games
By Events: Politics | Superbowl
By Esports: CS:GO | Dota 2 | League of Legends | PUBG | Valorant
Frequently Asked Questions
Which Betting Sites Have the Fastest withdrawals?
The fastest withdrawals will come from betting sites that allow withdrawals to Visa Fast Cash debit cards and they themselves also have a bank that is registered with this system.
How To Receive Fast Withdrawals?
The main thing which YOU can do in order to speed up your withdrawals is to get all your ID documents sent off and approved as soon as you join a new betting site rather than waiting for them to request anything from you. Nine times in ten at the best betting sites if there is a delay it will be related to this.
Which Payment Methods Provide the Fastest Withdrawals?
There is no certain answer because there are so many variables other than the method that will affect the time taken. It is likely though, from our own experience, that if you withdraw by one of the debit cards in the Visa Fast Cash scheme then the money is there within a minute or two.
Is It Possible To Use the Same Deposit and Withdrawal Method?
Not only is it possible it is in fact encouraged! Online sportsbooks like it when the same banking method is used for both the deposit and the withdrawal because it lowers the probability of money laundering taking place.
Do Bookmakers Pay Out On The Same Day?
Some do, yes, it is especially likely to happen if this is not your first withdrawal and you have cleared all the relevant ID checks before. It is most likely to happen if your payment method will be using Visa Fast Cash which has virtually instant withdrawals.
Does The Size Of A Withdrawal Affect The Speed Of The Process?
Within reason no it does not, withdrawing £10 from your betting account will be paid just as quickly as a £1000 withdrawal. It is likely that all online betting sites will have some kind of internal risk controls which will vary from betting site to betting site, but it would mean that a £10,000,000 withdrawal (for example) would have extra checks attached, which would slow things down. This would apply equally to all payment methods.
Are There Fees on Cashouts?
At the vast majority of betting sites, there are not any fees charged for any payment methods when you cash out. There are at some though so double check this. If there are fees it could be because of the banking method which you are using or because maybe you have not wagered your deposit 1x through.