McGregor vs. Poirier: The Anticipated UFC Event Preview with Bookmaker Odds
The Irishman has agreed to fight on Dana White's terms!
Former UFC two-weight champion Conor McGregor and former interim lightweight champion Dustin Poirier are nearing the final stages of signing a deal for a future fight. According to representatives, the fight will take place on January 23, 2021, at UFC 257.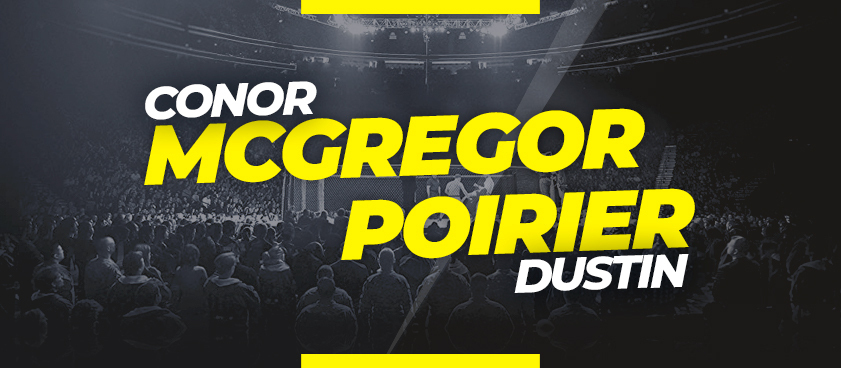 Bookmakers have already opened odds on the UFC 257 event and the Irishman is the slight favourite. Conor McGregor's winning odds are 57/100.
McGregor
57/100

Poirier
7/4

Bookmakers Odds for McGregor vs. Poirier
The upcoming fight will be a rematch between Conor and Dustin. The fighters originally met in the Octagon in 2014 at UFC 178. At the time, both fighters were still performing at featherweight. The technical, quick and energized McGregor knocked out Poirier in the first round.
Even though Poirier has grown significantly over these past six years, all signs point to McGregor repeating victory in the second matchup.
Fight Preview and Physical Statistics
| | | |
| --- | --- | --- |
| McGregor | | Poirier |
| 26 | Fights | 32 |
| 22 | Wins | 26 |
| 4 | Losses | 6 |
| 0 | No Contest | 1 |
| 175 | Height | 175 |
| 77 kg | Weight | 70 |
| 32 | Age | 31 |
Conor McGregor
Former UFC light and featherweight champion.
26 fights, 22 wins, 4 losses.
Conor McGregor Victory
Odds
57/100

After numerous rumours related to possible personal correspondence with Dana White, and through attempts to arrange a fight with star boxer Manny Pacquiao, we now have the news we have been waiting for. McGregor has finally signed a contract for a new fight.
Conor McGregor Current Form
Judging from the training videos as well as his last performance, there is no doubt that McGregor has gained significant muscle mass and consequently weights more than before.
His last fight with Donald Cerrone at UFC 246 proved that a motivated McGregor is still capable of exploding and stunning his opponents, completely eliminating the time for any salvation from the fight.
What to Expect from McGregor in this Rematch?
We will first expect a calm and relaxed start, as we saw in his fight with Eddie Alvarez. The Irishman is well aware that Poirier is far from being his most dangerous opponent. Conor, with a stony expression on his face, will spend the first seconds of the fight figuring out the optimal distance for himself, after which he will wait for Dustin's attacks and attempt to work ahead of the curve.
In addition, as with every fight where McGregor is faced with a taller opponent, the Irishman will turn to his hard and deep low kicks to slow the American down and make him stagnate.
McGregor's Chances of Winning
What started out as a simple meme, the "bald Conor = motivated Conor" is becoming a relevant reality. For McGregor, another win in the UFC will likely not serve as the start to a title run, but rather as a powerful image boost.
The Irishman already has the technical advantage, in regards to punching power and accuracy, which could become the decisive factors. McGregor is unlikely to take it easy on his opponent, despite his promise to donate $500,000 to the Poirier charity.
Dustin Poirier
Former interim UFC lightweight champion. Black Belt in Brazilian Jiu-Jitsu.
32 fights, 26 wins, 6 losses.
The fight between Dustin and Conor took place six years ago. Since that time, Poirier has become a better fighter and achieved decent results. Like Conor, he moved to the lightweight division, fought his way to the title and ended up taking it from Max Holloway, who was at the peak of his career. 
Although Poirier getting caught up in the media world of scandals and trash are extremely rare, he has still managed to make his name known to the world. The fighter has defeated premier opponents such as Justin Gaethje, Eddie Alvarez, Anthony Pettis and Dan Hooker.
Dustin Poirier Current Form
The fight between Dustin and Khabib Nurmagomedov was highly appreciated by analysts. There were several moments when the audience truly believed that the Russian was in real danger of losing the fight. In Poirier's last bout, he dealt with Dan Hooker confidently and once again displayed his exceptional athletic endurance.
Dustin is currently in great shape and will be hoping to give Conor a long fight. As we know, the Irishman is not especially fond of championship rounds.
What to expect in the fight from Poirier
It should come as no surprise to anyone that this fight will most certainly take place in the standing position. Two top-notch brawlers will look to please the audience with beautiful combinations and a confident finish in the first three rounds. It is clear that in these six years both fighters have learned a lot and have also burned themselves more than once with their mistakes.
However, neither Conor nor Dustin have undergone critical changes to their fighting styles. Dustin still slows down when he dips forward after hitting with the far hand, he still likes to trade and exchange blows, and to finish opponents off at the rope. Even at lightweight, he looks to be slower than McGregor, adding to the validity of the bookmaker odds.
Final Predictions and Thoughts
Of course, during the past six years, Conor has also become much more powerful, much more accurate and less stagnant in front of his opponents. At the same time, Dustin still opens up too often, and, despite the American's amazing stamina and strength, walks a tightrope whenever an opponent is able to get a shot in.
If McGregor starts to pick up the pace in the first few minutes, then it will be exceedingly difficult for Poirier to stop him. As of now, the only hope for Dustin will be to bring the fight into the later rounds and to not overly assert himself in search of a knockout.
The Irishman's arsenal of weapons looks, even more, intimidating now, and the chances are high that the keys to McGregor's success will continue to be his honed technique and amazing timing that once shocked his opponents at 165 lbs.
Check also: