32Red Mobile App – review of betting app for iOS & Android (2022)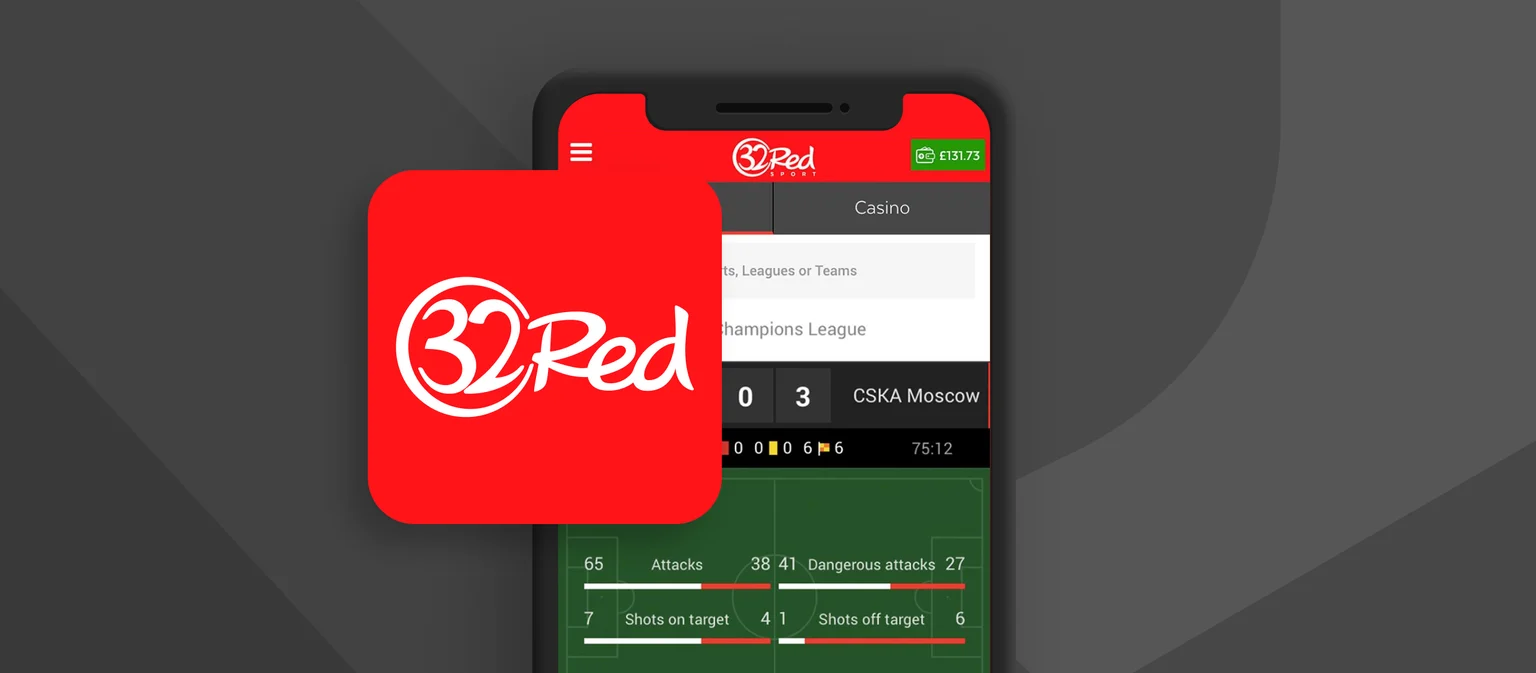 Mobile Betting
32Red stands out from the crowd with their vibrant red theme colour. That is not the only thing that makes them stand out though. Although the app does appear to be predominantly casino focused there is still an extensive list of sports and options for you to bet on and you access both from one mobile login. As well as a brillant user interface allowing you to quickly and easily find any sports you want.
Although the user interface on the mobile site is slightly different the app and site share identical content and features, all except the location of certain interface items.
Mobile App overview
The first key feature of the 32Red app to mention is the search function. This allows you to easily locate specific Leagues or Teams that you would like to bet on. Considering the extensive range of sports and events available to be bet on at 32Red this feature will almost certainly come in handy!
Next along at the time of writing it is upcoming events for "The Championship" but the event displayed will be subject to change over time. This section shows any upcoming events in chronological order including currently live events. Swapping through these events is possible with just a swipe to the left or right.
Following on from this there is the live events taking place right now. These events are also open to inplay betting. As well as this slightly further down are the popular events. These are events that many people have already placed bets on. They could also be big events such as the Olympics or Premier league. Finally, at the bottom of the page are the odds format options. This allows you to change your odds between Decimal, Fractional and American. Decimal odds is a more modern way to display things and is simpler, for example what would normally be 7/5 is now 2.4 instead, it is much quicker to see your returns.
At the bottom of the screen for navigation purposes there is a moveable bar displaying Deposit, My account, Notifications, My bets, In-play followed by a collection of the most popular sports on 32Red.
The 32red app also offers live broadcasting of certain events which can be seen by the red TV icon next to the event. Alternatively almost all live football events as well as various other sports have a form of live display showing key features as well as any exciting moments such as large pushes in football and shots on goal.
Mobile bonus offers:
Sign Up Offer/Deposit Bonus

When first depositing with 32Red two options were available but neither for the sportsbook. Offer number one is a free £10 slots bonus with no deposit required. Alternatively a 150% bonus up to £150 this gives you a large sum of money to bet in the Casino. Although these are the current promotions they are subject to change and so please double check at the time of your registration.

Daily Horse Racing Enhanced Odds. No opt-in required.

The daily horse racing prize boost on 32Red provides "the best the industry has to offer" in regards to the deal you are receiving. to know if a horse race has the price boost simply look out for this symbol (*)  these enhanced odds are a passive promotion and do not require a code or any special conditions to be applicable for them.

Price Boosts

There are often Price Boosts at 32Red but they come and go, check the site today to see what boosts are currently on offer.
How to download the mobile apps?
app for android phones:
Go to the google play store and search for 32Red

Find the 32Red app

Press install

app for iOS phones:
Search the apps in the app store on your mobile device and find 32Red


Select the 32red app by tapping on the logo


Press the download button as shown below in the red box

App Key features:
Cash-Out
Cash out allows you to end in play bets before the event has come to its natural close. This allows you to lock in a profit or minimize a loss lowering the potential risk towards your capital. Although pulling out early will result in a slightly diminished payout should the bet be winning, removing the potential risk of a loss may be worth it for some people!
Live betting in-play
In play betting allows a user to place bets during an event. This arguably allows you to make more informed bets depending on what you see happening and the information being given to you from the game as it plays out. With live betting odds can change and instantly and fluctuate a lot depending on the events taking place. This can cause what would previously have been poor odds for a bet to change quite substantially and therefore be worth considering now. This is why so many people like it.
Live streaming
Live streaming on a 32Red mobile app allows you to view a live feed or sometimes a simulation of a currently live event. This allows you to view the event as you bet on it and is excellent in combination with both Cash out and in play betting. The live streams are sometimes TV footage of an event being played live, however can also be a top down view of the event with key happenings and important moves being displayed in text on the screen. For example, a football game would feature shots on goal as well as aggressive pushes from one team or even information such as possession and various other factors.
Bet builder
Bet builder allows you to put together one individual bet using the odds of many others. For example, for a football bet you may be able to build a bet with the odds for Team A to win and a bet on the score at the end of the match. These two separate bets will then be combined into one and your bet will be built!
Frequently Asked Questions:
How long does it take to withdraw?
Withdrawal times can vary depending on the method you would like to withdraw with. These will likely range anywhere from 24 hours to 5 days depending on the way you would like to withdraw. methods such as skrill, neteller, trustly and paypal can range anywhere from instant to 48 hours to withdraw however methods like visa or mastercard can take 3-5 working days.
What are the Banking options and Deposit methods?
There are many options to deposit with 32Red from popular E-wallets such as Paypal,Trustly,Skrill, Neteller and ecoPayz to old faithful methods such as Visa and Mastercard cards. no matter what method you wish to use 32Red has almost certainly got you covered!
How do you login to the mobile app?
When you open the 32Red app, locate the bright yellow login button in the top right corner of the screen and tap it. Then enter the required information (your email address and 32Red password) and login!
How do you withdraw money from 32red?
After logging in to your account tap "my account" and then banking. then select withdraw. select the amount you would like to withdraw and what method you would like to withdraw with and finalise your withdrawal.
Can I contact customer service via mobile app?
Yes! simply tap the three horizontal lines in the top right corner then scroll down to "24/7 support" from there you would be given a link to the help center as well the address to the 32Red location where you can write a letter and send it to them.
Why doesn't the app work?
The app may not be working due to a variety of reasons. some of these may be on 32Reds side of things or potential on yours. if the app itself is not working due to an entirely unknown reason it is possible a server or other technical issue has occurred in 32Red. This however will almost certainly be fixed quickly by their technical team and should cause no more than a 10-15 minute disturbance at the worst of times. Another possibility is that you are running on an outdated version of the app and that it may require updating from either the App store or the google play store depending on your preferred device.
To download the 32Red app simply head to the Google play store for android devices or the App store for apple devices and search for 32Red. select the 32Red app and press install. After this, simply wait for the app to install on your device and get ready to gamble!