Enhanced Odds & Price Boosts: Offers from UK Bookmakers
Price boosts and enhanced odds offers from UK netting sites. The best value bets for new and existing customers in 2022.
What is an Odds Boost?
An "odds boost" occurs when a bookmaker takes a market and selects a bet, then whatever odds were previously offered these are increased (boosted!) to a higher level. It is also possible for players to choose what bet they want to have odds boosted for and can select this as an option on their bet slip. 
What is a Price Boost?
A "price boost" is exactly the same as an odds boost. It occurs when the odds of a certain betting market or markets are increased to a higher amount than the bookmaker was previously offering. The expression "price" is just another way of saying "odds" and there is no difference between the two. 
What Types of Enhanced Odds and Price Boosts are Available?
A Price or Odds Boost can occur on any sports bet be it a football match, horse racing, a golf tournament, it can be on anything at all. There are a number of different types of Enhanced Odds Boosts available to both new and existing online customers. Some are set by the bookmaker in order to catch the eye on the homepage, others are standard features most commonly attached to large accumulators, and then there is also the bookmakers who add odds boosts as a credit to your account and you can chose to boost certain bets once on your betslip, the choice of what to boost is yours.
There are several different ways in which you can bet on an odds boost. We will detail three of them here now.
Welcome Bonus Odds Boost
Some bookmakers offer eye wateringly good odds on certain popular upcoming bets knowing that it will get peoples attention and be seen as almost free money. Where as the standard odds offered by every other bookmaker may be only around Evens (Decimal 2) the bookmaker will state that any new customer opening an account can bet on that exact same selection and get maybe 10/1 (Decimal 11s) or even higher. Perhaps it is a football enhanced odds offer where Salah to score anytime is boosted to 40/1. This sounds too good to be true, and it certainly is a value bet, but the bookmakers are not entirely stupid and you will find they limit the maximum stake amount on these bets to a low amount limiting their liability.
In the example below you can see that you can get a remarkable 50/1 on a goal to be scored by any team on the day, a bet which should be around 1/100 on. The catch is that you can only bet £1 on this, but regardless this is still a very good value bet.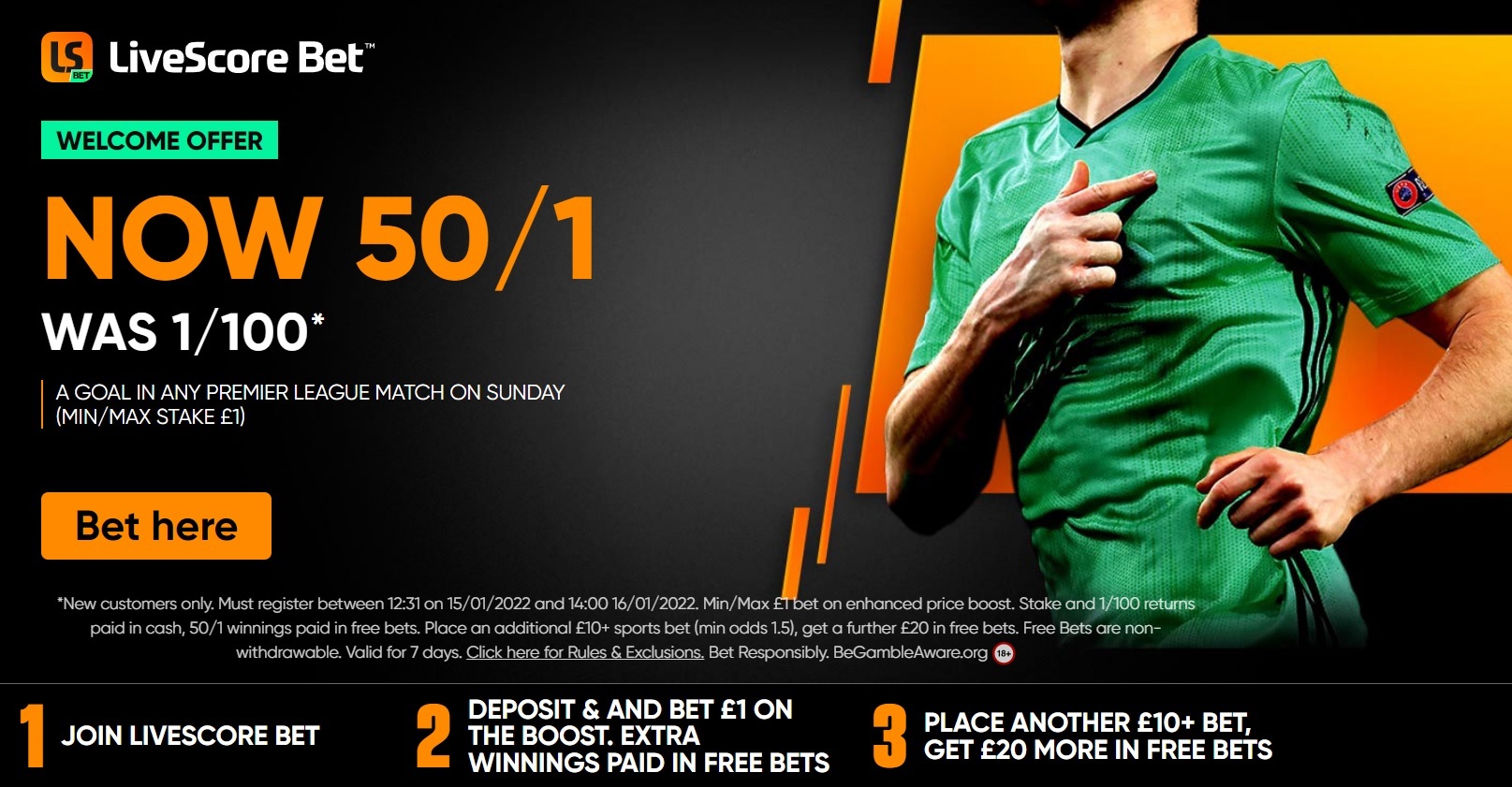 Existing Customer Odds Boosts (Fixed)
These are put onto the homepage or headers of relevant pages in order to catch peoples attention and perhaps get them to wager on a specific bet. It will be something which had otherwise not occurred to them. These price boosts are always an increase in odds on what was previously being offered, however they are still not always necessarily value.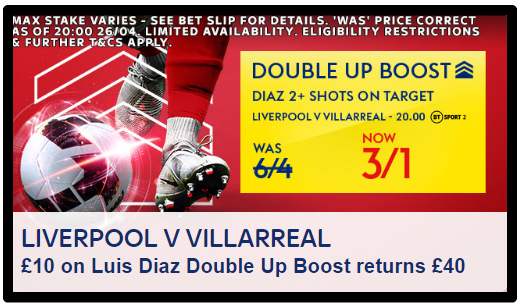 Existing Customer Odds Boosts (Free choice)
Players can also choose their own bets which they would like to have Odds boosted for at certain bookmakers. These boosts are sometimes offered randomly, sometimes a regular amount are given each week or month and sometimes they can be gained by meeting set qualifying criteria. For these odds boosts it is necessary to indicate on the relevant bet slip that this is a bet which would like odds boosted on, and then once that has been done the stake amount added and the bet placed. Because these boosts are on something you already wanted to bet on anyway many bettors see these as the best opportunities for you to take advantage of the value offered.
Advantages of Odds Boosts
The advantage of an odds boost is that should your bet win then you will receive a larger amount of winnings. Before you bet on something it pays to take time looking for the best enhanced odds available. Higher odds means higher profit, it is as simple as that.
How to Find Best Odds Boost Promotions and Enhanced Odds Sign Up Offers
Where to look in future is hard to predict with certainty as bookmakers can begin running highly lucrative promotions with great odds boosts and enhanced odds sign up offers at any time. Similarly bookmakers who have been generous in the past can suddenly decide to stop being so in the future, it is up to them.
We can tell you where has been some of the best places to find odds boosts in the past though, and who is offering the best boosted odds promotions at present on the basis that they are likely to continue to do so, but there is no guarantee of that.
For enhanced odds sign up offers some of the best have come from the bookmakers Parimatch, Boyle Sports and Paddy Power. 
For ongoing Price boosts selected by the bookmaker themselves, (and that are likely to be +EV and great value) the daily BetWay boosts are best. Skybet have a regular Soccer Saturday price boost as well which is usually of tremendous value and between them these are the two best price boost bookies in this category.
For players who want to choose their own bets and have a select few that they feel strongly about winning to have boosted odds the best bookmakers for this are Ladbrokes and Betfair.
How Odds Boosts Work
An Odds Boost means that your sports bet, should it win, will win MORE money than would have been received at the original odds. It goes without saying that they are a good thing and something to be harnessed wherever possible.
We will show you an example from the bookmaker , you may think that Tottenham have a 50/50 chance of winning against West Ham. You see them listed at 11/10 (Decimal 2.1) so you see that as value and go to bet on it. Taking it at face value, a £10 bet will return a total of £21, of which £10 is profit.
An "Odds Boost" will make this even better, at the bookmaker in this example the bet slip has an option to "Apply Boost" which increased the odds from 2.1 to 2.2 for Tottenham to win that game. You can see the effect of this on the bet slip below.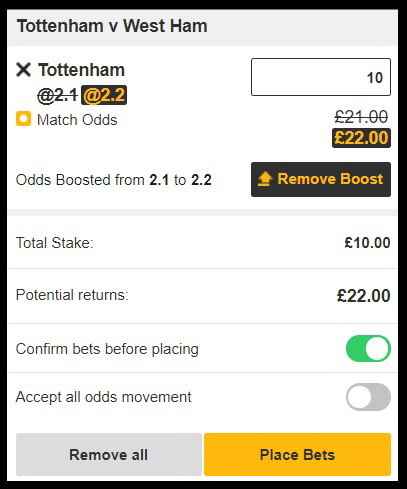 The odds are increased to meaning that the total return is now £22, thus £12 profit. This shows the effect of an odds boost and how it can increase your returns.
Can You Cash Out Price Boost & Enhanced Odds?
Well this will depend on the exact type of boost you have and also it will vary from bookmaker to bookmaker. Some bookmakers simply do not ever have the facility for cashing out bets, some bookmakers do but for logistical reasons you can not with some enhanced odds offers, at others you can and they do let you do it.
Some enhanced odds offers, especially ones offered as Welcome Bonuses, have the enhanced odds paid after the bet has settled and are manually credited, at the time of placing the bet you select the original odds, and therefore you could not cash out the bet as the extra winnings in the bookmakers "system" do not exist yet as collateral. In other examples, namely bets where you have personally decided that you want those odds boosted to a higher level, cashing out is very likely to be an option should you wish to.
The answer will depend on a number of factors though, and vary from bookmaker to bookmaker and from one particular boosted odds bet to another.
Bonuses by category
Bonus types: Free Bets | Cashback Offers | Enhanced Odds | Extra Place Offers | Early Payout Offers
Bonus conditions: Welcome Bonuses | Accumulator Bonuses | Loyalty Programs
Get & Bet: Bet £10 Get £10 | Bet £10 Get £20 | Bet £10 Get £30 | Bet £10 Get £40 | Bet £10 Get £50 | Bet £10 Get £60 | Bet £5 Get £20 | Bet £5 Get £30
Sports bonuses: Football | Horse Racing | Greyhounds
Frequently Asked Questions
What does enhanced odds mean?
It means that the odds on this specific bet have been increased and are more generous. For example instead of 6/1 you are getting 7/1, which is better. Enhanced just means 'better' really.
Are odds boosts the same as enhanced odds?
Essentially they are the same thing, they have the same end result which is you win more than usual betting on them. There can be slight differences, such as a Price Boost is likely to be more time limited than an Enhanced Odds offer but it can vary from case to case.