Popular Betting Offers
So what are betting offers you may be asking yourself? It would be a good idea for us to give you the low down and explain the ins and outs of them all, obviously including all the bonuses that we have listed above.
Welcome Bonuses & Sign Up Offers
The best place to start is probably going to be the first bonus which you ever receive, and these are known as "Welcome bonuses" or "Sign Up Offers". The most common type involve depositing a set amount of money, betting that money, and once it is settled getting a Free bet credit to use for future bets. That is not the only type though, you can also get bonuses giving extra cash on your first deposit, refunds if your first bet loses, or enhanced winnings if your first bet is a winner. Arguably the best bonuses are the Sign Up bonuses, they give you an excellent chance of winning at the start of your betting and this is what the bookmakers actually want, at the start, that way you are more likely to stay and/or come back.
Existing User Offers
As well as a bonus to help get you started at the bookmaker there is additionally also a whole host of other bonuses which can be offered to their existing customers. Not all bookmakers will offer all the different types, and those which are offered are likely to change over time and vary from place to place. We will list below all that are possible, but not necessarily possible at just one bookie.
Email offers: It is very possible, and at some bookmakers it is likely, that they will continue to offer incentives for you to redeposit and bet again. Depending on what marketing preferences you have selected these will be either Emailed or sent via SMS and it is recommended that you agree to accept these as the offers can be very lucrative. These offers are usually redeposit and bet £X with certain criteria to get a £10 Free bet, and example of this is below which was sent out by Email five days after an account was opened.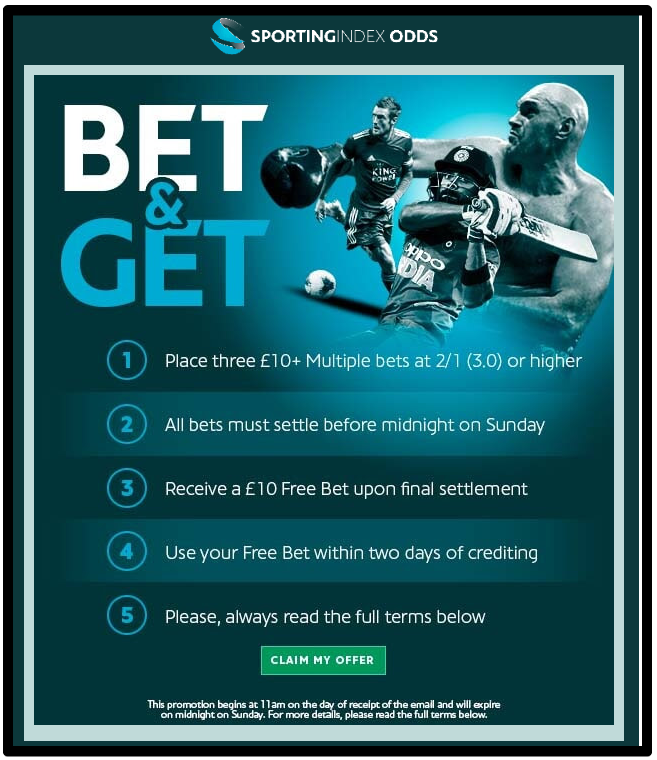 The type of retention bonus that is sent out varies from bookmaker to bookmaker and case by case, some may not send out any offers ever and others may do so regularly. The incentives to redeposit can vary from a free bet for doing XYZ as above to boosted odds on certain selections through to refunds on certain bets if ABC occurs. There is no limit or restrictions to what they may or may not offer. Sometimes if you are very lucky you can get gifted via Email a completely free "Free bet" which requires you to do nothing at all other than to log in and use it, an example of this is below.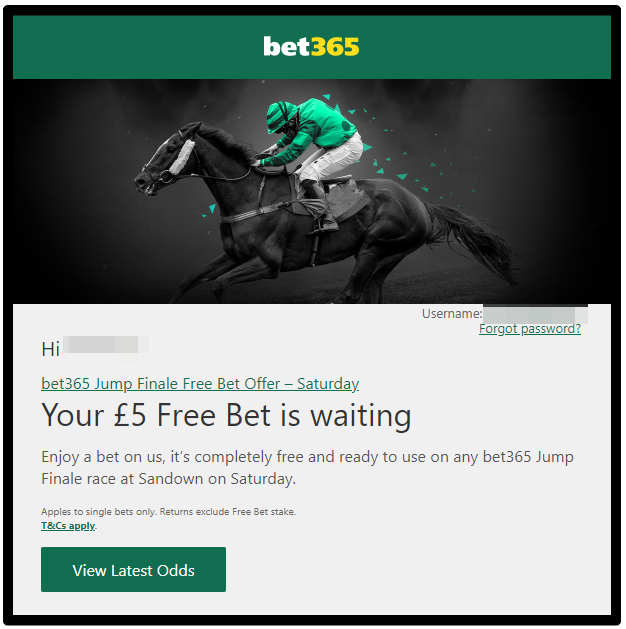 Enhanced Odds: A useful offer from the bookies can be Enhanced odds on certain selections, this is especially true if it was something which you were always going to bet on anyway but sometimes the odds of the enhanced bet are so generous that they are what swing the balance towards placing it rather than not. Some bookmakers will boost a large range of bets on a game, and the specific markets chosen is pretty random and will vary from event to event. For example Liverpool play Villareal in the Champions League Semi finals and Paddy Power has boosted a range of bets as you can see: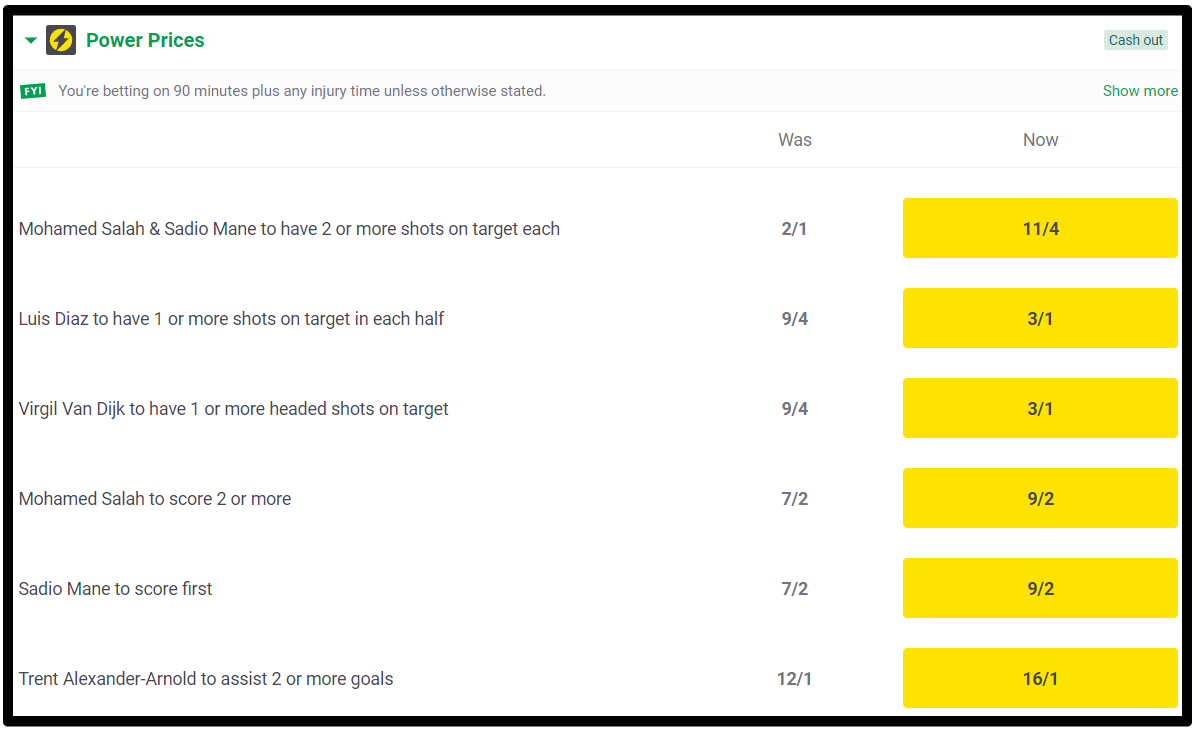 Other bookmakers do not as a rule boost odds for a match and it is sometimes just one bet on the game which they increase the odds to and advertise. For example on the homepage of Skybet they have: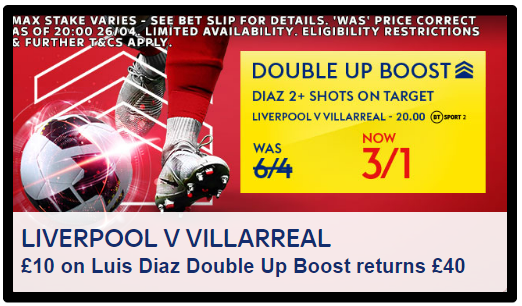 Acca Bonuses (Boost and Insurance): These days there is a real drive by the bookmakers to promote Accumulator, or "Acca", betting. As a punter the appeal of these bets is that you can bet on things which you fully expect to happen and at the end can easily have odds of 100/1+ after just half a dozen or so choices. This is mentally favourable to placing one bet at 100/1 because it is hard to imagine that the 100/1 event will happen. People like to bet on Accas because they think that they can bet £10 and win £1000 pretty easily and bookmakers like people to bet on Accas because… they don't. There is exactly the same chance of six Even chanced bets winning in a row (50% x 6 = 64/1) as there is one 64/1 bet winning, but people do not like betting on something which is 64/1 to happen. 
To encourage people to place accumulator bets (bookies want this because they make them more money) they have begun sweetening the deal by offering two different types of incentive. One of which can actually be genuinely useful and the other is a bit of a gimmick.
The first type of Acca Bonus which we will look at is an "Acca Boost", which means that should you bet win a certain % boost will be given to your winnings at the end, the size of the boost will depend on how many legs you had in the Acca. It is usual to require at least four legs and the upper limits to how many legs are rewarded can be as many as twenty. The amount of the boost will vary from bookmaker to bookmaker and depend how many legs you have included but can be as much as 100% which we have seen before. An example of this offer from the bookmaker MrPlay is below: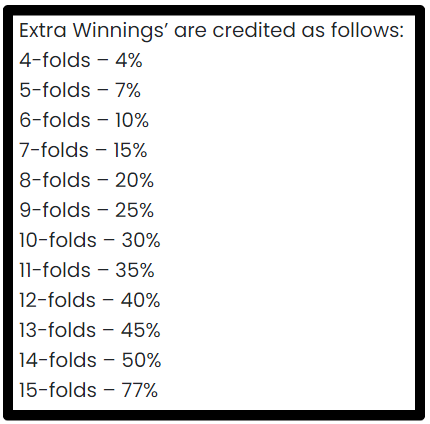 What this means is if for example you placed 4 bets all at Even money then that would in a normal Acca result in odds of 16/1, so betting £10 on it would result in a £160 profit. Because of the Acca boost (at MrPlay known as a "PlayBoost") you would instead get £166.4 profit, because of the 4% boost. It is possible that this can be a good strategy when it comes to placing bets provided the original odds were also good value.
The other mainstream Acca offer is that of a refund if one leg lets you down, often referred to as "Acca Insurance". This is not really such a good offer firstly because your bet must lose in order for it to kick in, and secondly it is pretty unlikely to happen. If you ever get the terms that your Acca loses because of "one or more" leg letting you down then this is a good offer. If on the other hand it is that "only one" leg lets you down then this is not nearly so good, since the chances of just one letting you down compared to all the other combinations are very low. A second point to note is that if the refund is in cash then this has some claim to be a good offer but if the refund is a Free bet, or even worse a Free bet which must be used on an Acca, then this really does have limited value. An example of this offer is at Ladbrokes where you must have a minimum of 5 legs, a minimum total odds of 3/1, and the refund is a maximum £10 Free bet.

Loyalty Clubs: Some bookmakers reward active existing players by setting up Loyalty or Reward clubs where betting activity is recorded and turned into in effect points, the more you bet, the more points you earn, and points mean prizes! Although scaled back in recent times there is also the possibility of joining a firms VIP scheme which can lead to some very luxurious gifts and holiday experiences but the details of these are rarely publicly available. Some schemes monitor the number of bets, some the value of bets, some also could track the amount you lose, before certain rewards, commonly Free bets, are awarded to you.
A good example of a typical bookmaker reward scheme which gives Free bets to existing users is that of SkyBet.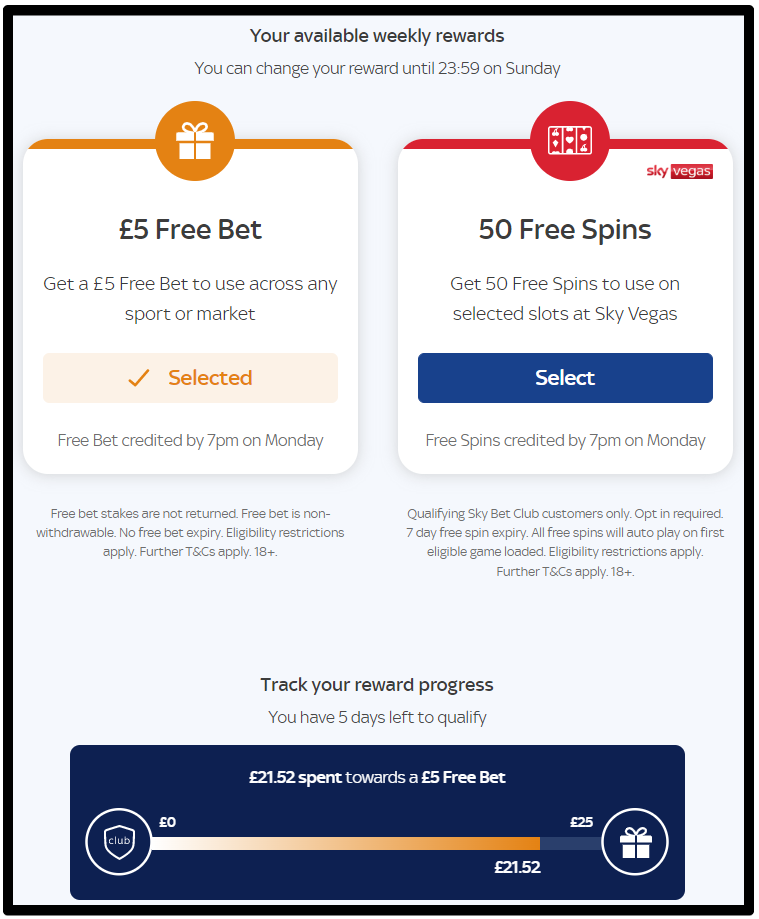 As you can see at the bottom the total stake amount of settled bets is recorded at the bottom and as you progress the bar fills until £25 has been wagered. You can chose what reward you want and it ranges from a £5 Free bet, 50 Free Spins in the Casino section or a combination of the two. The promotion runs from Sunday to Sunday so this is available to all existing customers each and every week.
Horse Racing Offers: There are a huge number of offers, promotions, and therefore also Free bets, available to existing players which are applicable only to Horse Racing so we will list those here. The best bookmaker for Horse racing offers and promotions is Skybet so the screen shots will all be from there when demonstrating what each is with an example.
One of the most common and probably the best is referred to by the catchy acronym "BOG", which stands for "Best Odds Guaranteed". This does not mean that the odds offered by the bookmaker will be the best available at that time (this is normally called a "Best Price Promise"), instead it means that whatever the price (odds) of the Horse when you make the bet if the odds drift through the day and the official Industry Starting Price (SP) is higher, then you are paid at the higher price. Given the choice of betting at a bookie who offer this and one who does not, I would chose the bookie who does almost every time if I plan to bet on Horses.
A few of the bookmakers who offer BOG are Bet365, SkyBet, WilliamHill, Ladbrokes, Geoff Banks, and several others too. An example of a BOG winning bet at Skybet is below: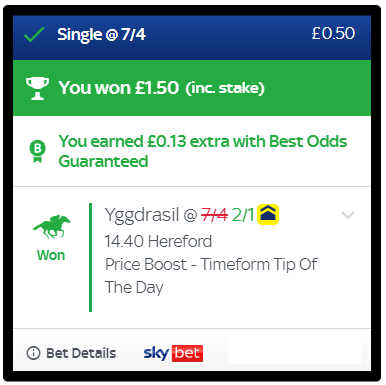 As you can see the original bet was for 50p stake at odds of 7/4 which would normally have returned £1.37 for an 87p profit. Because the horse must have drifted in the market the industry Starting Price (SP) was in fact 2/1. Because of that the bet paid out £1.5 for a £1 profit. This is only 13p but the % increase was 13% so you can see how good this offer can be for larger value bets.
Extra Places are offered on some races by some bookmakers and obviously this would only be relevant to you if you were betting Each Way on the race anyway. If you do bet Each Way regularly then these offers can be an excellent "saver" as although your horse has not won it is obviously much easier to finish in the top 4 than in the top 3, etc, etc. On some major races such as the Grand National the standard 4 places awarded can be increased by up to 7. The races that have an extra place will change from day to day, and sometimes it will be just one race but other times it can be several. An example of this kind of offer is below.
Refund If Offers: Another very popular bonus available to existing customers is the "Refund If" type of bonus. Often this will be something along the lines of "Losing bets are refunded as a Free bet if 2nd to the SP favourite". Something like this bonus offer QuinnBet run regularly: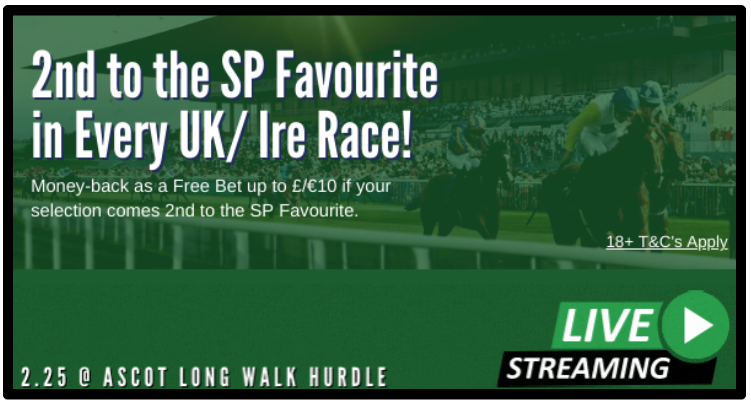 Of all the "Refund If" Free bets that is probably the worst terms that you can get and we will go through why…
Firstly the refund is a Free bet rather than cash, and there is no certainty that your Free bet is going to win either. Secondly your horse has to finish 2nd, rather than 2nd or 3rd, or 2nd, 3rd and 4th, just 2nd! Finally it not only has to finish 2nd but the winner must be the SP favourite, which makes the entire set of terms more like a Straight Forecast bet and so pretty unlikely to actually hit. 
A much better type of "Refund If" offer is shown below where the refund is cash, your Horse can finish 2nd OR 3rd, and also it does not matter who 2nd or 3rd place is. This is the kind of "Refund If" offer that actually provides good value.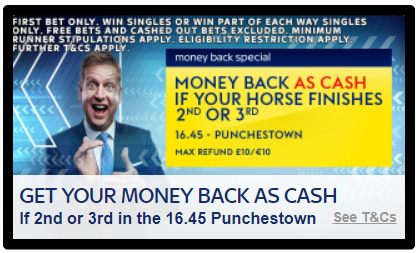 There are of course other Horse Racing promotions to consider which could provide value and maybe a Free bet, some bookies offer you a Free bet if your Horse falls during the race, some offer First Past the Post as well as Official Result Payouts, some may offer a Free bet refund if you do not get a run for your money and lose all chance at the start. There is no limit on what Free bet promotion criteria the bookies may set and it is worth knowing which apply to your bets and which do not.
Free Bets Explained
Free bets are as the name suggests a bet which does not cost you any money, that is where the "free" bit comes from. Traditionally they have been offered by bookmakers as a reward for new customers taking the trouble of registering with them rather than continuing to bet at their existing bookie, which is easier. 
The term "Free bet" encompasses a whole host of slightly different things but all fall under the same banner. They can sometimes be a bet given to you by the bookmaker on a fixed event not of your choice and it is simply then cash paid into your account if it happens. Other times it can be the next betslip which you open has an option to tick a box meaning the bet will not need cash from you and will be your "Free bet" for the relevant amount. Sometimes it is exactly the same as that but rather than being a fixed stake amount you can type the size of the bet you wish and it is taken from your Free bet "credit". There are some occasions where bookmakers allow you to place a bet with your own money and then if it loses they refund you and they call this a Free bet, which in some ways it is but this is not a good use of the phrase.
It is incredibly rare these days for a Free bet to return the stake amount to you when you place the bet. 99.9% of the bets which are placed as a Free bet will return the winnings only.
There are a myriad of reasons why a bookmaker may give you any of the Free bet types above. It could be as a Welcome Bonus, as an Existing User offer for any number of reasons, or for reloading your account and betting a certain amount, plus more than just these.
How do you get given a Free Bet?
How you go about getting a Free bet will vary from bookmaker to bookmaker, and bonus offer to bonus offer, and also often depend if you are a new or an existing customer.
The most common way to get a bookmaker Free bet is by joining them and taking them up on their New Customer Welcome Offer. To get a Free bet as part of a bookmaker Welcome bonus you must be a new customer who has never had an account with them before (and sometimes also not an account with a sister site either). If you see a Welcome bonus advertised online it is important to click the link where it was displayed, going to a url by typing it in yourself or by using a different link could get you a different bonus offer or even no offer at all. Another thing to look out for is whether there is a Bonus code, if there is it must be added either at registration or when you deposit. Having followed the above steps when a Free bet is added to your account will depend on the exact T&C's of the bookmaker but it is usually after your first bet has settled, although can also be after the first bet is placed or even just after you have deposited.
Existing users have many, many, many ways that a Free bet can be received. Sometimes they can just be placed into your account without doing anything at all, this is most likely to happen either at the start of a major sports tournament, around Christmas, or at your Birthday. It is more common that you will get a Free bet from one of their existing customer promotions involving betting on certain criteria and then getting the Free bet as a reward. Sometimes you can qualify for a Free bet as you go about your regular gambling, and by coincidence have your bets trigger the conditions for a bookmaker promotion or offer that results in you getting given a Free bet as a consolation.
Common Free Bet Terms & Conditions
All Free bets are awarded at the discretion of each bookmaker and each is entitled to have any Terms and Conditions (T&C's) that they wish, as well as any qualifying criteria they want. There is however a number of things to look out for which are important and most bookmakers will make reference to at some point:
What type of customer are you? If the terms say "New Customers Only" then make sure you are or you wont get it. Similarly it may say Customers registered before XYZ, or after ABC and if you were not, then again you do not qualify.
Have you been invited? Bookmakers will send out promotions by Email to certain mailing lists that they have, but just because someone else got that Email does not mean that you will qualify if you did not. It is always best to check any Email offers unless you received it yourself. You reading someone else posting about it on Twitter will not qualify you.
Have you enter the correct code or opted in? Many bonuses will be applied automatically but some, especially Sign Up Bonuses, will involve entering a code when you register or when you deposit in order the receive the relevant bonus. There is also sometimes the necessity of "opting in" to a promotion from the bookmakers' offers page rather than being included automatically.
Have you deposited with an eligible payment method? As far as Free bets are concerned it is virtually always best to deposit with 
Have you deposited and bet the correct minimum amount? There is likely to be a minimum amount to deposit in order to be included in a promotion as well as a minimum amount you must bet.
If relevant is your qualifying bet the correct amount on an eligible sport? Some Free bet offers, be they Welcome bonuses or Existing User bonuses will require bets to be placed on certain sports or even certain races and matches. Make sure that you do.
If relevant is your bet at or above the minimum qualifying odds? In order to qualify for a Free bet there is very likely to be a minimum odds level which you must bet above. As a rule of thumb betting at odds over Evens (Decimal 2) should be fine but some bookmakers allow you to bet lower than that, either 2/1 on (Decimal 1.5) or even 5/1 on (Decimal 1.2).
If it is an Acca does your bet have the correct number of lines (selections)? An accumulator is any bet with more than one leg, you can have a two leg accumulator which is more commonly called a "Double" but it is an accumulator none the less. For the majority of bookmaker offers involving Accas and awarding Free bets there will be a minimum of four or five legs required, and probably minimum odds too!
Has your qualifying bet been placed after the promotion began and will it settle before the promotion period ends? This can catch you out especially at the beginning of the year, a number of bookmakers end their promotions at the end of the year and it is important to check if what has been advertised previously still applies this year too? It is not just at the end of the year though all offers can begin and end at any time so always make sure when you see a promotion it is valid at the time you are taking part.
The above all related to how to get a Free bet. Once credited with the Free bet you may still be restricted but you are often much more flexible in terms of how you use it. Having said that look out for minimum and this time maximum odds, max cash out amounts, is there any additional wagering required, and how long do you have to use it before it expires.
Can You Get No Deposit Free Bets?
It is very hard to get a No Deposit Free Bet upon signing up at a UK bookmaker. It has never been common but used to be possible occasionally, we assume the reason you can not do it now is that it was not economically viable for the bookmakers to do so.
You can find more No Deposit promotions at Casino and Bingo sites, where credits are given as a chance to see how the software works and get used to gambling there without risking your own money making a mistake from not understanding where you are supposed to click. This does not apply so much to any of the bookmakers. 
Which are the best free bets?
Some of the best free bets offered to new customers by UK bookmakers are:
888Sport - Bet £10 and get £30 Welcome Bonus

Bet365 - Get £50 in Free bet credit when New Users bet £10!

Virgin Bet - Bet £10 get £20 of Free bets

BetFair - 5 x £20 Free Bets for New Customers

BoyleSports - New customers can bet £10 to get £20 in Free bets

Coral - £20 Free bet when you bet £5

Geoff Banks - New customers bet £10 get £30 in Free bets

WilliamHill - Bet £10 get £30 in Free Sports bets

Parimatch - Sports Welcome Offer - Bet £5 get £30
Although up to date at the time of writing offers can change at any time so always check the offer which is displayed to you after you have clicked on the link to the bookmaker.
Advantages and Disadvantages of Free Bets
Well there is only really one advantage and that is in the name, the bet is by definition "Free". So you can on the face of it win and with no risk of losing that bet. There are no disadvantages to a Free bet itself. Not as such. However they do have limitations and the process of qualifying for it can have disadvantages.
Limitations of Free bets are that they are often restricted even in time or in odds or sometimes which sports or match they can be used on meaning you do not have the freedom of a regular bet placement. 
If the Free bet comes naturally to you in the course of your regular gambling then it is hard to find a real disadvantage but sometimes you may do something deliberately and exclusively to qualify for a Free bet reward and this can have a downside.
Sometimes the qualifying criteria are not really clear and you can lose money trying to attain something which you never actually get. Furthermore even if you understood the terms it is possible to attempt to qualify for a Free bet but simply not qualify because your "IF" term did not occur. It is pretty dangerous to bet exclusively in order to attain a Free bet as you will not be betting in a way that you want to, you will be betting how the bookies want you, and that is unlikely to be to your benefit.
Free Bets vs the different types of sign up bonuses
There are many different ways bookmakers attempt to attract new customers and one of the most common is by using "Free bets" as a form of reward. This is not the only method though, there are several others and there are Pros and Cons to them all.
Free bets have become the most common as we suspect that they are the easiest to administer and the most likely to convert long term profitable customers. It is very rare to be given a Free bet literally for "Free" though, it is likely that you will always have to do something first in order to get it, either depositing or wagering a certain amount. The advantages of a Free bet is that they are great value when the winnings are just cash which you can withdraw and depending on the odds you use when you place them they are worth about 95% of the Free bet value (depending on the bookmakers margin). This can be shown below:
Assuming you join ten different bookmakers with the same £10 Free bet offer. It would mean that you have ten different twenty five pound Free bets which could all be placed on different bets at 10/1, on average one of them will win. There is nothing to stop all ten winning or none of them winning, but statistically one will win. The losers will all return nothing but the one winning bet will win you £100. When you split £100 by the ten bookmakers you joined then that is £10 each, the same value of the Free bet. (The reason we say it is actually 95% of the value is because it is unlikely a bookmaker will give you 10/1 on an exactly 10/1 chance but the details of this are beyond the scope of this article).
So the positive of Free bets is that they are worth pretty much what the face value is over the long run (depending on the odds you use), but the negative side is that in order to make them worth more you must increase the odds, thus also increasing the chance of winning nothing which makes them risky in that sense.
Other Welcome bonuses are equally easy to work out the "EV" (Expected Value) of and it is not the type of bonus which will make any difference it is in fact the terms and conditions attached to them. A cash bonus is still worth the same, for example Paddy Powers offer of having a risk free first £10 bet and then getting £10 cash if it loses. In the long run that is still worth the same as the £10 Free bets if you are also betting on the same 10/1 selections. The same applies that of the ten tries at 10/1 nine of them will probably lose so you get your money back, which is Net £0 but one of them will win and on that one you win £100 of profit. £100 divided by the ten tries to get it equals… also £10. Once again the EV will be a little less but that depends on the margin Paddy Power is adding onto your choices.
Hopefully you can see from the above examples it does not actually make any difference what type of Welcome bonus you get, the Expected Value of them will depend on:
The terms and conditions of the bonus, and principally you care about the wagering requirement and the minimum odds allowed.

It is then down to what strategy you use and the staking / odds combinations you select that will determine the EV of the bonus.
For all the above bonuses what you actually get will be down to luck. You can control the EV of what you do but you can not control luck!
For a fixed and certain return on your Welcome bonus what you really want is a free gift of some kind. In the past these have ranged from football shirts through to Christmas hampers and a whole host of things inbetween. The value of these things is tangible, certain, and you know in advance exactly what you are getting. Although they are considerably less fun that Free bets or Cashable bonuses they do have their advantages.
What Are Sign Up Betting Offers?
Sign Up Betting Offers are an incentive offered by most, but not all, bookmakers in an attempt to attract new customers into registering a new account. They are done with two things in mins:
Firstly they are done as a way to attract otherwise apathetic customers to go to the time and trouble of registering a new account. It can be a bit of a faff putting in new details, potentially going through security checks, learning exactly how a new betting app works and in order to encourage people to do all of that a reward is offered, more often than not in the form of a Free bet. Other Offers are available and we have seen them range from bottles of alcohol (now illegal), Christmas hampers, replica football shirts, cash, and a raffle ticket for dinner with a porn star! 

There is an old saying that the worst thing that can possibly happen to you the first time you visit a Casino is that you win. Because if you do then they have got you for life, you will always remember that buzz, how good it felt, how easy it was, and you will want to do it again. In doing so of course the law of averages swing into play and the more you visit it becomes inevitable that you will give it all back and more.
The bookmakers really do want you to win at the start because that is how they hope to get you hooked. All Sign Up or Welcome Bonuses act as way to shift the odds in your favour, either from boosted odds, refunded bets, Free bets to enable multiple tries, all conspiring to make you a winner. The hope is that you will then become a loyal player!
A few of the most common types of Sign Up Offers include: Risk Free first bets, Free bet rewards after depositing and wagering, and Price (Odds) boosts for your first bet.
A classic "Risk Free" first bet is offered by PaddyPower, it is probably the best example of its type in the market. All you have to do is sign up and bet £10, if it wins you get to keep it all, if it loses you get the £10 cash returned to you.

An alternative type of offer requires you to deposit a set amount, usually £5 or £10 but sometimes more and then upon the first bet settling, win or lose, you are given some Free bets to try again.
The final type of bookie welcome offer which I would like to talk about is the enhanced odds offer. This is where any new accounts registering and placing their first bet on a set market will get paid at a price way in excess of the true odds. These offers obviously come and go regularly as they are often only advertised the day before each even takes place, but they are becoming increasingly common and it is getting more and more likely that you will encounter one sooner or later.

What are the best bonuses for existing customers?
Some of the bbest bonus offers for existing players from UK bookmakers are:
bet365 - Early Payout Offer - a 2 goal lead is a win!

888Sport - £5 Free bet if you win at odds of 4/1 or more

PaddyPower - Beat the Drop to win £1000

NetBet - £5 Free bet after a £10 4 fold UK Acca

SportNation - Get up to £20 in Free bets every week with SportNation!

 32Red - Daily Horse Racing Price Boosts

 Parimatch - Best Odds Guaranteed

 WillHill - Acca Club, £5 Free bet and 5 Free spins

 BetVictor - Loyalty Club with a weekly £5 Free bet
Although up to date at the time of writing offers can change at any time so always check the offer which is displayed to you after you have clicked on the link to the bookmaker.
Frequently Asked Questions
Can you withdraw Free bets?
As a rule you can not withdraw a Free bet itself, however you will be able to withdraw anything which is won with the Free bet. For example if you have a £25 Free bet and you place it on a football team to win at odds of 10/1 your return would be £250 as this is how much you won (£25 x 10).
How long does a Free bet bonus last?
This will vary from bookmaker to bookmaker but between on one extreme the shortest time we seen them last was 45 minutes if you had to place a bet on the first half of a football match and it settles at half time which gets you a Free bet to use on the second half. On the other extreme we have seen Free bets which are credited and never expire, this is the current situation at Skybet for example.
Can you make money from Free bets?
The short answer to this is that yes you can, in exactly the same way it is possible to make money out of normal bets. The only difference between the two is that normal bets can lose you money as well but as a Free bet was, by definition, Free, you can win but you can not lose.
Can I claim more than one sign up offer per betting site?
Absolutely not, for the very simple reason that you can only "Sign Up" once and therefore can only get a "Sign Up Offer" once. It is very hard to even open a second account as the bookmakers will see someone with your name and date of birth has already registered once even if you joined some time ago and have moved address in the meantime.
How many Free bets can I claim?
Although you can claim only one "Sign Up Offer" other offers for existing customers can vary from just once also through to as many times as you like. It depends on the specific terms and conditions of the offer itself so it is important to check these and if you are still in doubt contact the bookmaker customer services.
What is the minimum deposit at a betting site?
Typically the minimum deposit amount at a bookmaker is £10 there are very very few times that it is more than this. Increasingly these days £5 is becoming more and more common as the minimum deposit amount though, certainly at the major bookies. The lowest amount we have ever come across was a minimum of just £1 at the bookmaker STSbet.
A risk free bet is strictly speaking a bet which can not possibly lose. These can come up occasionally at betting exchanges but it is a rare occurrence and would take too long to explain exactly why it happens here.
A much, much, more common use of the phrase is in reference to bookmakers promotions where the bet itself can lose, BUT… they give you the stake amount back, so although the bet lost, you haven't lost. It is therefore "Risk Free". Make sure when you see this promotion that the refund is cash which can be withdrawn because when it is then this is truly risk free. Quite often bookmakers may label something as "Risk Free' and then return your stake as a Free bet instead of cash, which means that since the Free bet can also lose, it was in fact not risk free at all even though they said it was!
Bonuses by category
Bonus types: Free Bets | Cashback Offers | Enhanced Odds | Extra Place Offers | Early Payout Offers 
Bonus conditions: Welcome Bonuses | Accumulator Bonuses | Loyalty Programs
Get & Bet: Bet £10 Get £10 | Bet £10 Get £20 | Bet £10 Get £30 | Bet £10 Get £40 | Bet £10 Get £50 | Bet £10 Get £60 | Bet £5 Get £20 | Bet £5 Get £30
Sports bonuses: Football | Horse Racing | Greyhounds  | World Cup Bonuses